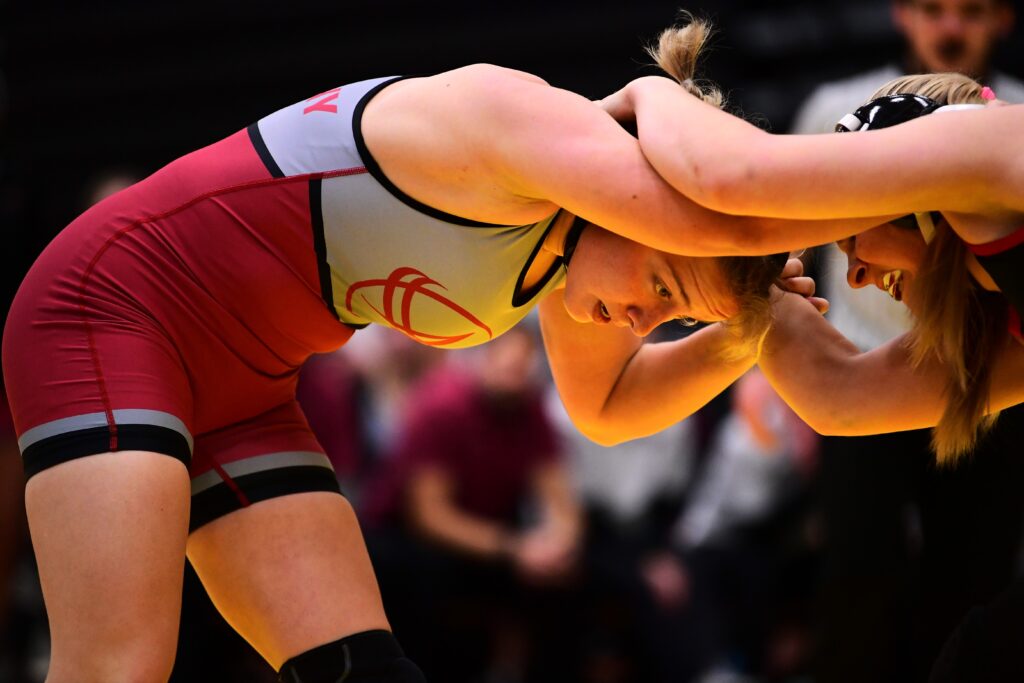 Senior Gia Blaser of the Ankeny girls' wrestling team currently boasts a 20-6 record. She ranks second on the squad in wins behind Nora Bockes, who is 21-4.
Blaser started the season at 145 pounds, but has since dropped down to 140. She placed second in the Raccoon River tournament on Dec. 17 at Adel.
Here is some inside info on Blaser:
How is the season going thus far?
It has been going great! I'm definitely learning a lot and improving over time, as well as creating bonds with teammates!
Have you been happy with the way you've wrestled?
Yes, I am extremely happy with myself. Of course, there is always room for improvement and getting better. Though for this being my first year wrestling, I'm very proud of myself.
What has been the highlight for you?
The highlight for me so far is honestly the friendships and bonds all of us girls have. Not all of us go to the same school, so a lot of us girls didn't know each other. And over the last almost two months, we all have gotten really close and are like a family now!
Who is the toughest opponent that you've had to face?
I would say Waverly-Shell Rock's 140-pounder (Kiara Djoumessi).
Was it hard for you to cut weight?
Yes, it was definitely a challenge. However, over time I feel it has become easier and eating habits become healthier.
When did you first start wrestling, and how did you get involved in the sport?
This is my first year wrestling! I got involved because my brother, dad, and uncles all wrestled! So I grew up going to my brother's tournaments. My girlfriend wrestled for another team and when I heard (the sport) got sanctioned and Ankeny had a girls' wrestling team, I decided to go out!
Your coach, Dustin Roland, told me that you're a rock star off the mat. As a senior, have you been a leader for the team?
I feel as if I have been. I try to make sure everyone feels welcomed and supported! I lead an example that the Ankeny girls' wrestling team Is not only good at wrestling, but good well-rounded people that support each other every chance we get. When on the mat it's all on you to do everything you can to win and "handle hard better" but it's a great feeling knowing your team is right there and supporting you, so I try and support everyone!
What are your goals for the rest of the season–both individually and for the team?
My goal is to keep improving and learning, but obviously the goal is to make it to state! As a team the goal is to keep improving, "handle hard better" and keep winning duals.
You also play for the Ankeny girls' golf squad, which is a very different sport from wrestling. Would you agree, though, that both of them provide a lot of mental challenges?
Yes, I completely agree. Both wrestling and golf are very mentally challenging sports. Your mentality can definitely make or break you on the mat or course. If you're not in a good mental state and worried about your opponent and anxious, it can absolutely reflect on the scorecard or the fall of you or your opponent. So it is very important in both sports to keep a level head.
Plans for next year?
I've been accepted into the University of Iowa and will be studying Criminology, Law and Justice.
Do you have any big plans for New Year's Eve?
Yeah, I do. It's my one-year anniversary so I'll be celebrating that, as well as celebrating the new year with my friends and family!