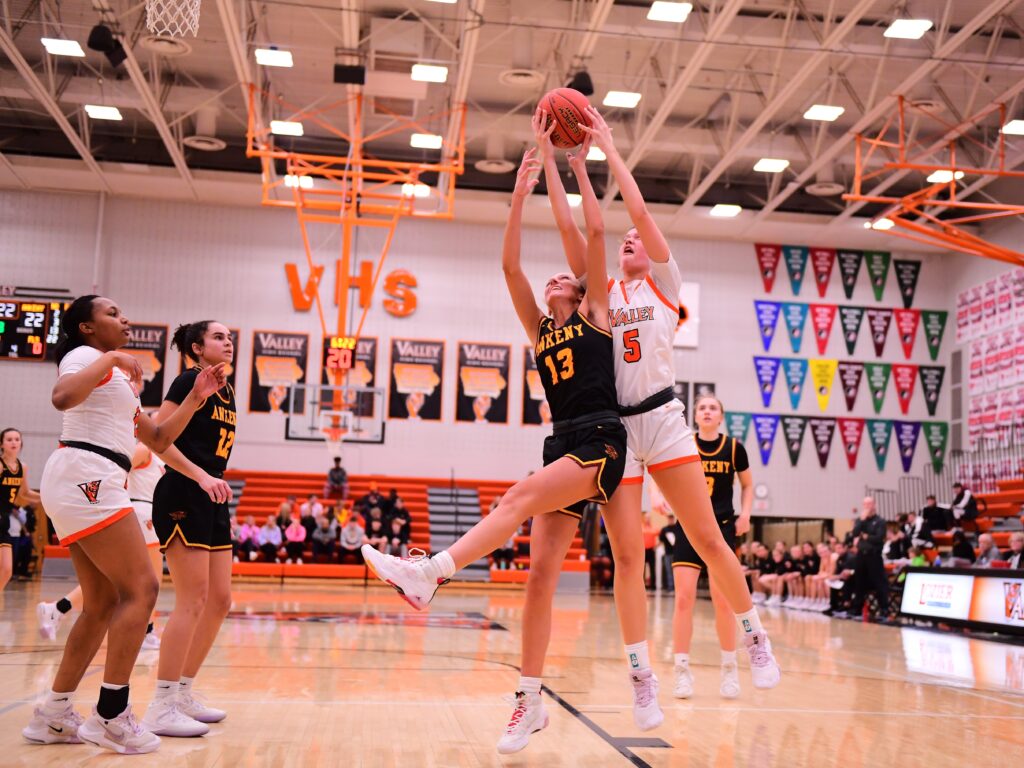 There's an old saying, "Close only counts in horseshoes."
For the Ankeny girls' basketball team, coming close to earning a victory is becoming a frustrating habit.
The 10th-ranked Hawkettes were looking to start off 2023 with a big win on Tuesday, but their upset bid at No. 4 Valley fell just short. The Tigers made a late 3-point goal to post a 41-38 triumph.
Ankeny has lost its last three games by a combined 13 points. Two of those contests came down to the final seconds.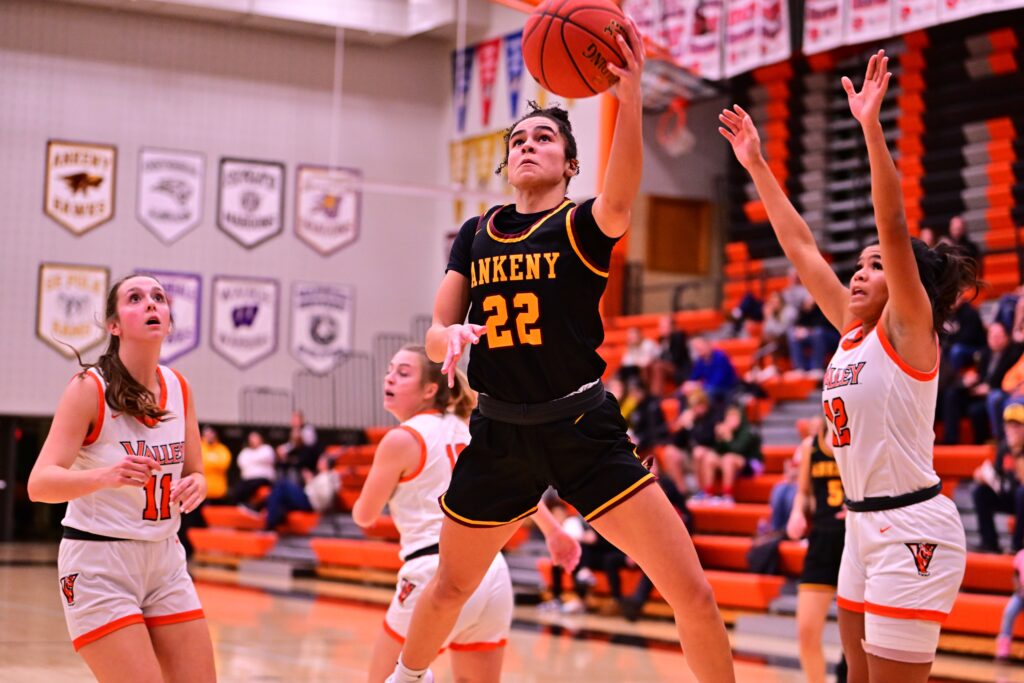 "It would have been a huge win for us," said Ankeny coach Dru McAnelly. "Valley has beaten Dowling Catholic, Ankeny Centennial and Southeast Polk, so they've had three statement wins. We're right there (with them). It's not the record we want right now, but we're way closer than what it feels like. I firmly believe that."
Valley held a 27-22 lead at halftime, but Ankeny outscored the Tigers in the third quarter, 12-4, to move ahead, 34-31. However, the Hawkettes scored just four more points the rest of the way.
"We held them to 14 points the second half, and we rebounded the ball very well," McAnelly said. "Obviously, we struggled to score a little bit, and they hit an open 3-pointer that was a back-breaker."
The Tigers scored with about 20 seconds left to take the lead. Ankeny hurried the ball down the court and called a timeout.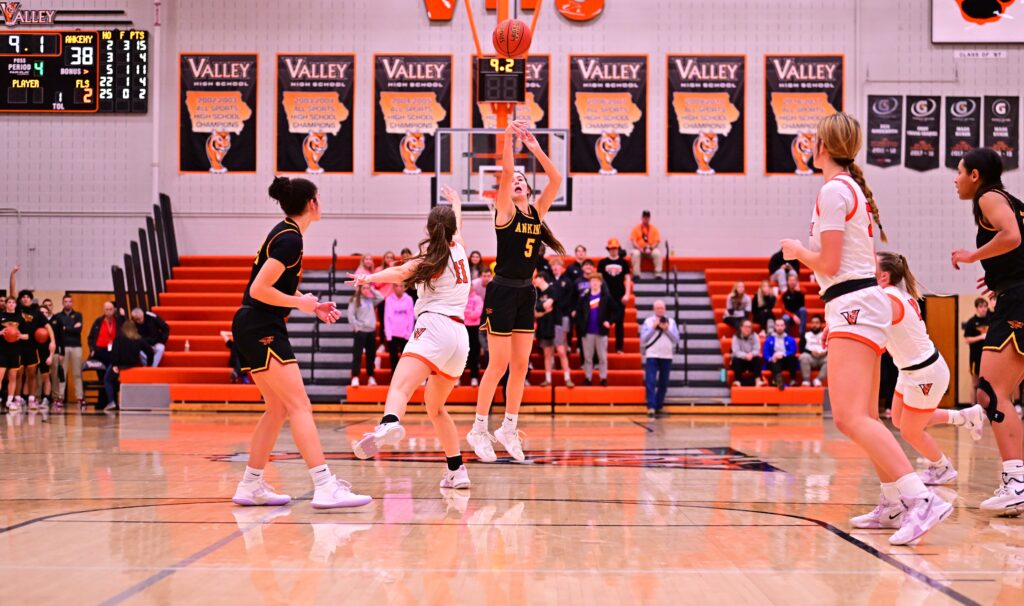 "We ran a side out-of-bounds play that we'd never ran before," McAnelly said. "We executed really well. Jenna (Pitz) had a good look from about 22 feet (with 9 seconds left), and it was right on line. I thought it was in, but it went off the back of the rim. That was the game."
Valley, which was coming off a 40-36 win over No. 5 Southeast Polk on Dec. 20, improved to 5-2 in the CIML Conference and 7-3 overall. The Hawkettes' records dropped to 2-5 and 5-5.
Savannah Gage led Ankeny with 15 points and two assists. She has scored in double figures every game this season.
Pitz added 11 points for the Hawkettes. Jayla Williams grabbed seven rebounds, Karsen Jacks had a pair of steals, and Zoe Shadravan added two blocks.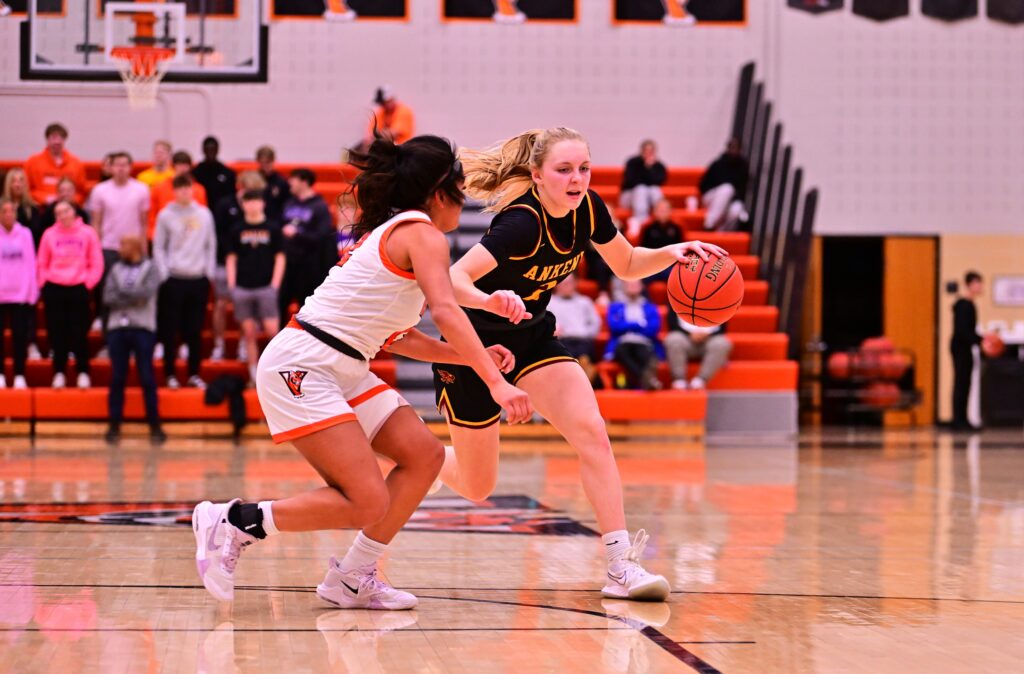 Only four Valley players scored in the game. Elise Jaeger poured in 19 points, including a pair of 3-pointers, and Brynne Katcher added 14.
Jaeger also had 13 rebounds, three steals and two blocks.
"To hold a team to 41 points on their home court, hopefully you can find a way to win," said McAnelly, whose team shot just 34.0 percent from the field (16-of-47). "It just didn't happen tonight."
Ankeny will travel to Urbandale on Friday for another conference game. The J-Hawks are 0-7 in the league and 3-8 overall.
After getting off to a 3-1 start, Urbandale is now on a seven-game losing skid. The J-Hawks lost to No. 9 Dowling, 52-33, on Tuesday.