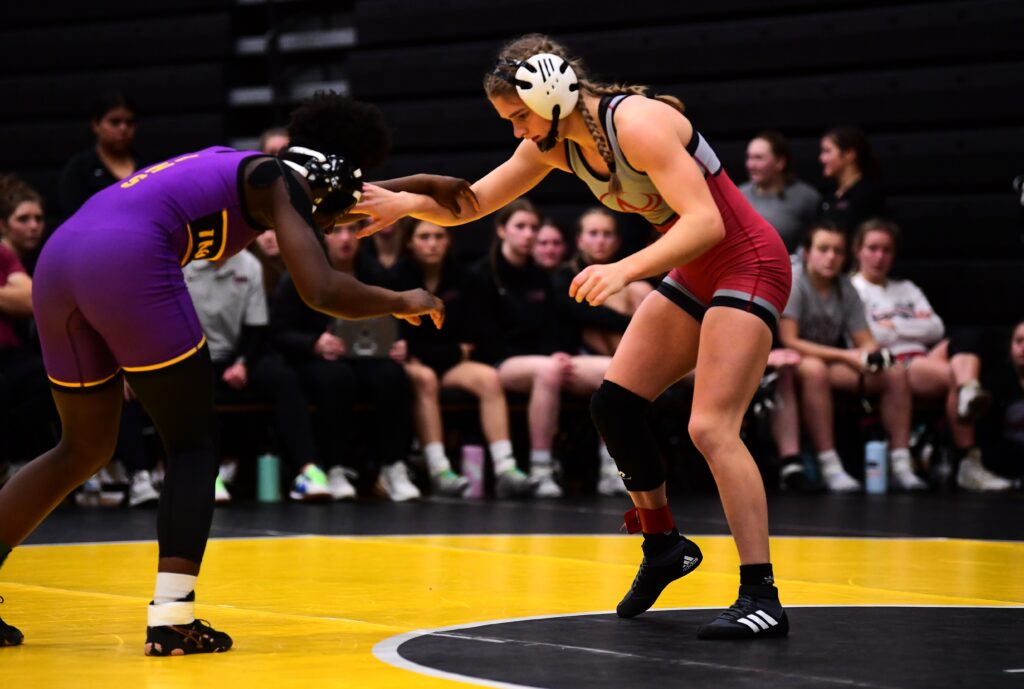 The Ankeny girls' wrestling team doesn't look like a first-year varsity program to most outside observers.
Ankeny extended its dual-meet winning streak to 10 matches by defeating a pair of opponents on Tuesday at West Marshall. Coach Dustin Roland's team rolled to a 70-6 victory over Marshalltown and a 57-24 win over the host Trojans.
Ankeny raised its overall record to 10-2.
"We had a ton of compliments about how well our girls wrestled," said Roland. "One guy asked how long these girls have been wrestling. He was shocked when we said only four girls in our lineup tonight had previous experience before this year."
Ankeny had six falls against Marshalltown and seven more against West Marshall. Mallorie McGuire at 155 pounds and Melanie Martinez at 235 each had a pair of pins.
"I feel like a broken record, but our girls continue to impress," Roland said. "We are trying to figure out what our varsity lineup is going to look like as we have a lot of girls moving weights. Every combination we put on the mat gets the job done. We are very excited about how coachable these girls have been. Every time out they continue to implement more and more of what we are working on in practice."
Elyse Engebretson got Ankeny off to a good start in the win over West Marshall. She posted a 7-1 decision over Carli Pfantz in the opening match at 120.
"It was very nice to get Elyse back on the mat today for the first time since Dec. 10," Roland said.
Josie Bishop later recorded a fall at 190 to give Ankeny a 39-12 advantage.
"Shout out to Josie who was returning from getting her wisdom teeth out," Roland said.
Ankeny will be back in action on Thursday at Nevada.
Here are the match-by-match results from Tuesday's triangular:
Ankeny 70, Marshalltown 6
125: Haag won by forfeit; 130: Hans won by forfeit; 135: Cleveland won by forfeit; 140: Makovec pinned Million, 2:54; 145: Blaser won by forfeit; 155: McGuire pinned Morales, :33; 170: Heimer pinned Lantigua, 1:33; 190: Roberts (M) pinned Seeber, 1:00; 235: Martinez pinned Hernandez, 1:33; 100: double forfeit; 105: Hron pinned Arana, :51; 110: Ray pinned Yepez, 4:00; 115: Bockes beat Andrade Zepeda, 14-1; 120: Engebretson won by forfeit.
Ankeny 57, W. Marshall 24
120: Engebretson beat Pfantz, 7-1; 125: Haag won by forfeit; 130: Hans pinned Fischer, :44; 135: Cleveland pinned Grossnickle, 2:44; 140: Ficken (WM) pinned Makovec, 2:42; 145: Blaser pinned Thompson, 2:46; 155: McGuire pinned M. Kalinay, 2:26; 170: Wittkop (WM) pinned Heimer, 1:41; 190: Bishop pinned Brown, :45; 235: Martinez pinned E. Kalinay, :19; 100: Johnston (WM) won by forfeit; 105: Hron won by forfeit; 110: Rudkin (WM) pinned Ray, :38; 115: Bockes pinned Nason, 5:12.