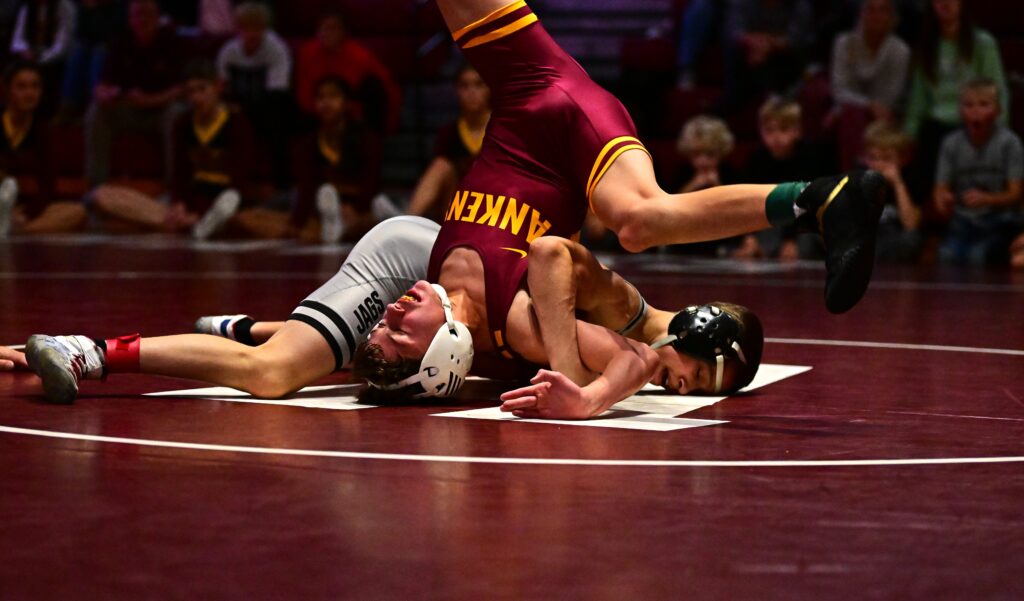 Last month, Ankeny Centennial wrestling coach Jay Groth said his team's runner-up finish at the Don Miller Invitational would have felt even better if the Jaguars could have defeated host Fort Dodge.
On Thursday, Groth's team returned to Fort Dodge and accomplished what it couldn't on Dec. 17.
Tenth-ranked Centennial posted a 35-33 victory over the No. 5 Dodgers in the finale of a triangular meet. The Jaguars earlier defeated Waterloo East, 67-9.
"It was a good night for us," said Groth. "I was pleased with the way we competed."
Centennial improved to 14-3 with the pair of wins. Fort Dodge's record dropped to 2-1.
The former CIML rivals split the 14 matches, but the Jaguars earned bonus points in six of their seven wins.
"We had three pins and two major (decisions)," Groth said. "We did what we needed to do to win the meet."
Fort Dodge had three falls, one technical fall and a major decision, but it wasn't enough.
"Overall, we looked a little flat," Dodgers coach Bobby Thompson told the Fort Dodge Messenger. "We had to get more bonus points. We gave up one weight and then they picked up bonus points in another spot.
"We were just a little lackluster. We needed to be more aggressive and show a sense of urgency," he added.
With the varsity competing on two mats, the dual came down to the final two matches at 106 and 113 pounds. Centennial held a 31-29 lead pending the outcome of those two bouts.
The Jaguars increased their lead to 35-29 when sixth-ranked Cale Vandermark posted a 10-1 major decision over Sam Davidson at 106. When that match ended, there was just 16 seconds left in the 113-pound match between Vandermark's brother, Cody, and No. 1 Dru Ayala of Fort Dodge.
Ayala racked up an 18-5 major decision over the No. 8 Vandermark, but the Centennial sophomore avoided a fall that would have forged a tie.
"Cody wrestled really tough against Ayala and just lost by a major," Groth said. "He fought but never quit. He never gave in to the pressure that Ayala was putting on him. We won by two (points), so a pin would have tied up the score and we would have gone to criteria. That was big, even though it was a tough loss against a tough kid."
The Jaguars got falls from No. 8 Cael Wiener at 132 and No. 4 Lucas Bruhl, who bumped up from 145 to 152. Bruhl's brother, Isaac, also got a pin at 138 in his season debut.
The Bruhls are the sons of former Fort Dodge state champion Brad Bruhl, who is now a Centennial assistant coach.
"We're getting there," Groth said. "We didn't want to peak today, but this was a nice win for us. Fort Dodge is tough. They were missing one of their starters as well, but it was a fun meet."
Centennial will compete in the Iowa City West Invitational on Saturday.
Here are the match-by-match results from Thursday's triangular:
Centennial 67, Waterloo East 9
113: Co. Vandermark won by forfeit; 120: Bright won by forfeit; 126: Foote (WE) beat Muller, 5-3; 132: Wiener pinned Lomas, 1:34; 138: Brennan beat Tyler, 13-2; 145: L. Bruhl pinned Strong, 1:21; 152: Clark (WE) pinned Anonson, 2:28; 160: Ehlts pinned Speller, 1:26; 170: Song beat Henderson, 4-2 (OT); 182: English pinned Peters, 1:57; 195: Keller won by forfeit; 220: Grider pinned Ortiz, :23; 285: Dickinson pinned Johnson, :18; 106: Ca. Vandermark pinned De. Ayala, 1:13.
Centennial 35, Fort Dodge 33
120: Bishop (FD) beat Bright, 11-7; 126: Butrick (FD) won by technical fall over Muller, 18-1; 132: Wiener (AC) pinned Brown, 1:47; 138: I. Bruhl (AC) pinned Cowell, 3:44; 145: Brennan (AC) beat Fraher, 8-5; 152: L. Bruhl (AC) pinned Egli, 3:23; 160: Da. Ross (FD) pinned Morris, 3:21; 170: Hartman (FD) beat Ehlts, 3-0; 182: English (AC) won by forfeit; 195: Dr. Ross (FD) pinned Entrekin, 1:09; 220: Grider (AC) beat Munter, 10-1; 285: Nichols (FD) pinned Dickinson, 1:40; 106: Ca. Vandermark (AC) beat Davidson, 10-1; 113: Dr. Ayala (FD) beat Co. Vandermark, 18-5.