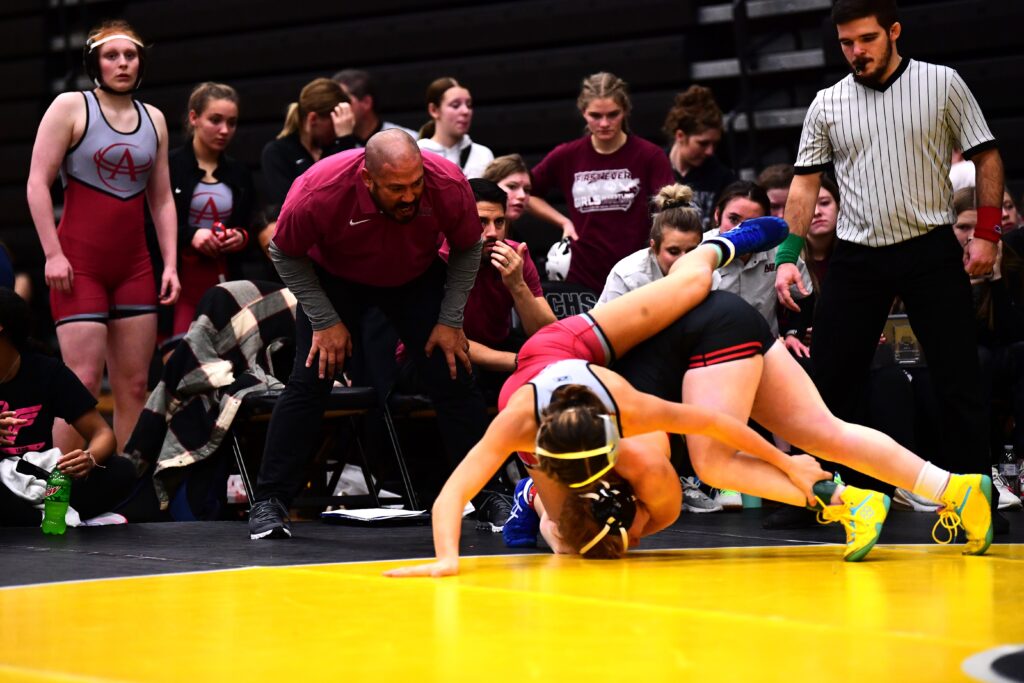 Chalk up another accomplishment for the Ankeny girls' wrestling program in its inaugural season.
Ankeny wrapped up the CIML Conference dual-meet championship with a pair of wins over Urbandale and host Southeast Polk on Tuesday. Coach Dustin Roland's team rolled to a 72-6 victory over the J-Hawks, then followed with a 42-34 win over the Rams.
Ankeny finished the dual season with records of 5-0 in the league and 12-2 overall.
"The dual vs. Southeast Polk was a barnburner," said Roland. "Coach Tarin and I both had us losing on paper, but once again our girls cease to amaze me! We didn't even wrestle as well as we are capable of."
Ankeny held a 12-11 lead over Southeast Polk after the first five matches. Jaedyn Stites then pinned Peyton Sams in 1 minute 33 seconds in the 125-pound match.
"Jaedyn got a huge fall, and that was the difference in the dual," Roland said.
After Lily Hans won by forfeit at 130, Ankeny's third-ranked Dana Cleveland recorded a fall over No. 4 Cecilia Scarff in 4:31 to extend the margin to 30-11.
"That was a big matchup of ranked wrestlers at 135," Roland said of Cleveland's pin.
A pin by Gia Blaser at 145 gave Ankeny a 36-17 advantage. Southeast Polk then won the next three matches to close the gap to 36-34 before Ankeny's Melanie Martinez won by forfeit at 235 to close out the meet.
"It was great to win the conference dual championship, but it's now time to shift our focus to individuals as we head toward the postseason," Roland said. "One thing that was evident to me tonight is we have to get our conditioning up. We have the Bob Sharp tournament at Southview on Saturday and the individual CIML Conference tournament at Valley next Tuesday."
Here are the match-by-match results from Tuesday's meets:
Ankeny 72, Urbandale 6
235: Martinez pinned Kovalcikova, :31; 100: double forfeit; 105: Hron pinned Flaherty, 2:21; 110: Ray won by forfeit; 115: Bockes pinned Drown, 1:48; 120: Engebretson won by injury default over Pollard; 125: Haag won by forfeit; 130: Blades (U) pinned Hans, 2:50; 135: Cleveland won by injury default over Anliker; 140: Makovec won by forfeit; 145: Blaser pinned McNulty-Lecocq, :35; 155: McGuire won by forfeit; 170: Heimer pinned Wills, 1:55; 190: Bishop pinned Anderson, 1:04.
Ankeny 42, S.E. Polk 34
100: double forfeit; 105: Herson (SEP) pinned Hron, 4:40; 110: Bockes (A) pinned Crabb, 1:44; 115: Engebretson (A) pinned Rodriguez, 3:12; 120: Nelson (SEP) won by technical fall over Haag, 16-1; 125: Stites (A) pinned Sams, 1:33; 130: Hans (A) won by forfeit; 135: Cleveland (A) pinned Scarff, 4:31; 140: Becthold (SEP) pinned Makovec, 1:03; 145: Blaser (A) pinned Holdaway, 2:49; 155: Slade (SEP) won by technical fall over McGuire, 17-2; 170: Porcelli (SEP) pinned Heimer, 1:34; 190: Ellsbury (SEP) pinned Bishop, 2:50; 235: Martinez (A) won by forfeit.