This time, the Johnston boys' basketball team didn't blow a big lead.
The Dragons, who let a 16-point cushion in the fourth quarter slip away in a 65-64 loss at fifth-ranked Indianola on Saturday, bounced back with a 63-50 victory over visiting Ankeny on Tuesday. They opened the second half with a 24-5 run to build a 54-29 advantage, then cruised to the win.
Johnston defeated the Hawks for the second time this season. The Dragons posted a 61-45 triumph at Ankeny on Dec. 2.
In Tuesday's rematch, Johnston never trailed after Samuel Tornabane opened the game with a dunk. The Dragons jumped out to a 9-1 lead before Lio Aguirre scored the Hawks' first basket.
Tornabane and Taylen Proctor each scored eight points in the first quarter as Johnston took a 19-11 lead. They each had a pair of 3-point goals.
Ankeny guard Maddox Ward heated up in the second period to keep the Hawks within striking distance. He made a trio of 3-pointers and had 11 points in the quarter to pull his team within 30-24 at the break.
However, Tornabane had two more treys to ignite the Dragons' big run in the third quarter. Proctor later capped the flurry with a driving layup.
Tornabane finished with a game-high 18 points. Proctor added 17.
Ward led Ankeny with a career-high 16 points. He made a fourth 3-pointer in the second half.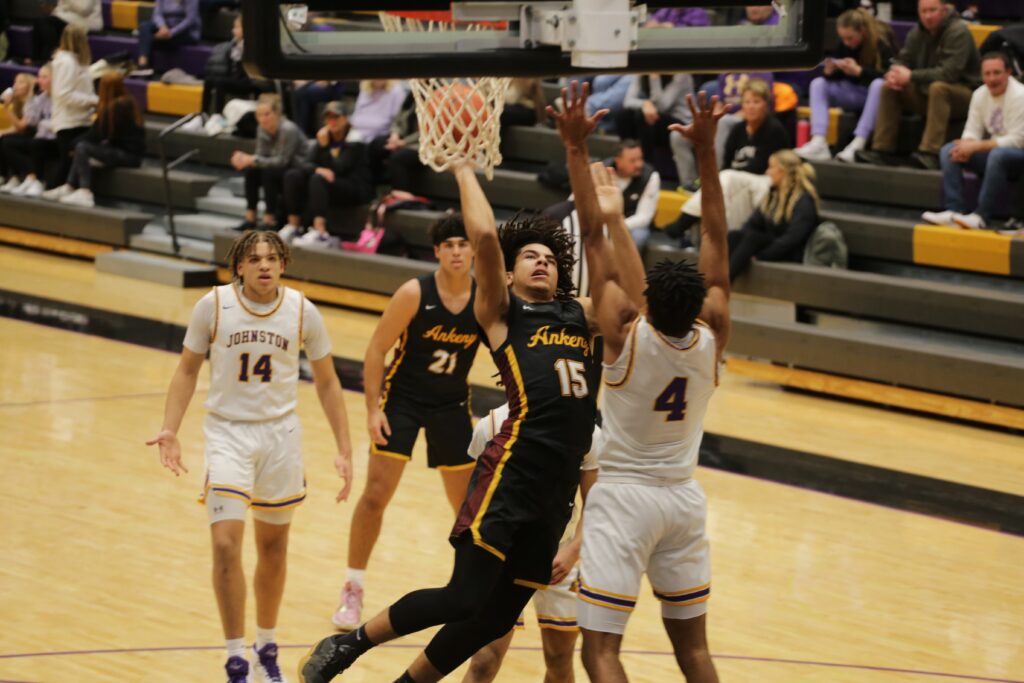 Aguirre chipped in 15 points. Jazan Williams added eight.
Johnston improved to 4-5 in the CIML Conference and 5-7 overall. The Hawks' records dropped to 2-7 and 3-9.
Ankeny will host a conference game against No. 3 Waukee on Friday. The Warriors won the first meeting, 75-51, on Nov. 29.
Waukee is now 8-1 in the league and 10-1 overall after rallying to beat Southeast Polk, 65-61, on Tuesday. The Warriors moved ahead of No. 1 Waukee Northwest and into first place in the conference with the Wolves' 75-64 loss at No. 6 Valley.