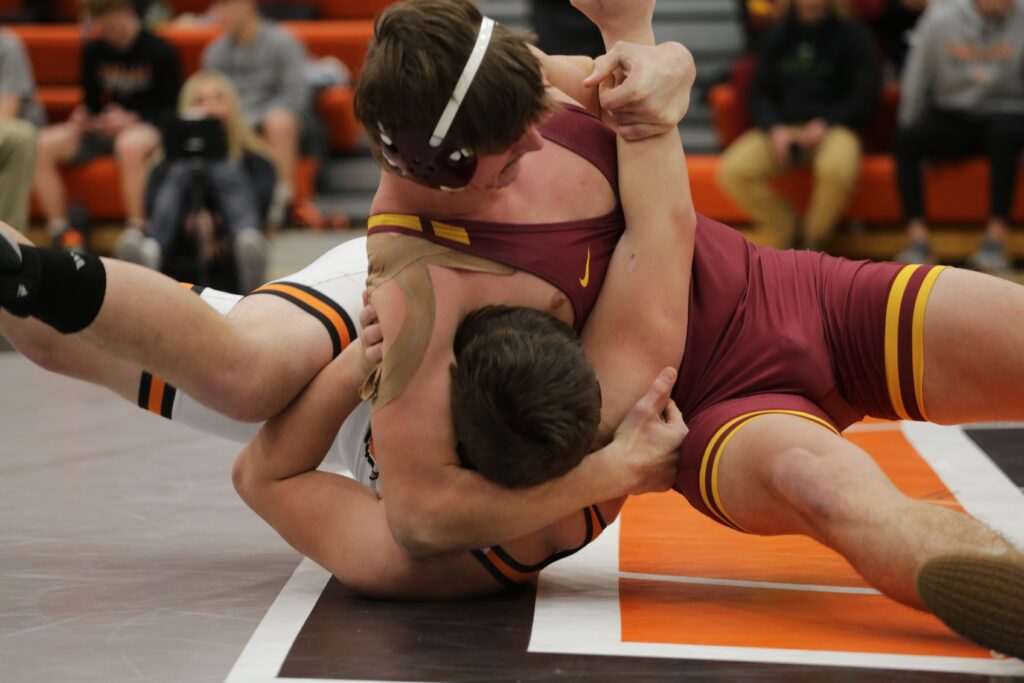 With two more victories on Thursday, the Ankeny wrestling team has put itself in position to win the CIML Conference dual-meet championship.
The fourth-ranked Hawks posted a 42-23 win at No. 5 Valley in the opener of a triangular meet. They then followed with a 46-30 triumph over Dowling Catholic.
Ankeny raised its records to 7-0 in the conference and 14-1 overall.
"We're wrestling really well right now," said Ankeny coach Jack Wignall. "We have a pretty solid lineup up and down all the weight classes, and it's fun."
Ankeny dominated the meet against Valley right from the start. Eleventh-ranked heavyweight Joe Kingston opened the meet with a fall over Jacob Mohler in 5 minutes 17 seconds.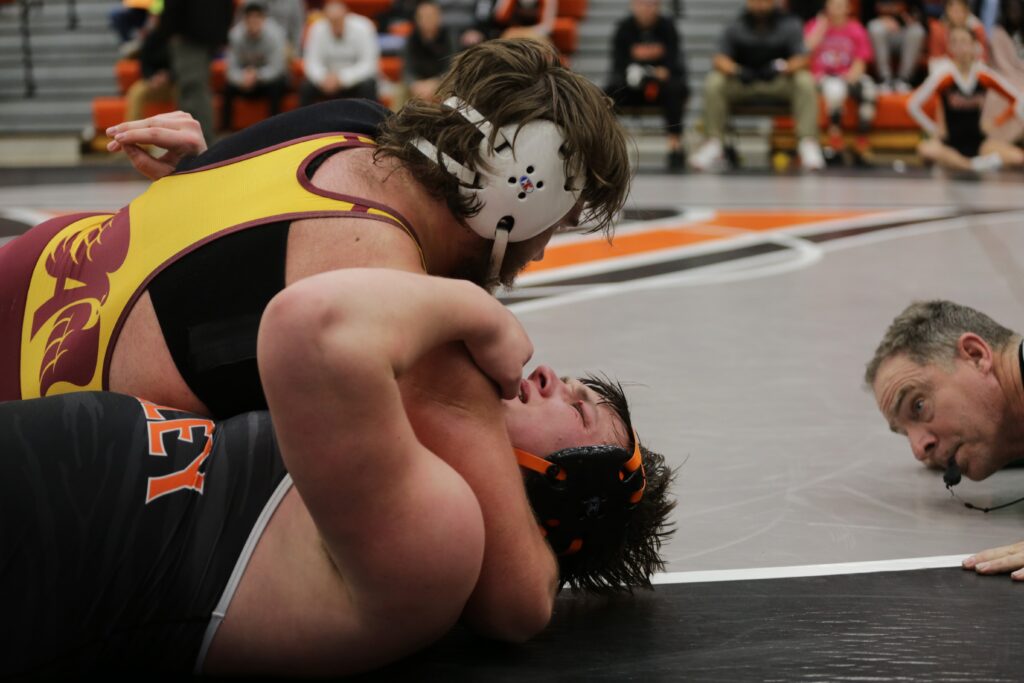 "We knew going in it was going to be a tight dual," Wignall said. "But Joe was the first one up, and it was a tight match until he ended up getting the pin. That was a very good way to start the dual."
After Ben Walsh posted a 5-0 decision at 106 pounds, No. 7 Truman Folkers at 113 and No. 7 JJ Maihan at 120 followed with two more pins to give the Hawks a commanding 21-0 lead.
The Tigers later pulled to within 30-23 with two matches left. But No. 3 Cade Bennethum sealed the win with a fall at 195 in just 27 seconds, then No. 3 Will Hinrichs put the icing on the cake with another pin at 220.
"We're getting bonus point wins, and we're not giving up a ton of bonus points," Wignall said. "That's what is making us a good dual team."
The Hawks had five more falls in the win over Dowling. The Maroons led, 13-10, before No. 4 Ben Hansen recorded a pin at 138 to put Ankeny ahead for good.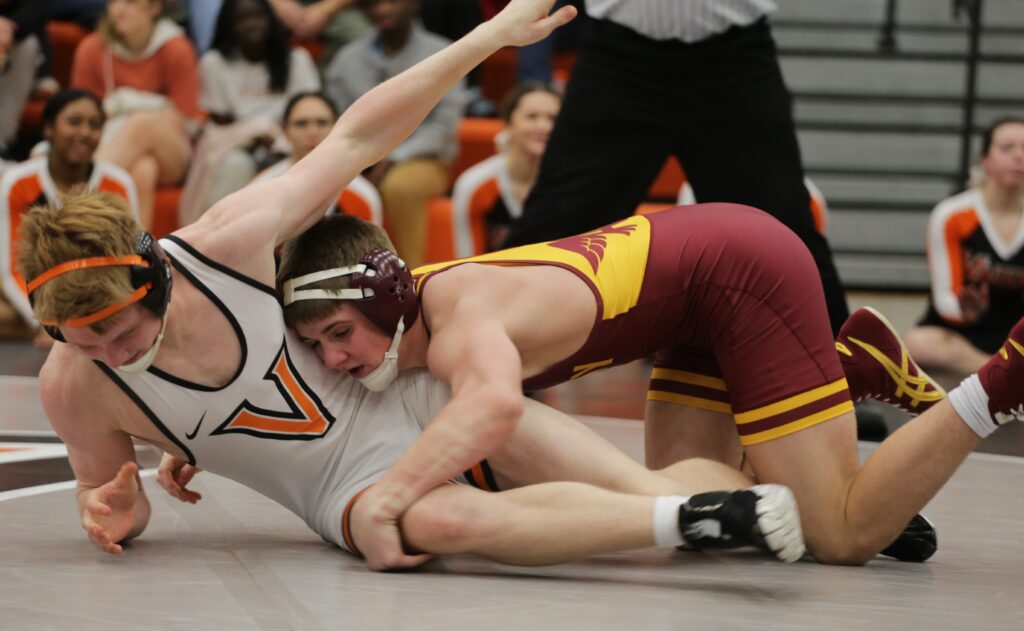 Dowling won the final two matches at 220 and 285 by forfeit after the Hawks had already secured the victory.
"There was some strategy there," Wignall said. "We're just trying to do what is best for our team."
The Hawks will host No. 1 Southeast Polk on Jan. 26 for the league's dual-meet crown. The two teams collided earlier this season in the Frank Baltzley Invitational at Johnston, where the Rams won the overall title and Ankeny finished third.
"We've tried not to put the cart before the horse," Wignall said. "Our goal is to win the state duals and the traditional tournament. That's always been our ultimate goal, but from there, we just take it one dual or one tournament at a time. It's exciting to have a chance at the conference championship, but that meet is still two weeks away."
Ankeny will host the Bob Sharp Invitational on Saturday.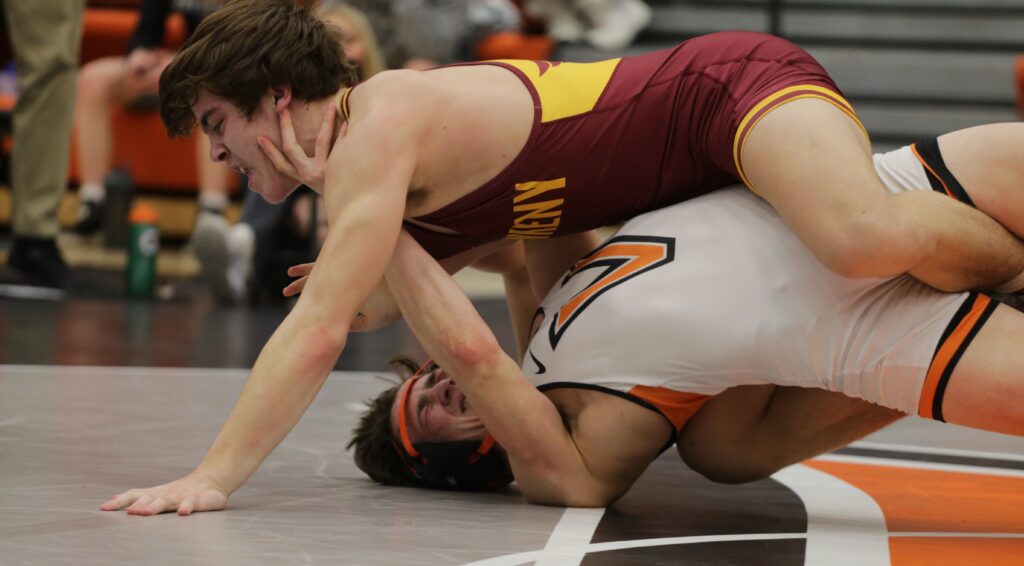 Here are the match-by-match results from Thursday's meet:
Ankeny 42, Valley 23
285: Kingston pinned Mohler, 5:17; 106: Walsh beat Brumfield, 5-0; 113: T. Folkers pinned Kiner, :49; 120: Maihan pinned Schulz, 2:42; 126: Bierma (V) won by technical fall over Perez Perez, 17-1; 132: Voss beat Youngdale, 3-2; 138: Walker (V) pinned Royer, 3:30; 145: Hansen beat VanArkel, 8-4; 152: Anderson beat J. Clark, 5-1; 160: C. Clark (V) pinned L. Folkers, :30; 170: Wray (V) beat Peiffer, 4-2; 182: Castle (V) beat Kenworthy, 6-0; 195: Bennethum pinned Scheffler, :27; 220: Hinrichs pinned Luksetich, 3:00.
Ankeny 46, Dowling Catholic 30
106: Heffron (DC) beat Walsh, 11-2; 113: T. Folkers pinned Kelly, 2:54; 120: Maihan beat Conn, 19-7; 126: Soto (DC) pinned Perez Perez, 1:58; 132: Fitzgerald (DC) beat Voss, 6-3; 138: Hansen pinned Burnett, 1:46; 145: Cox won by forfeit; 152: Anderson pinned Swift, 2:23; 160: Dirks (DC) pinned L. Folkers, 1:13; 170: Peiffer pinned Bocken, 1:22; 182: Kenworthy pinned Pollard, 5:04; 195: Bennethum won by forfeit; 220: Rumley (DC) won by forfeit; 285: Hagan (DC) won by forfeit.