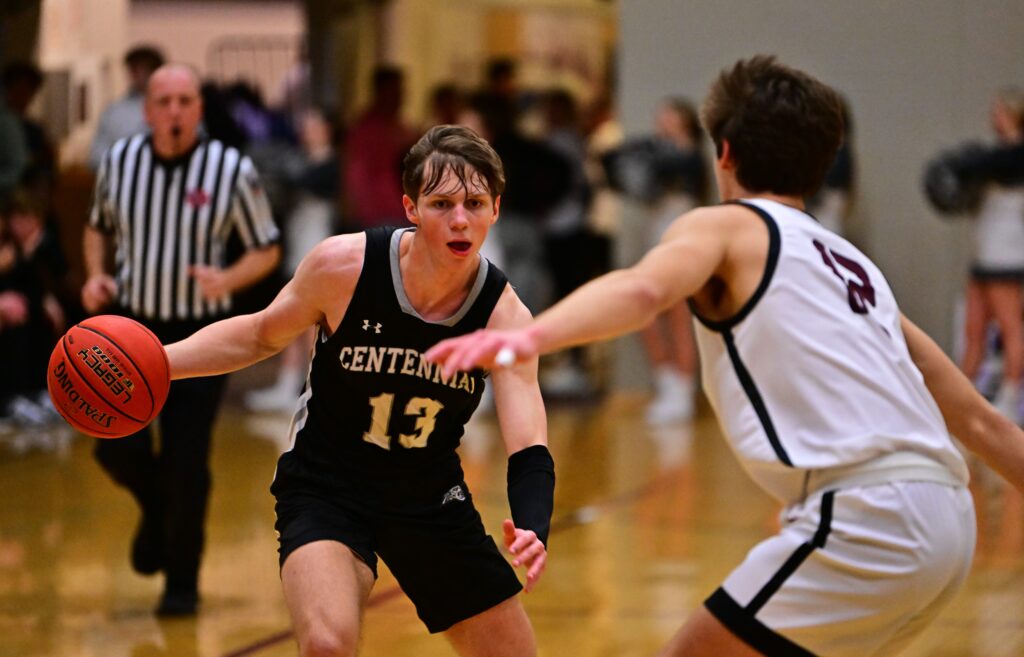 The Ankeny Centennial boys' basketball team missed an opportunity to make up some ground in the CIML Conference when Waukee Northwest lost to Valley on Tuesday–because the Jaguars also lost at Dowling Catholic.
Centennial took advantage of another opportunity Friday when league leader Waukee lost at Ankeny.
This time, the fourth-ranked Jaguars posted a 61-48 victory at Urbandale to move closer to the top of the conference standings. They are now 7-3 in the league and 8-3 overall, while Urbandale's records dropped to 1-8 and 4-8.
"It was a good bounce-back win for us, especially on the road," said Centennial coach Bob Fontana, whose team had defeated the J-Hawks, 60-51, on Nov. 29. "Urbandale had won its last two games, and we knew they'd be a handful. But our defense was really good the first half to hold them to 15 points."
Both teams struggled to score in the first quarter, which ended with Centennial holding a 7-3 lead. The Jaguars extended their margin to 25-15 at the half.
"We had a good second quarter at both ends of the floor," Fontana said.
Centennial built a 48-31 advantage after three quarters. The J-Hawks then closed the gap to six points in the final period, but could not get any closer.
"They made some big plays to get back in the game," Fontana said. "But we weathered that storm and had some kids make some big plays in the last couple of minutes. It was a good road win."
Nick Vaske scored a career-high 18 points to lead four Centennial players in double figures. Drew Schreurs had 13 points, Luke Winkel chipped in 12, and Evan Bryan added 11.
Vaske went 5-of-6 from the field for the Jaguars, who shot 58.3 percent on the night (21-of-36). Bryan, Schreurs and Winkel each had a trio of 3-point goals
"I thought our balance was the key," Fontana said.
Winkel also dished out six assists and had two steals.
"Luke had a good floor game," Fontana said. "He also held Urbandale's leading scorer down."
Chase Schutty grabbed 10 rebounds and had two blocks for the Jaguars.
"He was a workhorse on the boards," Fontana said.
The Jaguars will host a conference game against No. 6 Valley on Tuesday. The Tigers are 7-3 in the league and 8-3 overall after rolling to a 62-37 win at Dowling on Friday–three nights after the Maroons defeated Centennial on the same court.
It will be a battle for third place in the conference, and it will also be Coaches vs. Cancer Night. Valley will be looking to avenge an earlier 56-51 loss to the Jaguars.
Fontana said he expects senior forward Easton Pratt, who has been out with a stress fracture in his foot, to be cleared for play next week. However, he won't return until Friday's game against visiting Burke (Neb.) at the earliest.