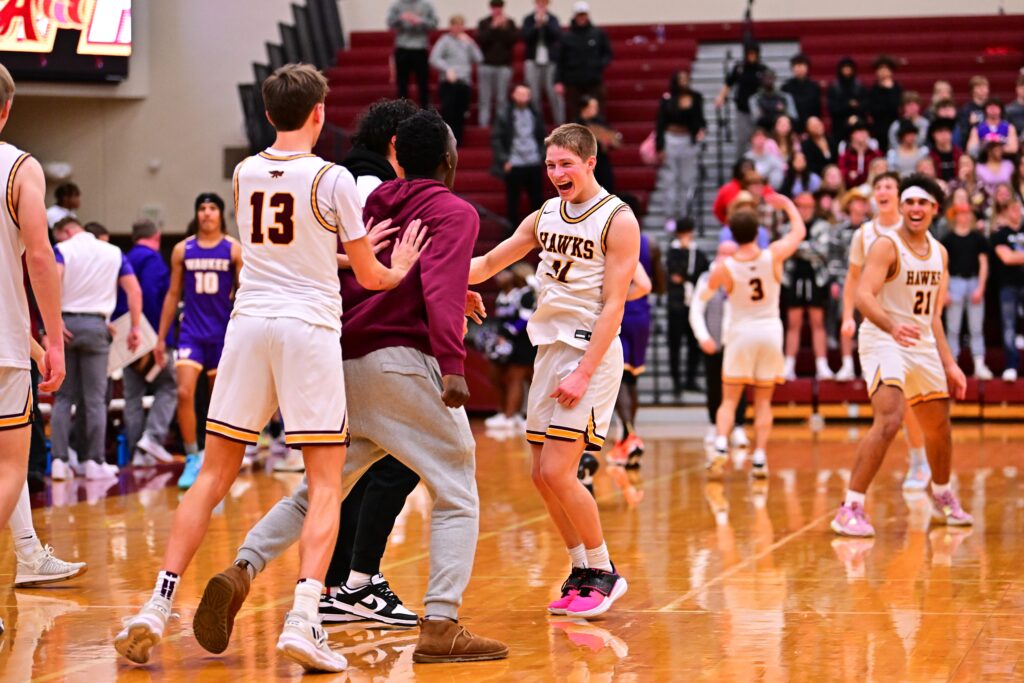 Ankeny's Maddox Ward blew a kiss to the Waukee students as the final seconds ticked off the clock.
The senior guard made a pair of late 3-point goals to lift the Hawks to a stunning 56-51 upset over third-ranked Waukee in a CIML Conference boys' basketball game on Friday at Ankeny.
"It feels great," said Ward, who scored all 11 of his points in the second half. "It's been awhile since we've won, and it feels good to finally get one. This was a big one, too."
Ankeny snapped a five-game losing skid while avenging a 75-51 loss in its season opener on Nov. 29 at Waukee. The Warriors had won their last seven games–five of them by double digits.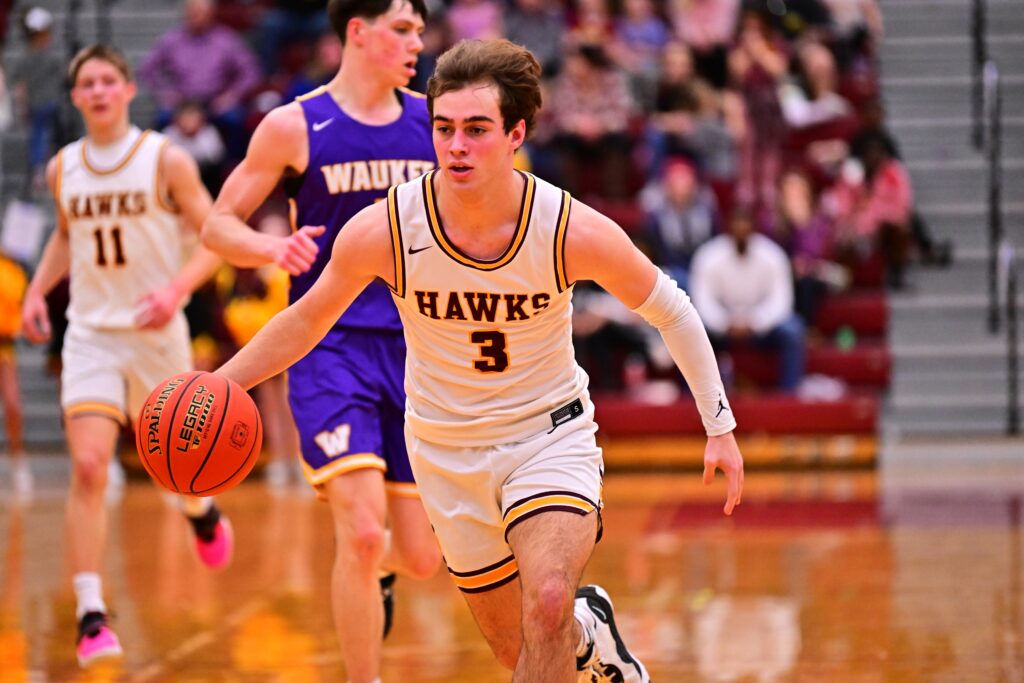 "We all thought that we could win," said Ankeny guard Carson Johnson, who poured in a career-high 24 points on 9-of-15 shooting. "It didn't really matter what other people thought outside of here. In the locker room we all knew we could win, and we pulled it off."
The Hawks improved to 3-7 in the conference and 4-9 overall. Waukee's records dropped to 8-2 and 10-2.
Omaha Biliew scored 20 points and grabbed 17 rebounds to lead the Warriors, but the Iowa State recruit made just 7-of-22 shots from the field and struggled down the stretch. He airballed two 3-point attempts in the final minute.
"It's really hard to be as talented as Waukee is and to play your 'A' game every night," said Ankeny coach Brandt Carlson. "They're still an amazing team, and we feel very fortunate. Hopefully, we can just build on this and gain some confidence."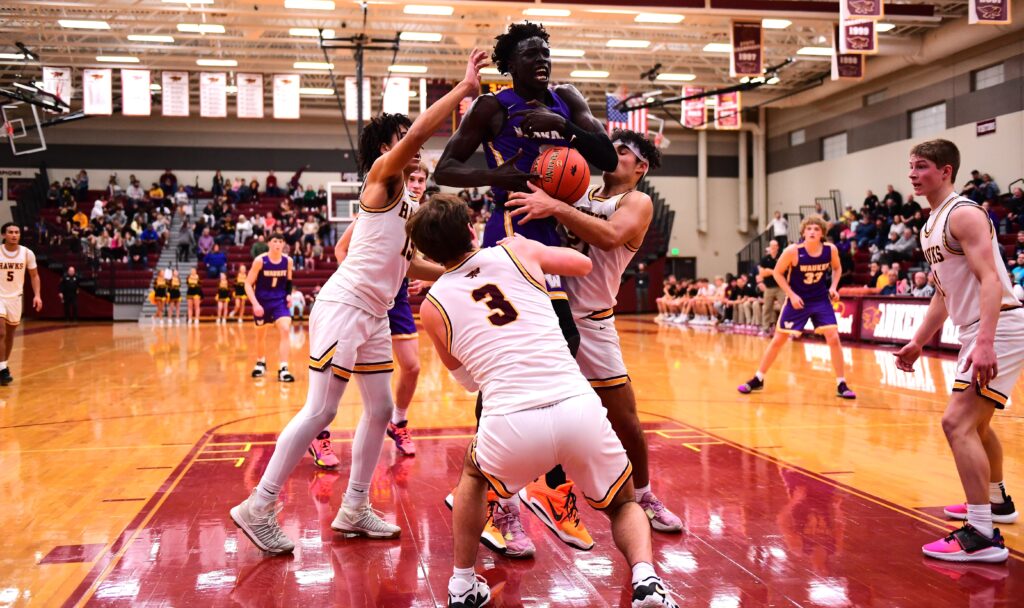 The Warriors jumped out to an early 7-0 lead, but Ankeny battled back and tied the game at 24-24 on a basket by Devon Akers in the final seconds of the first half.
"We all expected to win," said Ward, who also dished out two assists. "Obviously, they're a good team, but we all had confidence that we could do it."
There were 11 lead changes in the second half. Waukee took a 45-44 lead on a monster dunk by Biliew with 5 minutes 27 seconds left, but Ward answered with a 3-pointer on the ensuing possession to put the Hawks ahead for good.
Ward had scored a career-high 16 points in Tuesday's loss at Johnston.
"I'm definitely shooting with confidence," Ward said. "It's leading to scoring points and winning games now."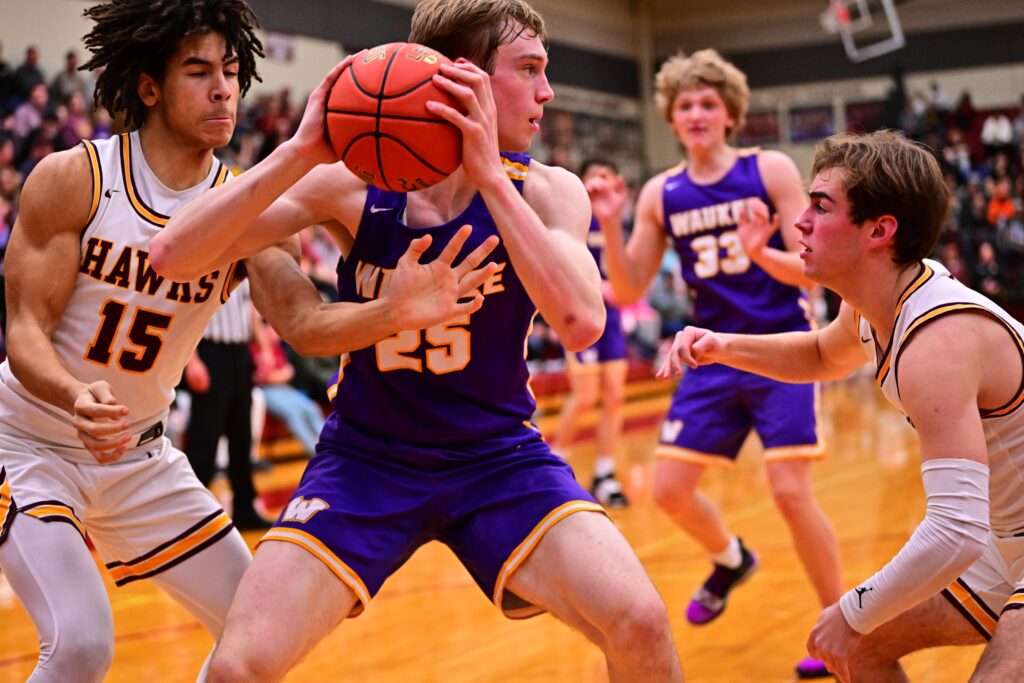 Biliew converted a 3-point play with 2:24 remaining to pull Waukee within 49-48. But Ward responded with another 3-pointer at the 1:25 mark.
"At the end of the day, sometimes it just works," Carlson said of his team's efforts. "We shot the ball pretty well, and that helps. Maddox hit some big shots."
Ward made two free throws with 29 seconds left to extend the lead to 54-48. Waukee got a free throw and a basket from Vance Peiffer to pull within 54-51, and then had a chance to tie the game after Johnson missed a free throw with 13 seconds to go.
Biliew dribbled up the court and launched a 3-pointer with Ankeny defender Jamison Patton draped all over him. The shot badly missed the mark.
"I was just trying to get in his grill and make him uncomfortable and make him force up a shot that he wasn't comfortable with," Patton said. "I think we frustrated him a little bit. We were playing good defense in transition, so we were just doing our thing."
Johnson then connected on two free throws with 2.2 seconds left to seal the win–Ankeny's first since Dec. 16.
"We needed that one," Johnson said. "It's a great first step. It's a good team win, and it should give us confidence going forward."
Lio Aguirre had nine points, six rebounds and two steals for the Hawks. Patton also grabbed six boards.
Friday's game capped off a wild week in the CIML. On Tuesday, No. 6 Valley handed No. 1 Waukee Northwest its first loss of the season.
Waukee's loss, which allowed the Wolves to move back into first place, was even more shocking.
"That's kind of what we said: 'Who expected us to win tonight?'. And one of our guys said, 'We did,'" Carlson said. "That's good to hear that stuff. Some of the things we've been trying to get better at were good, and some guys really stepped up to the challenge and guarded them hard. Lio (Aguirre) battled with four fouls, and Jamison made some big plays.
"It just worked out for us," he added.
The Hawks will host a non-conference game on Tuesday against Dallas Center-Grimes (6-3).
"We still have a lot of work to do," Carlson said. "There's still going to be some adversity ahead, but we're going to enjoy this (win) tonight."