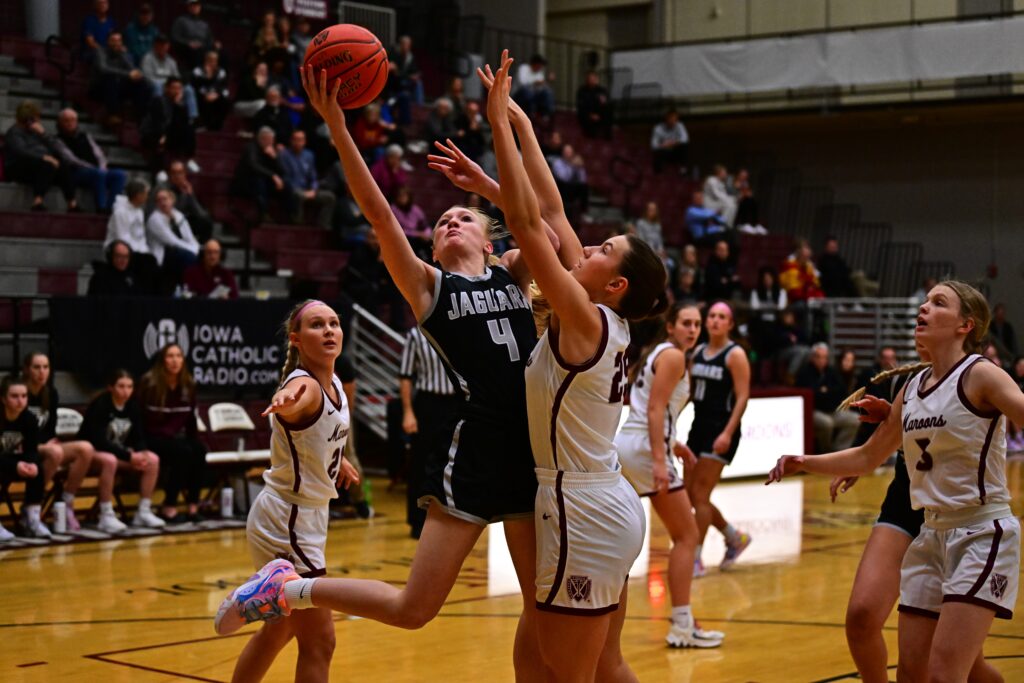 Each time the Ankeny Centennial girls' basketball team has suffered a loss this season, the Jaguars have bounced back with a resounding victory.
Seventh-ranked Centennial did it again on Friday with a 77-28 win at Urbandale. The Jaguars are now 4-0 in games after a loss–with an average winning margin of 35.8 points.
"You hope when you're coming off a loss that you have a little chip on your shoulder," said Centennial coach Scott DeJong. "I thought we did. You're a little worried about your confidence, but I thought we came out really strong and that was good to see."
Centennial jumped out to a 24-4 lead in the first quarter and held a 40-16 advantage at halftime. The Jaguars then cruised to the win, which raised their records to 6-4 in the CIML Conference and 11-4 overall.
Urbandale dropped to 0-9 and 3-10.
"I thought we played really well," said DeJong, whose team posted a 52-21 win over the J-Hawks on Nov. 29. "The ball was going in the basket, and we had a lot of energy. We also had a lot of balance, so there were a lot of good things."
Jaeden Pratt led the Jaguars with a career-high 20 points on 9-of-15 shooting. She had scored a total of 49 points in the previous six games.
Pratt also contributed seven rebounds, four assists, three steals and two blocks.
"She was all over," DeJong said. "It wasn't even the points really, although the points were great. She was rebounding, grabbing loose balls on the floor and was literally all over the place so that was good to see."
Centennial made 10 3-point goals. Makenna Clark had three of them, and so did reserves Finley Blackmore and Tillie Smith.
Clark finished with 13 points, while Blackmore had 10. Smith added nine points and five assists.
"If we can shoot the ball like that, it's really going to help us," DeJong said. "Tillie's been very consistent for us, and we're going to need that going forward."
The Jaguars will host a conference game against No. 4 Valley on Tuesday. The Tigers are 7-3 in the league and 9-4 overall after losing at No. 6 Dowling Catholic, 50-32, on Friday.
Centennial will be looking to avenge a 44-40 loss at Valley on Dec. 9.
"Like everybody in the conference, we're just trying to build our resume a little bit," DeJong said. "Valley's next on the list, and it's a big game for both teams I'm sure."