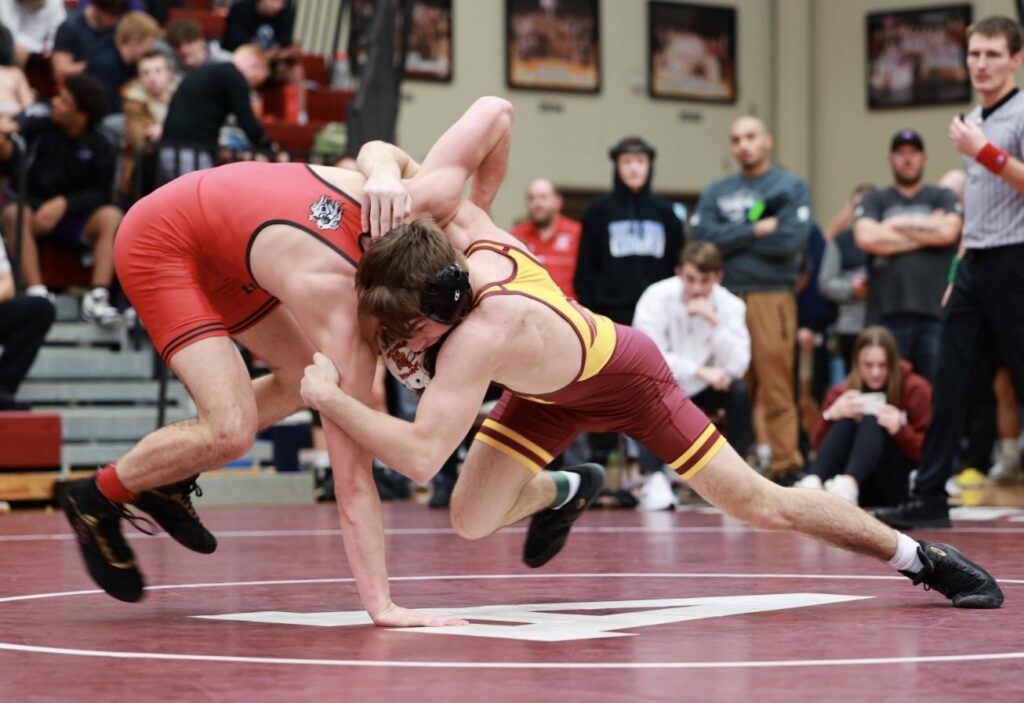 With three individual champions, the Ankeny wrestling team earned a runner-up finish in the Bob Sharp Invitational on Saturday at Ankeny.
The fifth-ranked Hawks racked up 234 points in the 10-team tournament. Waverly-Shell Rock captured the team title with 267.5 points.
"We were hoping to win it," said Ankeny coach Jack Wignall. "But we lost a couple of close matches to Waverly–one in the quarterfinals and one in the semifinals. We were that close. If those two guys get to the finals and we see what happens, we're probably in the driver's seat of that tournament or real close to it. We just have to figure out how to get over those humps."
Ankeny got titles from seventh-ranked Truman Folkers at 113 pounds, No. 2 Jace Anderson at 152 and No. 3 Will Hinrichs at 220. No. 7 JJ Maihan at 120, No. 7 Xander Kenworthy at 182 and No. 3 Cade Bennethum at 195 also advanced to the finals before placing second.
Anderson posted a 3-2 decision over Grant Kress of Linn-Mar (Marion) for the second time this season to win his crown. He raised his record to 18-2.
"Kress and I have wrestled six times total now so we know each other really well," said Anderson. "I know that when I get to my offense I will win. It's always close with him, but I know that I can widen the gap and I plan on doing it the next time we wrestle."
Anderson has won five of the six matches against Kress.
"Jace got a takedown early, and he's a very good defensive wrestler and he was able to wrestle real defensively the rest of the way," Wignall said. "That's just how he wrestles, and he was able to keep the kid at bay. He wrestled tough."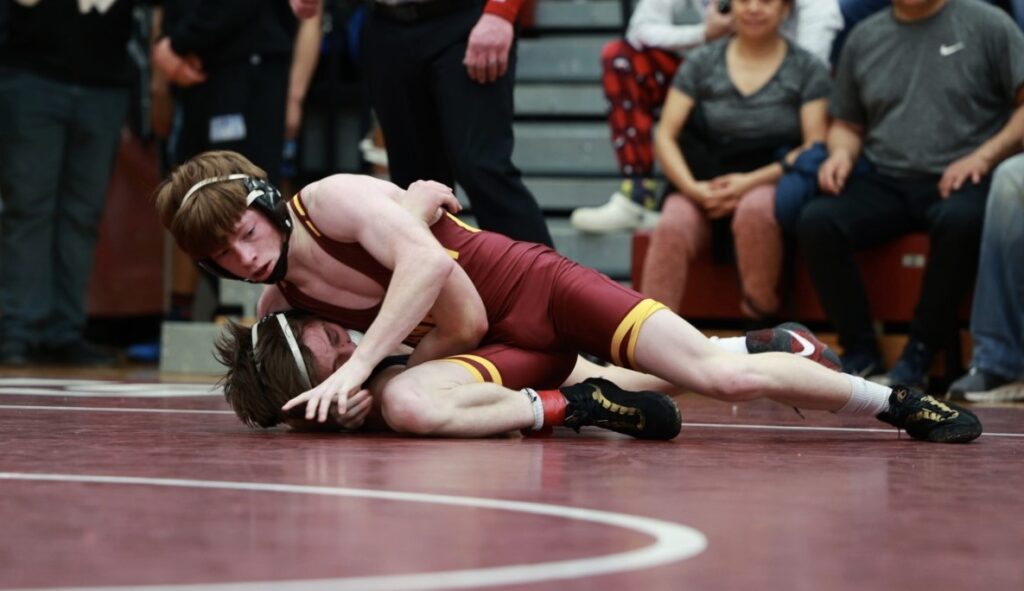 Folkers won his bracket with a dramatic 4-3 decision over Ryker Graff of Waverly-Shell Rock. He lifted his record to 24-5.
Folkers got a takedown and a near-fall in the final seconds to erase a 3-0 deficit.
"That kid from Waverly controlled the whole match for 5 minutes 52 seconds. They went out of bounds with 8 seconds left," Wignall said. "Then they blow the whistle and with 4 seconds left Truman headlocks the kid and gets two points for the takedown and two back points and beats him. That's why you wrestle for 6 minutes. It was amazing."
Hinrichs cruised to the title at his weight. He posted an 11-3 major decision over Caden Wetherell of Waverly-Shell Rock to improve his mark to 22-5.
"Will's wrestling really well right now," Wignall said. "He wrestled that kid at the Donnybrook, and it was a closer match. This time, Will just dominated. He hit two or three (double-leg takedowns) in the third period and ended up majoring him."
Bennethum reached the finals with a fall over James Bouska of Linn-Mar in just 36 seconds. He was then pinned by McCrae Hagarty of Waverly-Shell Rock in 1:47, dropping his record to 17-5.
"Hagarty is tough, but Cade goes out there and scraps with him all the time," Wignall said. "There's going to come a time when Cade catches him. At least that's my hope."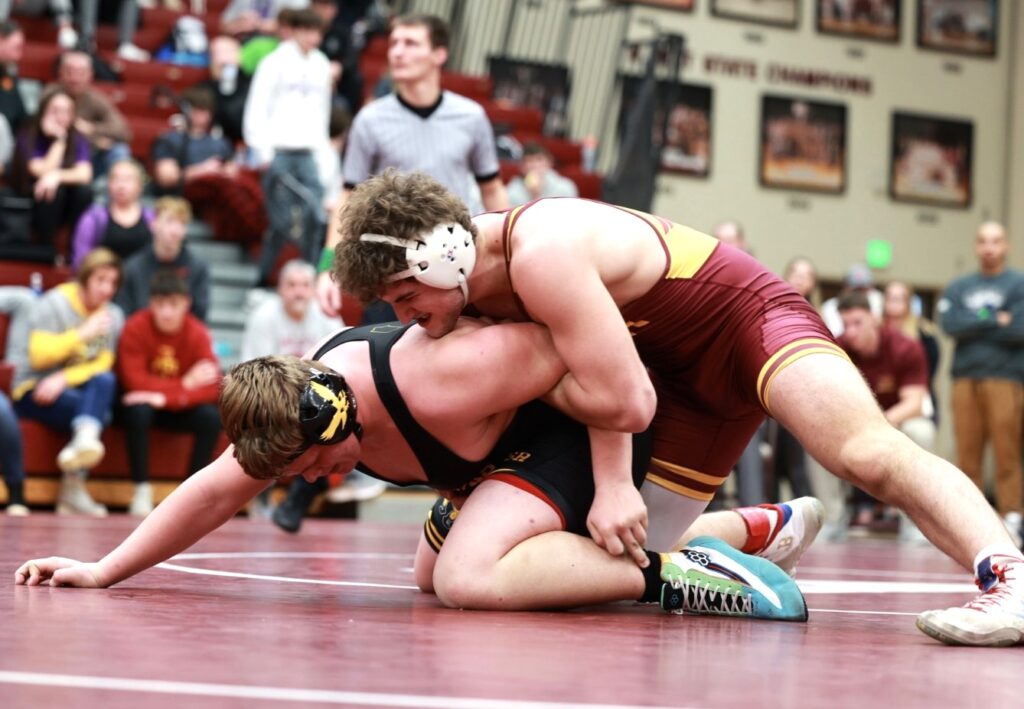 Kenworthy is also 17-5 on the season after his runner-up finish. He recorded two pins in a combined 83 seconds before losing by a technical fall, 20-5, to Tate Naaktgeboren of Linn-Mar.
Maihan posted a 16-8 major decision over Alex Hornyak of Waverly-Shell Rock in the semifinals. He then dropped an 8-1 decision to Bowen Downey of Indianola, leaving him with a 13-6 record.
Ankeny got a third-place finish from No. 4 Ben Hansen at 138. He lost by a technical fall in the semifinals to Kane Naaktgeboren of Linn-Mar before pinning Donovan Card of Norwalk in 5:21 in the third-place match to improve to 24-4.
In the finals, Naaktgeboren lost by a technical fall to Ryder Block of Waverly-Shell Rock.
"That was probably the toughest bracket at the tournament–top to bottom," Wignall said. "It just wasn't a good style matchup for Ben (in the semifinals). And then Ryder just destroyed (Naaktgeboren) in the finals. The top two at that weight are just on a different level from everybody else in the state."
No. 11 Joe Kingston at 285 and Ben Walsh at 106 each placed fourth for the Hawks.
Ankeny will travel to Knoxville on Thursday for a non-conference dual meet against the Panthers. It will be a special night for Wignall, who grew up in southern Iowa.
"I spent a lot of time in Knoxville growing up," he said. "My mom and dad live about 15 miles away, and they don't get to see us wrestle very often. So they're going to be there, and I'm really excited about it."