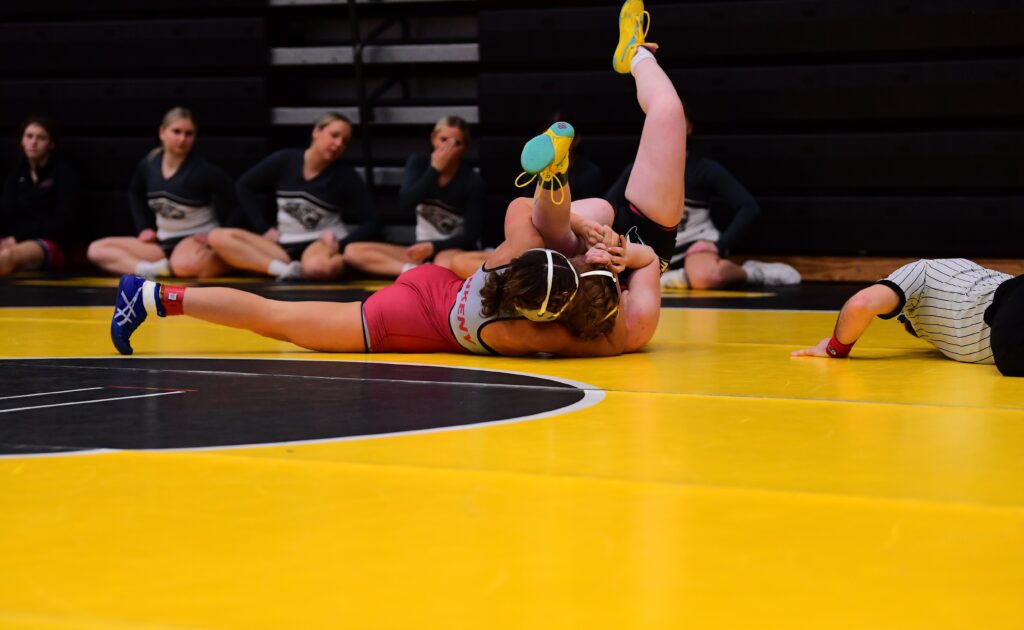 During the regular season, the Ankeny girls' wrestling team went undefeated against the other schools in the CIML Conference.
On Tuesday, Ankeny defeated those teams again to win the CIML individual tournament at Valley. It crowned five champions and racked up 230 points, 13 more than runner-up Raccoon River Northwest.
Southeast Polk placed third in the six-team field with 161 points.
"It was another historic night for our program," said Ankeny coach Dustin Roland. "These girls have worked their butts off and if they don't know right now they will someday understand the significance of what they have accomplished this season. Technically, our last couple competitions we have not done a great job of leg attacks from our feet. We were much better at that tonight."
Ankeny's individual champs were Nora Bockes at 110 pounds, Elyse Engebretson at 115, Avery Grim at 125, Dana Cleveland at 135 and Melanie Martinez at 235. They each recorded a fall in the finals.
"Tournaments are often won on the backside of the bracket and with bonus points," Roland said. "We led the tournament with 26 falls and had some big backside wins out of Ava Birchmier, Josie Bishop, Ella Hron, Lily Hans and Lauren Heimer. This was the difference for us. It is evident that teams are getting better, and we have to continue to work to stay ahead of them. We now have a target on our backs."
Engebretson, Grim and Cleveland each had three falls on the night. Bockes and Martinez each had two.
Bockes pinned Avery Buhr of Valley in 3 minutes 11 seconds to win her title. She improved to 34-6 on the season.
Engebretson pinned Jackeline Rodriguez of Southeast Polk in 2:51. She raised her record to 26-5.
Cleveland pinned Cecilia Scarff of Southeast Polk in 4:32. She is now 31-4.
Martinez twice pinned Martina Kovalcikova of Urbandale in a bracket that featured just those two wrestlers. She got the falls in 45 seconds and 1:11 to lift her mark to 28-6.
Grim pinned teammate Emma Daggett in 1:26. Grim is now 20-3, while Daggett dropped to 17-6.
"Both Emma and Maddy (Seeber) fought their way to the finals as non-point scorers," Roland said.
Seeber (10-7) placed second at 190. She lost in the finals in overtime, 6-4, to Aleah Johnson of Raccoon River Northwest.
Other runner-up finishers for Ankeny were Trudy Haag at 120, Gia Blaser at 140 and Mallorie McGuire at 145. Blaser and McGuire each had a pair of falls before losing in the finals.
Haag was pinned by Calista Rodish of Raccoon River Northwest in 1:26. She is now 22-9.
Blaser was pinned by Naomi Templeman of Raccoon River Northwest in 5:00. She fell to 29-10.
McGuire lost to Addison Herrick of Raccoon River Northwest, 5-3, in overtime. She dropped to 21-11.
Placing third for Ankeny were Hron at 105, Hans at 130 and Heimer at 170.
"A few of our girls will be competing at Colfax-Mingo Saturday, but most of our varsity will be off until (Jan. 27) for our regional tournament at Hy-Vee Hall," Roland said.