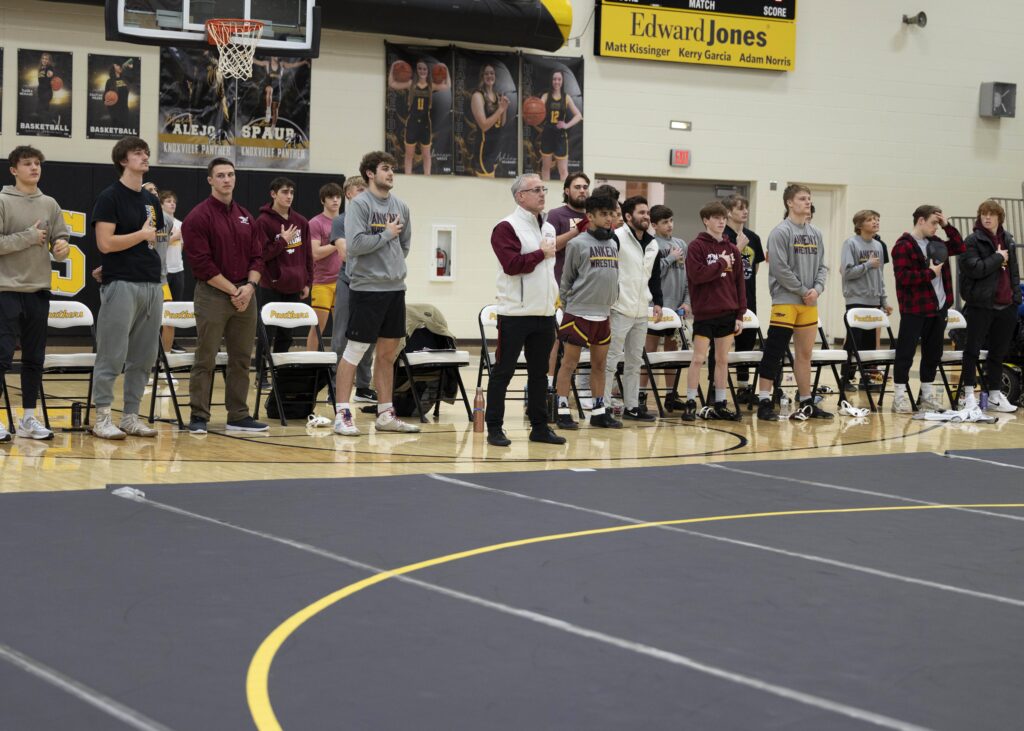 Thursday's trip to Knoxville was a sentimental one for Ankeny wrestling coach Jack Wignall.
Wignall, who spent a lot of time in Knoxville while growing up in southern Iowa, guided the fourth-ranked Hawks to a 72-6 victory in the non-conference dual meet.
"We had a good time," said Wignall. "It was good to see my family there. They hadn't seen me coach for awhile, so it was really nice knowing they were in the stands."
Ankeny won 13 of the 14 matches while raising its record to 15-1. The Hawks recorded nine falls, including seven in a row during one stretch.
Knoxville, the No. 20 team in Class 2A, was simply outclassed.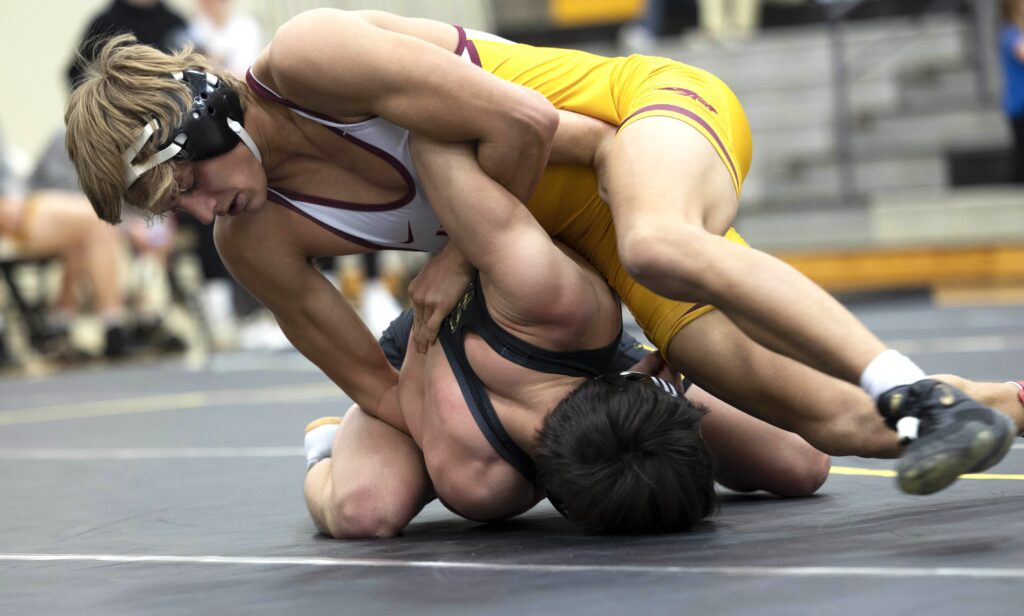 "I think (the meet lasted) about 45 minutes, but we had some good matches," Wignall said. "Ben (Hansen) beat a kid who was like 27-0 or 28-0. Xander (Kenworthy) wrestled a kid with over 20 wins."
The fourth-ranked Hansen posted a 10-2 major decision over Luke Spaur at 138 pounds. Spaur is ranked fourth in Class 2A.
The No. 7 Kenworthy pinned Wayne Johnston in 1 minute 36 seconds at 182. His pin came after one by Teagen Peiffer at 170 and was followed in succession by five more falls from No. 3 Cade Bennethum at 195, No. 3 Will Hinrichs at 220, No. 11 Joe Kingston at 285, Ben Walsh at 106 and No. 7 Truman Folkers at 113.
Ankeny's Leo Perez Perez opened the meet with a fall at 126. No. 2 Jace Anderson also had a pin at 152.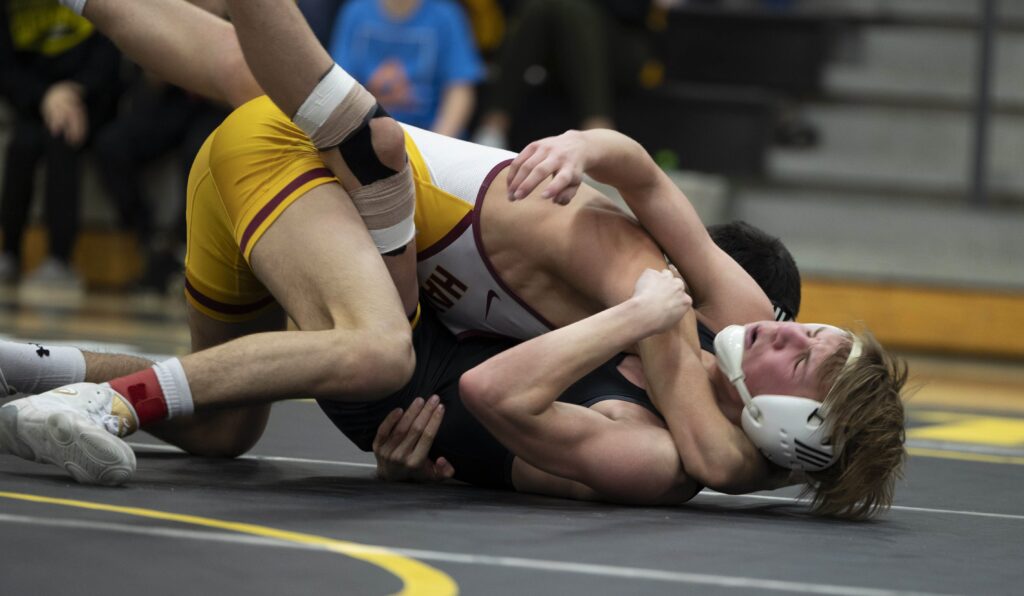 Seven of the Hawks' nine falls came in the opening period. Bennethum had the fastest pin, needing just 32 seconds to flatten Ruger Kendall.
Kinnick Vos won by a technical fall for Ankeny at 132, while Alex Cox won by forfeit at 145. No. 7 JJ Maihan closed out the meet with a 9-4 decision over Marco Alejo at 120.
Wignall said he was pleased with the way his team handled the road trip.
"It was just another thing that we had to do–travel about an hour to a new location and have the kids get warmed up in a gym that they'd never been in and wrestle a team that we haven't wrestled for several years," he said. "We were hoping they would respond like they have every other time this year, and they did. But taking them out of their comfort zone a little bit is a good thing to do."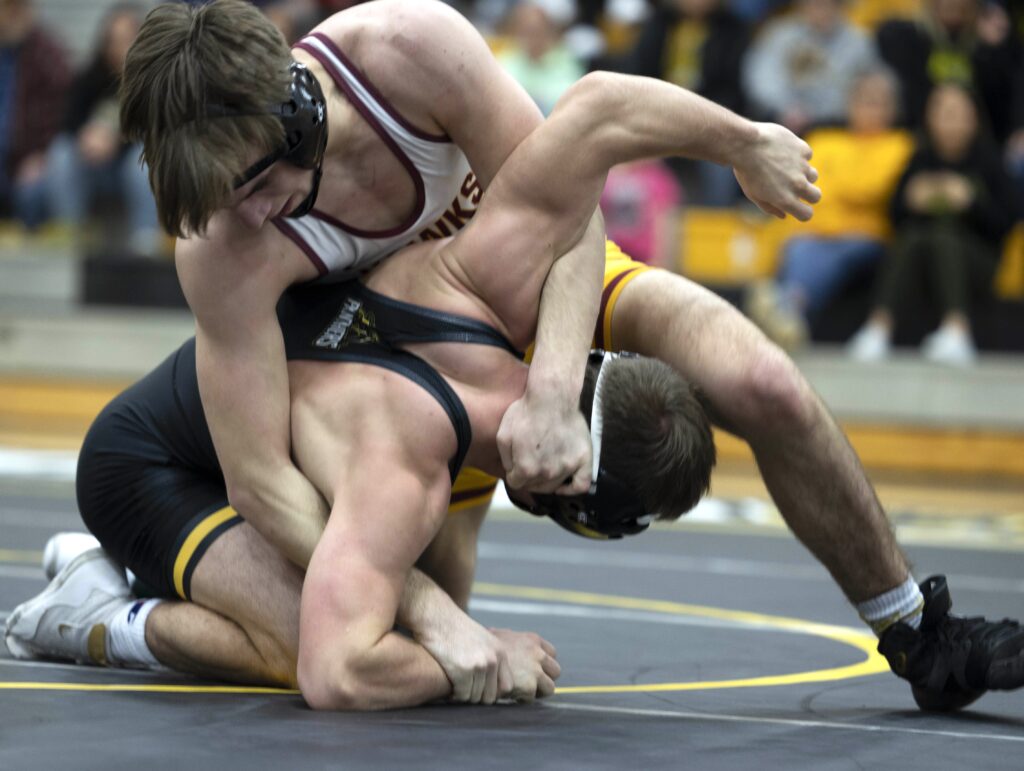 The Hawks will host the Dave Ewing Duals on Saturday. They will be looking to win the tournament for the fourth straight year against a strong field that includes Bondurant-Farrar and Independence.
Here are the match-by-match results from Thursday's meet:
Ankeny 72, Knoxville 6
126: Perez Perez pinned B. Trout, 1:51; 132: Vos won by technical fall over McCreery, 17-2; 138: Hansen beat Spaur, 10-2; 145: Cox won by forfeit; 152: Anderson pinned A. Trout, 3:26; 160: Graves (K) pinned Schlee, 3:08; 170: Peiffer pinned Sinnard, 1:43; 182: Kenworthy pinned Johnston, 1:36; 195: Bennethum pinned Kendall, :32; 220: Hinrichs pinned Kingrey, 1:27; 285: Kingston pinned Roberts, 1:07; 106: Walsh pinned DeRaad, 2:44; 113: T. Folkers pinned Finnegan, :38; 120: Maihan beat Alejo, 9-4.