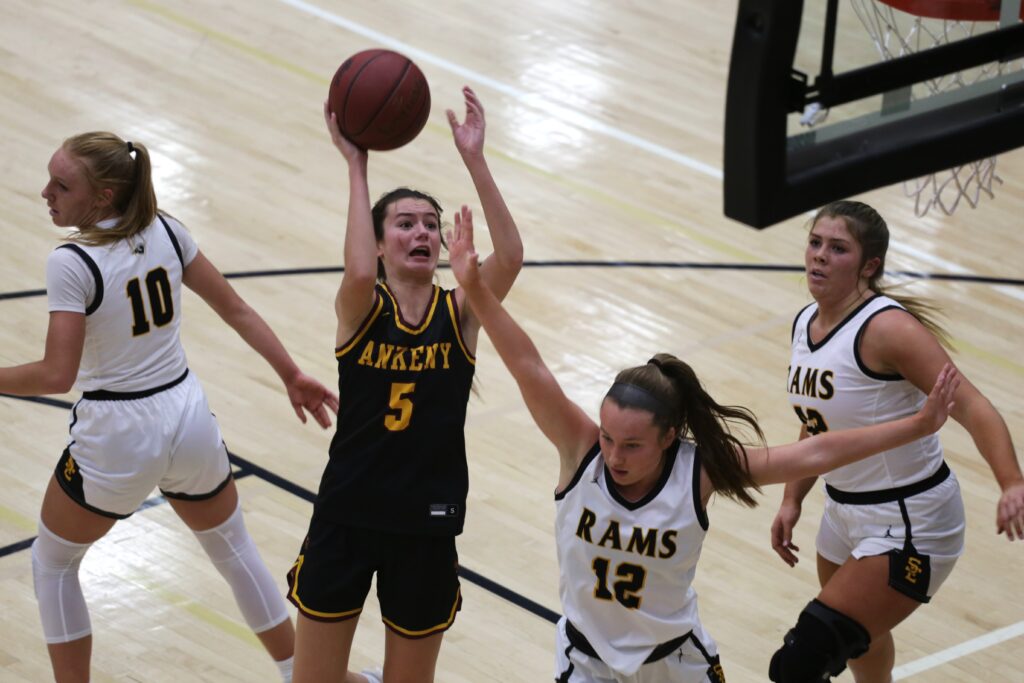 Ankeny girls' basketball coach Dru McAnelly wasn't sure if Southeast Polk star Brooklin Dailey would play in Friday's game at Pleasant Hill.
It turned out that the eighth-ranked Rams didn't need her.
Playing without the injured Dailey, Southeast Polk made 15 3-point goals and defeated No. 15 Ankeny, 77-65, in a CIML Conference game.
"Credit to them," McAnelly said. "Obviously, they're playing a little faster without Dailey, which I think is good strategy by them. We struggled guarding the basketball and then we had to overhelp, so then we gave up a lot of open 3s. They shot it well, but I didn't think we guarded the ball very good tonight. Hats off to them. They shot the crap out of it."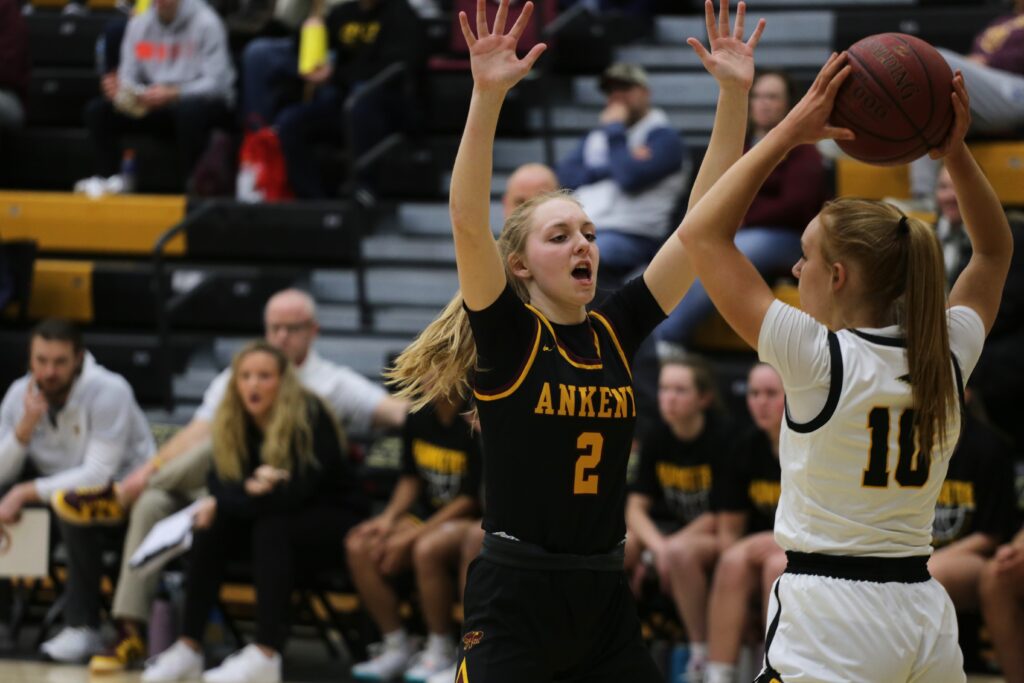 Dailey, who recently surpassed the 1,000-point career mark, is the third-leading scorer in Southeast Polk's history. The Drake recruit had 18 points in a 57-43 victory at Ankeny on Dec. 6, but she sat out her team's win at Waukee Northwest on Tuesday.
"We scouted like she was going to play," said Ankeny guard Jenna Pitz. "We weren't sure if she was going to play or not, but we knew it wasn't going to affect our game plan. We knew we had to come out ready to go."
The Hawkettes jumped out to an early 7-3 lead, getting seven quick points from Savannah Gage. But Southeast Polk then answered with an 11-0 run to take the lead for good.
Zoe Hinze, Stella Charleston and Jacie Mitchell hit three consecutive 3-pointers during the run.
"They were lights out tonight," Pitz said of the Rams.
Southeast Polk scored the final seven points of the first half to build a 35-23 lead. The Rams had nine 3-pointers in the first two quarters.
"In this league against top-10 teams, it's not in your favor to get yourself into a 12-point hole in the first 16 minutes," McAnelly said. "Especially on the road, it makes life difficult in the second half."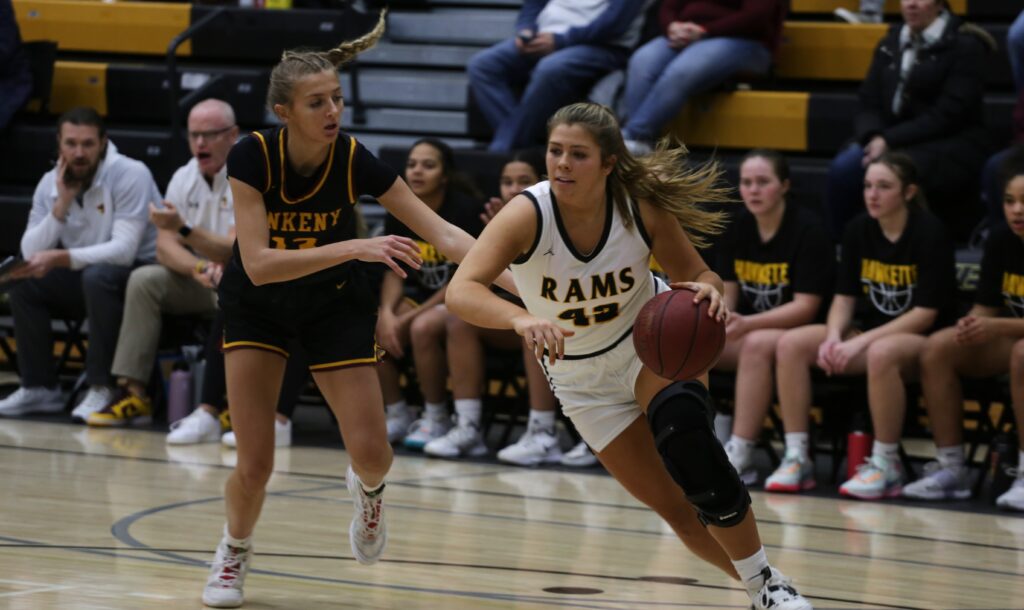 Southeast Polk extended its lead to 55-39 after three quarters. Mitchell made back-to-back 3-pointers midway through the period, including one from well behind the arc.
"Unfortunately, they were hitting their shots tonight," Pitz said. "We tried to respond, but it was too much to overcome. We've just got to start out stronger so we don't get in such big holes."
Pitz scored 11 of her season-high 20 points in the fourth quarter to spark an Ankeny rally. She converted a 3-point play with 1 minute 46 seconds left to close the gap to 64-57.
However, Southeast Polk made 11-of-12 free throws in the final 1:05 to seal the victory.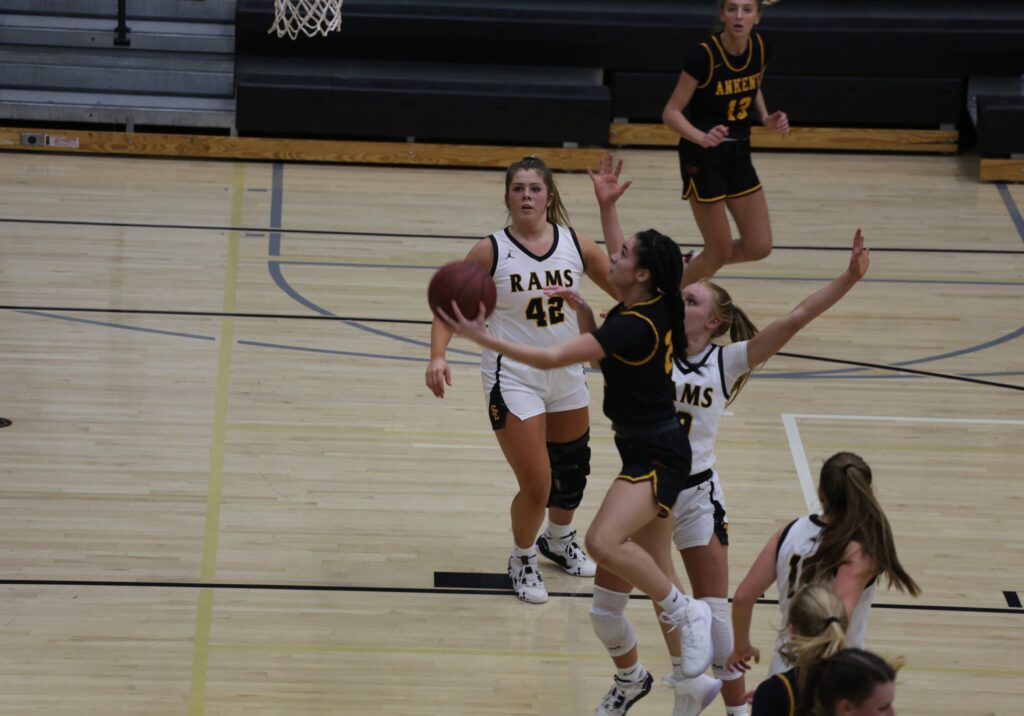 "Jenna's getting back into her game, and obviously Savy played well and Jayla (Williams) had a great second half," McAnelly said. "I thought Zoe Shadravan brought great energy. It was just too little, too late."
Hinze had 22 points to lead the Rams, who improved to 7-4 in the conference and 10-4 overall. Eva Solseth chipped in 15 points, Alyssa Bartlett and Charleston each had 13, and Mitchell added 11.
Bartlett also had nine of Southeast Polk's 20 assists. The Hawkettes, meanwhile, had just two assists.
Gage scored 21 points and grabbed eight rebounds to lead Ankeny, which dropped to 3-8 in the league and 8-8 overall. She went 4-of-4 at the free-throw line and has now made 27 straight attempts over the last nine games.
Williams had all 11 of her points in the final two periods.
"They've played a lot of zone this year, but they played man tonight and did a lot of switching," McAnelly said of the Rams. "They did a good job of getting back in transition and taking away easy looks for us."
The Hawkettes will host a conference game against No. 4 Dowling Catholic on Tuesday. The Maroons snapped No. 1 Johnston's 42-game winning streak with a 62-48 victory on Friday, their eighth in a row.
Dowling is 9-3 in the league and 11-4 overall. The Maroons defeated Ankeny last month, 51-48, when Ellie Muller converted a 3-point play with 2 seconds left.