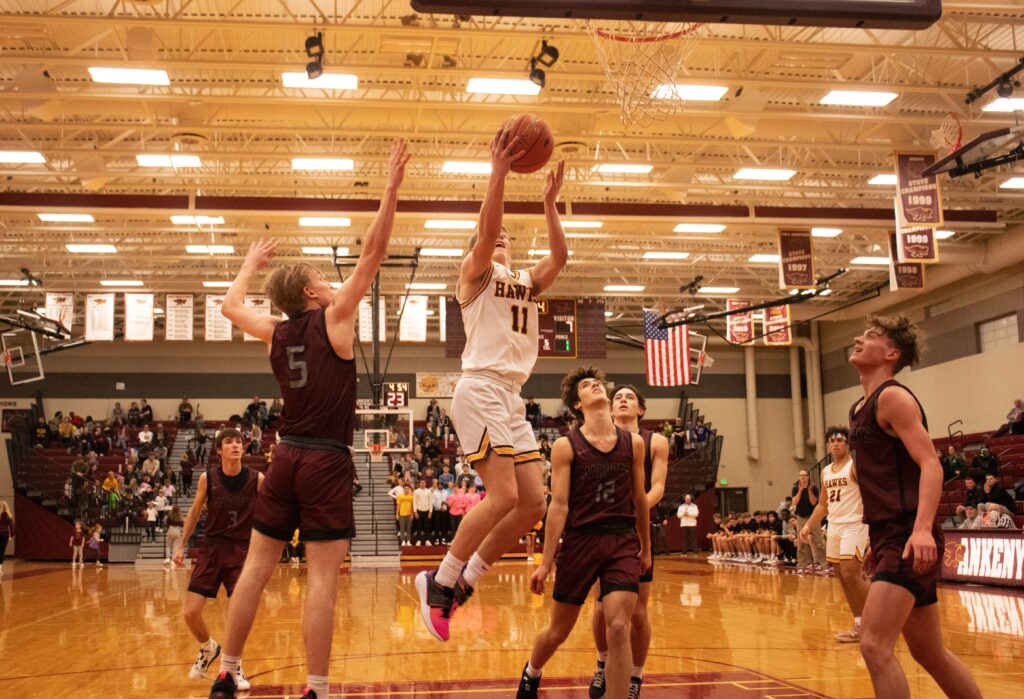 A challenging season for the Ankeny boys' basketball team may have gotten even more challenging on Tuesday.
Junior guard Carson Johnson, the Hawks' leading scorer, suffered an ankle injury during his team's 61-49 loss to visiting Dowling Catholic. The Maroons avenged a 74-65 loss to Ankeny last month.
"We struggled offensively," said Ankeny coach Brandt Carlson. "Carson got hurt at the end of the first quarter and didn't play the rest of the game. I think that kind of set our guys back a little bit with their confidence."
The loss ended a three-game winning streak for Ankeny, which dropped to 4-8 in the CIML Conference and 6-10 overall. The Maroons improved to 6-7 in the league.
Johnson had averaged 20.3 points per game during the Hawks' winning streak. On Tuesday, he made his first three shots from the field–including a pair of 3-point goals–before suffering his injury.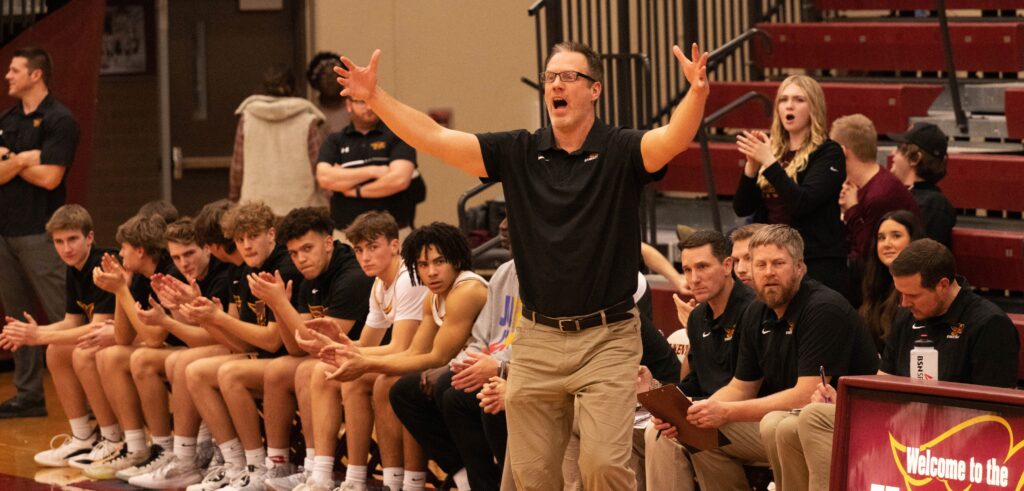 "He just came down on someone's foot," Carlson said of the injury. "I think we were up 10-9 in the first quarter, and Carson had eight of our 10 points. He was shooting well and playing well like he has been. It's just a tough situation for our team at this point. We hope it's not a serious injury."
Without Johnson on the court, Ankeny quickly fell behind. Dowling took a 17-12 lead at the end of the first quarter, then extended its margin to 40-21 at halftime.
The Hawks cut into the deficit in the second half, but the hole was too big to overcome.
"Dowling is playing well, and they shot really well the first half–they shot 60-some percent," Carlson said. "We held their leading scorer (Drew Mauro) to three points, but their other guys got loose and hit some shots.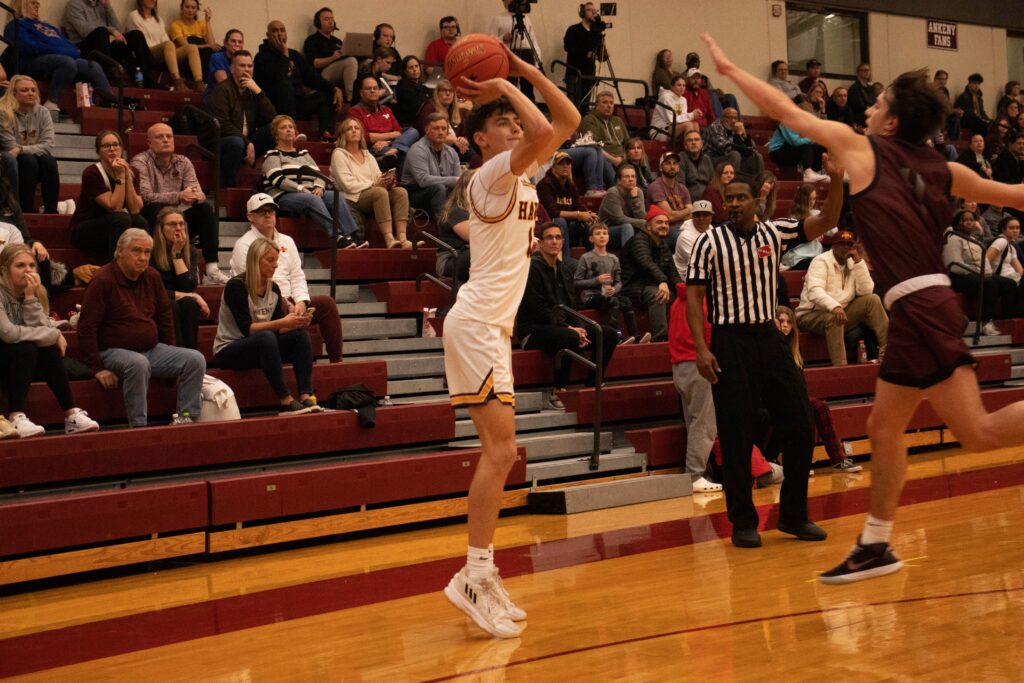 "We battled them in the second half and did some good things, but we were just too far down," he added.
Joey Coppola IV scored 21 points to lead the Maroons, going 5-of-9 from 3-point range. Ryan Kleppe added 16 points.
Seven different players had 3-pointers for Dowling, which went 12-of-28 from behind the arc.
Drew Trimble had 10 points to lead Ankeny. Devon Akers chipped in eight, and Cash Schoolen added six.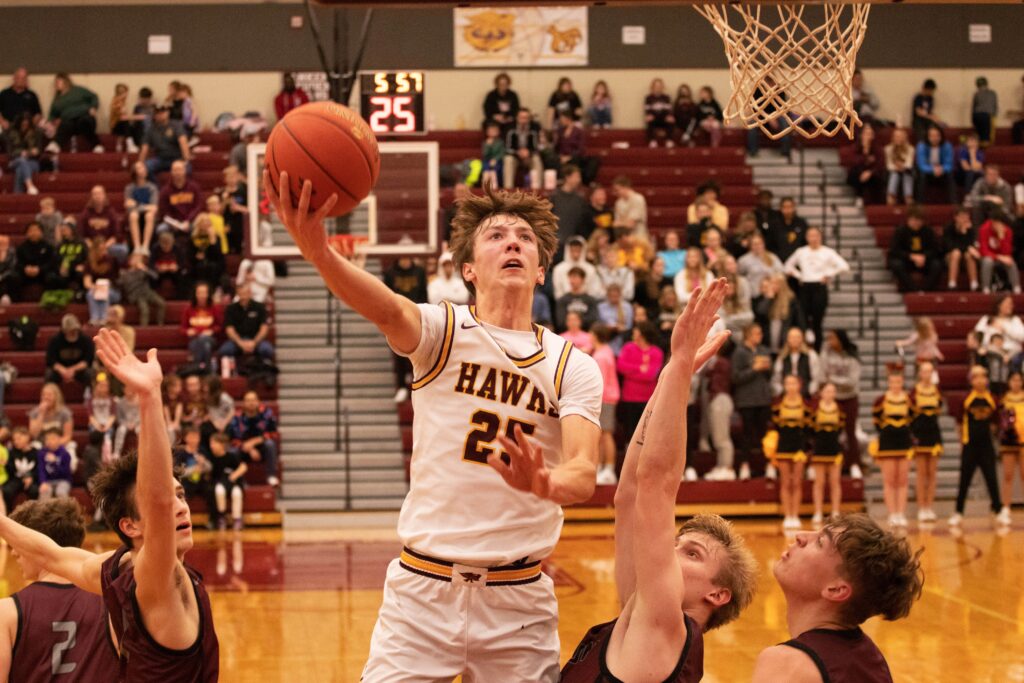 "I thought Devon and Cash played hard," said Carlson, whose team also got six rebounds from Lio Aguirre and five assists from Maddox Ward. " Luke Anderson–a sophomore–came off the bench, and I thought he grew up a little bit. We just couldn't get any consistent offense going."
Ankeny will travel to Waukee Northwest on Friday for another conference game. The third-ranked Wolves have been idle since dropping a 77-55 decision at No. 2 Waukee last Friday.
Northwest is 10-2 in the league and 13-2 overall. The Wolves posted a 60-29 win at Ankeny on Dec. 13.
Carlson said his team is trying to focus on the big picture with six games left in the regular season.
"For us, it's disappointing to lose any game," he said. "But our season has been a season of challenges. We're focusing on February and trying to keep everyone as healthy as we can and see what we can do in the postseason."