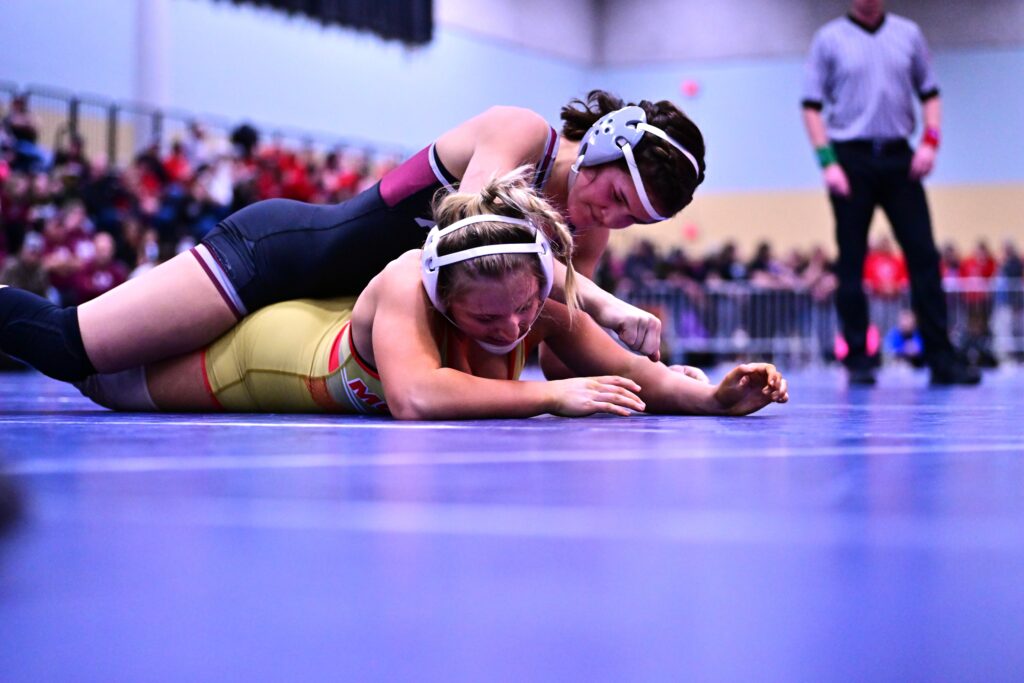 Friday was another historic day for the Ankeny girls' wrestling program.
Competing in a regional tournament at the Iowa Events Center, Ankeny placed second in the 25-team field and qualified eight of its wrestlers for the first girls' state tournament next week at Xtream Arena in Coralville.
"It was a great day!" said Ankeny coach Dustin Roland. "We are very excited about our eight state qualifiers, but we are also hurting for those whose seasons came to an end sooner than they had hoped. I couldn't be more proud of all of our girls for fighting their way through some tough brackets."
Cedar Falls won the tournament with 275 points. Ankeny racked up 215 points, finishing 34.5 points ahead of Dallas Center-Grimes.
Ankeny's inaugural season began with a 48-27 loss at Dallas Center-Grimes on Nov. 14.
"We finished behind a very talented Cedar Falls team, but beating DC-G was a huge thing for us team-wise as we started our season–and many of our careers–by taking a beating from them," Roland said. "I hope our girls can see how far we have come on that result alone."
Ankeny was led by the duo of Elyse Engebretson and Dana Cleveland. They both pinned their way to a regional title.
Engebretson recorded three straight falls in a combined 3 minutes 31 seconds at 115 pounds. The sophomore pinned Jasmine Oleson of Cedar Falls in the final in 1:21 to lift her record to 29-5.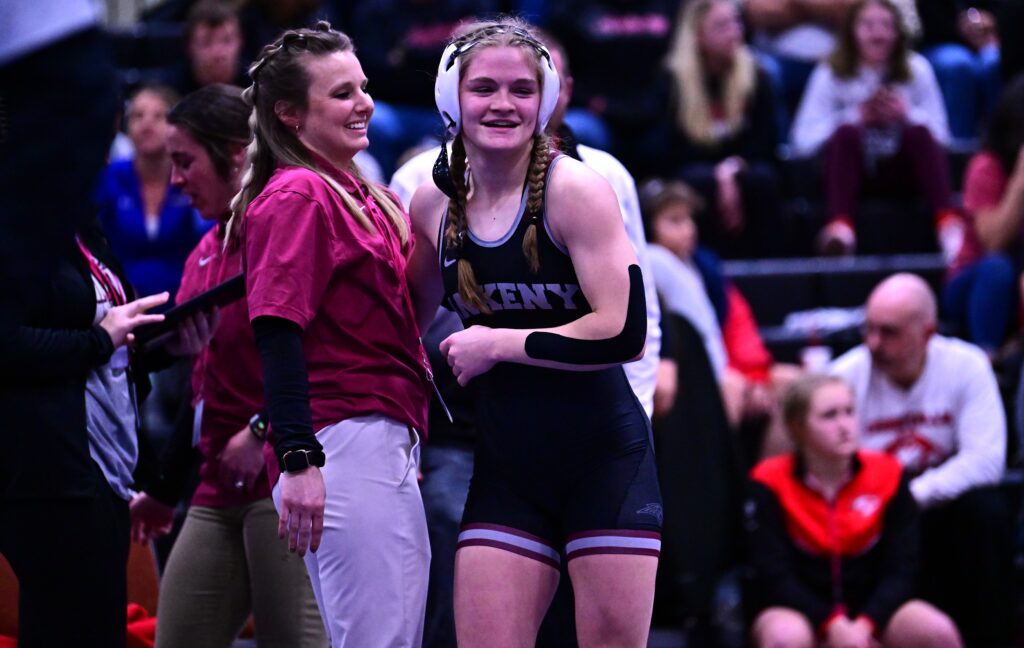 Cleveland had four consecutive pins at 135, capped off by a fall over Bella Mulder of Dallas Center-Grimes in 3:43. The junior is now 35-4 on the season.
"Those two are really making names for themselves across the state," Roland said.
Six other Ankeny wrestlers also qualified with top-four finishes at their respective weights. Ella Hron at 105 and Trudy Haag at 120 both placed third, while Nora Bockes at 110, Lily Hans at 130, Gia Blaser at 140 and Mallorie McGuire at 145 each finished fourth.
"Trudy came into the tournament seeded sixth, but finished third to punch her ticket to state," Roland said.
Haag (28-10) pinned Nina Alexander of Indianola in 5:08 to reach the semifinals. After losing to eventual champion Layla Ewing of Moravia, she then pinned her next two opponents in the consolation bracket to earn a third-place finish.
Hron (28-16) lost in the quarterfinals, but then battled her way back to place third as well. She recorded four straight pins in a combined 4:20.
Bockes (36-8) had one of the most exciting wins of the day in the quarterfinals. She escaped in the final seconds of the third overtime period to post a 2-1 decision over Gracie Waage of Dallas Center-Grimes.
Hans (26-13) reached the semifinals with an 11-4 decision over Grace Keeler of Creston. She was later pinned by Anna Johnson of Cedar Falls in 54 seconds in the third-place match.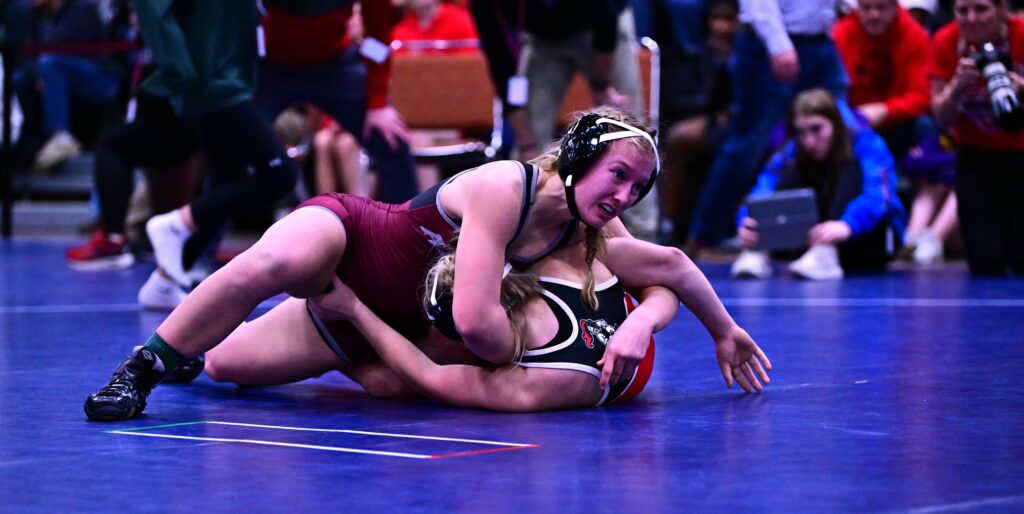 Blaser (32-12) needed just 10 seconds to pin Emma Wenger of Albia in the quarterfinals. She later dropped an 8-4 decision to Cieanna Ficken of West Marshall in the third-place match, then pinned Zoey Vandevender of Creston in 26 seconds in the wrestle-back match for fourth.
McGuire (22-13) reached the semifinals with a pin over Mckayla Warren of Cedar Falls in 1:04. After losing her next two matches, she then pinned Brianna Aebischer of Newton in 4:40 in the fifth-place match and was awarded fourth because of her earlier victory over Warren, who lost in the third-place match.
The state tournament will be held on Thursday and Friday.
"We will take our eight girls to Coralville and see what we can do," Roland said. "Our coaching staff is so proud of this team and the effort they have put in this year!"