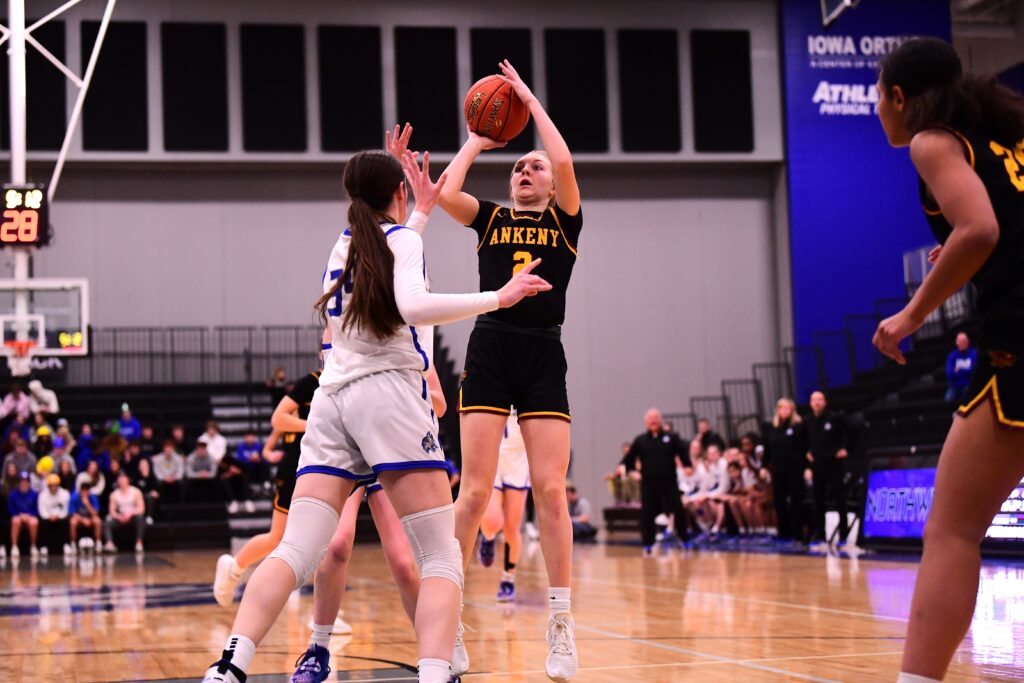 If the Ankeny girls' basketball team hopes to finish the season with a winning record, Friday's contest at Waukee Northwest was a must-win game.
The 14th-ranked Hawkettes got what they needed with a 59-52 victory, allowing them to sweep the season series. They improved to 4-9 in the CIML Conference and 9-9 overall with three games left in the regular season–two of them against top-10 opponents.
"It was huge," said Ankeny coach Dru McAnelly, whose team ended a two-game slide. "It was one of those games that we really needed to go through some highs and lows and obviously find a way to win. It was huge for our confidence and huge for our morale."
Ankeny let a 15-point lead slip away before taking control of the game in the fourth quarter. Savannah Gage scored 25 points to lead the Hawkettes.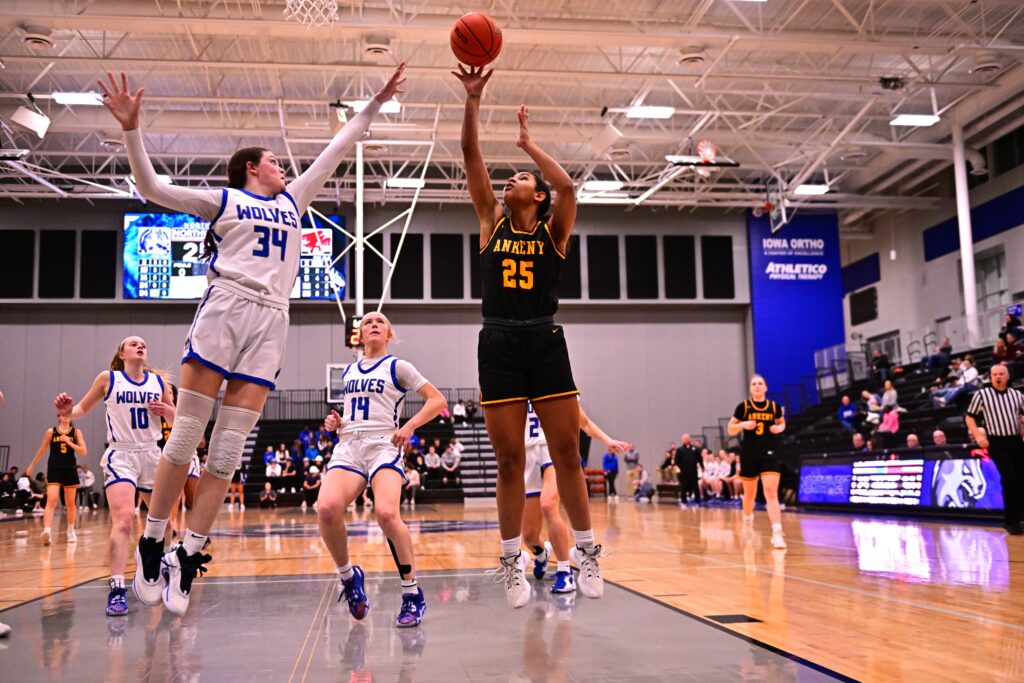 "I think we just stayed composed and played together through stretches of adversity in certain points of the game," said Gage, who went 5-for-5 at the charity stripe and has now made 34 straight free throws over the last 11 games. "We knew they were going to make a run–that's just how the game works. Northwest did a good job on defense pressuring the ball, but I'm really glad we stayed calm and focused to get a great team win!"
The Hawkettes built a 28-13 lead in the first half before Northwest closed the gap to 30-22 at halftime. The Wolves then outscored Ankeny in the third quarter, 18-7, to take a 40-37 lead.
"The game had a lot of twists and turns," McAnelly said. "We got out to a big lead, but then we got outscored for a pretty good stretch. But we found a way to win. It was a total team effort."
Ankeny still trailed, 47-44, before closing the game on a 15-5 run over the last 4 minutes. Gage scored a basket with 38 seconds left to give the Hawkettes a 57-52 advantage.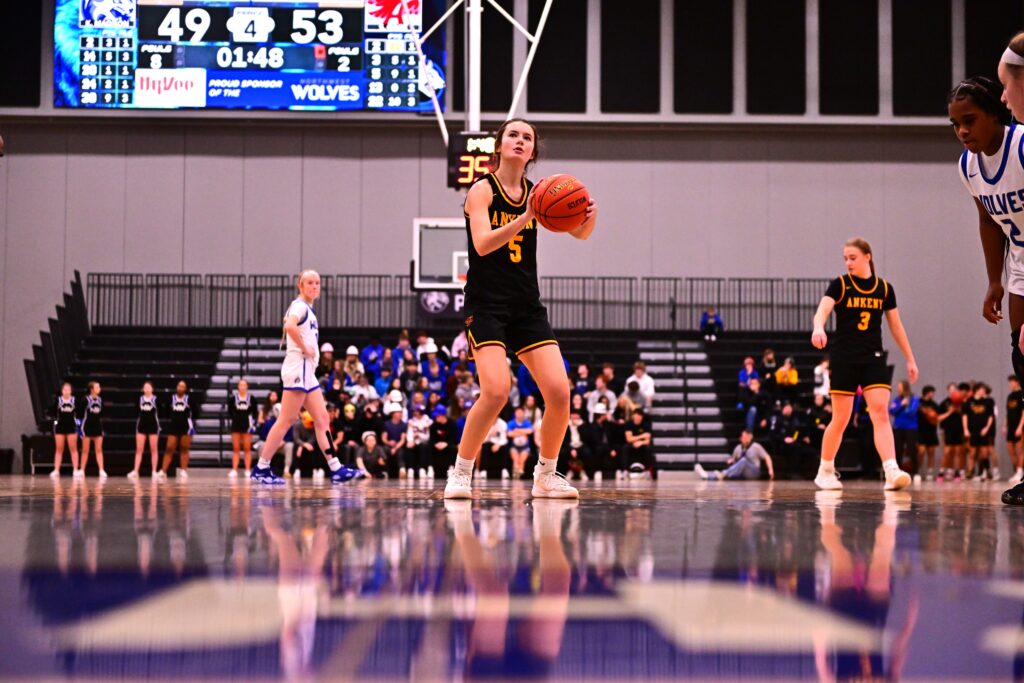 The sophomore also had six rebounds and six steals.
"Savannah was unbelievable," McAnelly said. "Her game is on another level right now. And the beautiful thing is that she's a great defender, too, and she's starting to rebound the ball really well."
Jenna Pitz had 11 points and five assists for the Hawkettes. Jayla Williams racked up a double-double with 10 points and 10 boards.
"Jenna hit some big shots and some big free throws late," McAnelly said. "And Jayla had a deceiving 10 points. We slapped a press on them, and she had four or five steals and just really dictated things defensively."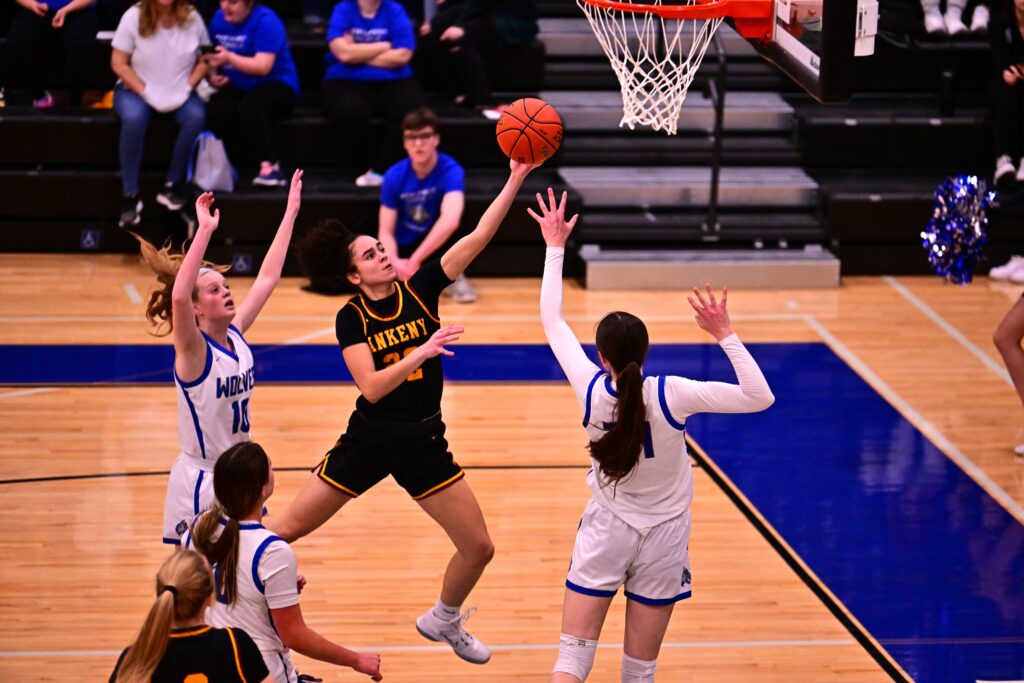 Ankeny moved into a tie with Northwest for sixth place in the conference.
"We're a few layups away from being 12-6 or 11-7," McAnelly said. "We're a lot better team than what our record states, but our record is what it is. At this point, we can't do anything about it. We just have to hope that we can win some more games and get the best seed possible (for the regional tournament)."
The Hawkettes will now have a week off before playing at No. 6 Ankeny Centennial on Friday. The Jaguars are 8-5 in the conference and 13-5 overall after losing at No. 2 Johnston, 66-59, in overtime on Friday.
Centennial won the first meeting at Ankeny, 59-52, on Dec. 20.