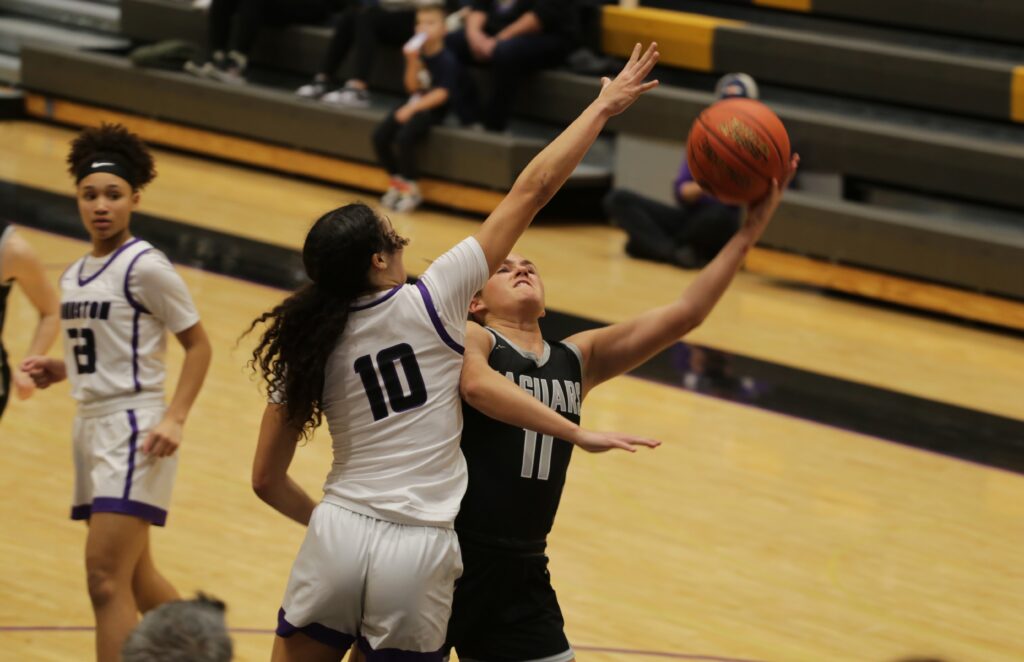 A week ago, the Johnston girls' basketball team suffered its first loss in 43 games, proving that the second-ranked Dragons are beatable.
On Friday, the defending state champions nearly took another loss–this time on their home court.
No. 6 Ankeny Centennial built a 49-42 lead with 2 minutes 51 seconds left, but Johnston used a 10-3 run to force overtime and went on to post a 66-59 victory in a CIML Conference game.
"It sucks," said Centennial coach Scott DeJong. "We did so many good things. We were pounding the boards for most of the game."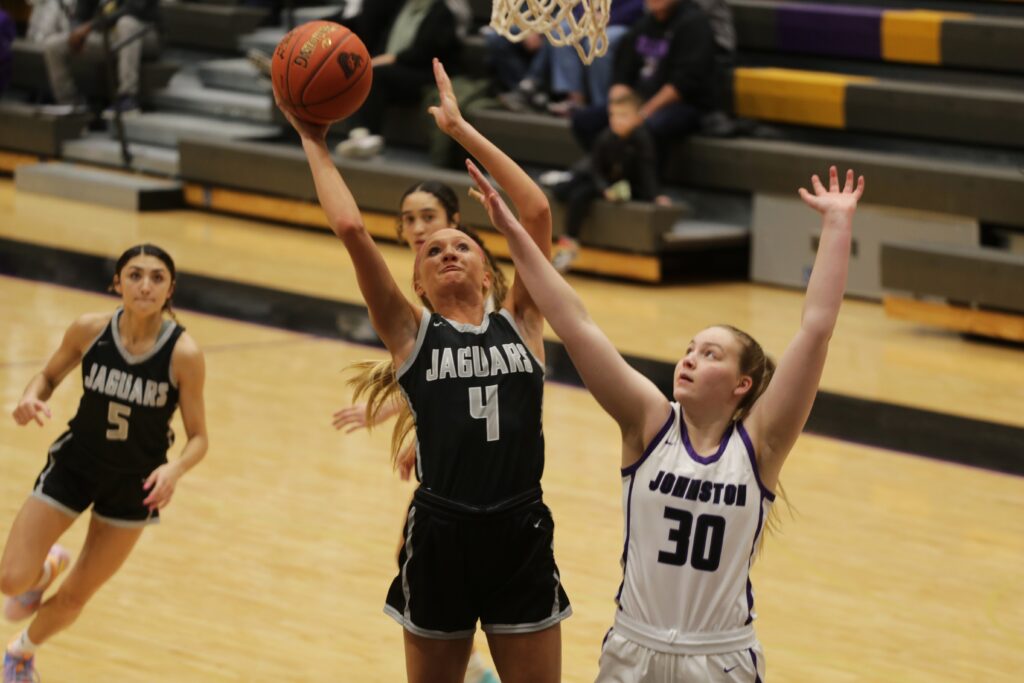 In the end, though, the Jaguars couldn't overcome their foul problems. Jaeden Pratt fouled out with 8 seconds left in regulation, which led to a pair of tying free throws by Aili Tanke.
Centennial then lost Kennedy White, Averi Porter and Makenna Clark to fouls in the extra period.
"I don't know how many free throws they had, but they made (almost) every single one," DeJong said. "I don't know if they would have scored, but we were putting them at the line and then they were putting them in. You would think if we were ahead by five (points) that our defense could hold, but it couldn't. When you deserve to win, you win. We didn't quite deserve it tonight."
Johnston made 23-of-29 free throws, including a 7-for-7 effort by Tanke. That allowed the Dragons to overcome 35.8 percent shooting from the field and 22.7 percent accuracy from 3-point range.
"It's always something different when you come to another team's home court," said Centennial guard Makenna Clark, who scored a season-high 16 points to lead the Jaguars. "We always have that fight in us to get there, but it's just the finishing that we have to work on. I have full confidence that we will."
Johnston's late rally was ignited by Aaliyah Riley, who made a 3-pointer with 2:38 to go. Pratt answered with a basket for Centennial, but the Dragons then scored five straight points and pulled to within 51-50 on a layup by Emma Hampton with 28 seconds remaining.
After Clark made the second of two free throws with 19 seconds left to make it 52-50, Tanke was fouled on the ensuing possession. She calmly made both free throws to force overtime.
"I thought we were really clicking at times in the third and fourth quarters," DeJong said. "Kennedy was about unstoppable. But they changed the momentum a little bit, and we didn't respond at the end."
Johnston took the lead for good when Jenica Lewis scored on a backdoor layup with 3:09 left in overtime. The Dragons pulled away to a 64-52 lead before Centennial finally got two free throws from Porter with 47 seconds to go.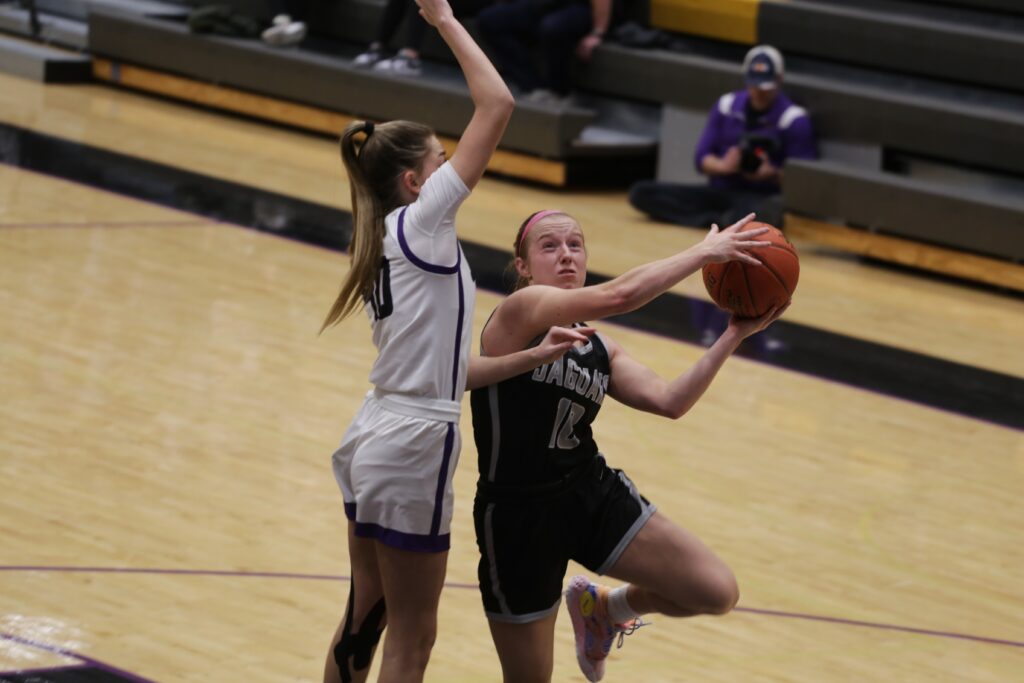 Johnston improved to 13-1 in the league and 18-1 overall. The Jaguars' records dropped to 8-5 and 13-5.
The Dragons have defeated two top-10 opponents since dropping a 62-48 decision at No. 4 Dowling Catholic on Jan. 20.
"(The Dowling game) definitely gave us more confidence, but we also had a lot of confidence even if they would have beaten Dowling," Clark said. "We had confidence that we could be the first team to beat them."
Centennial used a 19-3 run in the first half to take a 21-8 lead. Pratt had 10 of her 12 points in the first half, including eight in a row during one stretch.
"We had different players coming through for us, and that's a sign of a great team," DeJong said. "We know we can play with anybody, and that should help our confidence. But at the same time, we have to learn how to finish."
Johnston closed the gap to 28-22 at halftime. The Dragons then opened the third quarter with an 11-2 run.
Lewis, who went scoreless in the first half, erupted for nine points in a span of 1:44 to give her team a 33-30 lead. She got a friendly bounce on a 3-pointer to cap the run with 4:02 left in the period.
Lewis had a similar flurry of points in last month's meeting at Centennial, where she scored nine points in an 11-0 run to help the Dragons to a 46-40 win.
This time, the Jaguars had an answer. Clark scored six straight points to give her team a 36-35 lead after three quarters, then converted a 3-point play to open the final period.
Clark later scored again on a drive with 3:16 left before White scored her third basket of the quarter to put Centennial ahead, 49-42.
"She took over for awhile," DeJong said of Clark.
Clark, who also dished out three assists, has averaged 13.4 points over the last five games.
"I was kind of feeling it, but I'll be honest, the first quarter probably wasn't the best one for me," Clark said. "In order to give our team a chance, I needed to step up and take on that senior role."
White had 13 points in the loss, while Mya Crawford contributed nine rebounds, three steals and a block. Pratt and White each had eight rebounds as the two teams battled to a 35-35 draw on the boards.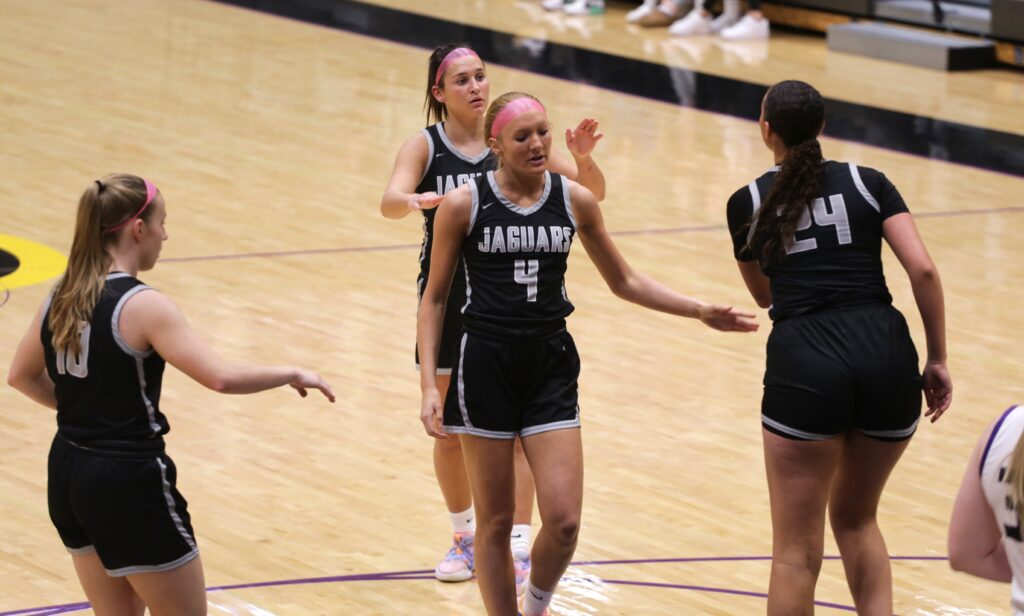 Tanke had a double-double with 18 points and 10 rebounds, while Lewis finished with 15 points, five steals and two blocks. Riley chipped in 13 points and four assists, and Hampton added 10 points.
The two teams could potentially meet again at the Class 5A state tournament.
"We would absolutely love another chance to play them," Clark said.
The Jaguars will have a week off before hosting No. 14 Ankeny on Friday. The Hawkettes are 4-9 in the league and 9-9 overall after posting a 59-52 win at Waukee Northwest on Friday.
Centennial won the first meeting at Ankeny by that same score last month.