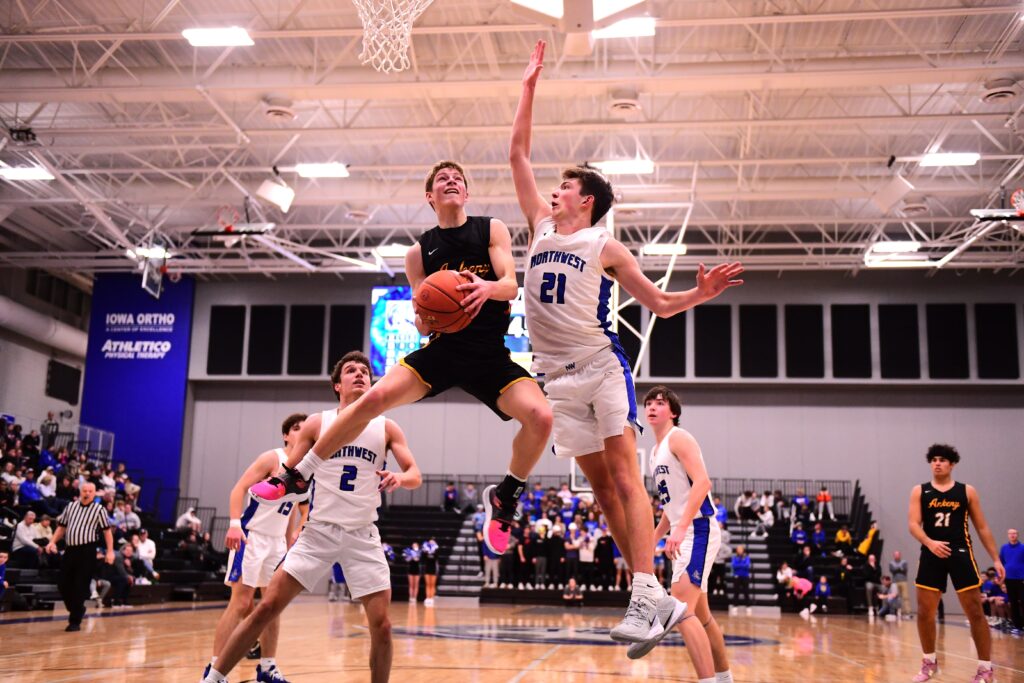 For nearly three quarters on Friday night, the Ankeny boys' basketball team threatened to knock off the state's No. 3 squad for the second time in two weeks.
The Hawks, who posted a 56-51 upset over Waukee on Jan. 13, battled host Waukee Northwest to a 41-41 tie about 5 minutes into the second half. But the Wolves then closed the third quarter with an 8-2 run and went on to post a 66-55 victory.
"We really battled hard," said Ankeny coach Brandt Carlson. "I just thought in the fourth quarter we had some shots that didn't fall. We limited our turnovers and defended them really well, until about the last 2 or 3 minutes when we were really scrambling and they got some easy ones on us. But I'm really proud of the guys."
Northwest star Pryce Sandfort took over down the stretch. He finished with 23 points, 16 rebounds, five assists and five blocks.
"They ran a lot of high-low action with (Sandfort) and put him in some really good situations for them and some tough situations for us," Carlson said. "Every single time we had him (guarded) tight, he would find the right guy. And the other guys would make some shots. They're a really good team, and they're going to be a final four team at the state tournament in my opinion."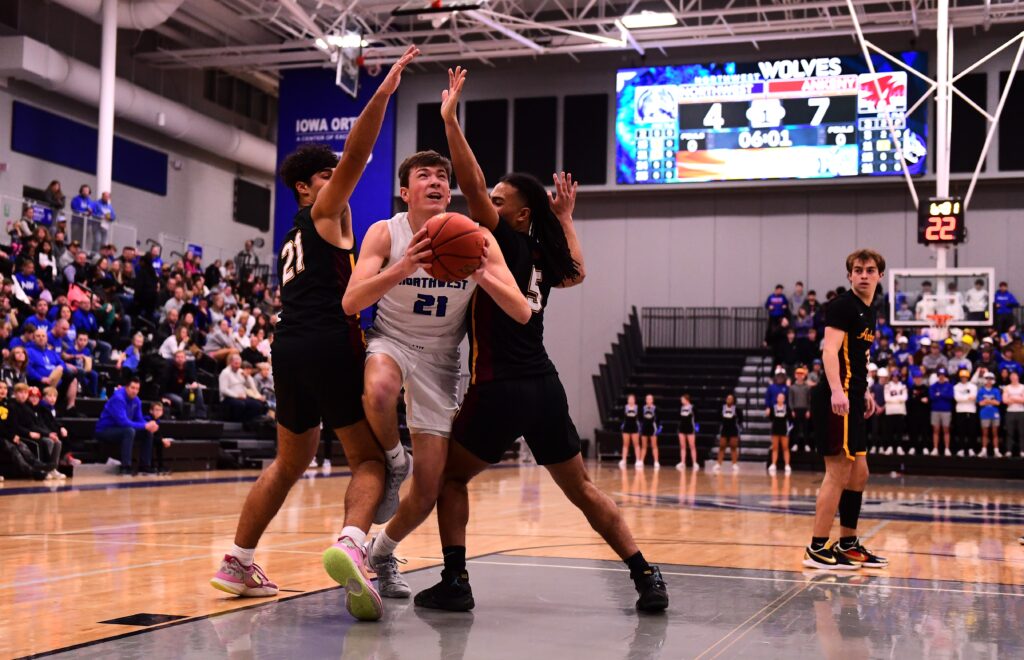 Henry Manning had 16 points for the Wolves, going 3-of-4 from 3-point range. Grant Tigges added 14 points.
Carson Johnson led Ankeny with 15 points. He injured his ankle during Tuesday's loss to Dowling Catholic, but was able to take the court 72 hours later.
"The ankle was still pretty sore, but I knew that I needed to be there for my guys," Johnson said. "I got some good treatment on my ankle at Engineered Performance, and there was no way I was going to be out that game."
Lio Aguirre chipped in 12 points and four assists for the Hawks. Jamison Patton added 11 points, while Devon Akers grabbed eight rebounds and had a block.
"Carson played with his injury and did a wonderful job," Carlson said. "I thought Lio, Jamison and Devon off the bench did an awesome job as well. They really did everything we asked them to do."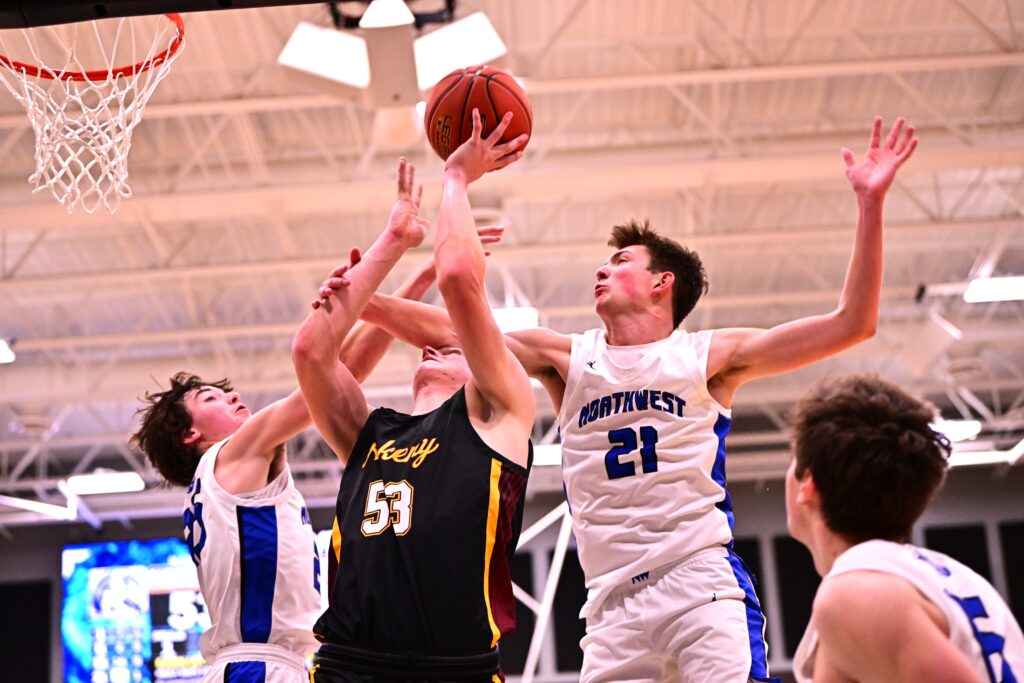 Northwest had not played since suffering a 77-55 loss at No. 2 Waukee a week ago. The Wolves are now 11-2 in the CIML Conference and 14-2 overall, while Ankeny's records dropped to 4-9 and 6-11.
"You have to have a pretty significant lead against them, and that's something we learned last year," Carlson said. "Sandfort is so good, and (Cade) Kelderman is good, too. They just hit some big shots and put you in some tough situations, but I thought we made it tough on them. I think it gives us some hope that we're getting better."
Johnson also saw a lot of improvement in the loss.
"We played them pretty tough throughout most of the game," he said. "We have a lot of guys that are still getting better, and I feel like we are still coming together more as a team. Being able to compete with Northwest was a good sign for us. There is still a lot of room for improvement, but that game gives us confidence knowing that we can compete with anyone."
The Hawks had dropped a 60-29 decision to Northwest on Dec. 13.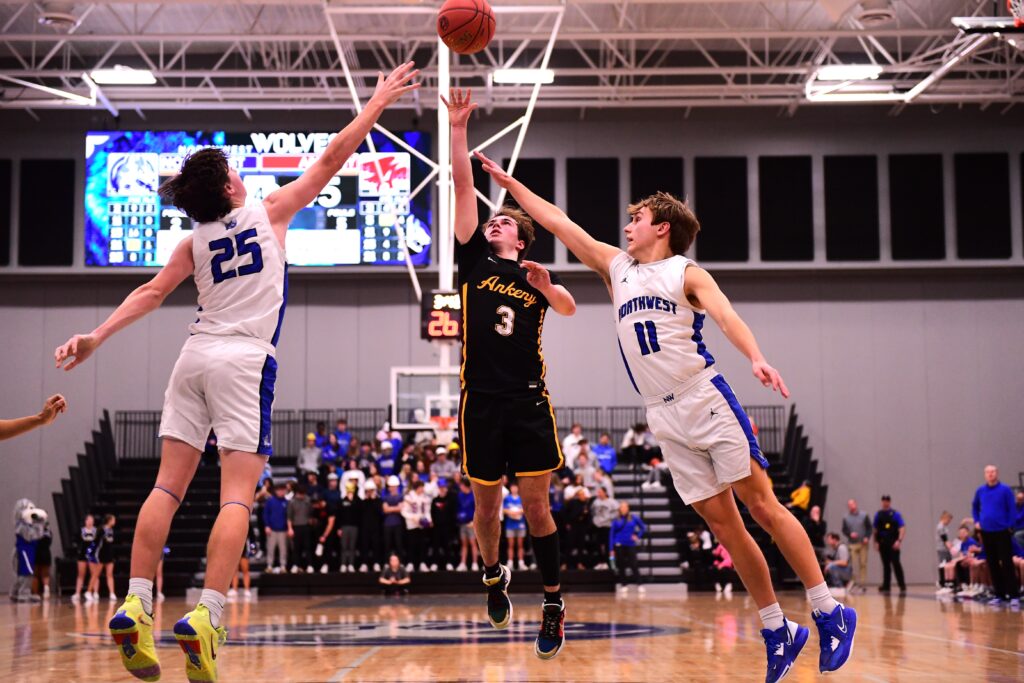 "A lot of the teams that are really good are kind of plateauing, and we're just continuing to get better," Carlson said. "I wish we had more wins because obviously they make you feel better, but I still really like our team and where we're at.
"It's been a tough run all year for us. Just not much to show for our efforts, but I'm really proud of the guys. We try to measure ourselves against the really good teams, and we keep getting better," he added.
Ankeny will now have a week off before playing at No. 7 Ankeny Centennial on Friday. The Jaguars are 7-5 in the league and 10-5 overall heading into Monday's non-conference game at Cedar Rapids Prairie.
Centennial won the first meeting at Ankeny, 65-46, on Dec. 20.