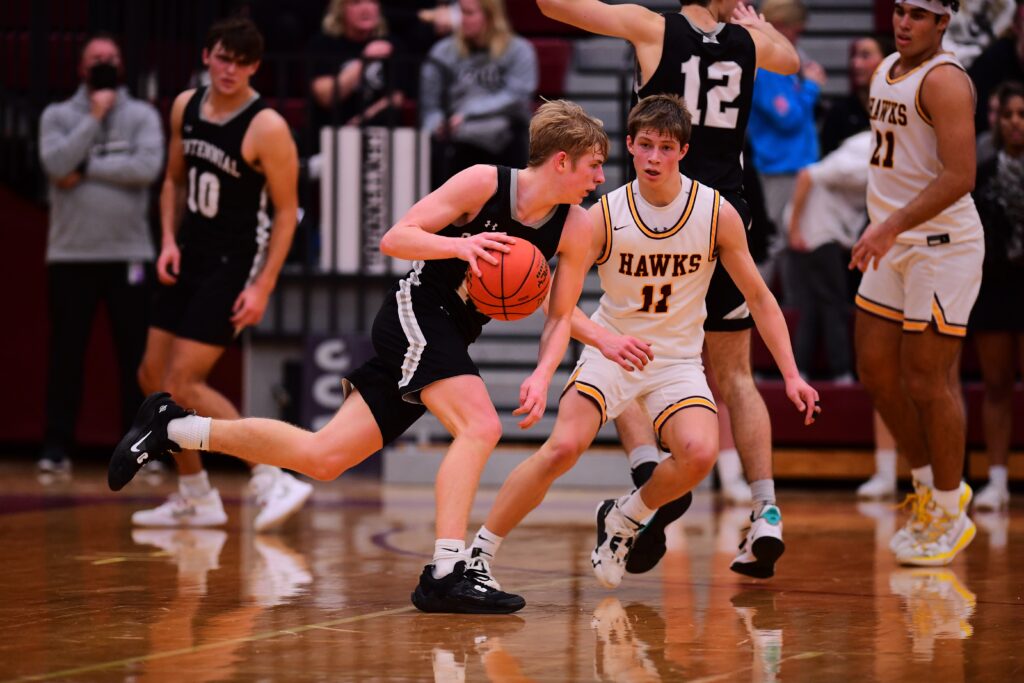 Luke Winkel and Evan Bryan combined for 51 points to lead the Ankeny Centennial boys' basketball team to a 71-55 victory at Cedar Rapids Prairie in a non-conference game on Monday.
Winkel poured in 31 points on 13-of-19 shooting, while Bryan added 20 on 7-of-10 shooting. It was a career-high for both players, who each had a pair of 3-point goals.
Winkel also dished out five assists and had four steals as the eighth-ranked Jaguars improved to 11-5 on the season. Prairie's record dropped to 5-11.
"Winkel scored in about five different ways," said Centennial coach Bob Fontana. "He had some finishes at the rim, he had some pull-up (jumpers), he had a couple of steals that he took in for layups. And he did a good job of getting the ball to Evan, especially in the second half. Evan had a quiet 20 points, but he was very efficient."
Nick Vaske had eight points for Centennial. Chase Schutty grabbed eight rebounds and also had a block.
The Jaguars shot 54.2 percent from the field (26-of-48) and 85.7 percent at the free-throw line (12-of-14).
"Their record isn't indicative of how hard they play," Fontana said of the Hawks. "They're physical and they're scrappy. It was good for us to go and play against that style. I thought the free-throw line was big, because (Prairie) was just 4-of-6 (at the charity stripe)."
Centennial built an 11-point lead in the first half before Prairie rallied. The Hawks closed the gap to 31-27 at halftime on a 60-foot 3-pointer at the buzzer.
"It was a game of runs," Fontana said. "They hit some shots in the second quarter and then to top it all off they heaved one at the buzzer that banked in, and all of the sudden it's a four-point game."
The Hawks eventually tied the game in the third quarter before Centennial pulled away. The Jaguars outscored Prairie, 26-11, in the final period.
"They had three three-pointers in five possessions by three guys who were shooting something like 20 percent from 3," Fontana said. "But I thought we had a heck of a fourth quarter at both ends of the floor. We actually went up by 19 points at one point."
Centennial will return to CIML Conference play on Friday, when the Jaguars host a rematch against crosstown rival Ankeny (6-11). The Hawks will be looking to avenge an earlier 65-46 loss.
Centennial will then play a non-conference game at Des Moines North on Saturday.
"It's a big weekend for us," Fontana said.