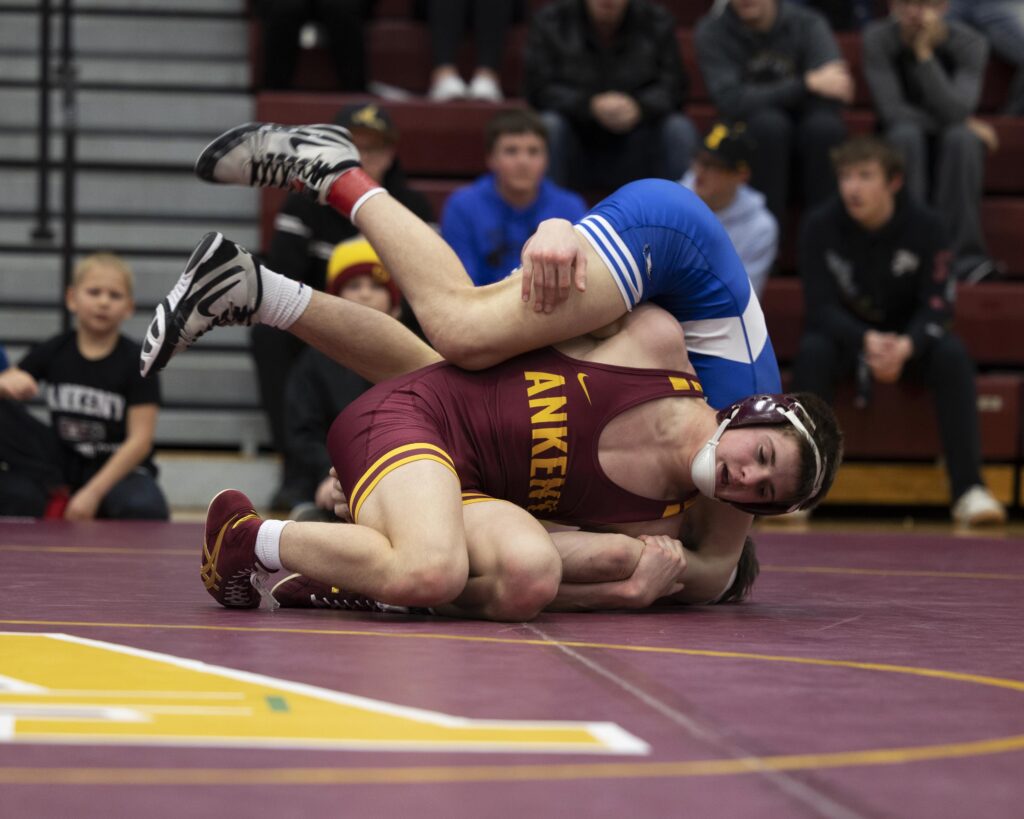 Ankeny junior Ben Hansen was excited when the regional dual wrestling assignments came out.
The fourth-ranked Hawks learned last week that they would likely host No. 13 Bondurant-Farrar in Tuesday's regional final at Ankeny. The two teams met at the Dave Ewing Duals on Jan. 21, when Ankeny posted a 39-21 victory in the championship match.
However, the Hawks lost seven of the 14 matches in the earlier meeting–including one by Hansen at 138 pounds.
"That was one of those matches that I wanted back," Hansen said.
On Tuesday, Hansen avenged that loss with a 3-1 decision over Nolan Fellers in the opening match. Teammates Alex Cox and Jace Anderson then avenged two more losses in the next two matches, igniting the Hawks to a 48-15 win.
Ankeny (20-2) advanced to the state duals tournament for the second straight year.
"I was much happier (with this meet)," said Ankeny coach Jack Wignall. "In about every match we wrestled better than we did against Bondurant the last time we wrestled them, so that was really good. Ben got us started with a good win over Fellers, and we just kept rolling from there–winning close matches and reversing some of the matches that we lost before."
The Hawks later recorded five consecutive falls to build a commanding 39-3 lead. Heavyweight Joe Kingston pinned Quinten Fulton in 1 minute 27 seconds to seal the victory.
"It feels good," said Anderson. "We had a lot of fun last year (at state duals), so I'm looking forward to it. It should be a good time."
Bondurant-Farrar, which is coached by former Ankeny standout Matt Wonderlin, advanced to the regional final with a 50-18 triumph over Iowa City High. But the Bluejays couldn't overcome their slow start against Ankeny.
"We were sluggish," Wonderlin said. "I don't know if it was the weekend and then a couple days of recovery and coming back, but I think we'll be fine. We're not peaking yet–we got next week and then state. We lost a couple close ones. It's not like we got blown out–we're right there. It's just about coming back and responding."
Tuesday's meet began with a rematch between Hansen and Fellers.
"I'm not a big fan of the first match, but it is what it is," Hansen said. "I had to be ready to go."
Hansen scored a reversal in the final seconds of the third period to break a 1-1 tie. The two officials consulted for several seconds before awarding the victory to Hansen.
"I knew I had to keep my pace going and be physical," Hansen said. "The last match I was kind of waiting to see what he did. So this match I had to get to my offense."
Cox then posted a 4-2 decision over Jordan Rial at 145. He got a takedown in overtime to avenge a 7-3 loss 10 days ago.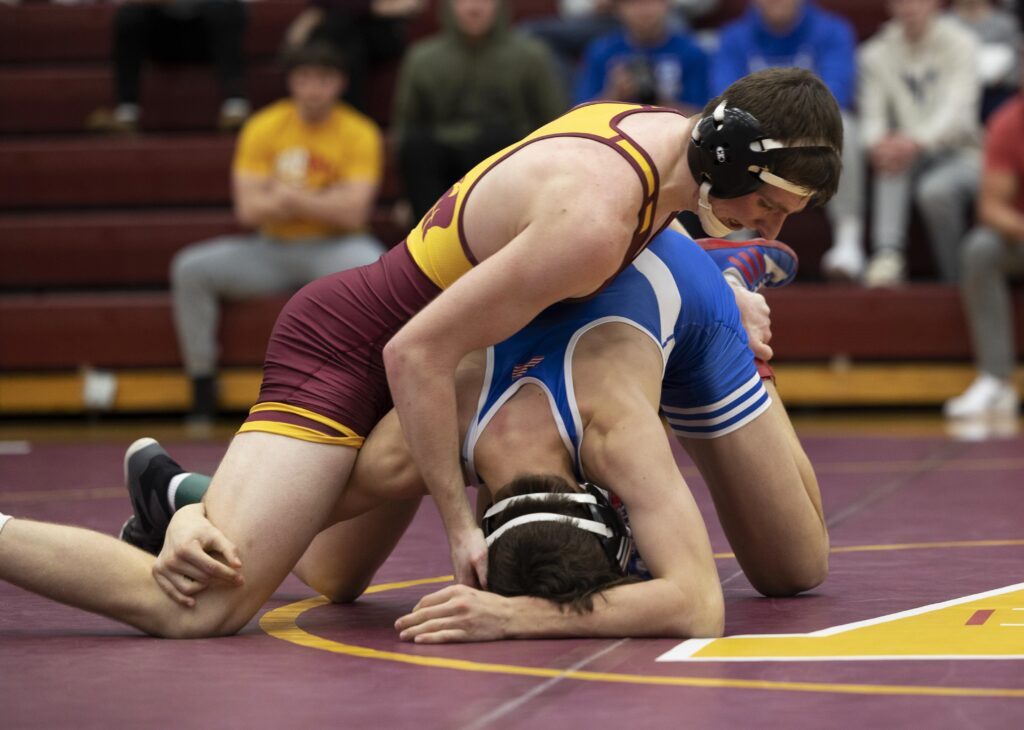 Then, Anderson followed with a 5-3 decision over Jack Lewis at 152 to give the Hawks a 9-0 advantage.
"That was a very good way to start (the meet)," Wignall said. "We've been focused so much on this dual meet from the standpoint of pressure maybe, so I think the boys really responded well. We kept them loose. They knew what the goal was, but we didn't harp on it all week. They wrestled how I wanted them to wrestle. You know after getting beat by Southeast Polk last week, you just never know how they're going to bounce back. But these guys rose to the occasion tonight."
Anderson avenged a 12-7 loss to Lewis at the Ewing Duals.
"It's been bothering me pretty good for the past 10 days," Anderson said. "I just had to wrestle smart. I don't think I'm on the same level as that kid really. The last match I just kind of got sloppy. I was talking to some of my coaches, and I've just got to wrestle every (opponent) like they're Grant Kress (of Linn-Mar) or Jacob Helgeson (of Johnston). I could have widened the gap a little more, but we'll see him again at districts."
After Bondurant-Farrar got on the scoreboard with an 11-4 decision by Marcus Teed at 160, Ankeny's Teagen Peiffer started the string of falls by pinning Aiden Carl in 4:45 at 170. Xander Kenworthy at 182, Cade Bennethum at 195 and Will Hinrichs at 220 then followed with three more pins before Kingston got the fall to clinch the verdict.
"We're pretty solid on the bottom and we're pretty solid on top and in the middle we're pretty good," Wignall said. "When you put all that together, there's a wide margin of points in a winner and a loser."
The state duals pairings will be announced on Wednesday morning following a coaches' meeting. The Hawks placed sixth at last year's tournament.
"We're not just happy to be there," Wignall said. "I don't want to put a bunch of pressure on these guys. We just want to go and wrestle the next dual meet and win that. That's what we talked about tonight, and that's how we're going to focus Saturday."
Anderson is hoping that the Hawks get a chance to avenge Thursday's 45-12 loss to No. 1 Southeast Polk.
"I think we're a top-four team–100 percent–and the gap between the top four and the rest is pretty wide," Anderson said. "We didn't really have the showing we would have liked against Southeast Polk, but you flip the momentum a little bit–flip a couple of matches–and that dual could have a different outcome. So we're expecting to get a rematch with them. I think we can do a lot of damage over there."
Hansen would also like to see the Rams again.
"I'm confident in the team, and we all know what we can do. It should be fun," he said. "We're all looking forward to (possibly meeting Southeast Polk). Hopefully, we'll get matched up against them at some point and do better than the last time."
Here are the match-by-match results from Tuesday's meet:
Ankeny 48, Bondurant-Farrar 15
138: Hansen beat Fellers, 3-1; 145: Cox beat Rial, 4-2 (OT); 152: Anderson beat Lewis, 5-3; 160: Teed (B-F) beat L. Folkers, 11-4; 170: Peiffer pinned Carl, 4:45; 182: Kenworthy pinned Paxton, 2:13; 195: Bennethum pinned Gipple, :34; 220: Hinrichs pinned Thomas, 1:08; 285: Kingston pinned Fulton, 1:27; 106: Foster (B-F) beat Walsh, 6-1; 113: Fiser (B-F) beat T. Folkers, 4-3; 120: Maihan won by forfeit; 126: Perez Perez beat Davis, 10-5; 132: Rowe (B-F) pinned Vos, 2:32.