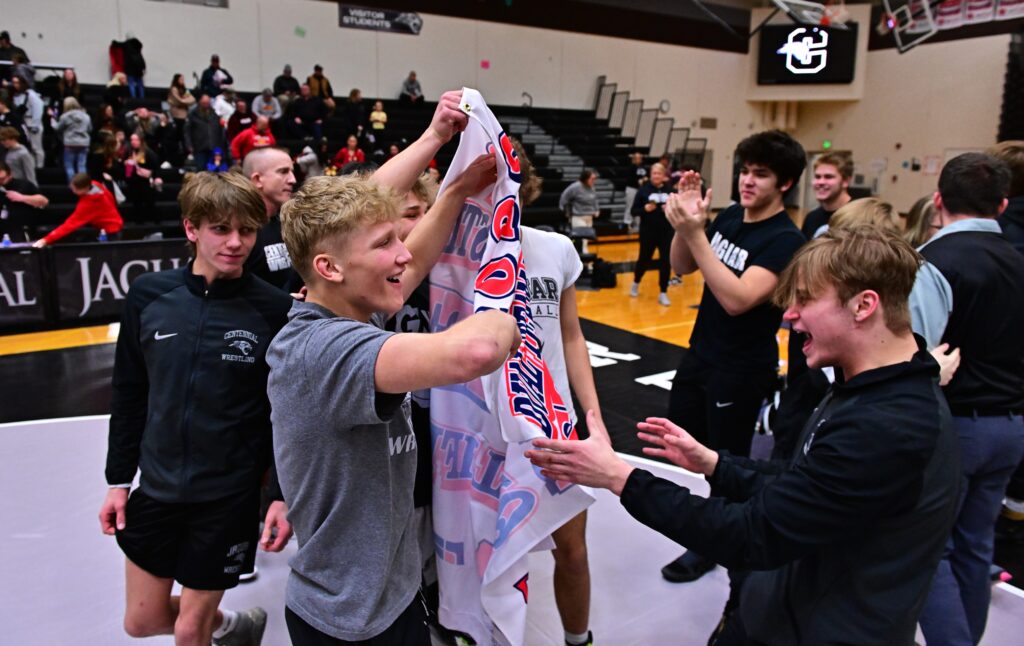 When Ankeny Centennial's Cael Wiener stepped onto the wrestling mat Tuesday night, he had a chance to send his team to the Class 3A state duals tournament.
The 132-pound senior just didn't know for sure by what margin he needed to win in order to give the sixth-ranked Jaguars a victory over No. 10 Carlisle in a regional final at Centennial.
"At first we didn't know whether or not a win would be enough, so my coaches told me to get bonus points to not have to worry about it," said Wiener. "But halfway through the match, they figured out that a win is all I needed so I wrestled a lot smarter to come away with the win."
Carlisle held a 30-27 lead going into the final match. Wiener then posted a 3-1 decision over Mason Lucas to tie the score at 30-30.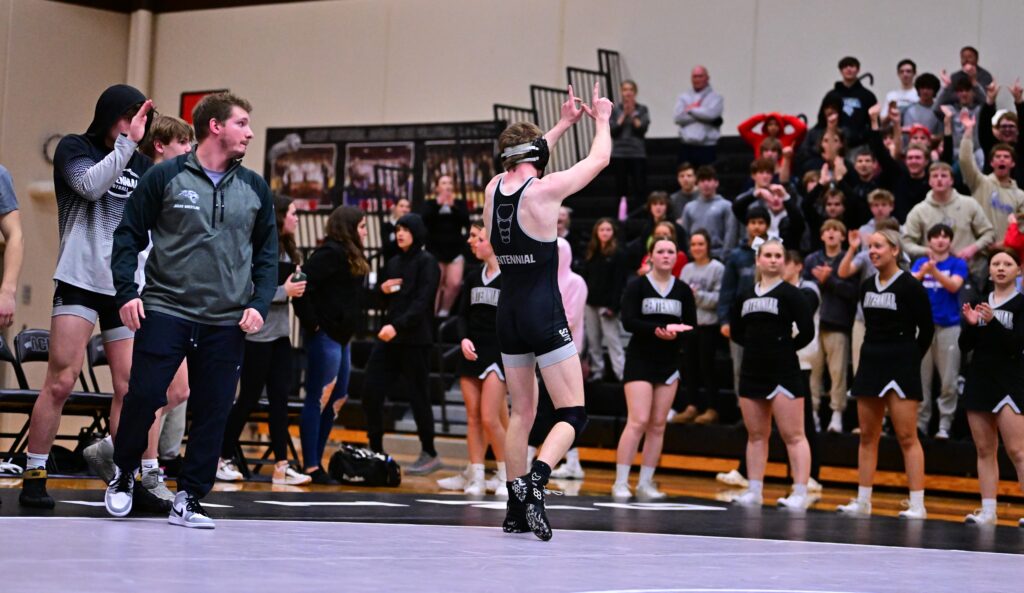 The outcome of the meet was decided by the ninth criteria–the most first points scored. Centennial prevailed by a 13-12 margin, giving the Jaguars a 31-30 win.
"It was a nailbiter, that's for sure," said Centennial coach Jay Groth, whose team will take a 21-6 record into the state duals tournament on Saturday at Xtream Arena in Coralville. "I can't recall any of my matches or dual meets going down to that criteria. That was a long way down the list."
Centennial advanced to the state duals tournament for only the second time in school history. The Jaguars placed third in Class 3A in 2019.
In 2020, Centennial dropped a 29-28 decision to Valley in a regional final. The Tigers won that meet on criteria.
"It feels great to make it," Wiener said. "My freshman year we lost by one point to qualify for state duals, so it feels great to qualify this time."
The Jaguars defeated Carlisle for the second time this season. They won the first meeting, 31-29, at the Centennial Duals on Dec. 10.
"I was crunching scenarios and running numbers all day long just trying to figure out what was going to work out and where we could potentially come up with the most team points and what we had to do to win," Groth said. "I knew it was going to be close. We only beat them by two points earlier, and I don't think either of us had our best lineup put together for that meet. But I think we did tonight."
Each team won seven matches. The Jaguars got a fall from Isaac Bruhl at 138 to open the meet, then later got some crucial pins by Jamison Larsen at 106 and Payton Bright at 126.
Larsen, a junior, moved to Ankeny from Traer during the semester break. He pinned Hudson Shelton in 1 minute 26 seconds.
"Jamison went in at 106, and we bumped up the Vandermark boys and (Payton) Bright to places where we thought we could get some more points–and in the end, that's what happened," Groth said. "It was the right call, but I was nervous all night."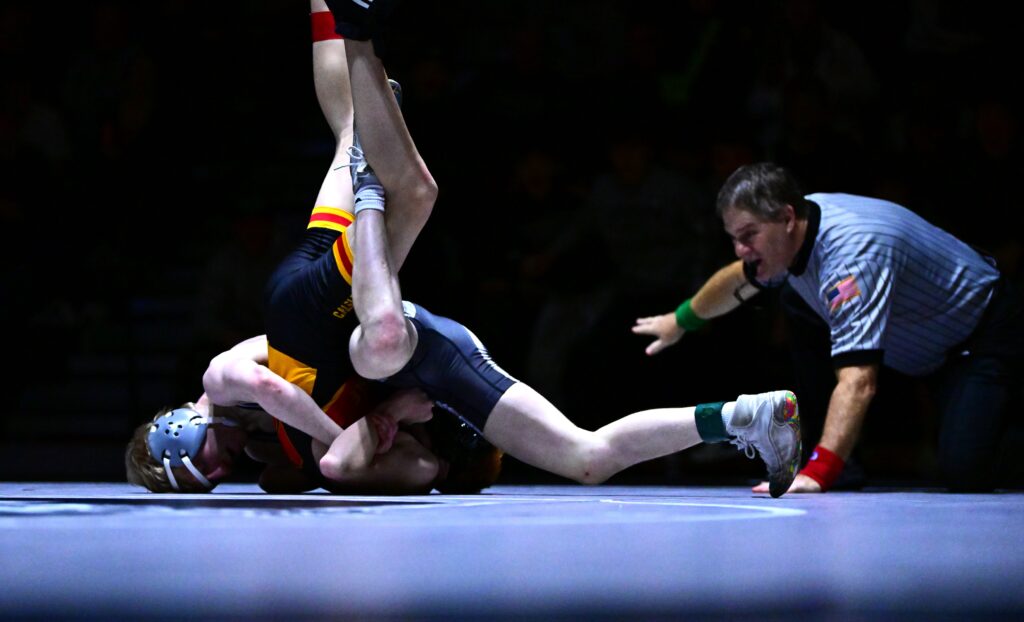 Cale Vandermark at 113 and Cody Vandermark at 120 both lost narrow decisions, putting some pressure on Bright going into the next-to-last match. But Bright notched a fall over Tristin Hummel in 1:42, setting the stage for Wiener's heroics.
"When we sent Cael out there, I think we all were certain that we needed a major decision to win the meet," Groth said. "Because one of our kids stalled out of a match, so we were concerned that would count against us as a penalty, but it just counted as any six-point match would as a fall or forfeit. We thought Cael had to get a major, but about midway through the second period two of my assistant coaches had it pretty well figured out that we could still win the dual if we just won the match."
Groth had confidence in Wiener that he would come through in the clutch.
"I knew he wanted to go to the state duals," Groth said. "He's never been since he's been here, but he's a three-time state qualifier. I had told him, 'This could come down to you–and pressure is a privilege–so go out there and get the job done,' and that's exactly what he did."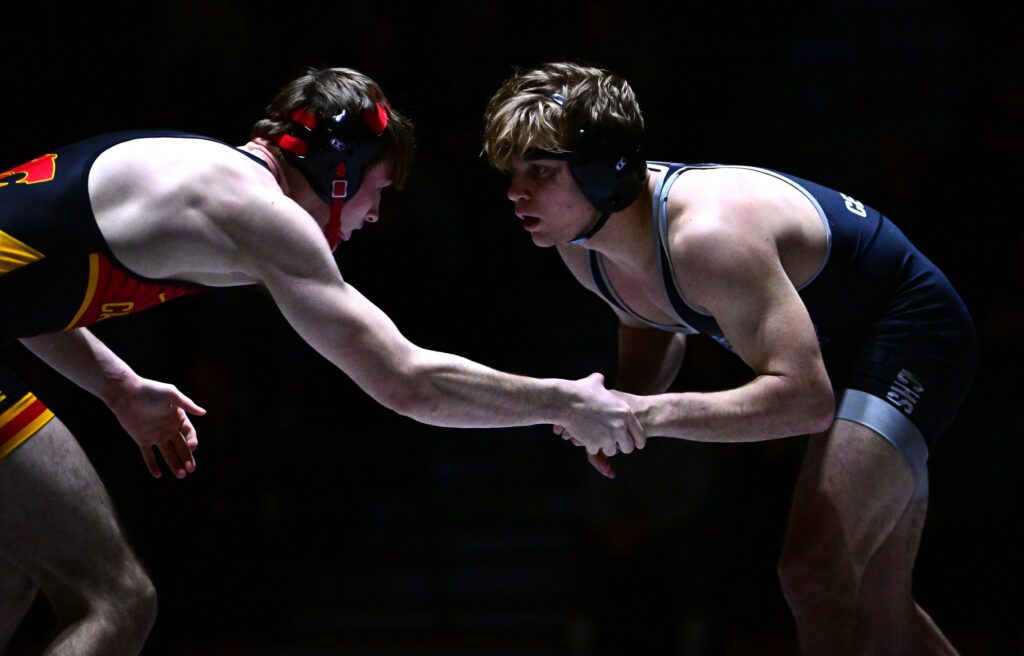 The state duals pairings will be announced on Wednesday morning following a coaches' meeting. Groth said he expects the Jaguars to earn the No. 6 seed, with a likely matchup against No. 3 Bettendorf.
"We don't care (who we wrestle)," Groth said. "We're going to throw down and see what happens."
Here are the match-by-match results from Tuesday's meet:
Centennial 31, Carlisle 30 (decided on ninth criteria)
138: I. Bruhl (AC) pinned Link, 1:41; 145: L. Bruhl (AC) beat Miller, 6-2; 152: Streeter (C) beat Brennan, 7-1; 160: Ehlts (AC) beat H. Lucas, 4-2; 170: A. Hemsted (C) won by disqualification over Morris; 182: English (AC) beat Laughlin, 8-2; 195: Krcil (C) pinned Cahill, :59; 220: J. Hemsted (C) pinned Dickinson, :47; 285: Pagel (C) beat Grider, 5-1; 106: Larsen (AC) pinned Shelton, 1:26; 113: Serrano (C) beat Ca. Vandermark, 5-1; 120: Rider (C) beat Co. Vandermark, 5-3; 126: Bright (AC) pinned Hummel, 1:42; 132: Wiener (AC) beat M. Lucas, 3-1.