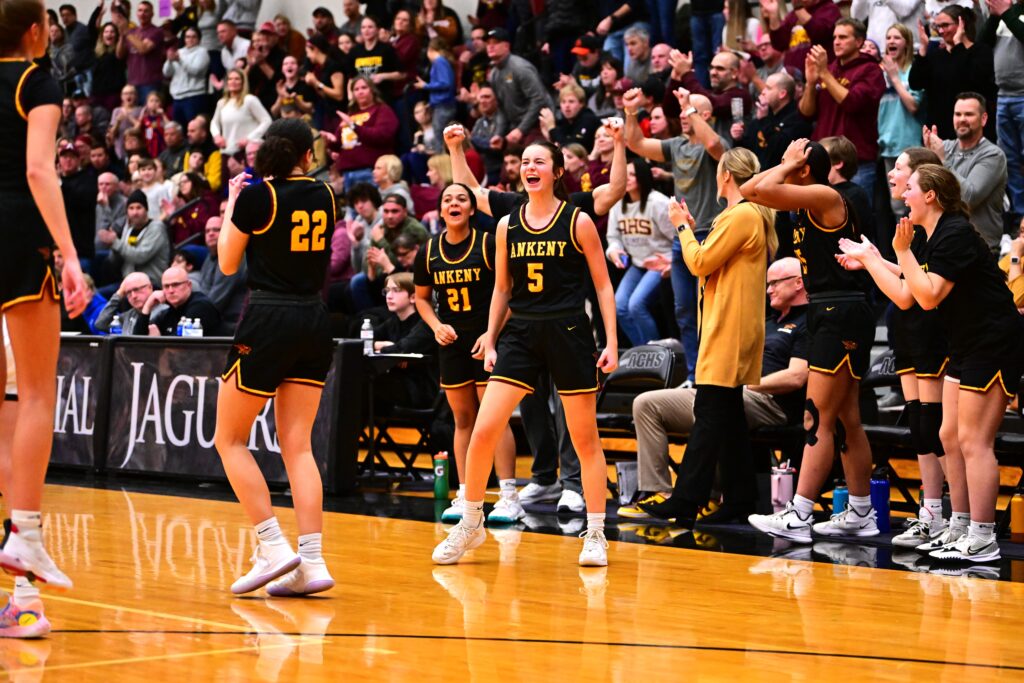 Ankeny senior Jenna Pitz struggled through one of the worst shooting nights of her basketball career on Dec. 20, going 1-for-13 from the field in the Hawkettes' 59-52 loss to Ankeny Centennial.
She wasn't going to let it happen again.
Pitz scored 16 of her 17 points in the second half to lead 13th-ranked Ankeny to a 48-43 victory at No. 6 Centennial on Friday. It was the Hawkettes' second win over their rival in the last three games and their first road triumph in series history.
"Any win against them is a big win," said Pitz, who also dished out four assists. "Obviously, they're a very good team–they're ranked high. This win means a lot going into the postseason especially. It gives us some momentum. It's good for our seniors–it's the last time playing them most likely, and to get that win. It's just been so much fun playing with these girls."
Ankeny improved to 5-9 in the CIML Conference and 10-9 overall. The Jaguars' records dropped to 8-6 and 13-6.
"It's been a season of some highs and some deep lows, but tonight is one of those moments where when you stay together and stay the course and the girls put the team ahead of themselves, magical nights like this can happen," said Ankeny coach Dru McAnelly.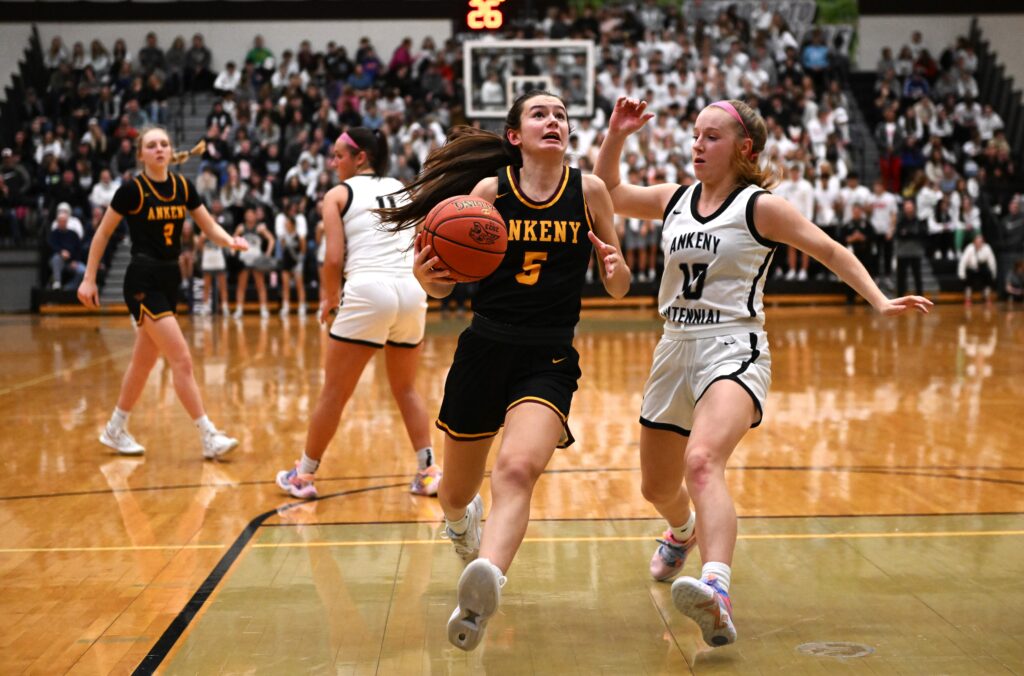 The game was tied at 28-28 in the third quarter before Pitz made back-to-back baskets to put Ankeny ahead for good. The Hawkettes held a 36-32 advantage after three periods.
After Centennial closed the gap to 38-37 on a pair of free throws by Jaeden Pratt in the fourth quarter, Pitz scored five points in a span of 20 seconds to give her team some breathing room. She drove to the basket for a layup with 4:26 remaining, then converted a 3-point play on the next possession after teammate Zoe Shadravan blocked a shot by the Jaguars' Kennedy White.
"Jenna put us on her back," McAnelly said. "She really decided to play downhill the second half, and she got to the basket and she got to the free-throw line. She was big time tonight."
Pitz scored on another drive with 3:14 left to make it 45-39. Shen then made 3-of-4 free throws in the final 1:16 to seal the victory.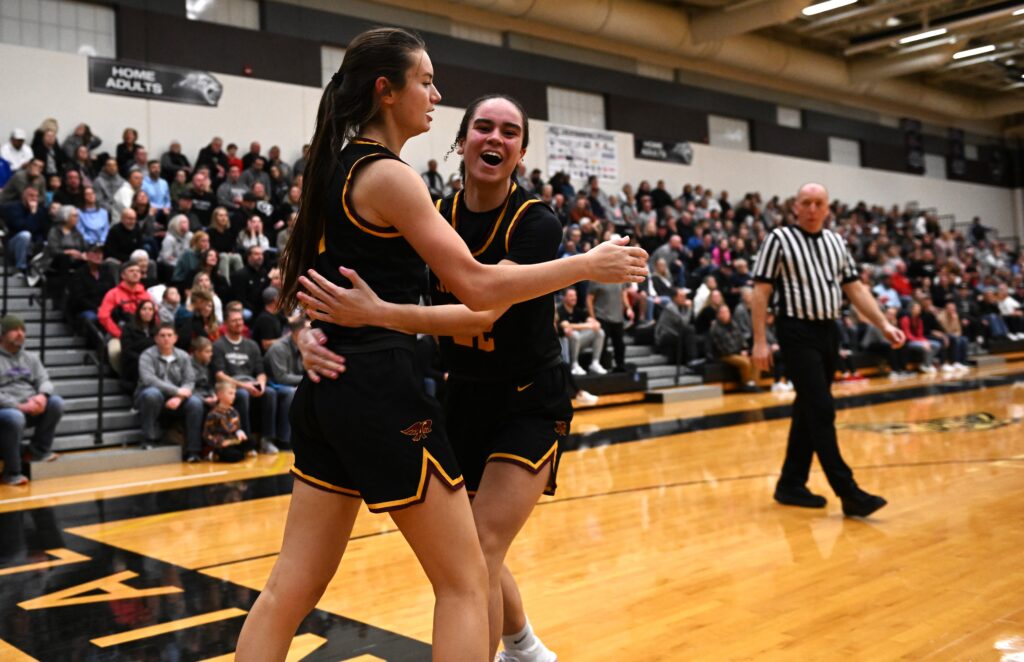 "After watching film, everyone kind of bought in that the last game obviously wasn't our best game," Pitz said. "We knew what we had to do. We scouted really well and had a good game plan coming in. We knew if we just stuck to the basics and played together that we could get the win."
A year ago, PItz scored a career-high 24 points as Ankeny rallied in the final period to beat the Jaguars for the first time ever, 49-45. Friday's game evoked some memories of that contest with the way that Pitz took over down the stretch.
"I think Ankeny had a lot to do with it, and we had a lot to do with it ourselves," said Centennial coach Scott DeJong. "We were out of sync, and I thought their confidence really grew in the first half. We got into a little foul trouble and a little out of sorts, and we usually have pretty good mojo but we just didn't have it tonight."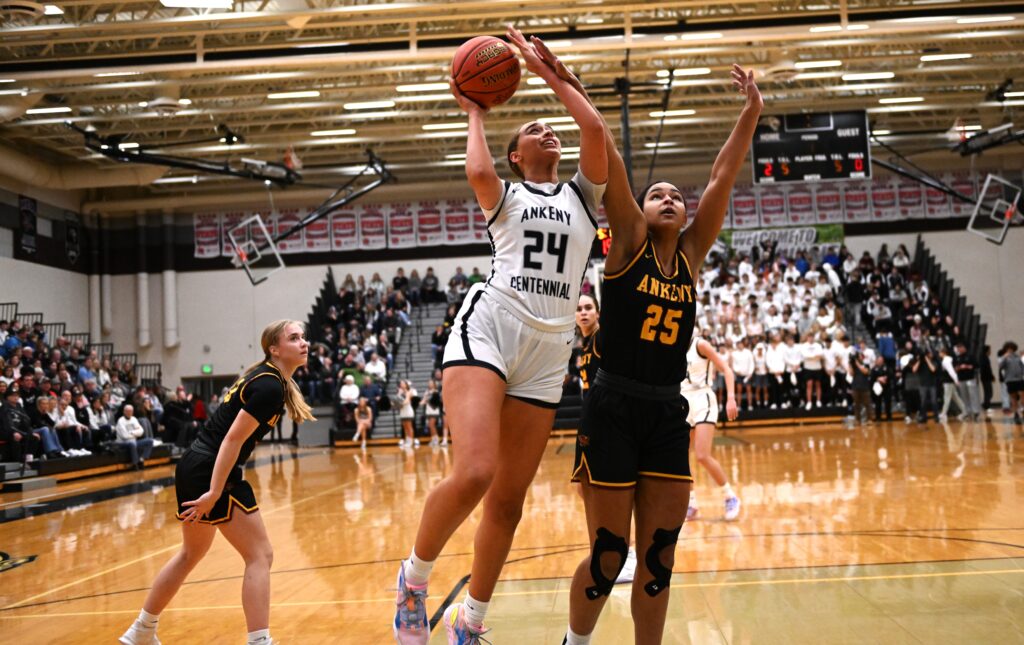 The Hawkettes got off to a slow start, coming up empty on their first seven possessions as Centennial jumped out to a 7-0 lead. But Ankeny rallied to tie the score at 12-12 at the end of the first quarter.
Freshman Jayla Williams then scored eight of her 15 points in the second period as the Hawkettes took a 26-22 halftime lead.
"We were mad because the last game against them we just didn't play like how we should," Williams said. "We were down by 20 but we ended up losing by seven. We just had to play like we started to at the end of that game, because the last game it was just too late for us to come back."
The Jaguars scored the first two baskets of the third quarter to tie the game before Williams answered with a pretty turnaround jumper.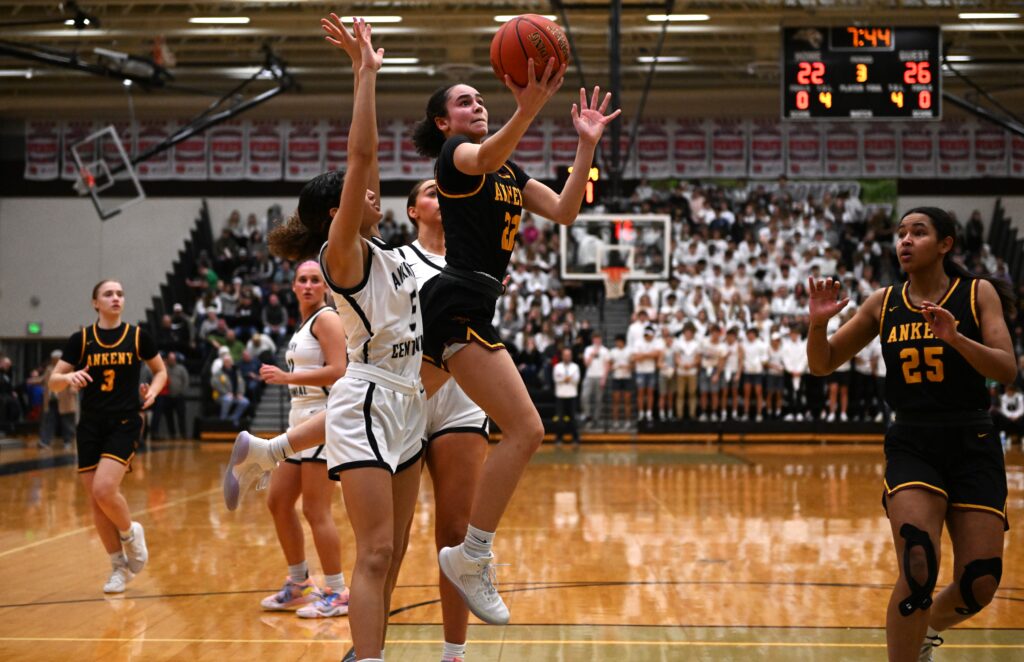 "Jayla played like she was a senior in college tonight," McAnelly said. "The atmosphere and the moment wasn't too big for her. She was bigger than the moment. I'm so proud of her."
Williams later made two free throws to open the fourth quarter. She sat out briefly after picking up her fourth foul, but then returned shortly thereafter and helped her team close the game on a 10-6 run over the last 5:58.
"Williams really stepped up tonight–she did a great job and what else can you say?" DeJong said. "She was the difference, and we knew Pitz wasn't going to have a game like she did last time."
Savannah Gage had eight points for Ankeny, including a pair of free throws to extend her streak of consecutive makes to 36. Kendra Lewis added six points on a pair of 3-pointers in the first half.
"Everyone stepped up huge," Pitz said. "Kendra made big shots, Sav played great defense, and Jayla did good as well. Everyone stepped up so much. With Jas(mine Moser) going down (with an injury in the fourth quarter), Zoe stepped up coming in and guarding Kennedy White. It was just a total team contribution."
Pratt and White each had 15 points to lead Centennial. But nobody else scored more than four points.
Pratt also had eight rebounds and three blocks.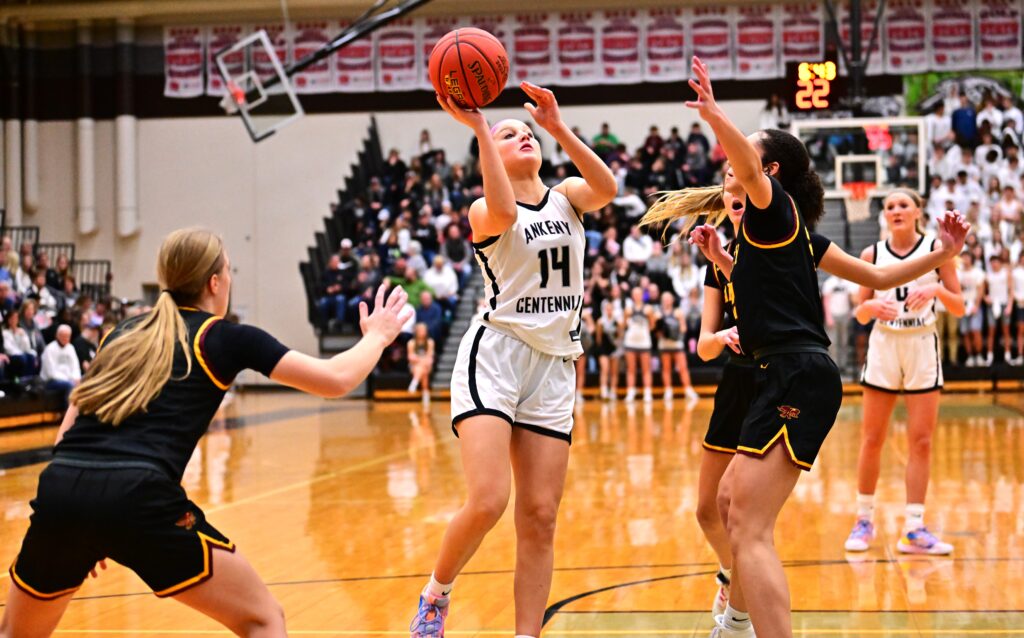 "The biggest thing was that I don't think they had any live ball points off turnovers, and we kept them off the boards," said McAnelly, whose team won despite being outrebounded by a 31-17 margin. "We really guarded the perimeter and the penetration a lot better tonight."
Both teams will be back in action on Tuesday. Ankeny will host Urbandale, while Centennial will play at No. 9 Southeast Polk.