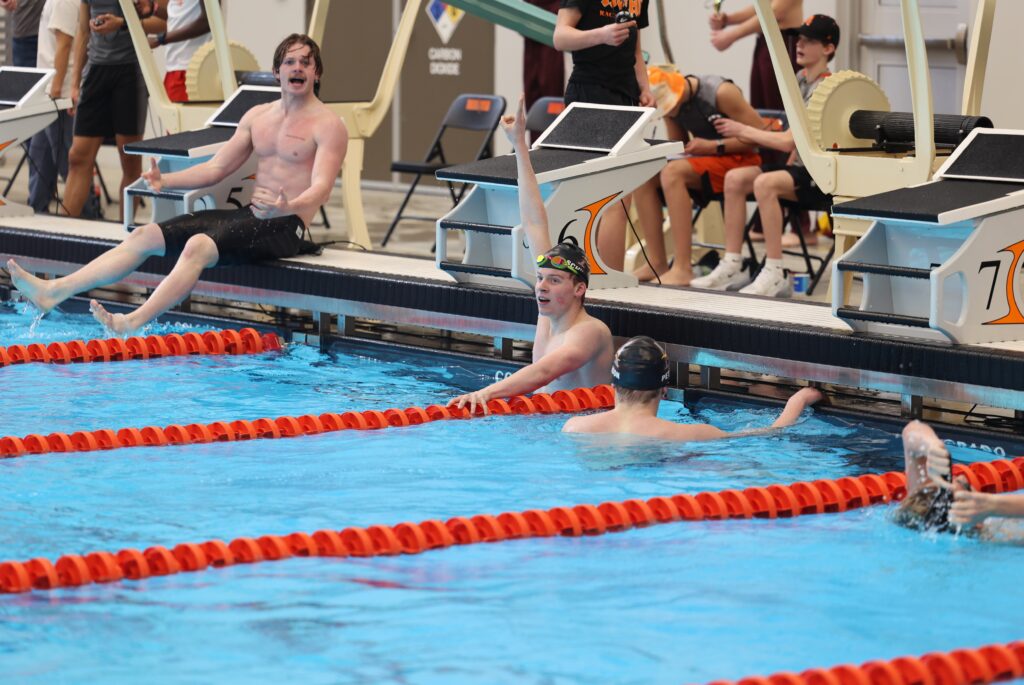 Saturday's district meet at Ames went pretty smoothly for the Ankeny boys' swimming team–with one notable exception.
Owen Schwebach was disqualified for a false start in the 50 freestyle, but he then rebounded with a personal best in the 100 butterfly and helped seventh-ranked Ankeny to a runner-up finish in the eight-team field. The Hawks scored 438 points to finish 56.5 points behind No. 4 Ames.
"Owen's DQ was a small disappointment in what was otherwise a pretty awesome day," said Ankeny coach Justin Crouch. "Unfortunately, there may have been some noise in the crowd that caused the disqualification. It was definitely a bump in the road that could have taken our day to an ominous turn. I was really proud of Owen to respond after the disqualification to set a personal best time in the 100 fly in the next event. That showed a lot of resiliency. It also illustrated this team's ability to respond to adversity. That is something this team has continued to show time and time again."
Ankeny won four events and had five second-place finishes. The Hawks swept the top three places in the butterfly.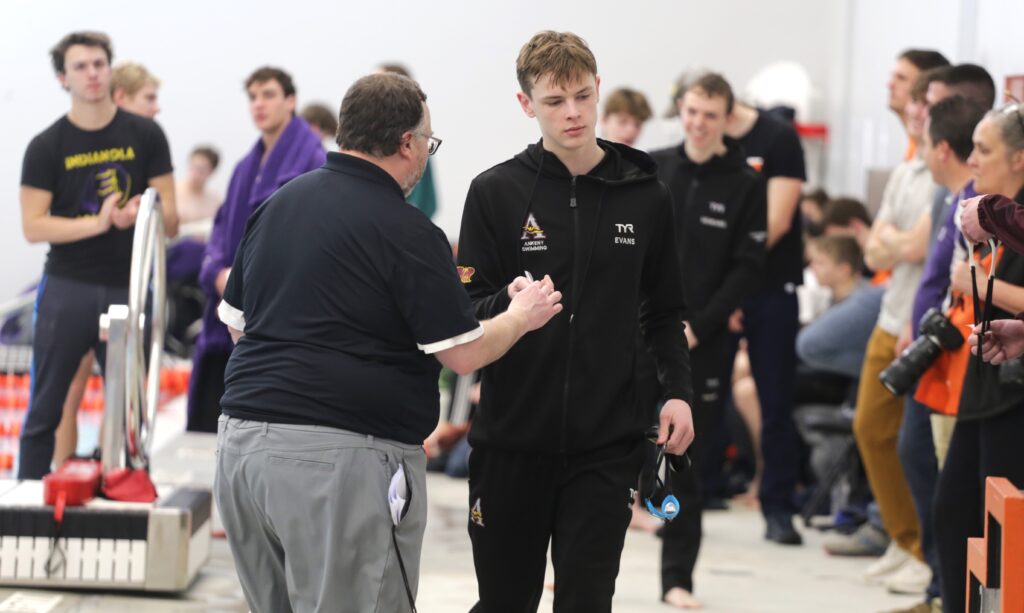 Defending state champion Lance Swanepoel won the butterfly in a time of 48.75 seconds.
"I'm just dumbfounded with that," Swanepoel said. "That's my best time ever unshaved…untapered. I'm so happy with that. I've got some things I can fix up and I don't want to call my shot, but 46.8 is calling my name (for the state meet)."
Schwebach took second in the event in 50.51. Brock Peterson was third in 52.52.
"Going a best time in the 100 fly right after the 50 felt good," Schwebach said. "I was happy that I was able to refocus my energy and mindset to make that happen."
Just several minutes earlier, Schwebach was disqualified in the 50 freestyle. He placed sixth in that event at last year's state meet.
"It wasn't the ideal day," Schwebach said. "This quote by Michael Jordan was helpful to my mindset: 'I've missed more than 9,000 shots in my career, I've lost almost 300 games, and 26 times I've been trusted to make the game-winning shot and missed. I've failed over and over and over again. That is why I succeed.' It helped me to keep my focus and realize that this is just a small setback. The obstacle is the opportunity so to speak. All I'll focus on is helping our team have the best meet possible by swimming the 100 fly as fast as I can and having great splits on the relays."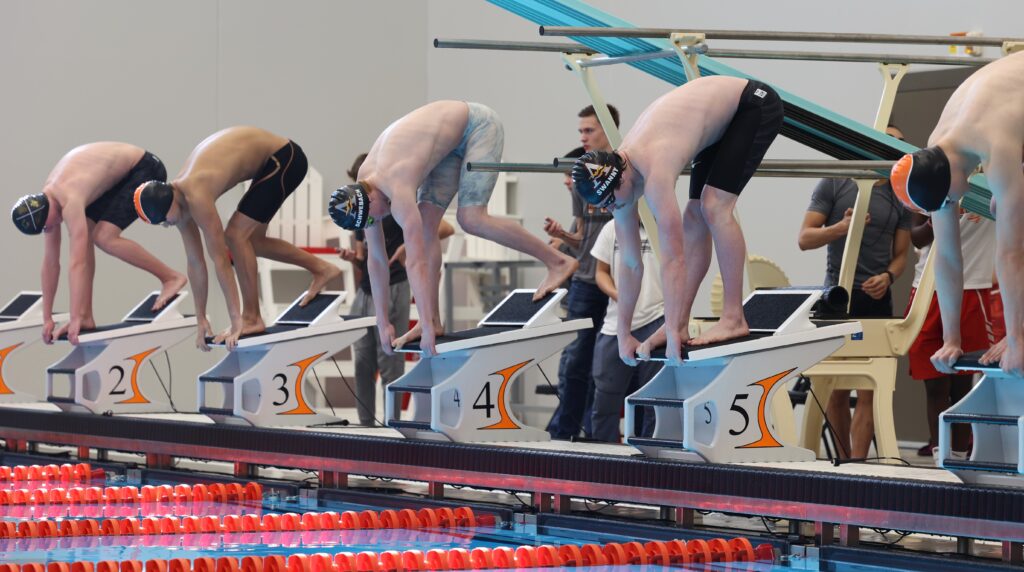 After watching his teammate lose the opportunity to qualify for state in that event, Swanepoel raced to a victory in the 50 freestyle. He posted a time of 21.00 seconds.
"I was absolutely thrilled with my times, especially when I'm not rested," he said. "That 21.00 is pretty nice. I really wish I could go (under 21), but what I'm hearing is that it might be No. 1 heading into the state meet right now."
Owen Evans also qualified for state in the 50 freestyle. He placed fourth in a time of 22.45.
Swanepoel, Evans and Schwebach later teamed up with Noah Schafer to win the 200 freestyle relay. The Hawks were clocked in 1:27.03.
Ankeny's other victory came in the 100 freestyle, where Calvin Howard captured the event in 48.71 seconds. Evans was the runner-up in 48.92.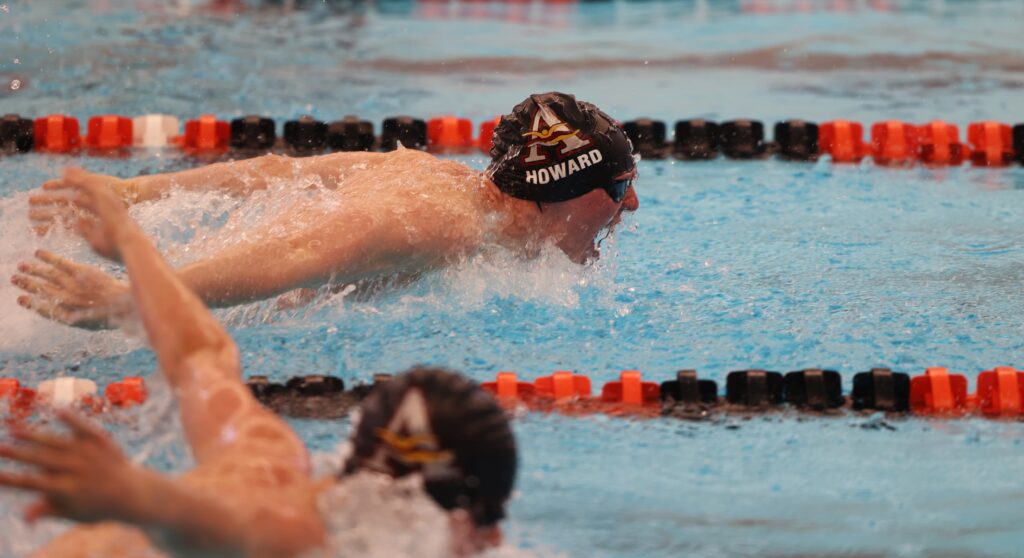 Howard also placed fourth in the 200 individual medley in a time of 2:00.24. He will be joined at the state meet by teammate Finn Stukerjurgen, who took third in 1:59.89.
Stukerjurgen also qualified for state in the 500 freestyle. He placed fifth in that event in 4:58.24.
Peterson later placed second in the 100 backstroke. He was clocked in 53.70 seconds.
Andrew Law and Roe Denny also qualified for state in that event. Law took sixth in 56.32, and Denny finished seventh in 56.92.
Nicholas Robie then qualified for state in the 100 breaststroke. He placed fourth in that event in a time of 1:01.79.
Ankeny ended the meet with a second-place finish in the 400 freestyle relay. The foursome of Swanepoel, Howard, Peterson and Schwebach was clocked in 3:12.34.
The Hawks earlier placed second in the 200 medley relay. The team of Peterson, Robie, Howard and Evans posted a time of 1:38.16.
"Although we lost Owen in the 50 free for state, we will be able to add him to the medley relay," Crouch said. "I am hopeful with his addition we can move up a couple spots."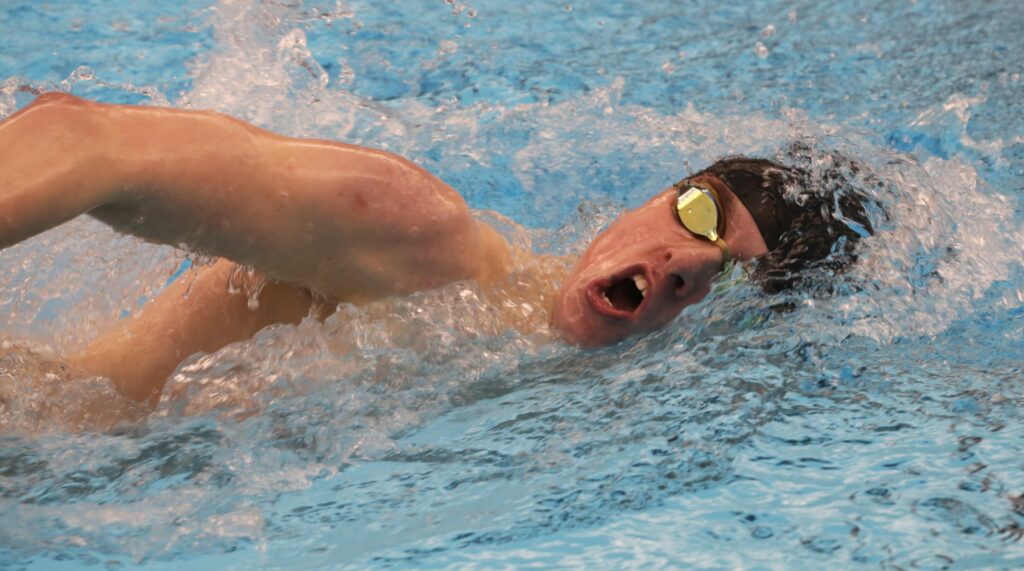 Overall, Crouch was proud of his team's performance.
"I felt like we really had a lot of positive energy and when you have a group that is willing to do whatever it takes for team success, it makes coaching really easy," he said. "We have a lot to be proud of Saturday. Next week we are going to show everyone why we are a great team by continuing to support each other and bringing that positive energy. We will not take a backseat to any team there."
The state meet will be held on Friday and Saturday at the University of Iowa's Campus Recreation and Wellness Center in Iowa City. Waukee will be seeking its third straight title, while Ankeny will be looking to improve on last year's seventh-place finish.
Swanepoel will try to defend his crown in the butterfly. He is the top seed in both of his individual events.
"I know Iowa City West has a good butterflyer over there (in Holden Carter) and I know there are a couple other good ones around the state, but I'm looking forward to the competition," Swanepoel said. "Iron sharpens iron, and I'm ready for it."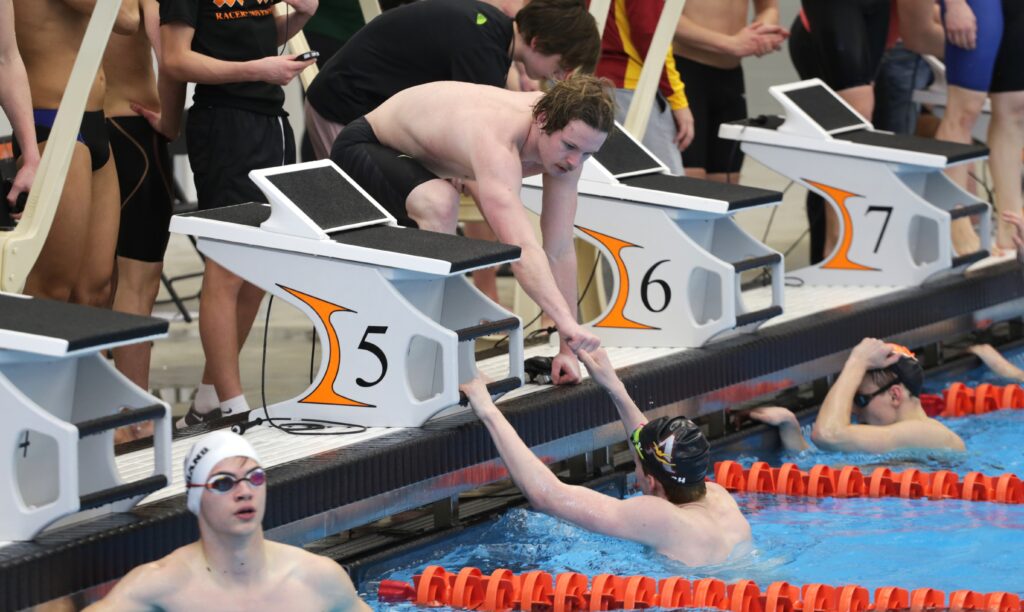 Ankeny could have three placewinners in the butterfly. Schwebach is seeded fourth in that event, while Peterson is seeded ninth.
Peterson is also seeded 14th in the backstroke. The Hawks' other individual qualifiers will have to swim above their seeds in order to score some points.
Ankeny is seeded fourth in the 200 freestyle relay, sixth in the 400 freestyle relay and 11th in the 200 medley relay.