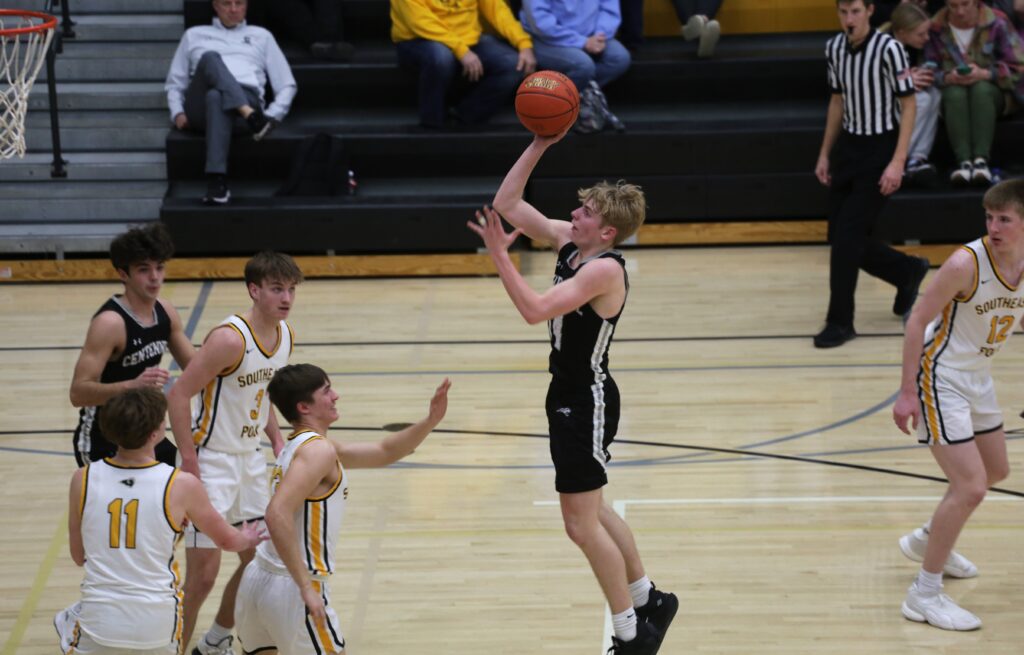 Ankeny Centennial boys' basketball coach Bob Fontana doesn't keep track of his career record.
It's a good thing that somebody else does.
Fontana earned his 450th career win on Tuesday as the sixth-ranked Jaguars won a seesaw battle at Southeast Polk, 64-61, in a CIML Conference game.
"I don't keep track of that, but my wife and daughter do," said Fontana. "They told me after Friday's game that it was 449, and I didn't know what they were talking about."
There were eight ties and 11 lead changes in Tuesday's game, which was a matchup of two of the CIML's hottest teams. Neither squad led by more than six points.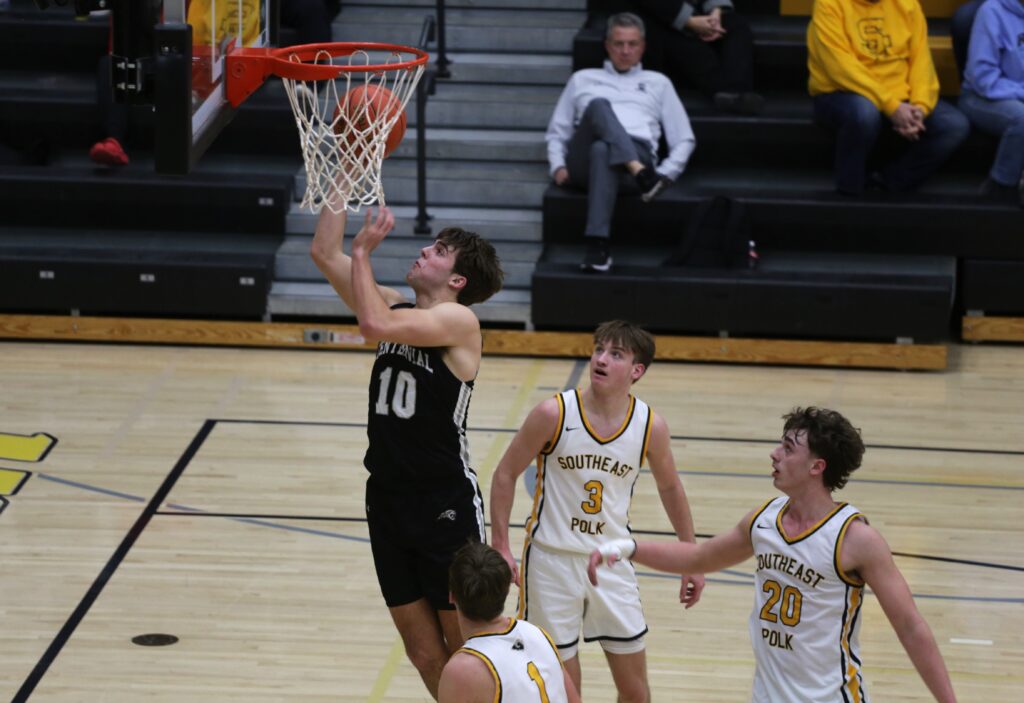 Luke Winkel tied his career-high with 31 points as Centennial extended its winning streak to five games. He also had six rebounds, six assists and five steals.
"This was a really important game," said Winkel, who went 12-of-22 from the field. "We played a hot team tonight. They gave us all they could, and it was a tough game the entire way. They fought us tooth and nail, but we just need to take this into the next game."
Evan Bryan scored a career-high 23 points on 10-of-14 shooting and also had six rebounds for the Jaguars, who improved to 9-5 in the conference and 14-5 overall. Southeast Polk's records dropped to 3-12 and 6-13.
The Rams had lost the first meeting at Centennial, 77-47, on Jan. 6.
"They had won four of their last five, and they're playing well right now," Fontana said of the Rams. "They've got three good perimeter guys, and (Jaxen) Barton is playing well (inside). We weren't necessarily at our best the first half, but I just liked the way our kids handled the late-game stuff. We made some big free throws."
Southeast Polk jumped out to a 13-7 lead in the first quarter, but the Jaguars rallied to take a 28-26 advantage at halftime. Winkel had 19 of his points in the first half, many of them on pull-up jumpers in the lane.
"I got the first couple to go, and I've practiced that shot a lot," Winkel said. "I felt like at anytime in the game, no matter how cold I am, that I can go to that shot and I'm confident in it."
There were five lead changes in the third quarter alone. Southeast Polk switched to a zone defense late in the period and went on an 11-5 run to take a 46-43 lead after three quarters.
"We just had to take a couple breaths (against the zone) and run through our stuff," Winkel said. "I think once we settled in, we did pretty well."
Bryan opened the final period with a basket, then followed with a 3-pointer to give the Jaguars a 48-46 lead. He had 14 of his points in the second half.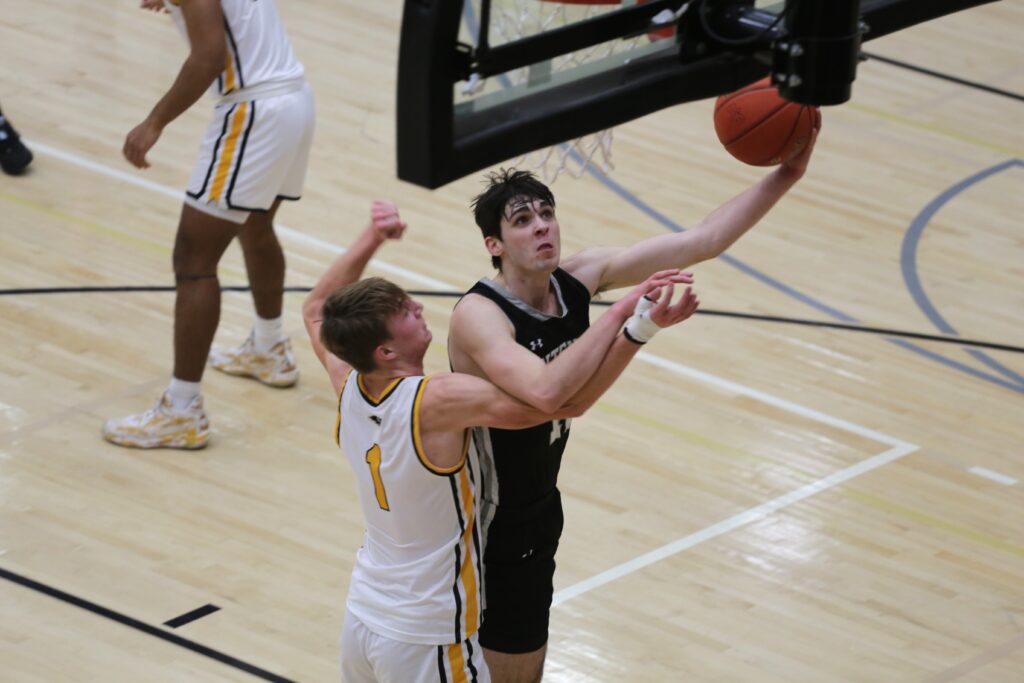 "Bryan played like you would want a senior to play down the stretch run here," Fontana said. "And Winkel was Winkel. He was tough to stop."
Winkel later made two consecutive baskets to break a 48-48 tie, but Southeast Polk then answered with a 9-4 run and regained a 57-56 lead on a rebound basket by Barton with 2 minutes 40 seconds left.
Centennial finally took the lead for good, 58-57, on a pair of free throws by Nick Vaske with 2:10 remaining. He then added two more at the 1:28 mark.
After Bryan made a jumper to give the Jaguars a 62-59 lead with 51 seconds to go, Barton scored for the Rams with 15 seconds left to cut the deficit to one.
Winkel made two free throws with 12.7 seconds to go to produce the final margin. He went 6-for-9 at the line, but had missed two earlier attempts in the period.
Southeast Polk still had time for a tying 3-pointer, but Winkel stole the ball and passed it ahead to Vaske as the final seconds ticked off the clock. Vaske slammed home a dunk just after the buzzer sounded.
"We were trying to let them dribble for a couple seconds and then foul, but not anywhere near the 3-point line obviously," Winkel said.
The Jaguars had committed only five team fouls, which gave them the option to foul if they so desired.
"We knew it was going to be a catch-and-shoot (situation)," Fontana said. "I just wanted to stay straight up. I didn't want to foul a 3-point shooter, because we had fouled them earlier. We just switched everything, and it led to them not getting a shot off."
The Jaguars will travel to Waukee Northwest on Friday for another conference game against the No. 3 Wolves, who are 13-2 in the league and 17-2 overall. Northwest won the first meeting at Centennial, 56-42, on Jan. 3.