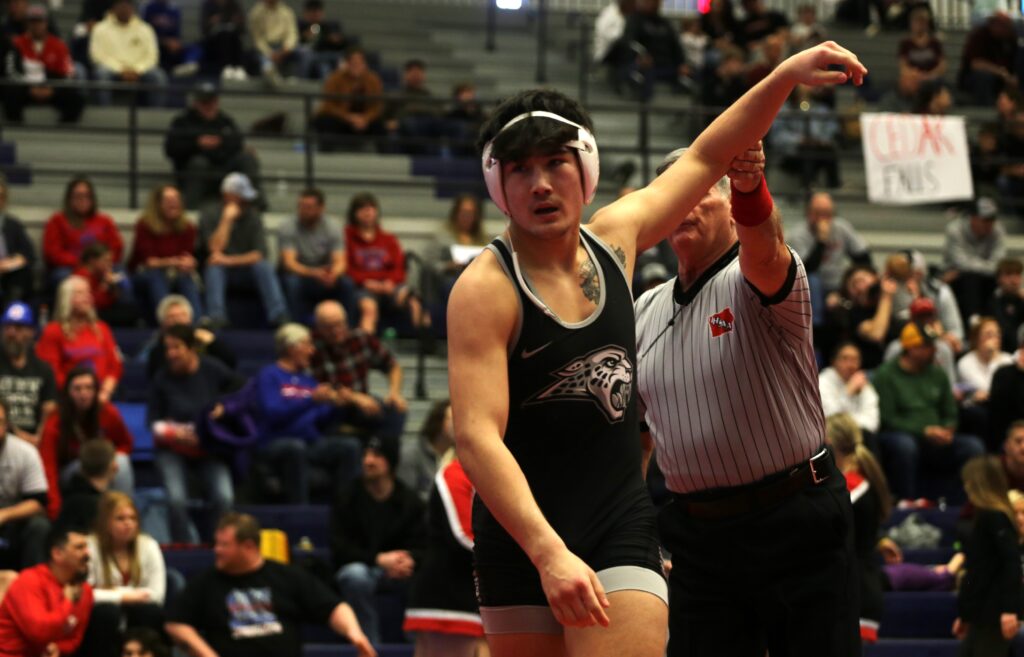 Every year, the goal for Ankeny Centennial coach Jay Groth is to qualify all 14 of his wrestlers for the Class 3A state tournament.
On Saturday, the Jaguars came closer than ever to meeting that goal–with help from a new format that allows the top three finishers at each weight to advance to state.
Centennial qualified 12 wrestlers while placing second in a district tournament at Marshalltown. Linn-Mar (Marion) won the team title with 211 points, edging the Jaguars by a single point.
"The guys wrestled really, really well," said Groth. "Even after we got beat in some matches, they shook it off and worked their way back and just kept wrestling tough and got themselves into the tournament."
Centennial crowned three individual champs and had four runner-up finishers. Five other Jaguars qualified by placing third.
Fifth-ranked Cale Vandermark at 106 pounds, No. 4 Lucas Bruhl at 145 and No. 9 Ari Ehlts at 160 each won an individual title. Ehlts recorded three falls on the day, while Bruhl had two and was nearly as dominant.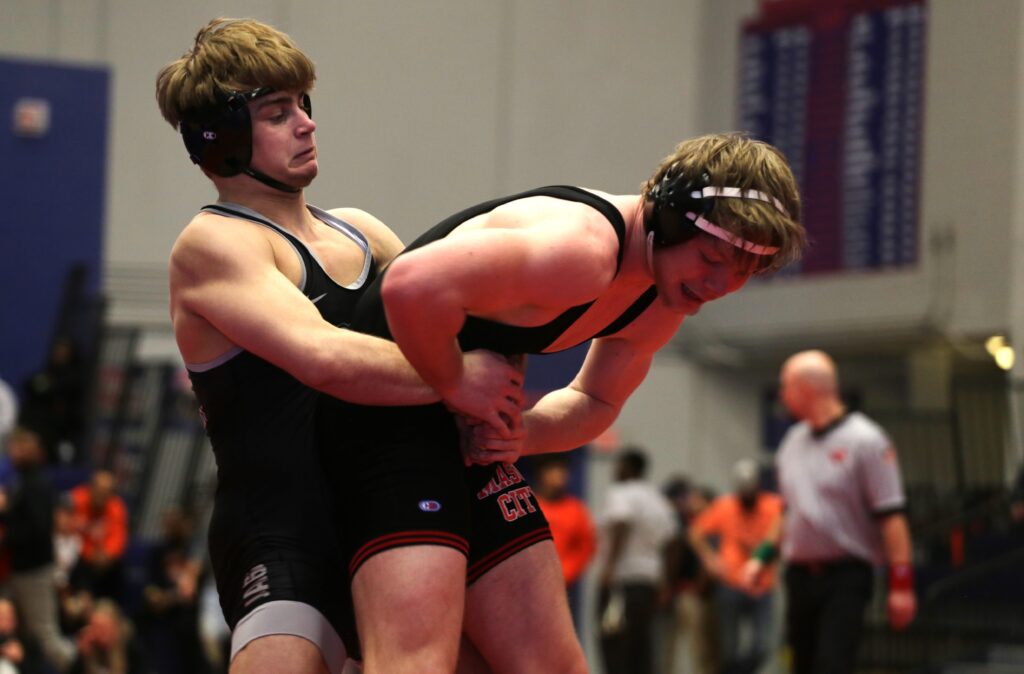 Bruhl posted an 18-5 major decision over Luke Hageman of Marshalltown in the finals. He raised his record to 40-2.
Bruhl, a junior, earned his second straight trip to state. He placed sixth at 138 a year ago.
"Lucas dominated, and he's been wrestling great all year," Groth said. "He's in a loaded bracket, but he's got a great opportunity ahead of him. He's super talented, and I think he's got what it takes to win it all."
Ehlts, a junior, pinned Gerald Norton of Cedar Falls in 3 minutes 38 seconds to win his crown. He lifted his mark to 33-12.
"Ari had a great tournament," Groth said. "He sometimes overthinks things, so we just tried to keep him on an even keel and he wrestled great."
Vandermark, a freshman, posted a 9-6 decision over Kale DiMarco of Mason City. He will take a 40-6 record into the state tournament, where he is seeded fifth and will receive a bye into the first round.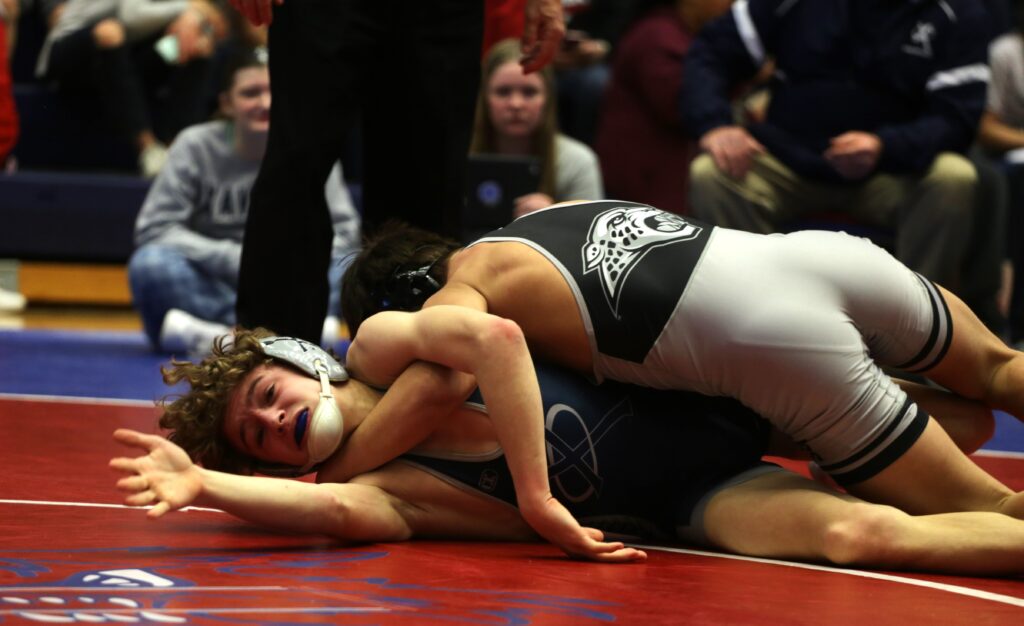 Bruhl is also seeded fifth, while Ehlts received a No. 8 seed. Teammate Zach English is seeded sixth at 182.
The fifth-ranked English placed second on Saturday along with No. 7 Cael Wiener at 132, No. 8 Isaac Bruhl at 138 and Jack Cahill at 195.
Wiener (38-10) advanced to state for the fourth time, joining Ben Monroe and Jackson Helmkamp as the only Jaguars to accomplish the feat. He reached the finals before dropping a 5-0 decision to Brayden Parke of Linn-Mar.
Wiener qualified at 106 as a freshman, at 113 as a sophomore and at 132 last year. He will try to become a placewinner for the first time.
"Cael told me after he qualified that it won't mean anything (to be a four-time qualifier) unless he gets on the podium," Groth said. "He's got his goals."
Bruhl (21-6) recorded a pair of major decisions to reach the finals. He was then pinned by Kane Naaktgeboren of Linn-Mar in 2:38, but he rebounded with a 20-5 technical fall over Adam Cook of Cedar Rapids Xavier in a match for second place.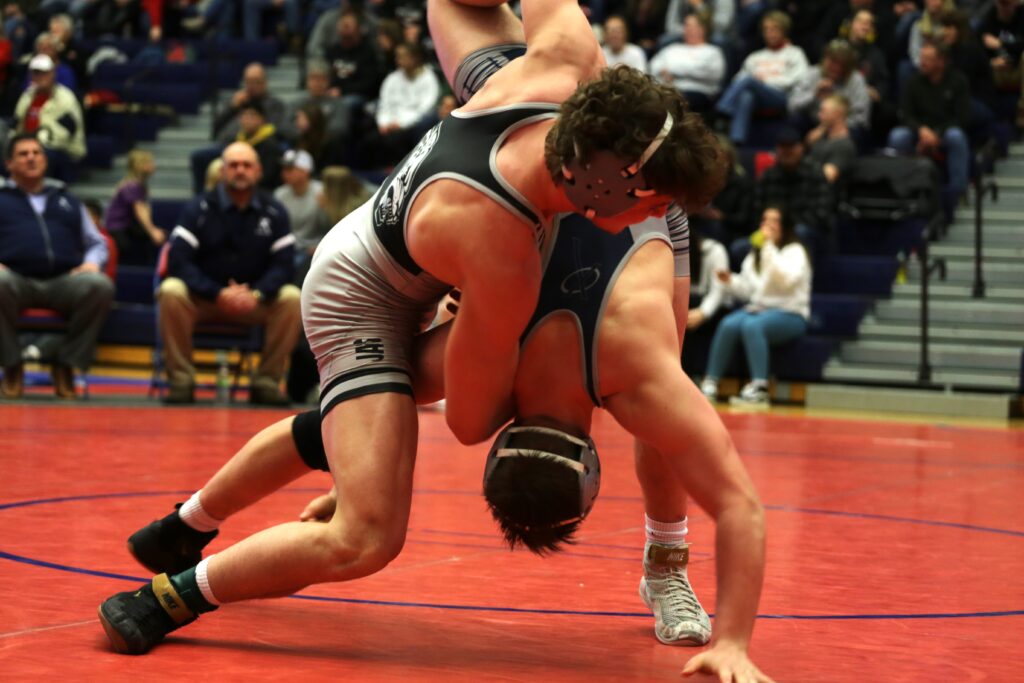 English (36-5) had a pair of falls before losing by a technical fall, 20-5, to Tate Naaktgeboren of Linn-Mar. He then won a match for second place by injury default.
Cahill (17-18), meanwhile, took a long route to his runner-up finish. After losing in the quarterfinals, he won his next two matches to clinch a trip to state. He then won another match for second place by default.
Placing third for Centennial were No. 9 Cody Vandermark at 113, Payton Bright at 120, Andrew Roland at 126, Logan Song at 170 and Mitchell Grider at 220.
Song (21-6) recorded a fall over Landen Bushman of Linn-Mar in 3:35 to reach the finals. But the senior, who has battled injuries all season, then defaulted his next two matches after clinching a berth to state.
"That was emotional for a lot of us because of what he's been battling with his injuries," Groth said. "He's just a hard worker, he's a grinder, and he does everything to get better. To see it all happen for him, we were very happy. There were a lot of tears after he pinned (Bushman).
"We just didn't want to take any chances with him, so that's why we held him out after he qualified," Groth added.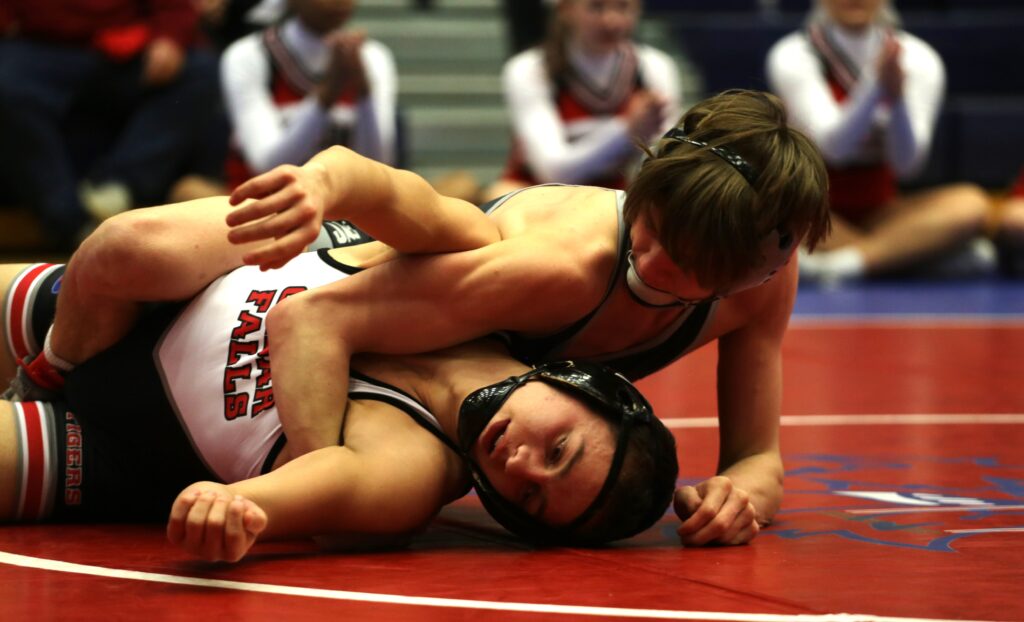 Bright (31-17) became a three-time qualifier after earning his second straight trip at 120. He posted a 9-3 decision over Nicholas Wise of Marshalltown in the third-place match.
Cody Vandermark (38-11) pinned Lucas Bantz of Marshalltown in 2:58 to qualify. Grider (27-19) pinned Colin Miller of Cedar Rapids Xavier in 1:28.
Roland (21-17) qualified for state with a 3-1 overtime decision against Paul Fabian of Mason City.
"I'm not surprised by how we did. We had some good matchups," Groth said. "The tough matches that we needed to win, we did. We had a couple guys really come back–Roland and Cahill–and they wrestled as well as they have all year. We got some fortunate matchups, and they capitalized. We spent some time convincing them that this was something they could do. They had an opportunity to get to state–they just had to believe it themselves, and they did. It was awesome to see."
The Class 3A tournament begins on Wednesday at 6 p.m. at Wells Fargo Arena with the preliminary and first-round matches.
"It's a great feeling to qualify for state," Groth said. "These guys are going to remember it for the rest of their lives, but we're not going there just to be state qualifiers. We're going there to win matches and get on the podium.  A lot of things can happen at the state tournament."