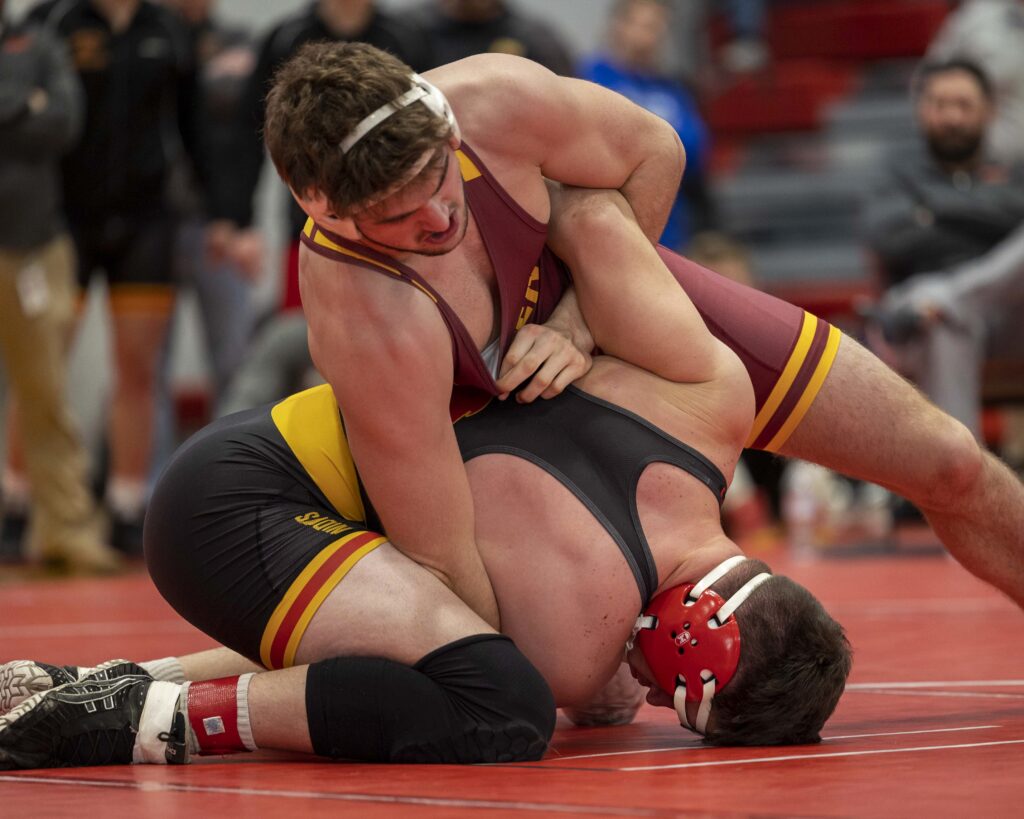 The Ankeny wrestling team advanced nine qualifiers to this week's Class 3A state tournament at Wells Fargo Arena, led by district champion Jace Anderson.
The fourth-ranked Hawks placed second in a district tournament on Saturday at Carlisle. The host Wildcats won the team title with 189 points, while Ankeny finished with 168.5.
The Hawks had five runner-up finishers. Three other Ankeny wrestlers placed third, allowing them to qualify as well under the new format for the state tournament.
"I felt we were really, really flat," said Ankeny coach Jack Wignall. "I thought Jace was the only one who wrestled really well. Ben (Hansen) didn't wrestle terribly, but I just thought we were flat all day. I don't know if I'm looking for excuses or what, but I feel like we're still trying to recover a little bit from state duals. We grinded it out and qualified nine kids, but I just didn't think it was our best tournament."
The second-ranked Anderson earned his fourth consecutive trip to state. He won his fourth district title with an 11-3 major decision over Jack Lewis of Bondurant-Farrar.
Anderson, who raised his record to 31-3, will try to become a three-time state placewinner. He took fourth at 145 last year and seventh at 138 as a sophomore.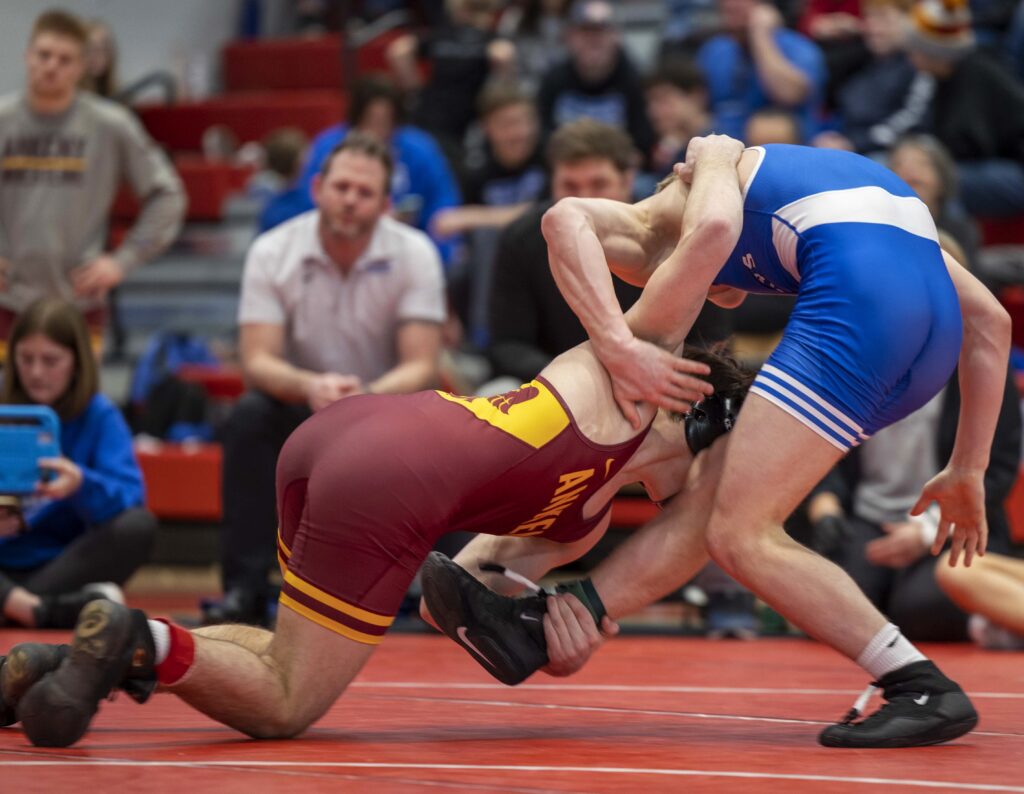 "I felt like I wrestled really well," said Anderson, who earned his 100th career victory in the finals. "That match between me and Lewis went exactly how I think it should every time. I'm only four matches away from a state title, and I've never been closer. I've just got to put four matches together, and the rest will take care of itself."
Anderson is seeded second heading into the state tournament. Only Jacob Helgeson of Johnston is seeded ahead of him.
"I absolutely think Jace can win it," Wignall said. "He got beat by (Lewis) the first time this season, then beat him by three or four (points) the next time and now he majored him. Jace was just on it. I was really impressed. That's the best I've seen him wrestle. He's peaking at the right time."
Hansen, a junior, will also try to become a three-time placewinner. He took second at 138 on Saturday and is seeded third for state.
The No. 3 Hansen dropped a 5-4 decision to Nolan Fellers of Bondurant-Farrar in the finals. He then won a match for second place by injury default to lift his mark to 36-7.
Seniors JJ Maihan at 120 and Will Hinrichs at 220 both qualified for state for the third time with runner-up finishes. Ben Walsh at 106 and Leo Perez Perez at 126 also advanced by placing second.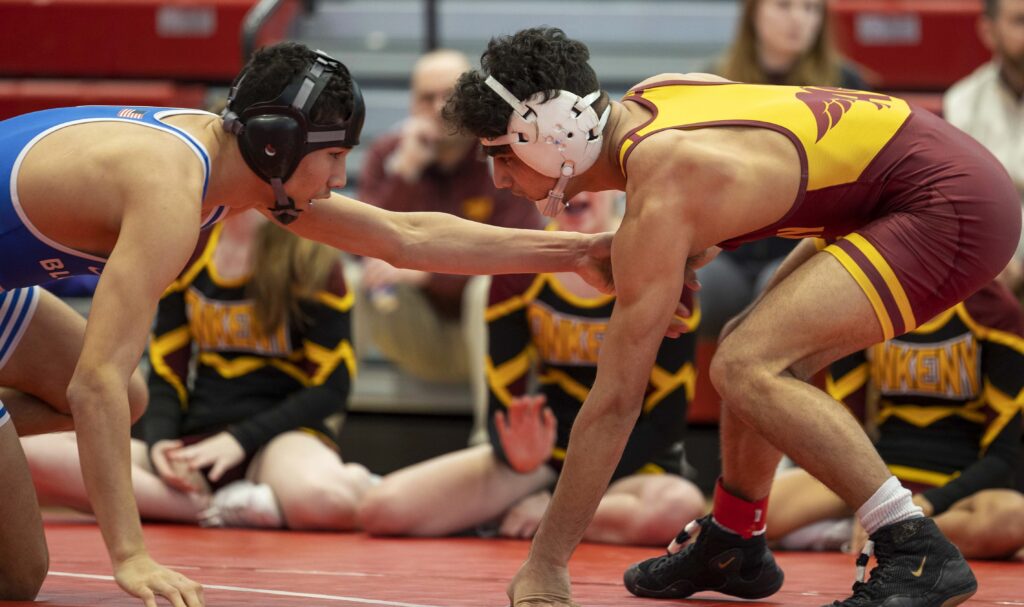 The No. 7 Maihan dropped a 9-2 decision to Matthew McCrea of Bondurant-Farrar. He will take a 23-11 record into state.
The No. 4 Hinrichs lost a close match to Joshua Hemsted of Carlisle, 5-4, in the finals. His record is now 34-7.
Walsh dropped a 10-4 decision to Reid Foster of Bondurant-Farrar. His mark is now 27-19.
Perez Perez was pinned by Jabari Hinson of Ames in 1 minute 55 seconds. His record is now 19-16.
Seniors Xander Kenworthy at 182 and Cade Bennethum at 195 both placed third at their weights along with sophomore Truman Folkers at 113. They each qualified for state for the second time.
The No. 7 Folkers (33-11) pinned Nick McCalister of Waukee in 1:39 in the third-place match. He is seeded seventh at state.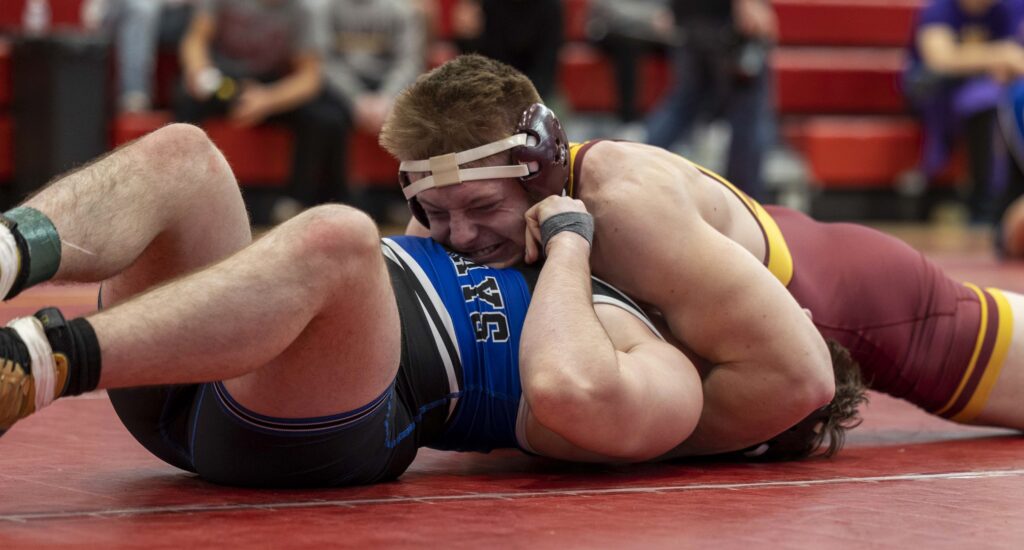 The No. 7 Kenworthy pinned Alex Martin of Bondurant-Farrar in 1:12. He is now 28-10 on the season.
The No. 4 Bennethum pinned Kieran Van Voorst of Pella in 32 seconds. He then dropped a 9-2 decision to Jes Krcil of Carlisle in a match for second place, leaving him with a 31-8 mark.
"Nine (qualifiers) is a good accomplishment, but I feel like we underachieved," Wignall said. "The last time we wrestled flat was against Southeast Polk, and we came back the next week and wrestled really hard against Bondurant-Farrar and then wrestled really well at state duals. I kind of look for us to have a really good state tournament because we wrestled flat, and I don't think the guys want to leave things like that. My best hope is that we can regroup and have a really good state tournament."
The Class 3A tournament will begin on Wednesday night with the preliminary and first-round matches at Wells Fargo Arena. Bennethum, Hinrichs and Kenworthy just missed earning a top-eight seed, but all three of them could face wrestlers from Carlisle in the first round with wins in their preliminary matches.
Bennethum and Hinrichs could both get a chance to avenge losses on Saturday.
"I want their last go-around to be on the podium," Wignall said. "I look for all of our guys to really step up. They have nothing to lose and everything to gain."