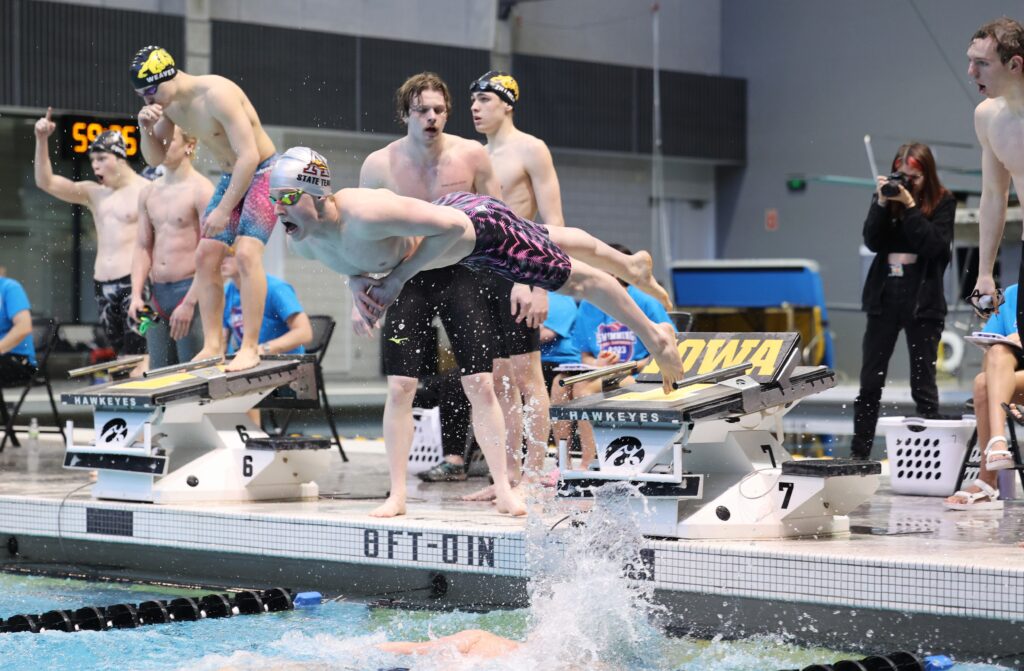 Saturday was an unforgettable day for Lance Swanepoel, coach Justin Crouch and the Ankeny boys' swimming team.
Swanepoel capped off his illustrious high school career by winning a pair of individual titles in the state meet at the University of Iowa's Campus Recreation and Wellness Center in Iowa City. He also swam on Ankeny's runner-up 200 and 400 freestyle relays and was named the state's Athlete of the Year.
"Man, it feels fantastic to be in this spot!" said Swanepoel. "After (the preliminaries on) Friday, the events were mine for the taking and I was not going to let anyone take that from me."
Swanepoel's performance helped fifth-ranked Ankeny earn a fourth-place finish overall. The Hawks scored 160 points to edge No. 3 Pleasant Valley (159) and No. 7 Linn-Mar (Marion) (158.5) for the fourth-place spot.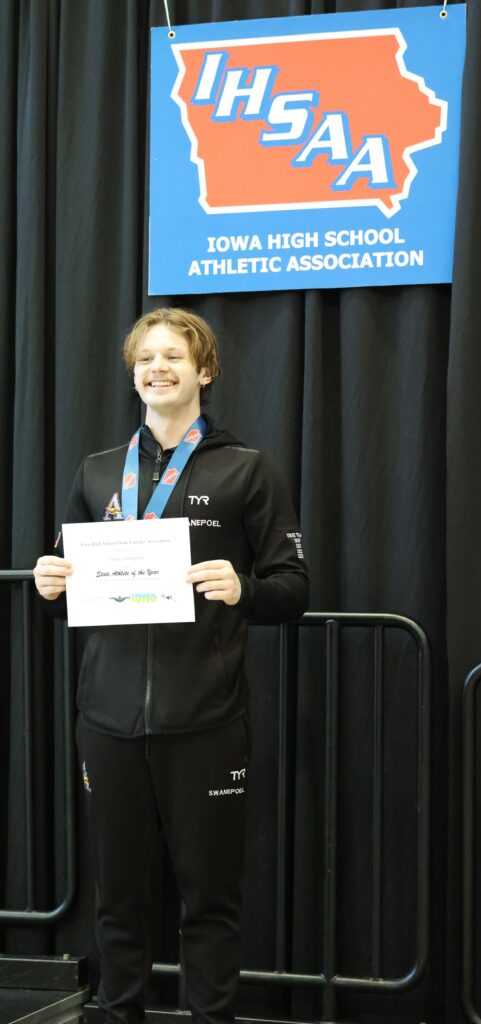 "This year has definitely been one of the most gratifying season finishes of my career," said Crouch. "I've been fortunate enough to have had a lot of success in recent years, but this finish was right at the top. Our team motto throughout the year was 'strength through struggle'. Not only did this define me personally, but it was a perfect definition of this team."
Top-ranked Waukee easily captured its third straight title. The Warriors racked up 304 points to finish 90 points ahead of No. 2 Valley.
Ankeny got off to a good start with a sixth-place finish in the 200 medley relay. The foursome of Brock Peterson, Nicholas Robie, Owen Schwebach and Owen Evans posted a time of 1:36.11.
Ames won the event in 1:33.24, helping the Little Cyclones to a third-place finish overall.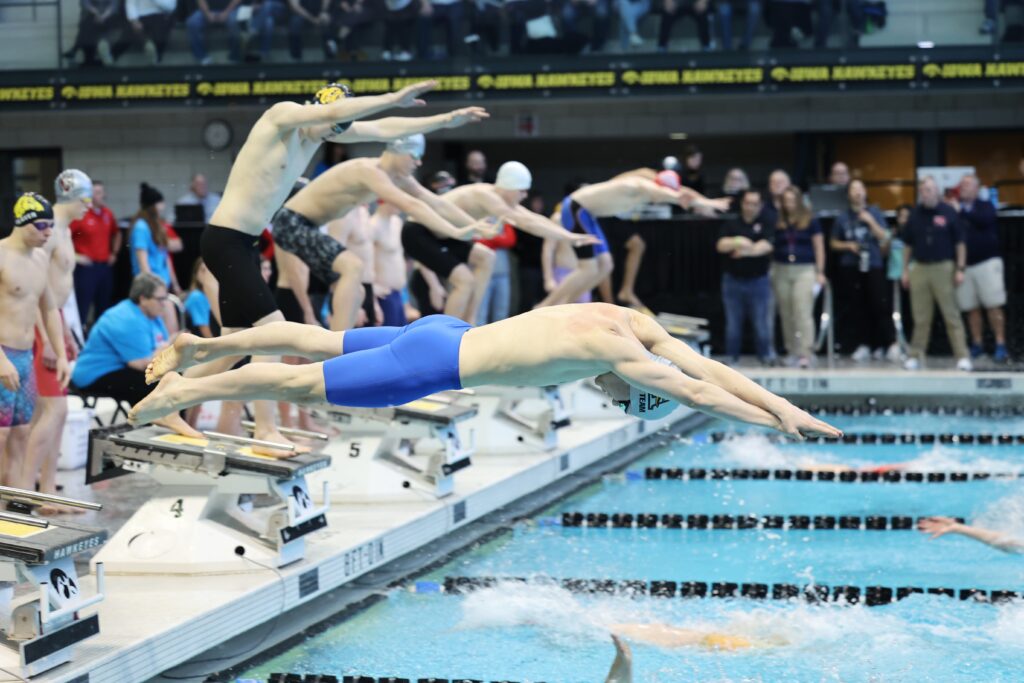 "The relays were super awesome," Schwebach said. "I am so lucky to be able to team up with incredible guys day in and day out. I was especially happy to go 21 in the fly on the medley. We'll work more on that 50 free, though. It is still a goal of mine to go 20.99 in the 50 free."
Schwebach swam the butterfly leg in a split of 21.93 seconds. He was added to the medley relay after being disqualified for a false start in the 50 freestyle at last week's district meet.
"Our relays were crucial in our success this weekend," Crouch said. "When Schwebach was added to our medley relay, I knew we would speed up a bit and maybe get a spot or two higher in the standings. But to move up five spots and get to 1:36.11 was crucial for our team success for the entire day."
Swanepoel earned his first state title in the 50 freestyle. He raced to a victory in 20.40, defeating runner-up Nick Rounds of Dowling Catholic by .33 seconds.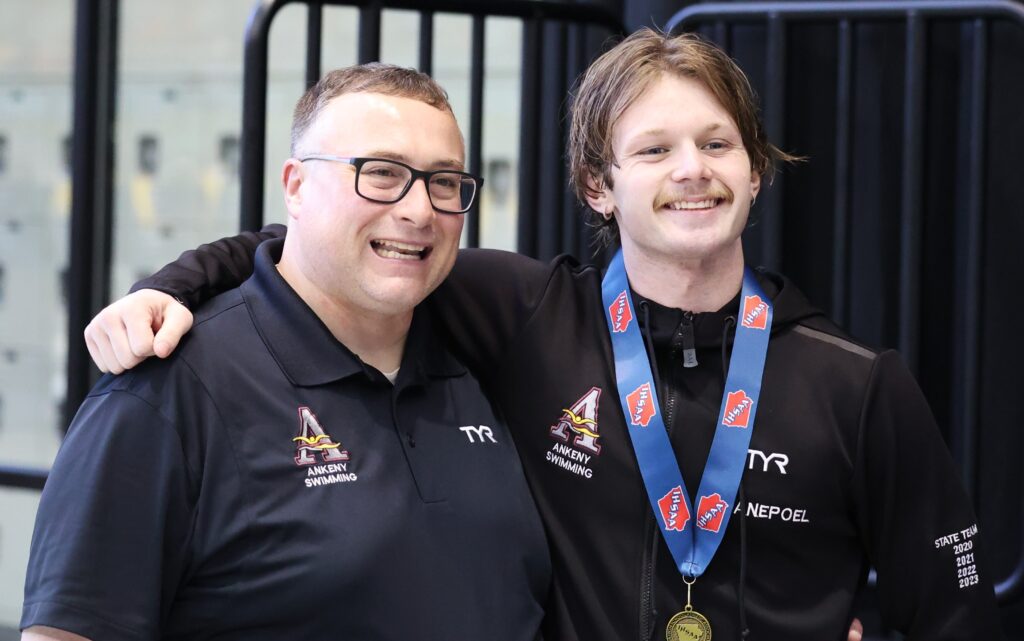 Swanepoel had posted a time of 20.33 in Friday's prelims.
"It would be hard for me to say I didn't want to go faster in the finals, but a great coach of mine once told me, 'Big meets are won in prelims,'" Swanepoel said.
Swanepoel then defended his state title in the 100 butterfly, posting a time of 47.10 seconds. He earned automatic all-American honors in both events.
Again, Swanepoel was unable to match his time from Friday's prelims, when he smashed the state record with a mark of 46.89.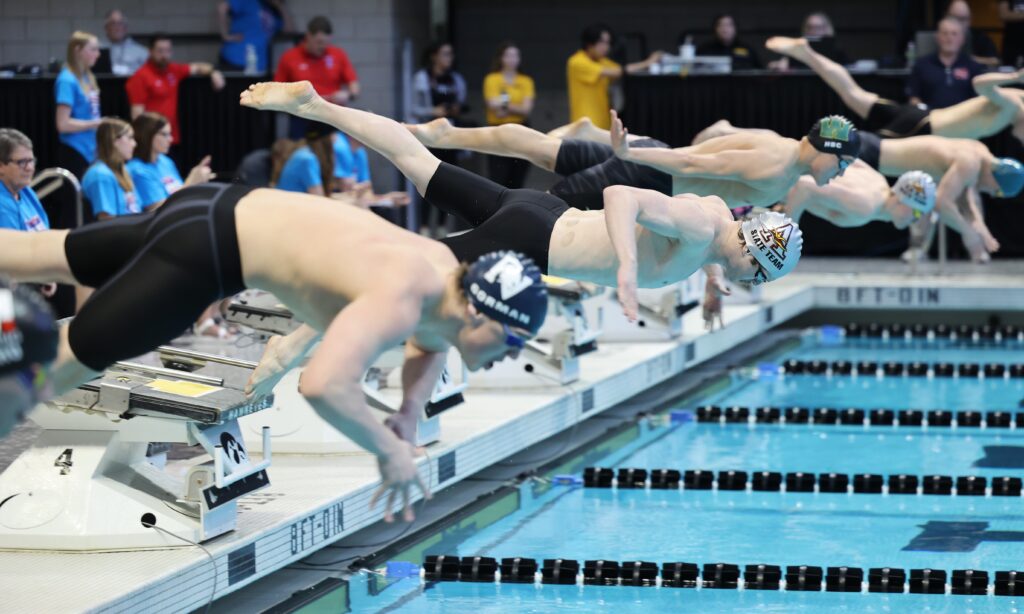 "I'm just happy I could go that fast, no matter when it was," Swanepoel said.
Swanepoel ends his career with three individual crowns and two relay titles. As a sophomore in 2021, he anchored the Hawks to victories in the 200 and 400 freestyle relays.
"Lance's goal was 19.9 in the 50 free and 46.9 in the 100 fly," Crouch said. "Although he came up short in one of his goals, he was happy with two state championships and one state record. What continues to impress me about Lance is that he is happy with his swims but he is not satisfied. His college coaches (at Wisconsin) will love this quality about him–that's what makes him coachable. What makes Lance elite is his mindset. His elite mindset has been passed on to our team, and that will be his lasting legacy."
Schwebach and Peterson also scored some points in the butterfly. Schwebach placed fourth in 49.99 seconds, while Peterson finished 10th in 52.13.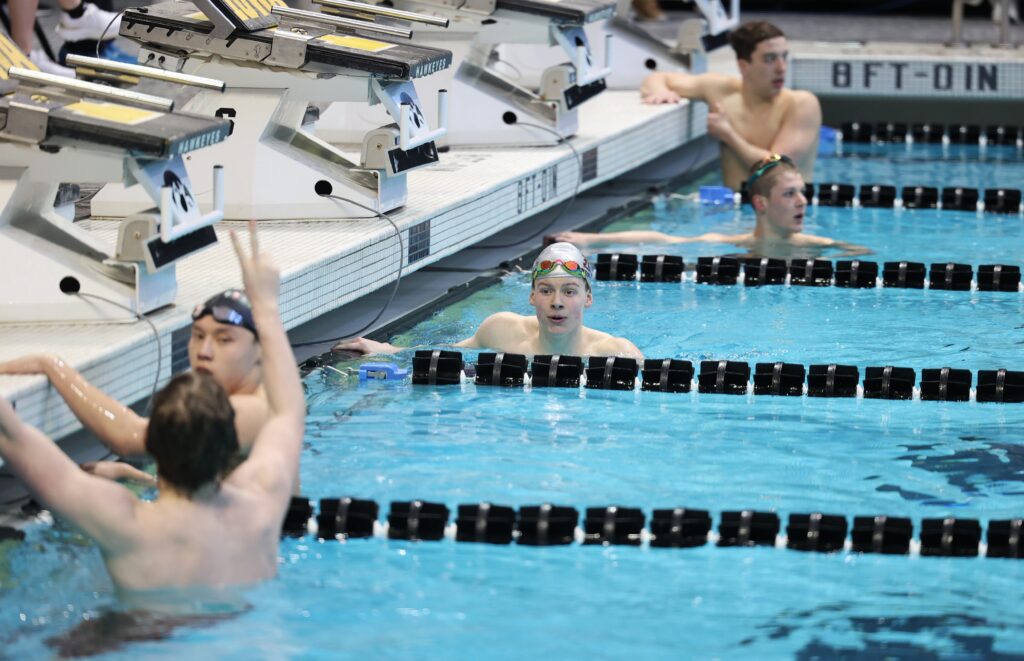 Schwebach, a junior, broke the 50-second barrier for the first time in his career.
"Today was a day filled with so many emotions," Schwebach said. "I've had my eye set on 49 for years now, and it was so good to finally get there. The .99 means a lot to me because I still remember when I went 29.99 in the 50 fly for the first time."
Peterson, a sophomore, later added a 13th-place finish in the 100 backstroke. He was clocked in 53.54.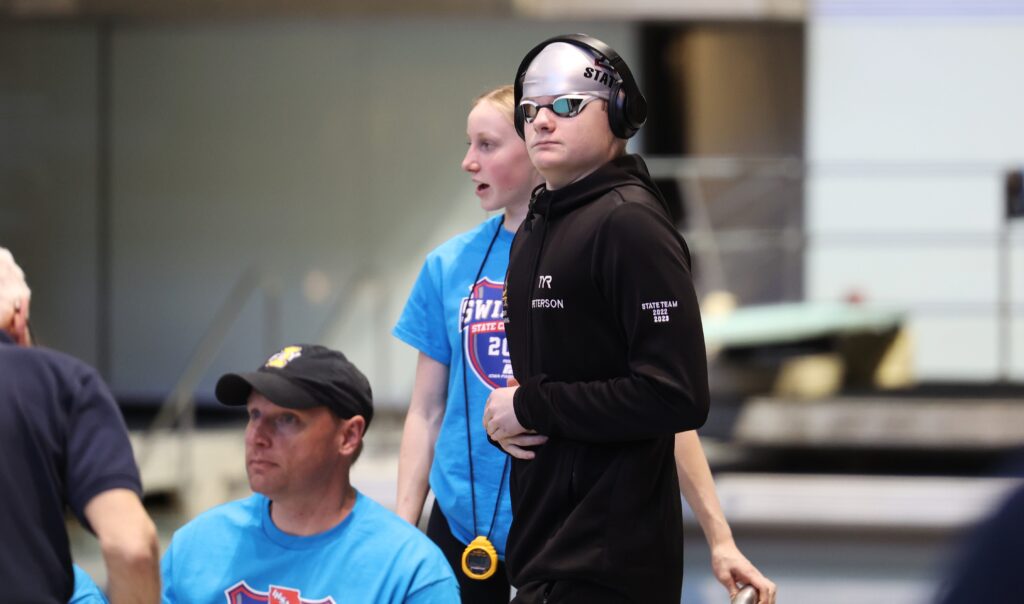 That followed Ankeny's second-place finish in the 200 freestyle relay, where the quartet of Swanepoel, Schwebach, Evans and Noah Schafer posted a time of 1:24.93. Waukee won the event in 1:23.17.
"The 200 and 400 free relays getting second and consideration for all-American times was so exciting and a little unexpected," Crouch said. "It showed everyone in the building that we weren't taking a backseat to anyone. My guys wanted to be the 'show' this weekend."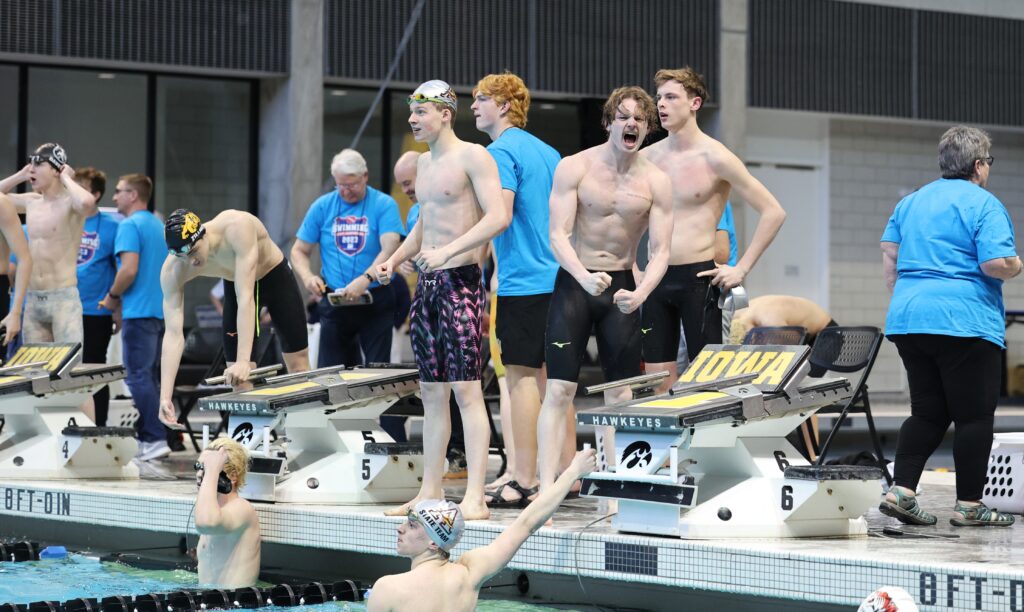 Ankeny was in sixth place heading into the final event, the 400 freestyle relay. But the team of Swanepoel, Calvin Howard, Peterson and Schwebach came through with another second-place finish, posting a time of 3:06.34.
Waukee won the event in 3:05.75. The Warriors came from behind after Swanepoel put Ankeny ahead with a split of 44.41 seconds on the opening leg.
"Our relays were phenomenal. There is no other way to put it," Swanepoel said. "I could not be more proud of those men. That last relay was beautiful, especially posting my first sub-45 100–that's a terrific way to end my high school career. I knew from day one we were a top-five team. I'm happy we were able to reach our true full potential!"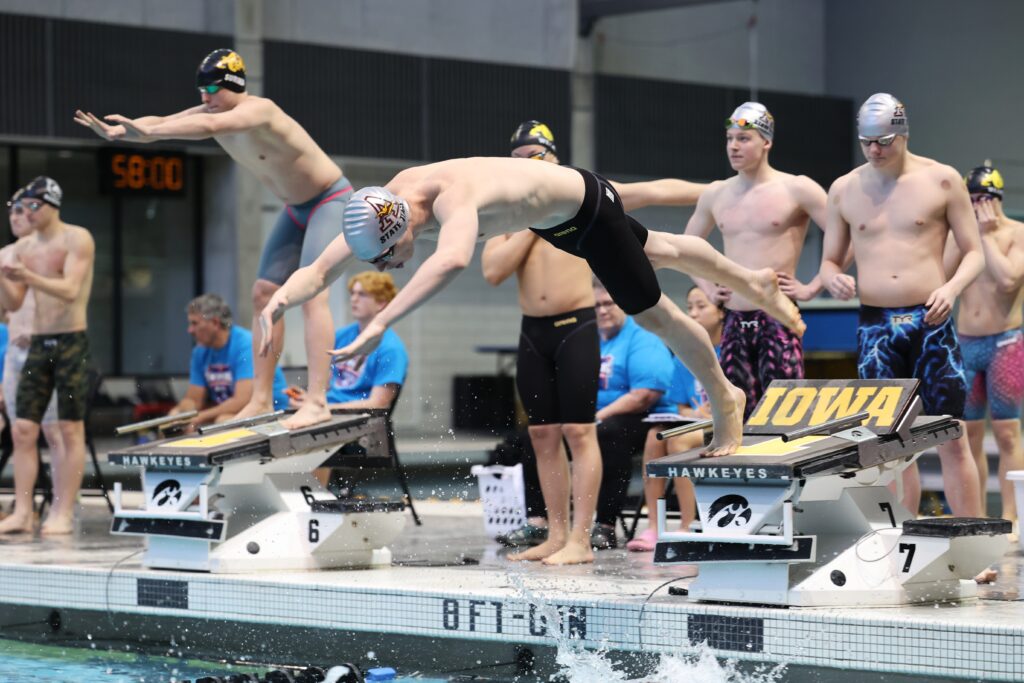 Schwebach swam the anchor leg in 46.77 seconds, allowing the Hawks to hold off Pleasant Valley and hard-charging Owen Chiles for second place. The Spartans, who were clocked in 3:07.27, needed to finish ahead of Ankeny to place fourth overall.
"I was confident we'd get on the podium (in all three relays), but I was ecstatic to get second in the 200 and 400 free relays," Schwebach said. "This has been my favorite state meet so far!"
Crouch was thrilled by his team's performance.
"I often times don't go into championship meets looking at what place we are going to finish–the place doesn't always tell the whole story–but I thought fourth place was going to be a tall order," he said. "Not to name any names, but there were some teams that may have swam well enough to beat us in the standings this weekend but they definitely did not swim up to their abilities or expectations. What I love about our team's finish is that we exceeded our expectations, not by a little but by a lot. Although we didn't go home with a team trophy, I would much rather go home with knowing we did as well as we possibly could rather than go home with a trophy and a lot of mediocre swims.
"The old quality over quantity argument," he added.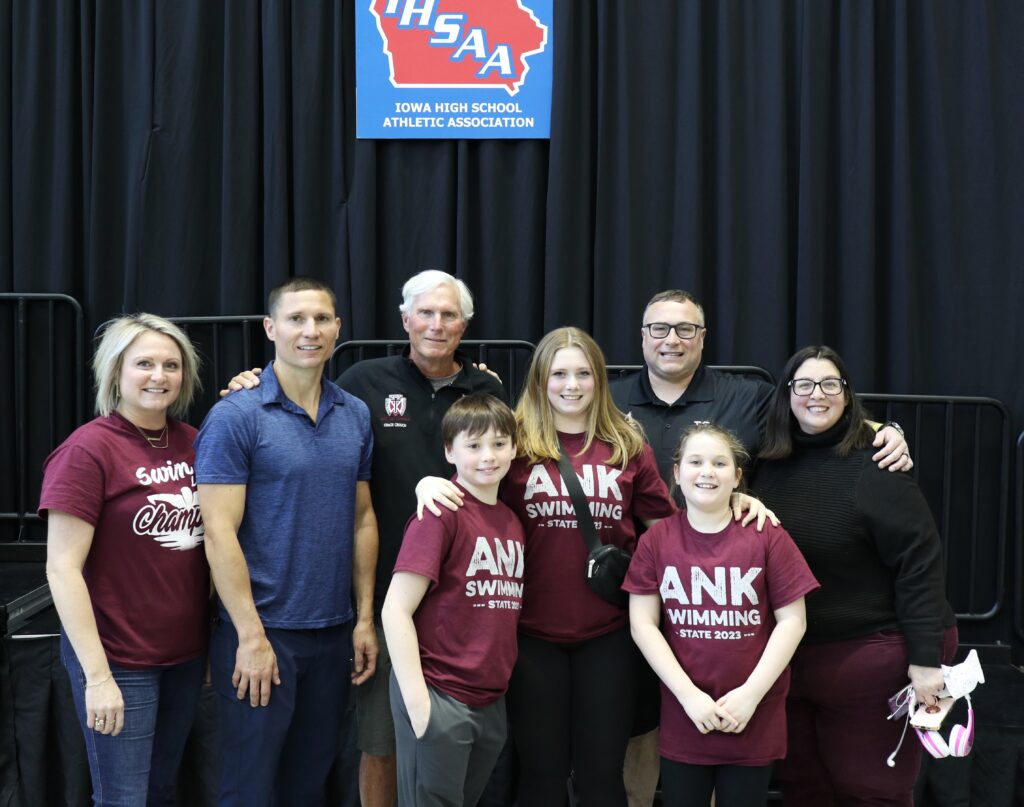 Back in December, Crouch took a leave of absence from the team. He returned to the squad after the holiday break.
"This was the most challenging season for me in my career personally," he said. "The leave of absence had very little to do with the boys but more to do with me. If I wasn't going to get in the right frame of mind, I don't think my leadership would have been what these kids needed to be successful. Hats off to assistant coach Steve Jones for keeping these kids working hard and hungry in my absence. This season, truthfully, could have easily ended poorly."
Instead, it ended with a banner finish–one that left Crouch searching for the right words to describe his emotions.
"The end of the meet and finishing fourth in the fashion we did literally left me in tears and speechless," he said. "I think I have been left speechless one other time in my career. The best part of the day was having my dad (Mark) receive the IHSAA Hall of Fame award today and then having him see my guys blow the doors off the place. I got into coaching because of him. He was the best coach. I attribute a lot of my success to him and his coaching style."