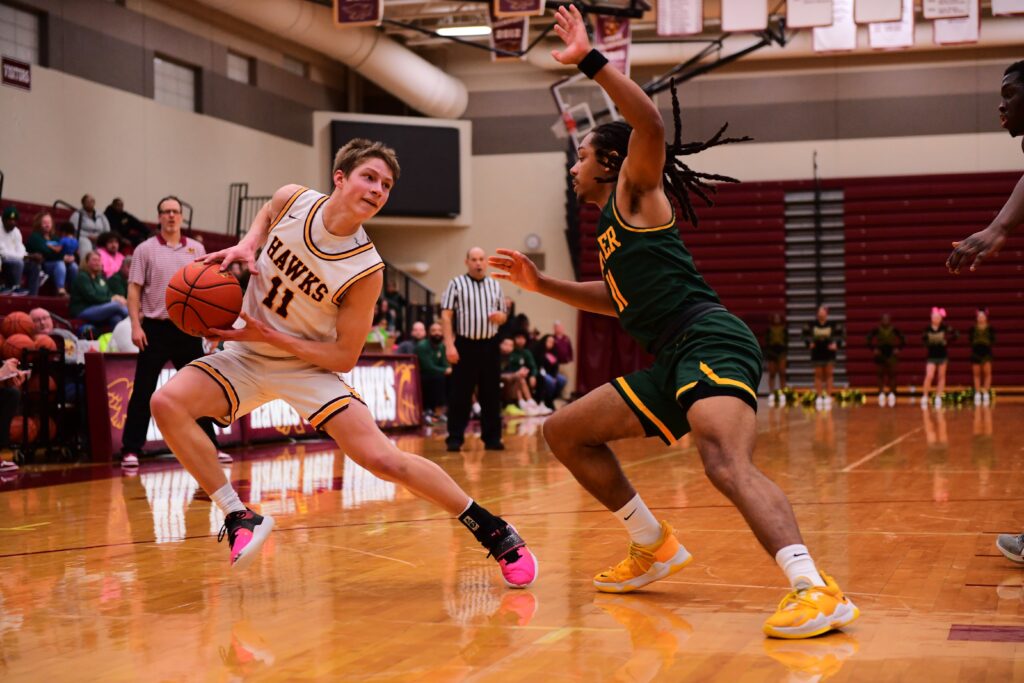 Ankeny point guard Carson Johnson was looking forward to Tuesday's matchup against visiting Des Moines Hoover and Montana recruit Chase Henderson.
Henderson entered the non-conference game with 42 3-point goals and was averaging nearly 21 points a contest.
"He's a good player," Johnson said. "We knew we had to help a lot on him and just try to take away what he likes to do. I thought we did a pretty good job of that."
Henderson scored a game-high 22 points on 7-of-18 shooting, but Johnson had 20 points of his own, Lio Aguirre chipped in 18 and the Hawks closed out the regular season with a 61-54 victory. They improved their record to 8-14, while the loss snapped a three-game winning streak for Hoover (12-8).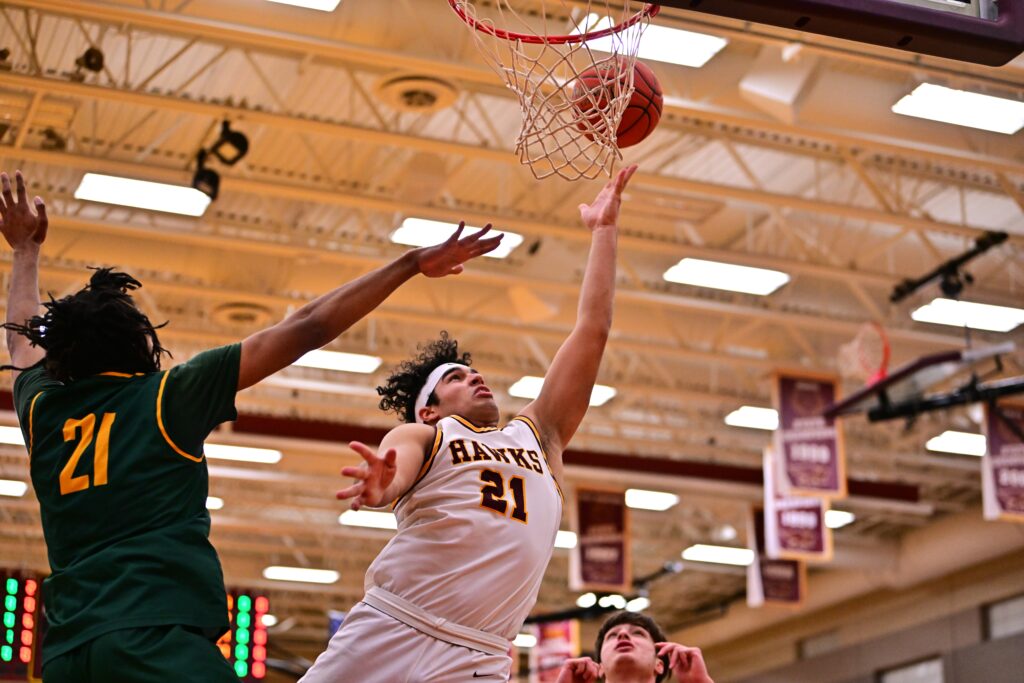 "(The win) was very much needed, and it was a tough one," said Ankeny coach Brandt Carlson. "Hoover's a tough team, and they always play us hard. They've got two really good college-level players on their team (in Henderson and Elijah Vos), so they're going to do well in the 3A tournament for sure. This was a way for us to finish the season on a high note."
There were four ties and two lead changes in the second half before Ankeny pulled away down the stretch. Henderson made a 3-pointer to give Hoover a 47-46 lead with 4 minutes 5 seconds left, but Johnson answered with a trey of his own 15 seconds later to put the Hawks ahead for good.
"I'm always looking for my shot," said Johnson, who also dished out five assists. "You have to stay aggressive and that was the right shot–the right play–and it went in."
After Ankeny's Cash Schoolen scored off a rebound to make it 51-47, Henderson scored a basket while being fouled with 3:10 to go but was then called for a technical foul–which was also his fourth personal foul. Johnson then connected on two free throws before Henderson converted the 3-point play.
Henderson made two more free throws with 2:47 left to pull Hoover within 53-52, but Ankeny then closed the game with an 8-2 run. Aguirre scored a pair of baskets and Schoolen added another before Johnson made two free throws with 8 seconds left to seal the victory.
"Going into substate, we knew this was an important (game) to keep that momentum going," Johnson said. "We just wanted to get another win."
Johnson had eight points in the first quarter as the Hawks jumped out to a 16-5 lead. He later made two free throws to make it 26-16 after Hoover coach Courtney Henderson was called for a technical foul with 3:16 left in the first half.
The Huskies used an 8-0 run to pull within 28-26 at halftime. Vos started the run with a 3-pointer, then Henderson followed with a layup and a long 3-pointer at the buzzer.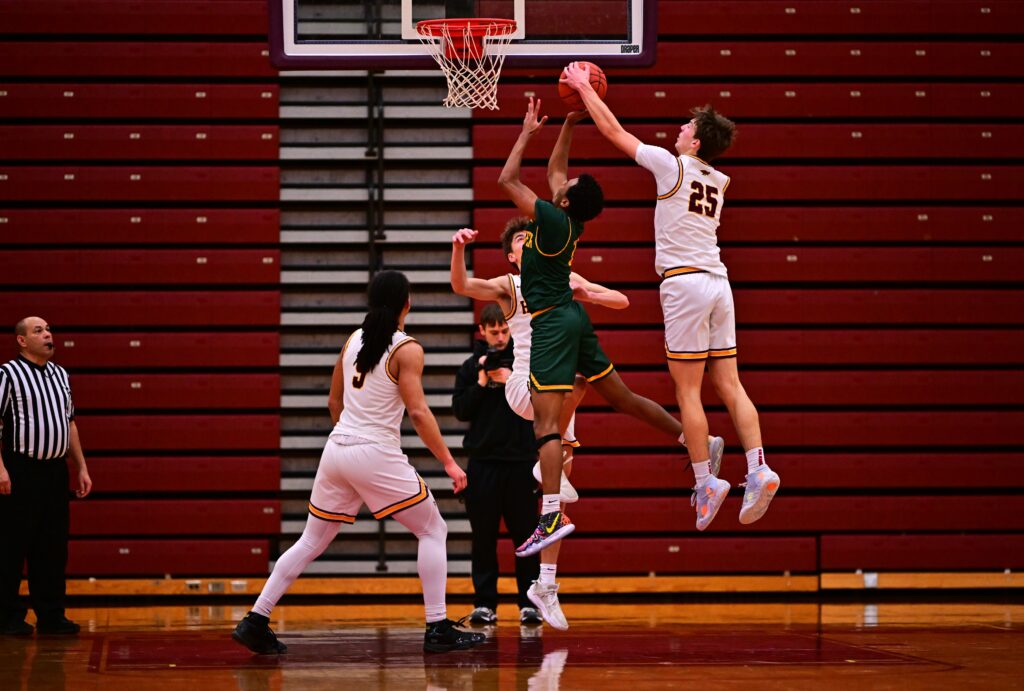 Hoover twice tied the score in the third quarter before Maddox Ward hit a 3-pointer at the buzzer to give Ankeny a 39-36 lead going into the final period. Ward finished with seven points, five assists, two steals and two blocks for Ankeny, while Jamison Patton added eight points and Schoolen grabbed nine rebounds.
The Hawks will now prepare for postseason play. They will host Ottumwa (5-15) in a Class 4A substate quarterfinal on Monday.
With a win, Ankeny would play a semifinal game on Feb. 24 at Ames (15-7)–a team the Hawks already defeated, 64-50. Fifth-ranked Indianola (18-2) would be the likely opponent in the substate final on Feb. 28.
"We're excited," said Johnson, whose team dropped a 62-55 decision to the Indians on Dec. 12. "We want another shot at Indianola, but first we have to get there. We've got two tough games to get there, but we'll be ready for it."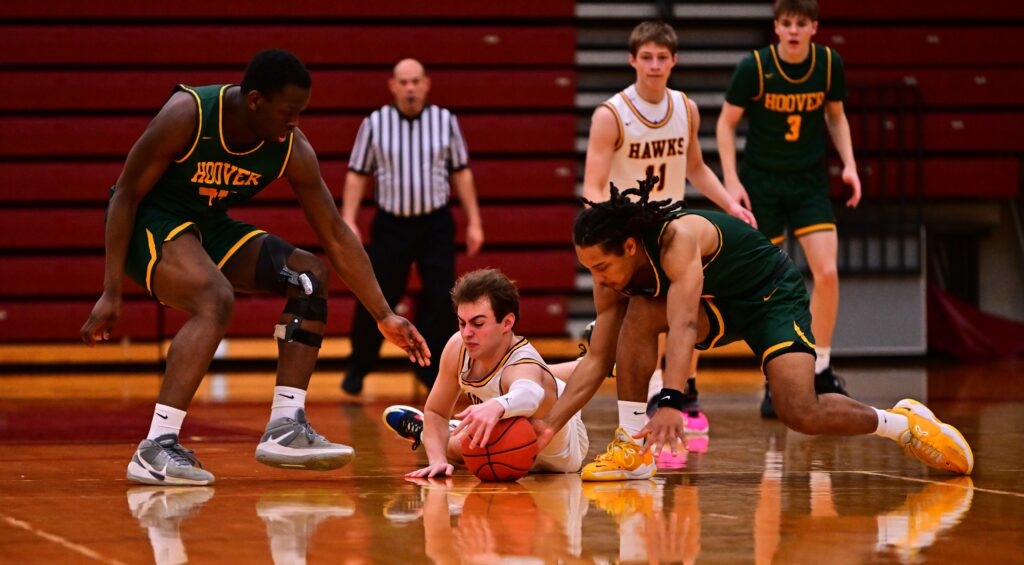 Carlson said his team was happy to avoid being placed in the same substate bracket with any of the CIML's top three squads–No. 2 Waukee, No. 3 Waukee Northwest and No. 4 Valley.
"Those teams are so good, and it's really a daunting task for anybody that is going to play them," Carlson said. "There was a little spark in our guys' eyes (when the brackets came out). That's a route that they feel they're confident they can compete in, and that's all you want."
Tuesday's game was a good tune-up for postseason play.
"Every team you play has a little grinding mentality to them, especially Ames in the second round if we're fortunate to get through the first (game)," Carlson said. "Our guys are excited. We've come through the year somewhat healthy I guess, and we're ready to go into the next round."