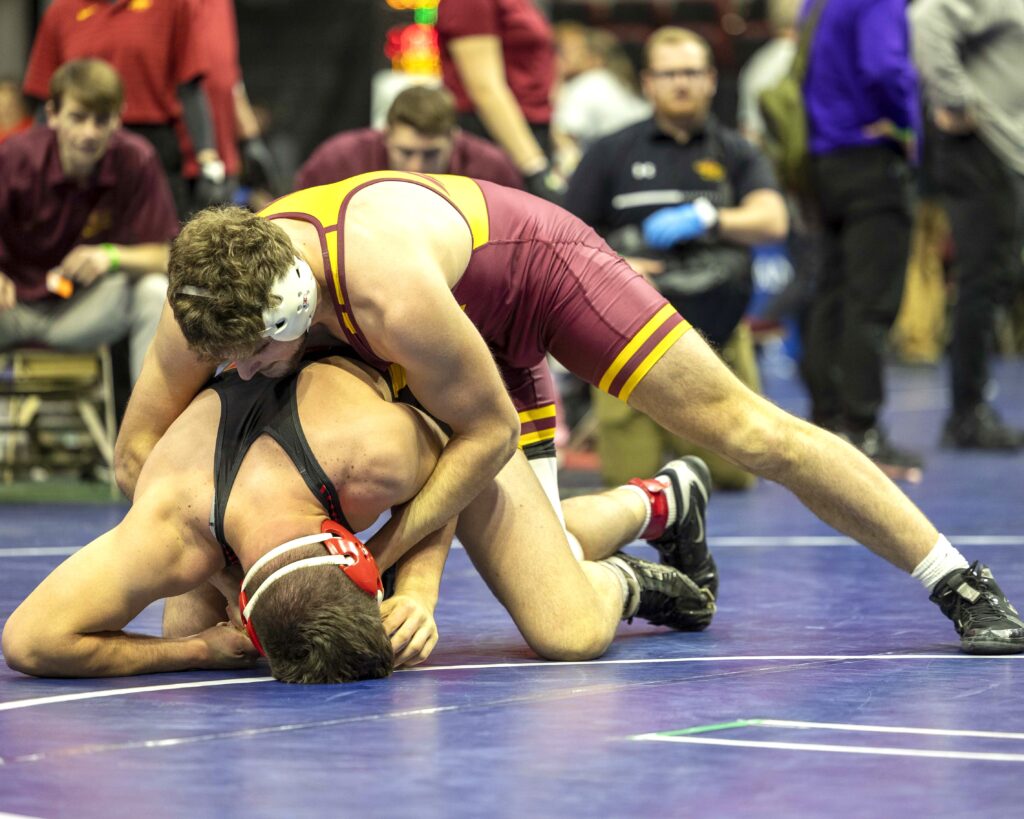 A huge win by senior Will Hinrichs helped put the Ankeny wrestling team into early contention for a top-five finish in the Class 3A state tournament at Wells Fargo Arena in Des Moines.
The ninth-seeded Hinrichs posted a 7-4 decision over No. 8 Joshua Hemsted of Carlisle in a second-round match at 220 pounds on Wednesday night. He avenged a 5-4 loss in the district final four days earlier while handing Hemsted just his third defeat in 43 matches this season.
Hinrichs advanced to Thursday night's quarterfinals along with three of his Ankeny teammates. No. 7 Truman Folkers at 113, No. 3 Ben Hansen at 138 and No. 2 Jace Anderson at 152 each received a first-round bye, then recorded a fall in the second round.
The Hawks are currently in fifth place with 39.5 points. Waverly-Shell Rock leads the tournament with 55.5 points, followed by Southeast Polk with 54, Bettendorf with 43.5 and Carlisle with 40.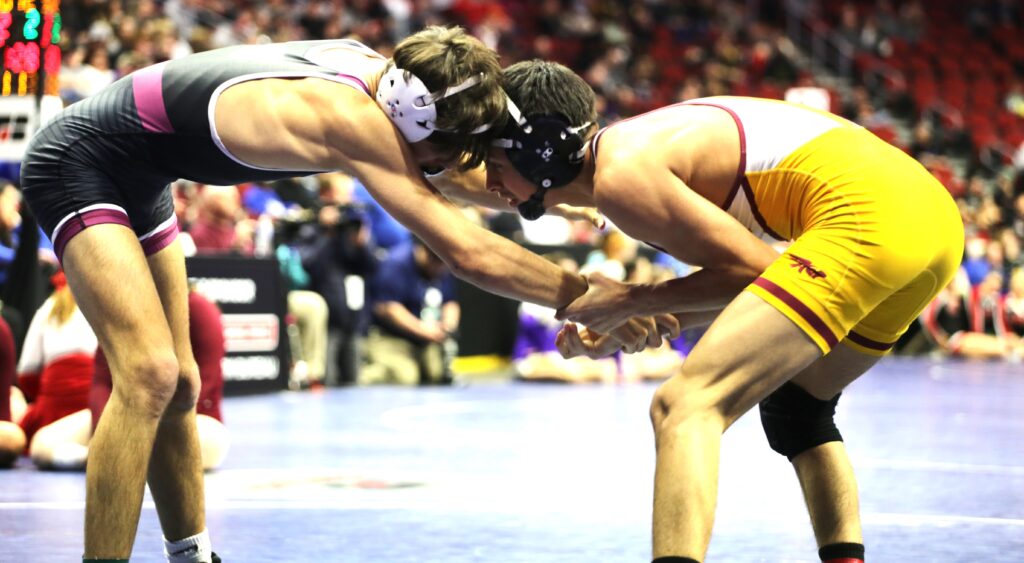 Ankeny went 5-1 in the opening round with four falls. No. 14 Ben Walsh at 106, No. 10 Xander Kenworthy at 182, No. 9 Cade Bennethum at 195 and Hinrichs each notched a pin, while No. 10 JJ Maihan won by a technical fall at 120.
The Hawks went 4-4 in the second round. Kenworthy lost a hard-fought match to No. 7 Jack Laughlin of Carlisle, 4-3, while Maihan dropped a 5-2 decision to Justis Jesuroga of Southeast Polk in another tight 10 vs. 7 matchup.
The Thursday night session begins at 6 p.m. with the second-round consolation matches. The quarterfinals and third-round consolation matches will then follow.
All four of Ankeny's quarterfinalists will face familiar opponents.
Hinrichs (36-7) will try to knock off No. 1 Ben Kueter of Iowa City High (36-0), who is looking to become a four-time state champion. He lost to Kueter in the championship match of the Jack Mendenhall Invitational on Jan. 7 at Ames.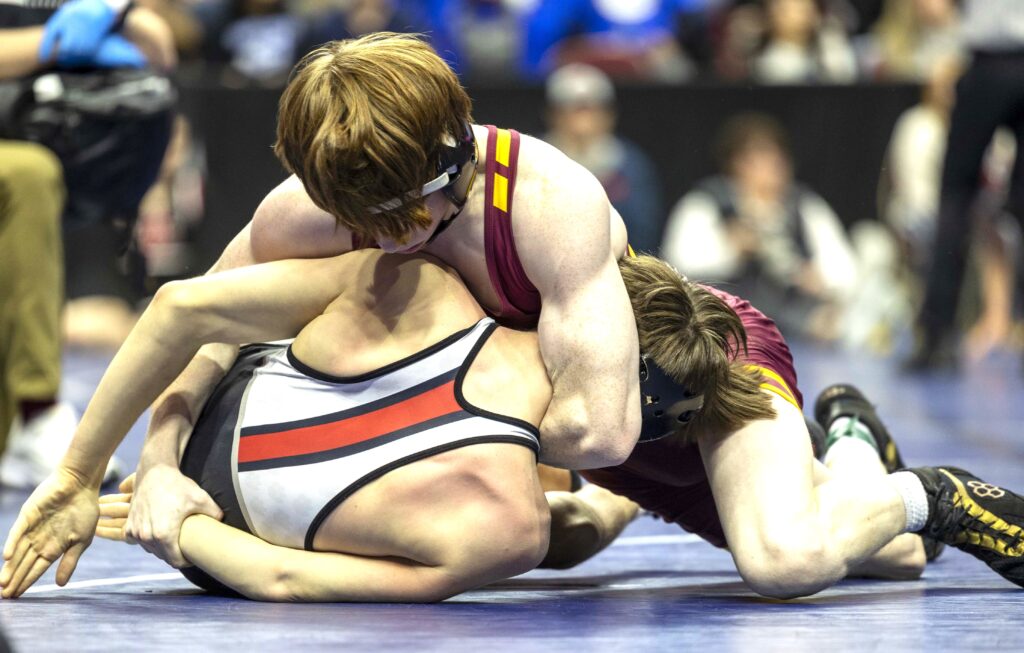 Folkers (34-11) will also try to avenge an earlier loss. He will meet No. 2 Jake Knight of Bettendorf (43-1), who defeated Folkers at the state duals tournament on Feb. 4.
Hansen (37-7) will face No. 6 Trevor Oberbroeckling of Southeast Polk (32-13). He posted an 8-3 decision over Oberbroeckling on Jan. 26.
Anderson (32-3) will meet No. 10 Ethan Bibler of Waverly-Shell Rock (31-14). He posted an 11-3 major decision over Bibler at the Battle of Waterloo on Dec. 17.
Here are the match-by-match results from Wednesday night:
106: Ben Walsh pinned Lucas Stearns (Marion), 3:20; was pinned by Mitchell Pins (Dubuque Hempstead), 3:41.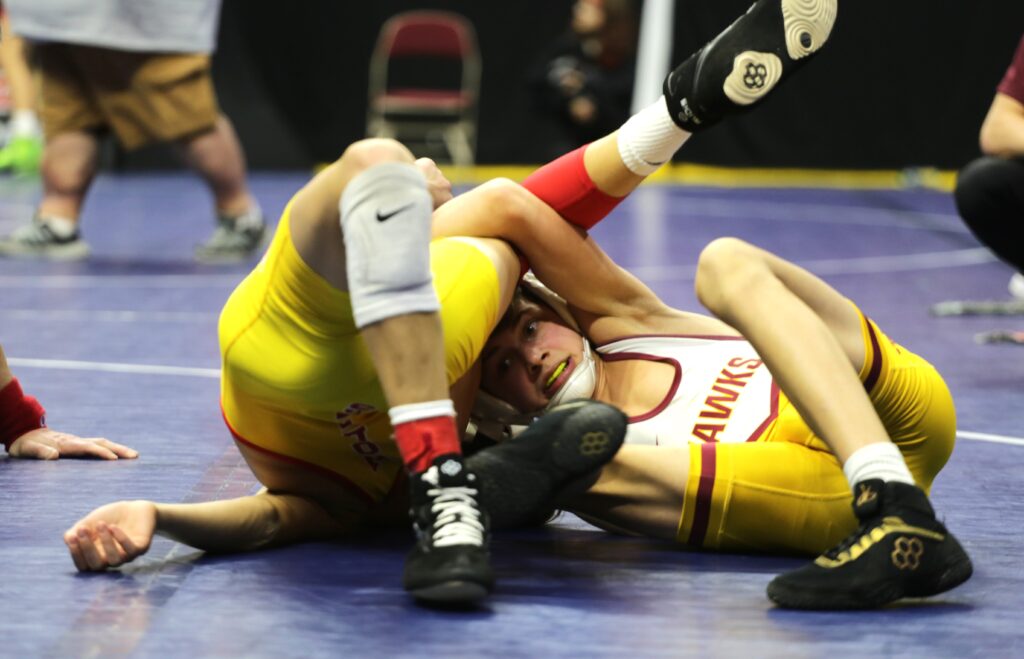 113: Truman Folkers received bye; pinned Evan Simpson (Cedar Falls), 3:04.
120: JJ Maihan won by technical fall over Jose Mendieta (Clear Creek Amana), 18-3; lost to Justis Jesuroga (Southeast Polk), 5-2.
126: Perez Perez lost to Sevastian Soto (Dowling Catholic), 1-0.
138: Ben Hansen received bye; pinned Wyatt Vlasek (C. R. Prairie), 2:14.
152: Jace Anderson received bye; pinned Henry Koehn (Cedar Falls), 1:59.
182: Xander Kenworthy pinned Salomon Cordero (Burlington), 1:10; lost to Jack Laughlin (Carlisle), 4-3.
195: Cade Bennethum pinned Brayden Williams (Waukee Northwest), :56; lost to Jes Krcil (Carlisle), 11-0.
220: Will Hinrichs pinned Mason Roethler (Johnston), 5:51; beat Joshua Hemsted (Carlisle), 7-4.