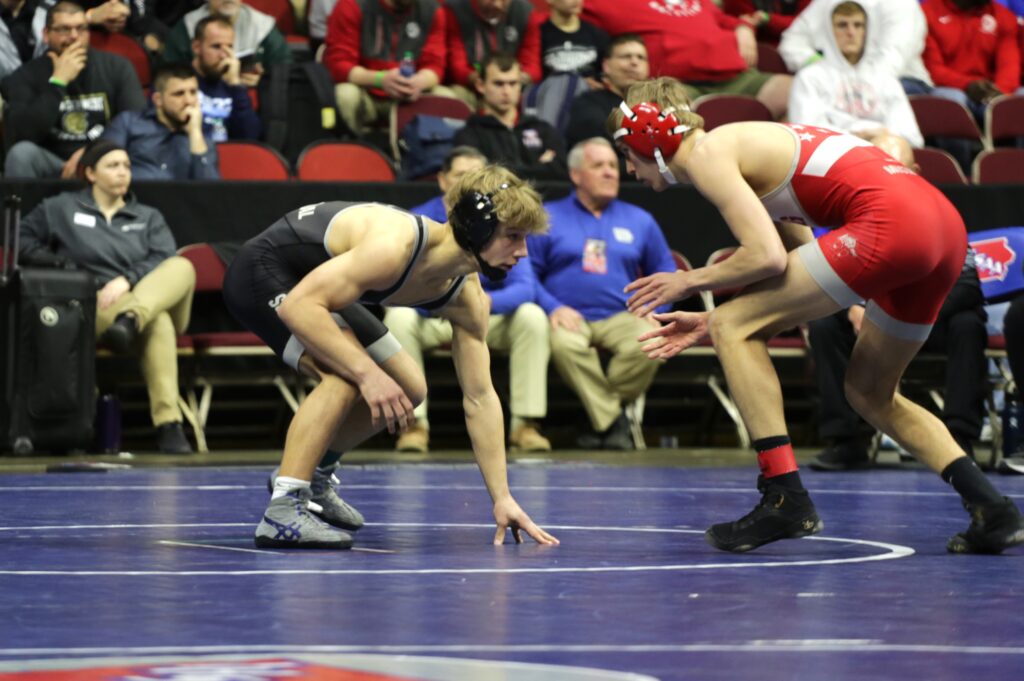 The Ankeny Centennial wrestling team sits in seventh place with 36 points after Wednesday's opening session of the Class 3A state tournament at Wells Fargo Arena in Des Moines.
The Jaguars qualified a school-record 12 wrestlers for the tournament and advanced four of them into Thursday night's quarterfinals. They are sixth-seeded Cale Vandermark at 106 pounds, No. 9 Isaac Bruhl at 138, No. 5 Lucas Bruhl at 145 and No. 6 Zach English at 182.
Isaac Bruhl was the only one of Centennial's four quarterfinalists who had to win two matches on Wednesday. He pinned Carson Springer of Dallas Center-Grimes in 1 minute 43 seconds in the first round, then posted an 11-9 decision over No. 8 Donovan Card of Norwalk in the second round.
Vandermark, Lucas Bruhl and English each received a first-round bye. Then, in the second round, they all recorded a fall in the first period.
Centennial went 5-3 in the first round. The Jaguars got pins from No. 11 Cody Vandermark at 113, No. 10 Cael Wiener at 132 and Isaac Bruhl.
Payton Bright at 120 and Andrew Roland at 126 were the team's other first-round winners. Bright won a seesaw match against Mason Besler of Dubuque Senior, 11-10, while the 23rd-seeded Roland posted a 5-1 decision over No. 10 Alex Bumba of Cedar Rapids Prairie for one of the biggest upsets of the day.

The Jaguars went 4-5 in the second round. Wiener dropped a 4-2 decision in overtime to No. 7 Zane Behrends of Waverly-Shell Rock, who avenged an earlier 6-0 loss.
After receiving a first-round bye, No. 8 Ari Ehlts dropped a 7-3 decision to Gerald Norton of Cedar Falls at 160. Ehlts had pinned Norton in the district final four days earlier.
Waverly-Shell Rock leads the tournament with 55.5 points. Southeast Polk is in second with 54, followed by Bettendorf with 43.5, Carlisle with 40 and Ankeny with 39.5.
The Thursday night session begins at 6 p.m. with the second-round consolation matches. The quarterfinals and third-round consolation matches will then follow.
All four of Centennial's quarterfinalists will face higher-seeded opponents. Cale Vandermark (41-6) will meet No. 3 Mitchell Pins of Dubuque Hempstead (29-6), Isaac Bruhl (23-6) will face No. 1 Ryder Block of Waverly-Shell Rock (42-0), Lucas Bruhl (41-2) will meet No. 4 Justin Avila of Iowa City West (39-7), and English (37-5) will face No. 3 Sam Zindel of Johnston (37-2).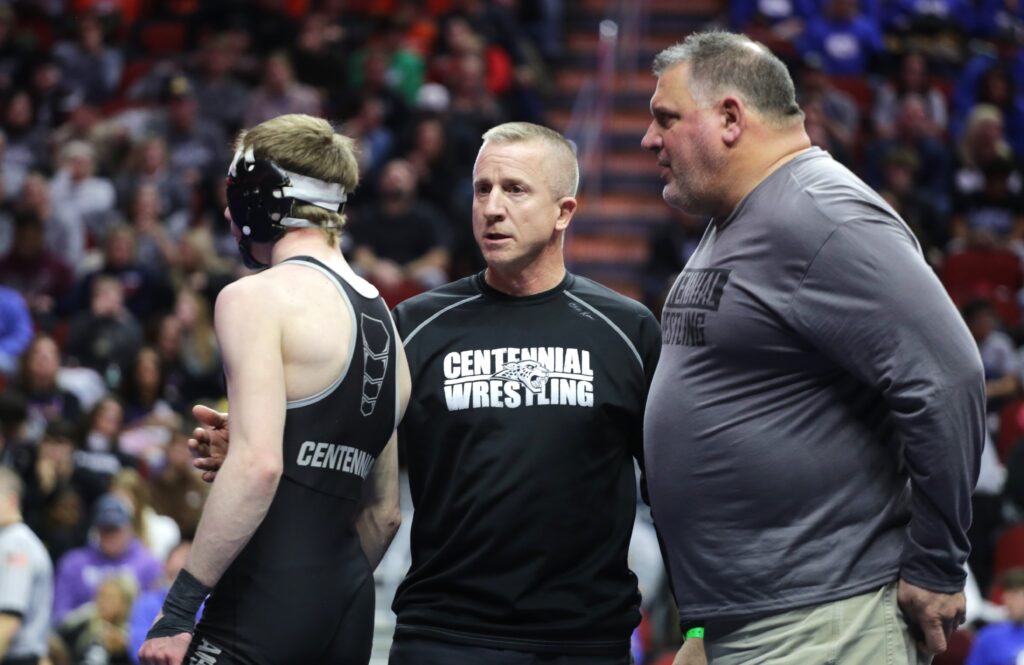 Here are the match-by-match results from Wednesday night:
106: Cale Vandermark received bye; pinned Connor Stickrod (Spencer), 1:56.
113: Cody Vandermark pinned Chris Davis (Iowa City High), 5:23; lost to Wil Oberbroeckling (Southeast Polk), 7-1.
120: Payton Bright beat Mason Besler (Dubuque Senior), 11-10; lost by technical fall to Koufax Christensen (Waukee Northwest), 16-1.
126: Andrew Roland beat Alex Bumba (C.R. Prairie), 5-1; lost to Maximus Riggins (Southeast Polk), 13-1.
132: Cael Wiener pinned Jay Halverson (Clear Creek Amana), 3:34; lost to Zane Behrends (Waverly-Shell Rock), 4-2 (OT).
138: Isaac Bruhl pinned Carson Springer (Dallas Center-Grimes), 1:43; beat Donovan Card (Norwalk), 11-9.
145: Lucas Bruhl received bye; pinned Jake Pontier (Indianola), 1:44.
160: Ari Ehlts received bye; lost to Gerald Norton (Cedar Falls), 7-3.
170: Logan Song lost to Demaris Henderson (Waterloo East), 3-1 (OT).
182: Zach English received bye; pinned Evan Pollard (Dowling Catholic), 1:26.
195: Jack Cahill lost by technical fall to Camden Feuerhelm (LeMars), 18-3.
220: Mitchell Grider was pinned by Drew Campbell (Cedar Falls), 1:48.