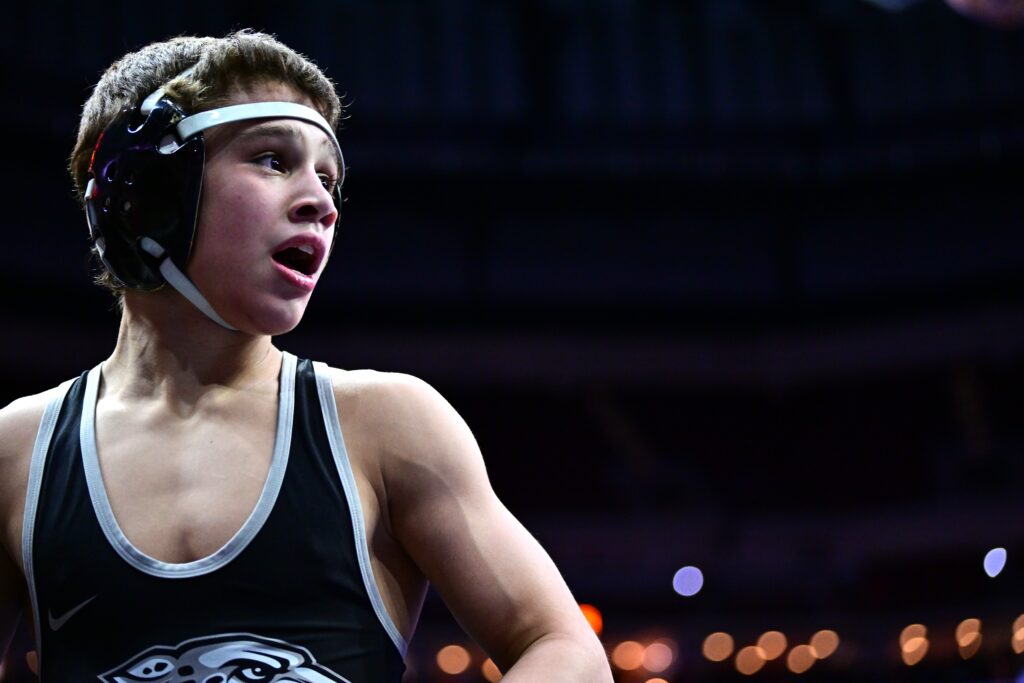 Ankeny Centennial freshman Cale Vandermark was getting tired during his quarterfinal match at the Class 3A state wrestling tournament on Thursday.
His opponent, though, was beginning to fade as well under the bright lights at Wells Fargo Arena.
The sixth-seeded Vandermark got a takedown in the final seconds of regulation to force overtime, then got another one in the extra period to beat No. 3 Mitchell Pins of Dubuque Hempstead, 6-4, at 106 pounds.
"I felt like giving up, but I just kept going the whole time," said Vandermark. "I could feel (Pins) was completely gassed at the end. I could tell he didn't want it as much as I did."
Vandermark raised his record to 42-6.
"That was awesome," said Centennial coach Jay Groth. "He's a stud. He gets after it every day."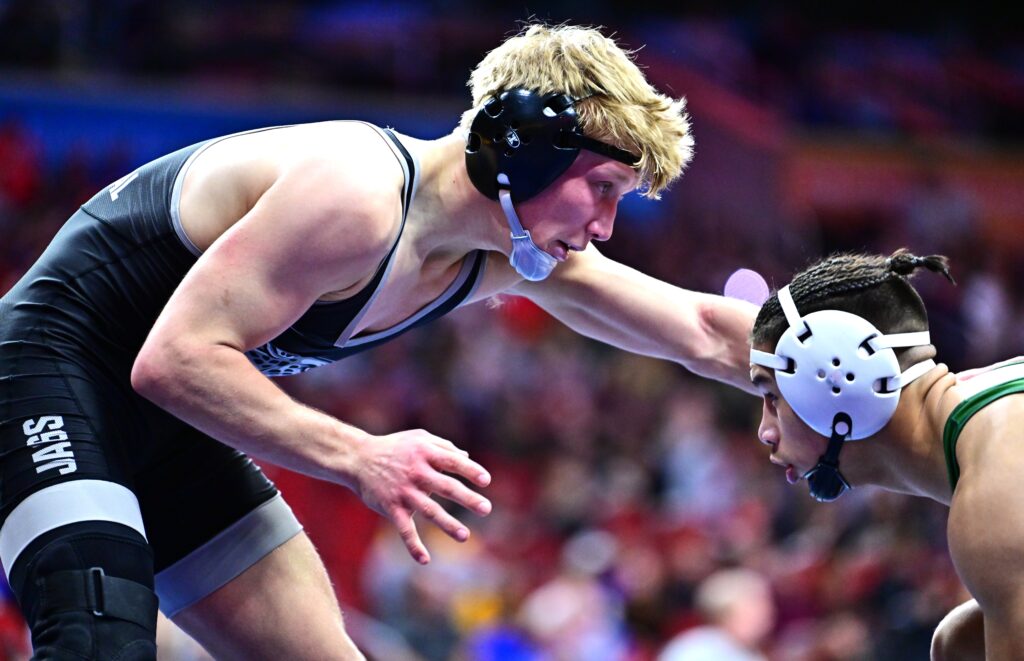 Vandermark will be joined in Friday night's semifinals by teammate Lucas Bruhl. The No. 5 Bruhl advanced with a 7-4 decision over No. 4 Justin Avila of Iowa City West at 145.
Avila dropped down from 160 in an effort to have an easier path to a state title, but Bruhl spoiled his strategy.
"I knew he was going to come out and be a little bigger than everyone else, but it's just wrestling," Bruhl said. "We knew he was going to come out looking for a headlock. I just had to stay away from the throws and win the match. That was our plan."
Avila got the first takedown of the match before Bruhl took control.
"I felt him getting tired," Bruhl said. "I knew if I wrestled a full match with him that it was going to go my way."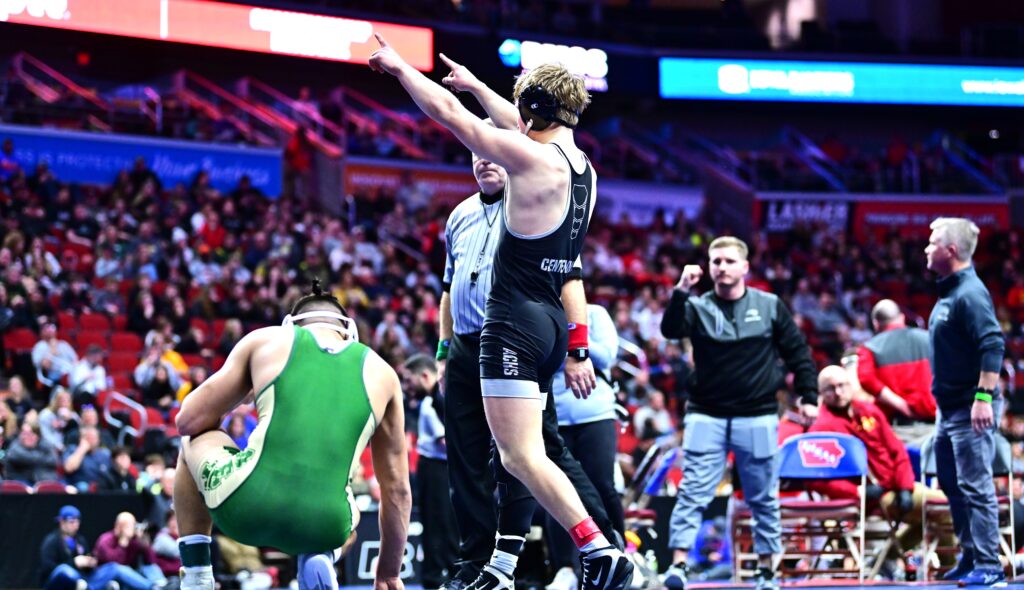 Bruhl improved his mark to 42-2. Like Vandermark, the junior is now just two wins away from becoming the first state champion in school history.
"He's a super talented kid," Groth said of Bruhl. "We were worried because (Avila)'s a thrower, and he tried to throw us. He's a big 145-pounder, but Lucas just has so much mat sense and he has so much savvy on the mat. He wrestled tough, just kept going, got behind and didn't quit, and kept wrestling and did a great job."
The Jaguars are currently tied with Ankeny for sixth place with 65.5 points. Both teams trail Johnston by just one point for fifth place.
Waverly-Shell Rock leads the tournament with 101 points. Southeast Polk is second with 85.5 points, followed by Bettendorf with 77.5 and Linn-Mar (Marion) with 73.
"The boys for the most part have been wrestling really well. I'm happy with the way they're performing," said Groth, whose team went 10-7 on the day. "Our lower seeds wrestled tough and got after it. I have no disappointment other than I wish all 12 of us were still alive."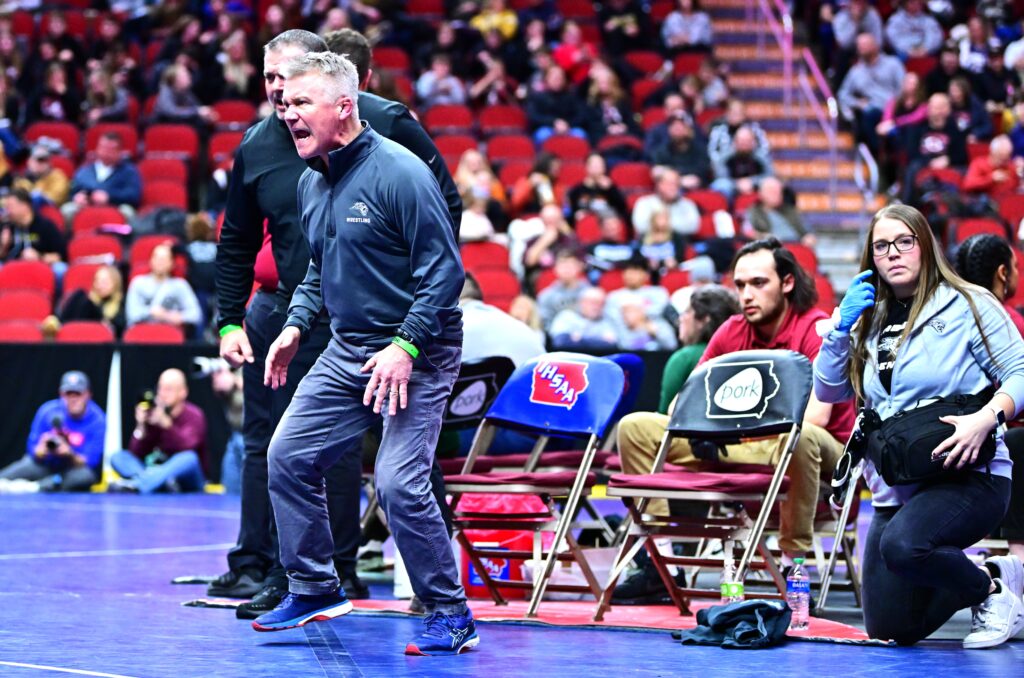 Centennial has five wrestlers alive in the consolation bracket, including Isaac Bruhl at 138 and Zach English at 182. They both lost in the quarterfinals on Thursday.
The No. 9 Bruhl (23-7) lost by a technical fall to No. 1 Ryder Block of Waverly-Shell Rock, 23-7. Block racked up numerous takedowns rather than try for a pin.
The No. 6 English dropped a 5-2 decision to No. 3 Sam Zindel of Johnston. Zindel's win prevented Centennial from moving ahead of the Dragons in the team standings.
English (37-6) and teammate Cody Vandermark at 113 will now meet opponents from Ankeny in Friday night's blood round. English will face No. 10 Xander Kenworthy (31-11), while the No. 11 Vandermark (41-12) will meet No. 7 Truman Folkers (34-12).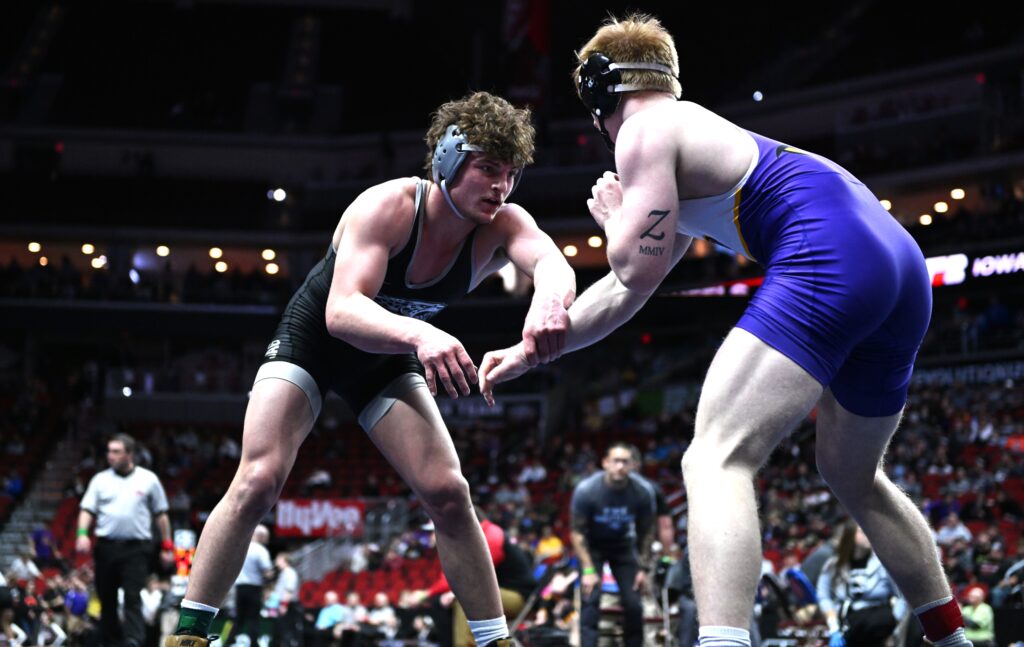 Cody Vandermark recorded a pair of falls in the consolation rounds on Thursday. No. 17 Payton Bright at 120 and No. 10 Cael Wiener at 132 also won twice to keep their podium hopes alive.
"I don't know if it's a lot of pressure. It's a lot of opportunity," Groth said of the blood round. "Pressure is a privilege. We talk about that all the time. These guys get to go out and if they win one more match they're on the podium and then keep climbing from there. We're looking forward to it. It's going to be great."
Andrew Roland at 126 and Ari Ehlts at 160 each won a consolation match on Thursday before being eliminated. Logan Song at 170, Jack Cahill at 195 and Mitchell Grider at 220 were also eliminated.
Song was unable to wrestle after losing in overtime on Wednesday.
"Logan having to medically default because of his back issues is a bummer, but I tell you what, he's one of the toughest kids I've ever coached," Groth said. "I love that kid."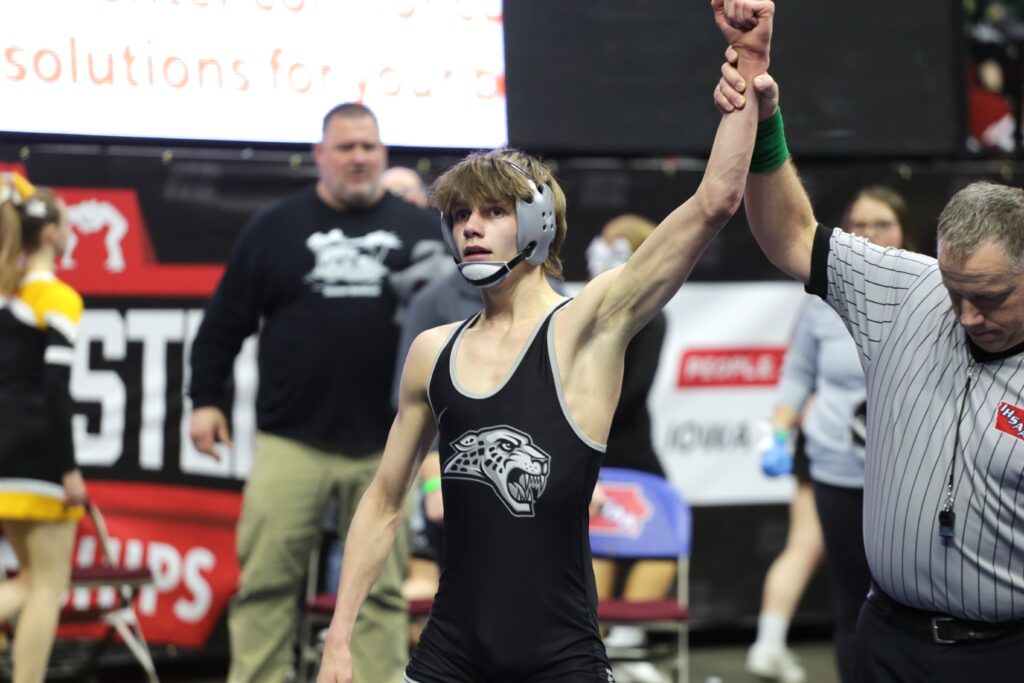 Lucas Bruhl will now face No. 1 Bas Diaz of Waverly-Shell Rock (44-2) in the semifinals. Diaz posted a 3-2 decision over Bruhl at the state duals tournament on Feb. 4.
"Last time it was a close match," Bruhl said. "I didn't get to my attacks, so I need to open him up a little bit. I've just got to get the win."
Cale Vandermark will meet No. 2 Alexander Pierce of Iowa City West (40-2). Pierce posted a 9-4 decision over Vandermark at the Tom Lepic Invitational on Jan. 7 at Iowa City West.
"He beat me earlier, but I just got in my head with him," Vandermark said. "This time, I'll get him for sure."
Here are the match-by-match results from Thursday night:
106: Cale Vandermark beat Mitchell Pins (Dub. Hempstead), 6-4 (OT).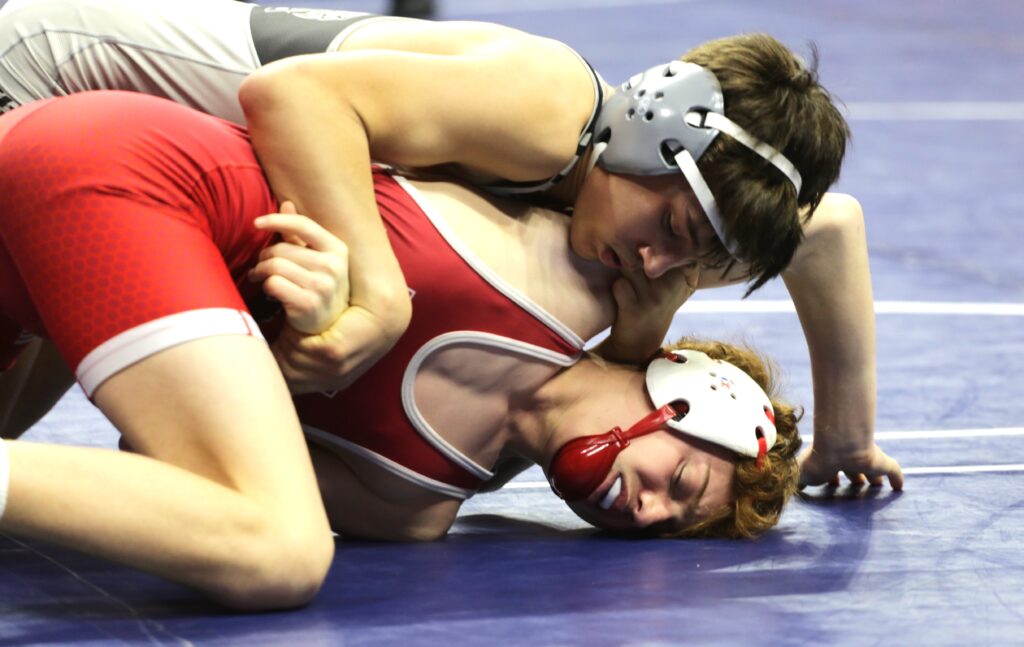 113: Cody Vandermark pinned Matthew Williams (N. Scott), 1:07; pinned Ashton Grace (Ottumwa), 2:38.
120: Payton Bright beat Blake Forrester (DC-G), 11-4; pinned Max Bishop (FD), 3:27.
126: Andrew Roland pinned Derrick Gregory (CBLC), 1:02; lost to Nolan Howell (Clear Creek Amana), 6-4.
132: Cael Wiener pinned Tien Pham (I.C. Liberty), 1:50; won by a technical fall over Carson Cornwell (Johnston), 17-2.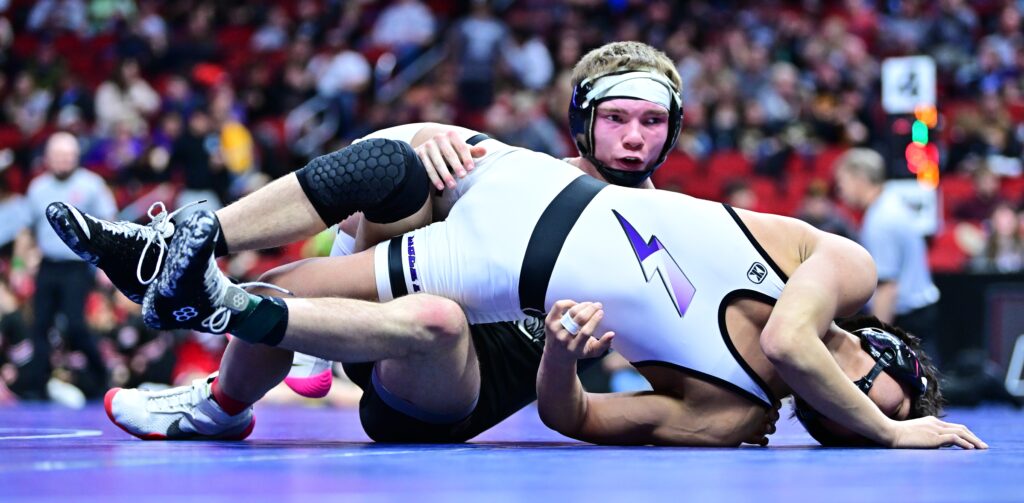 138: Isaac Bruhl lost by a technical fall to Ryder Block (Waverly-Shell Rock), 23-7.
145: Lucas Bruhl beat Justin Avila (I.C. West), 7-4.
160: Ari Ehlts beat Rigley Koch (C.R. Prairie), 4-0; lost to Nicklas Martin (SEP), 8-3.
170: Logan Song lost by medical forfeit to Drew Burds (W. Delaware).
182: Zach English lost to Sam Zindel (Johnston), 5-2.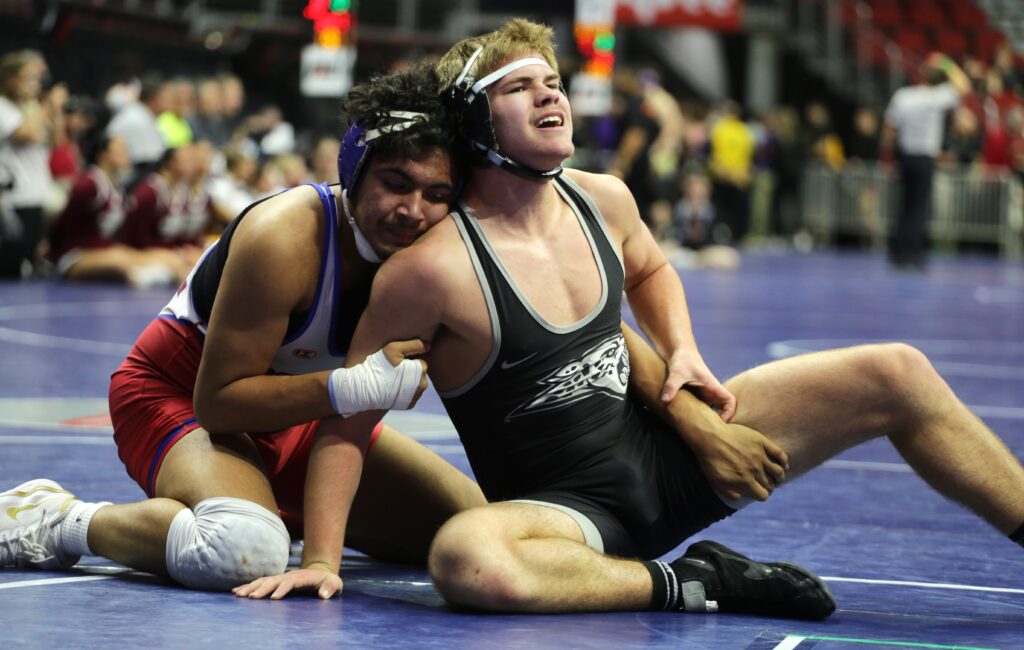 195: Jack Cahill was pinned by Johan Gomez (Marshalltown), 3:24.
220: Mitchell Grider lost to Caden Wetherell (Waverly-Shell Rock), 9-1.