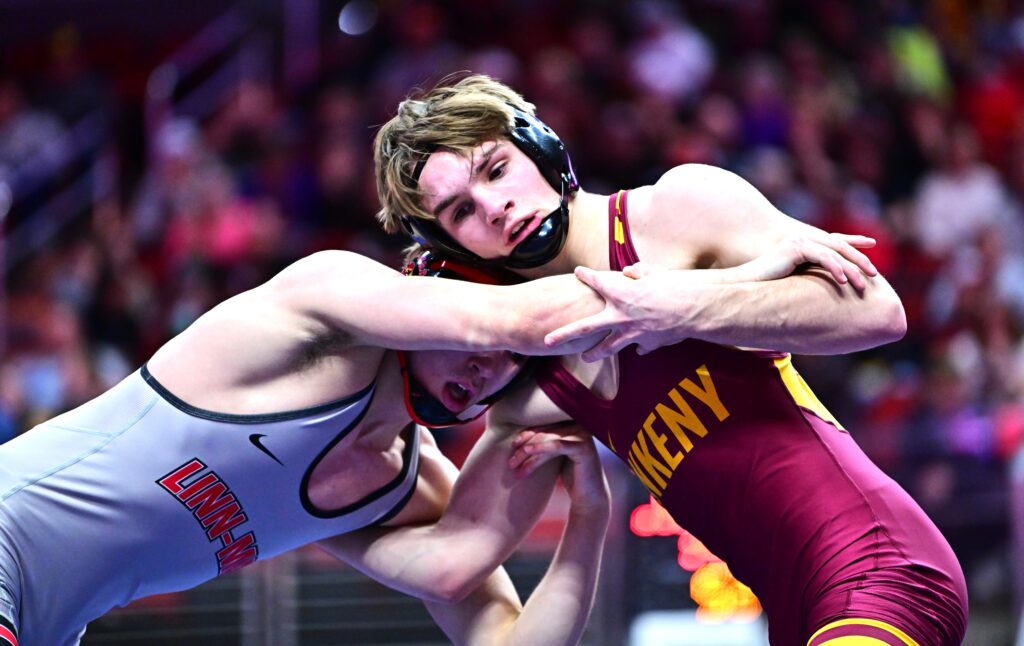 It was a rough Friday night at Wells Fargo Arena for the Ankeny Centennial wrestling team.
Crosstown rival Ankeny fared considerably better in the Class 3A state tournament, especially in the consolation rounds. The Hawks went 6-3 on the back sides of the brackets and are now in 10th place with 81.5 points.
Six of Ankeny's nine state qualifiers earned spots on the podium.
"That's not too bad," said Ankeny coach Jack Wignall. "We thought we could get 9-for-9, but we lost some close matches. You've got to win those, but we've got some young guys who will be coming back. We'll just keep fighting."
The Hawks started the day tied with Centennial for sixth place. Both teams lost a pair of semifinal matches, including one in overtime.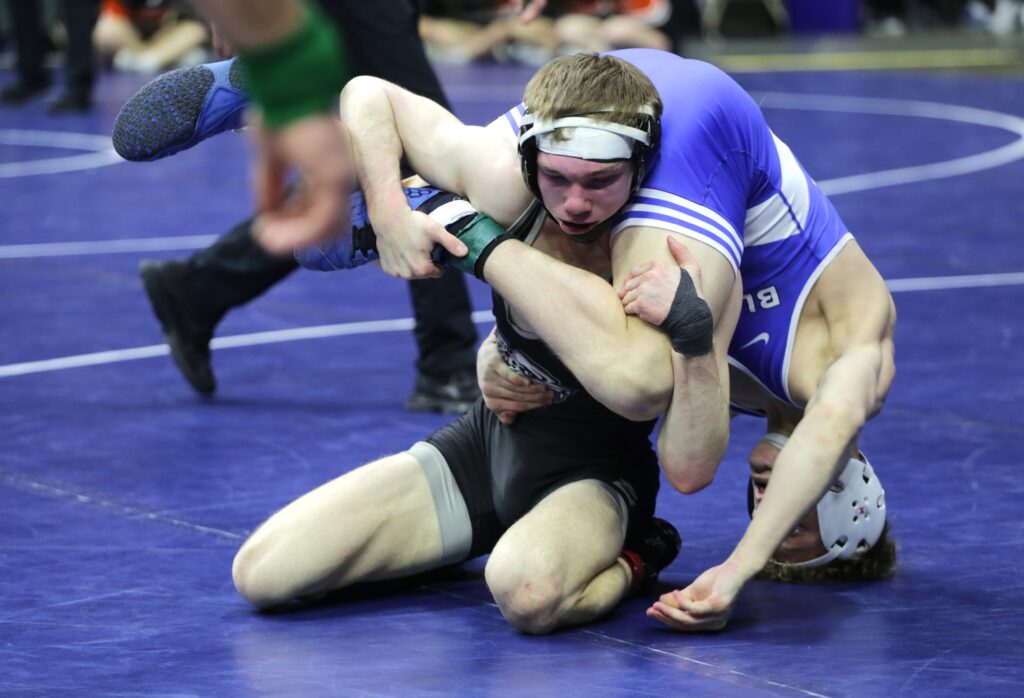 The Jaguars also struggled in the consolation rounds, going 1-5 and dropping into 12th place overall with 66.5 points. They will have three placewinners among their 12 qualifiers.
"It was brutal today. We just didn't wrestle very well. We were flat," said Centennial coach Jay Groth. "Obviously, the coaching staff needs to prepare them better moving forward in this round and do some things different next year and make sure we sit down and talk about what we can do better. We just have to make some changes and come back next year and write a different story."
Waverly-Shell Rock continues to lead the tournament with 152 points. Linn-Mar (Marion) moved into second place with 128.
Linn-Mar advanced four wrestlers into Saturday night's championship matches, two of them at the expense of Ankeny. Second-seeded Kane Naaktgeboren pinned No. 3 Ben Hansen in 1 minute 59 seconds in a semifinal match at 138 pounds, then No. 3 Grant Kress posted a 6-5 overtime decision against No. 2 Jace Anderson shortly thereafter at 152.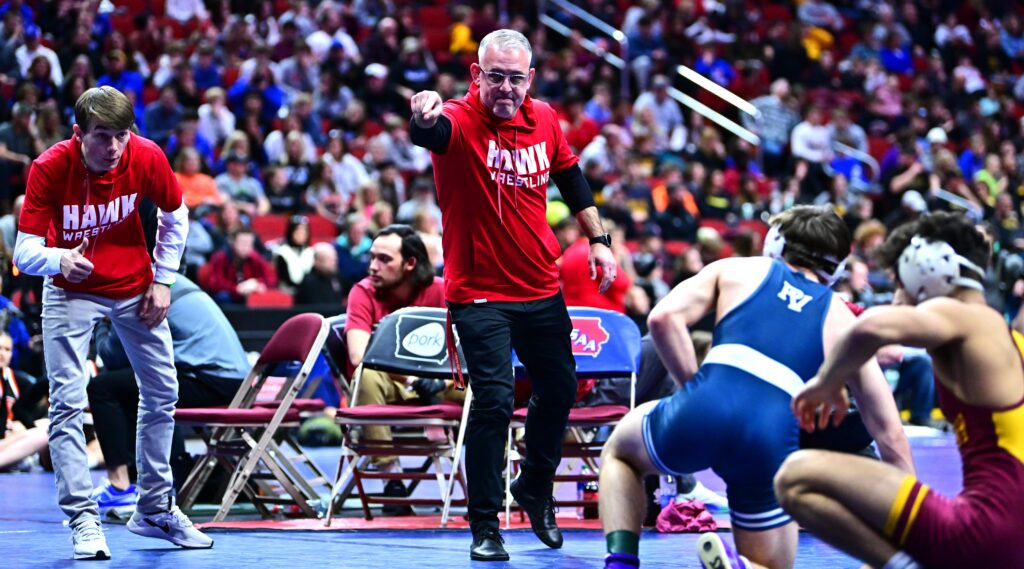 "This is the definition of wrestling right now–the ups and downs," Wignall said. "You get high on a guy's win and then lose a tough one like Jace's match, it rips your heart out. And sometimes those things can happen really close together. That's what makes this sport special–to win like that or to lose like that."
Anderson and Kress waged a seesaw battle that was tied at 5-5 at the end of regulation. Kress eventually got an escape in overtime for the winning point, and Anderson was unable to match him.
"I did expect it to be close," Anderson said. "Some things just don't come out your way sometimes."
Anderson (33-4) had defeated Kress by one point in each of the previous two state tournaments.
"It just wasn't my night," Anderson said. "I wish it could have gone differently."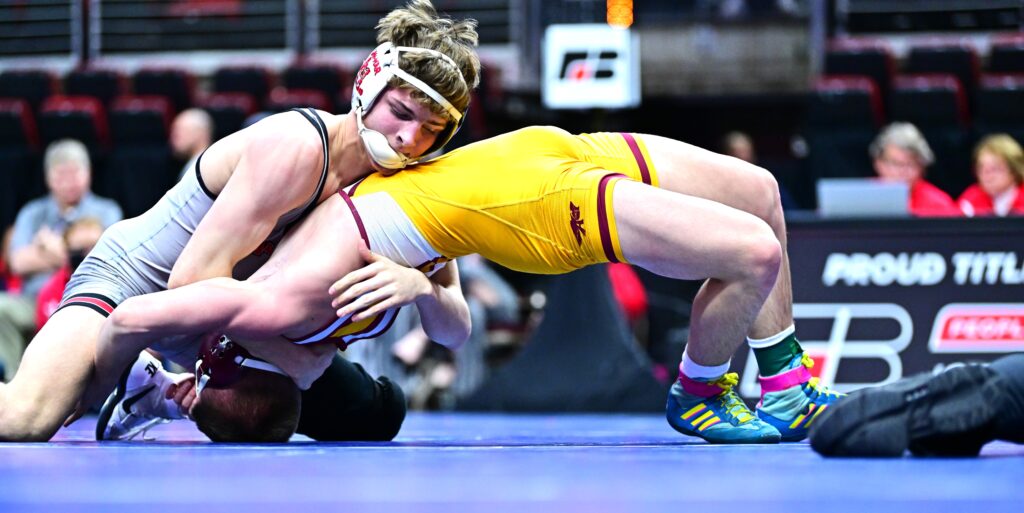 Hansen (38-8) lost to Naaktgeboren for the second time this season. Naaktgeboren got a takedown early in the match and eventually got the pin with just 1 second left in the first period.
"He started with a three-quarter nelson and then got to a cradle from there," said Hansen. "I've just got to put this behind me and focus on the next best thing, which is third (place)."
Centennial's Lucas Bruhl, meanwhile, suffered a heartbreaking loss at 145. The No. 5 Bruhl dropped a 2-1 decision to No. 1 Bas Diaz of Waverly-Shell Rock in overtime.
Neither wrestler was able to score a takedown. But Diaz was able to ride out Bruhl in the extra period for the win.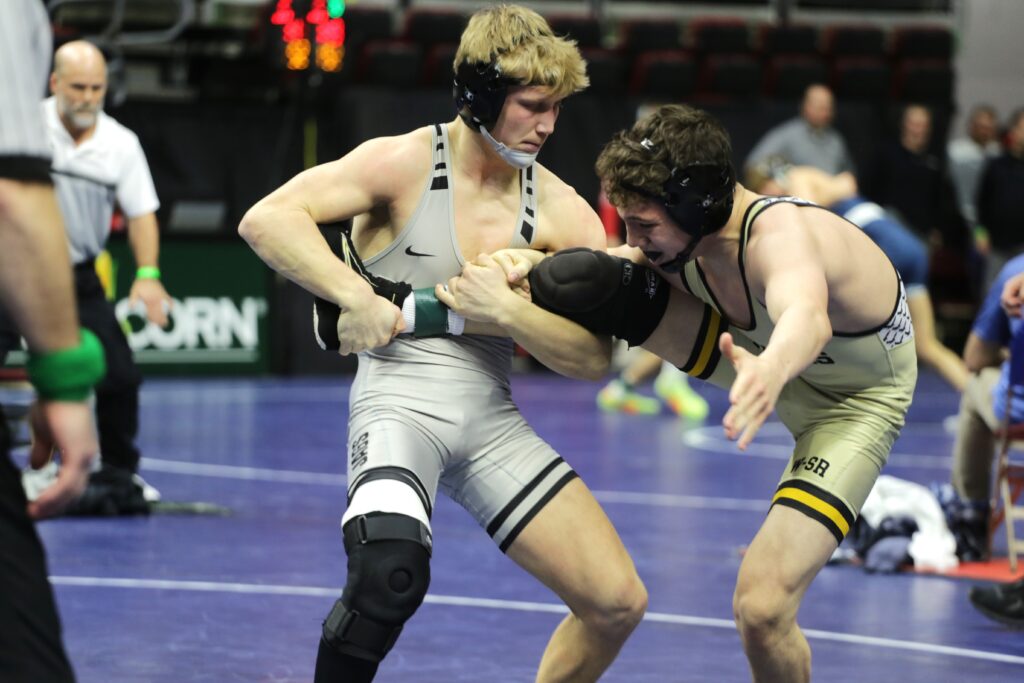 "He's just a defensive wrestler and hard to score on," Groth said of Diaz. "I wouldn't have guessed that anybody could ride Lucas for a full minute. I don't think I've seen anything close to that all year. But that's just the way it goes."
Bruhl (42-3) got in on Diaz's leg in the first period and tried desperately to get a takedown. But the referee eventually halted the action.
"I'm not sure why we got called for a potentially dangerous (hold) while we were holding onto the leg," Groth said. "I think that was a big difference-maker. If we get a takedown in that first period, we were definitely going to be in the driver's seat. That one hurt."
Earlier, Centennial freshman Cale Vandermark also lost in the semifinals. The No. 6 Vandermark dropped an 11-4 decision to No. 2 Alexander Pierce of Iowa City West at 106.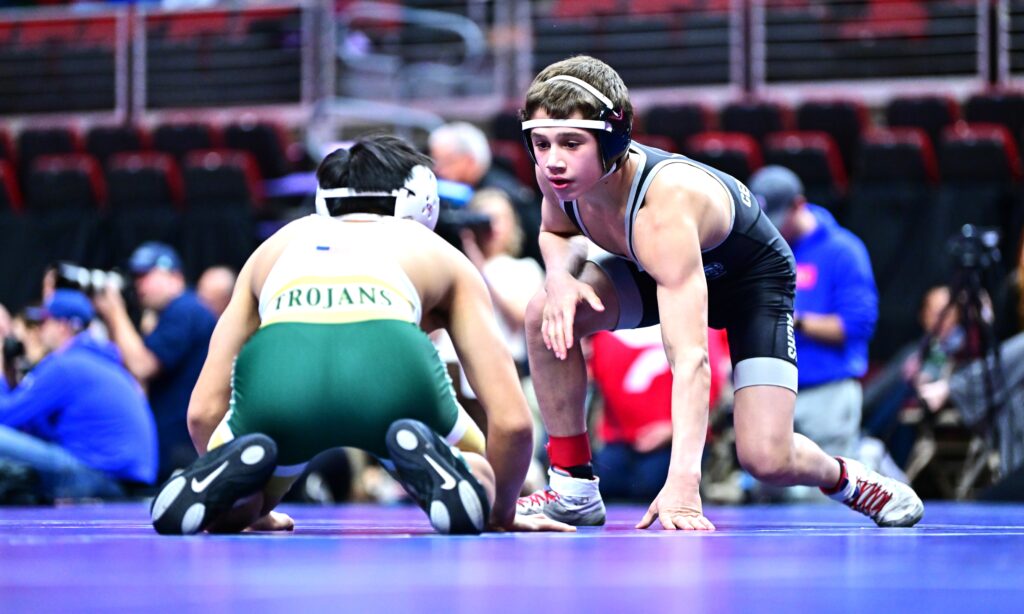 Pierce built a 4-1 lead in the opening period and then extended the margin the rest of the way. Vandermark (42-7) will be back on the mat at 9 a.m. on Saturday morning for the consolation semifinals and finals.
"Our plan is for Cale and Lucas to get third, but it won't be easy, that's for sure," Groth said. "We'll also have Isaac Bruhl wrestling for seventh place."
The No. 9 Isaac Bruhl posted a 3-2 decision over No. 13 Jake Mitchell of Iowa City High in the blood round at 138. That was Centennial's lone victory of the night.
Bruhl (24-8) then dropped a 5-3 decision to No. 4 Koy Davidson of Fort Dodge in a fifth-round consolation match.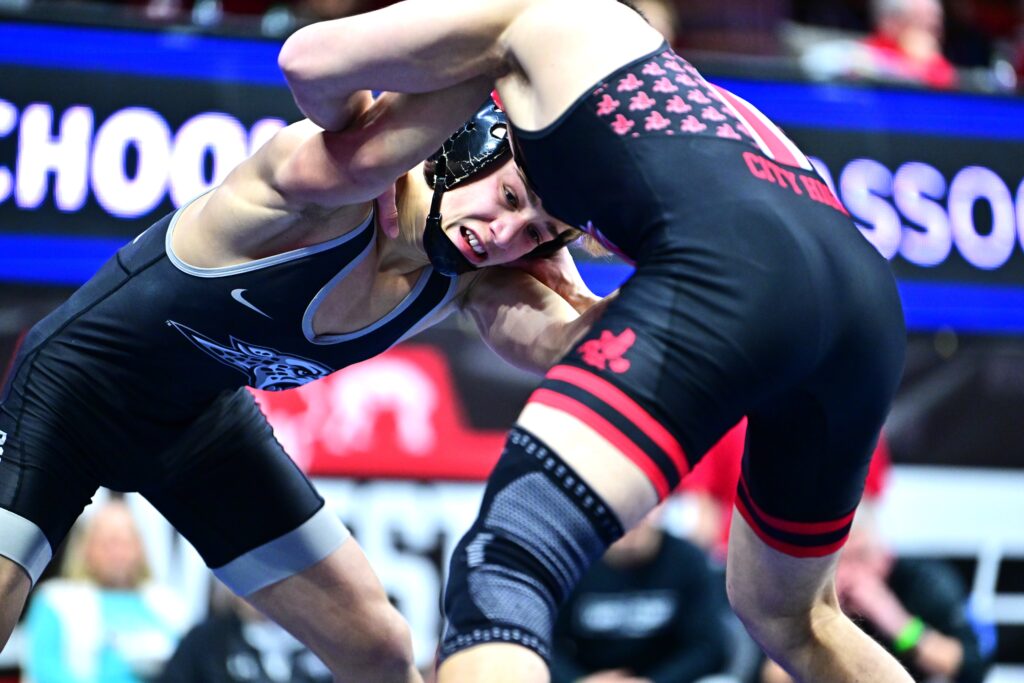 The Jaguars lost two head-to-head matches against Ankeny in the blood round. No. 7 Truman Folkers posted an 11-1 major decision over No. 11 Cody Vandermark at 113, and No. 10 Xander Kenworthy avenged an earlier loss with a 10-8 decision over No. 6 Zach English at 182.
"We talked a little bit about (the tight team race with Centennial)," Folkers said. "I just knew as long as I scored points against (Vandermark) and had my offense ready to go, I'd be ok."
Folkers (36-12) then followed with a 12-4 major decision over No. 18 Evan Bratten of Dubuque Hempstead to earn a top-six finish.
"I'm really happy, especially after last year when I didn't place," Folkers said. "It feels really good to be in the top six."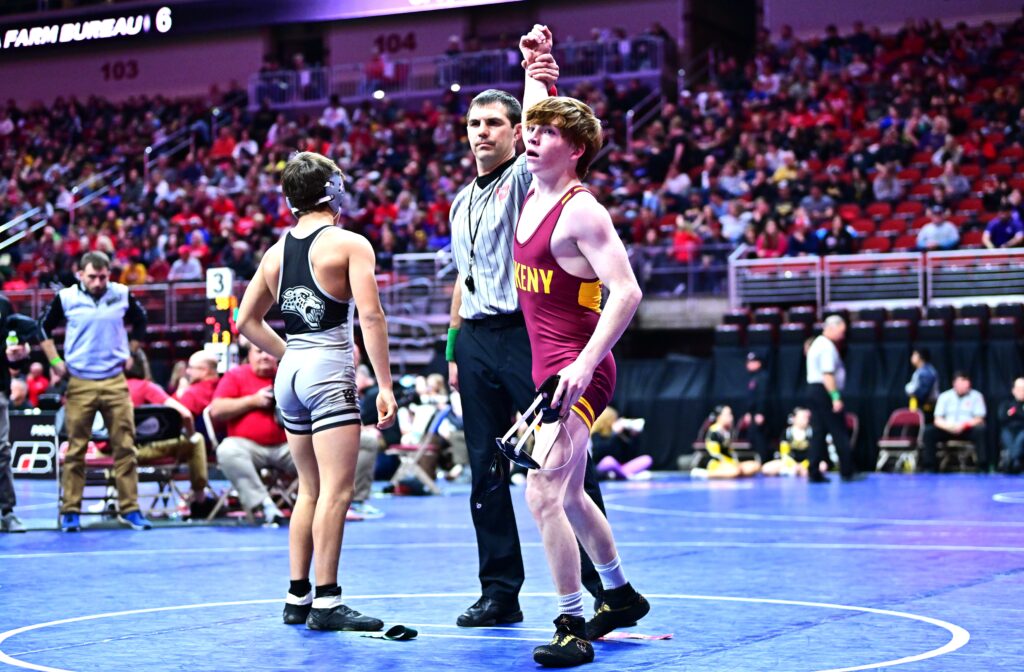 Ankeny's JJ Maihan also earned a top-six finish at 120. The No. 10 Maihan (28-12) got a takedown in overtime for a 3-1 victory against No. 7 Justis Jesuroga of Southeast Polk, avenging a 5-2 loss in Wednesday's second round.
Both Kenworthy (32-12) and teammate Will Hinrichs at 220 will wrestle for seventh place on Saturday. The No. 9 Hinrichs (37-9) posted a 9-3 decision over No. 12 Caden Wetherell of Waverly-Shell Rock in the blood round.
Here are the match-by-match results from Friday night:
106: Cale Vandermark (AC) lost to Alexander Pierce (I.C. West), 11-4; Ben Walsh (A) lost to Dylan Munson (C.R. Prairie), 6-2.
113: Truman Folkers (A) beat Cody Vandermark (AC), 11-1, beat Evan Bratten (Dub. Hempstead), 12-4.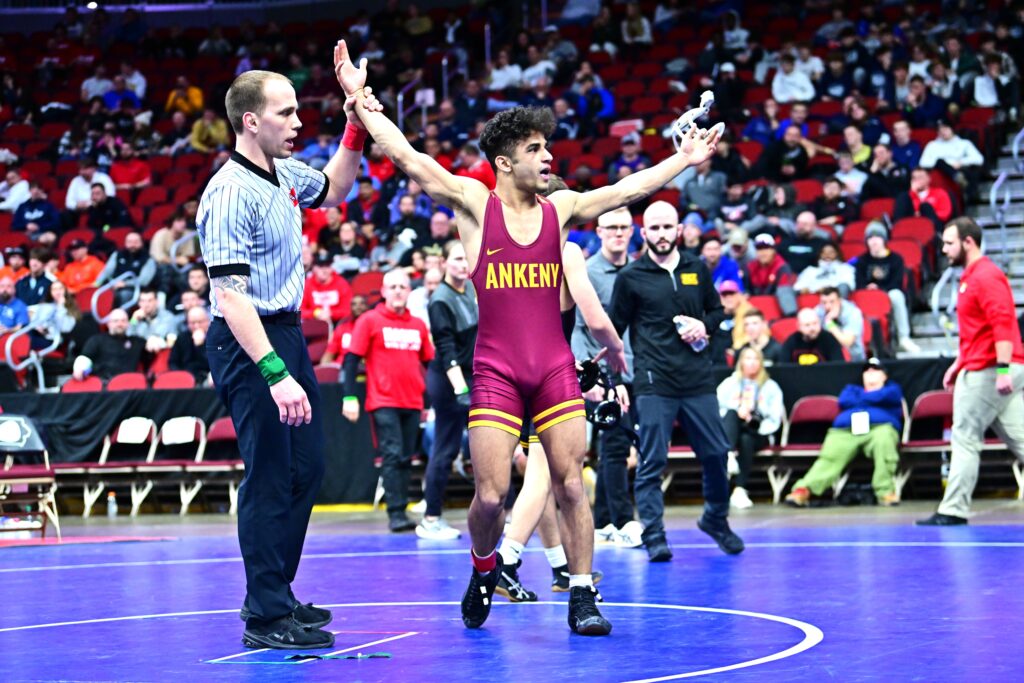 120: JJ Maihan (A) beat Carter Siebel (Pleasant Valley), 3-2, beat Justis Jesuroga (S.E. Polk), 3-1 (OT); Payton Bright (AC) lost to Ryan Rider (Carlisle), 19-6.
132: Cael Wiener (AC) lost to Dalton Rowe (Bondurant-Farrar), 9-5.
138: Ben Hansen (A) was pinned by Kane Naaktgeboren (Linn-Mar), 1:59; Isaac Bruhl (AC) beat Jake Mitchell (Iowa City High), 3-2, lost to Koy Davidson (Ft. Dodge), 5-3.
145: Lucas Bruhl (AC) lost to Bas Diaz (Waverly-Shell Rock), 2-1 (OT).
152: Jace Anderson (A) lost to Grant Kress (Linn-Mar), 6-5 (OT).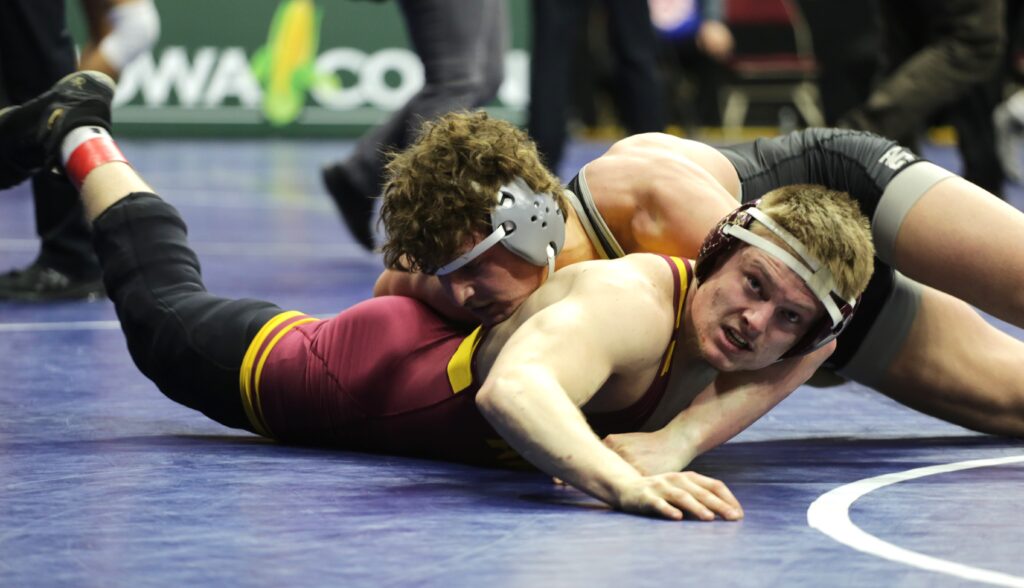 182: Xander Kenworthy (A) beat Zach English (AC), 10-8, was pinned by Jack Laughlin (Carlisle), :59.
220: Will Hinrichs (A) beat Caden Wetherell (Waverly-Shell Rock), 9-3, lost to Jaxson Hildebrand (Denison-Schleswig), 6-4.