It was a rollercoaster Saturday for the Ankeny wrestling team during the consolation finals of the Class 3A state tournament at Wells Fargo Arena.
The Hawks went 3-7 on the day and finished in 10th place overall with 89.5 points. Still, they had six placewinners for the first time under coach Jack Wignall.
"It was a really fun tournament," said Wignall. "I don't know that we've ever had so many seniors finish their careers at the state tournament."
Ankeny Centennial, meanwhile, bounced back from a disappointing Friday to win four of its last five matches. The Jaguars had a trio of placewinners and finished 12th with 81.5 points.
"We won more matches after the first round on Saturday than we did all day on Friday. Things went much better," said Centennial coach Jay Groth. "It's pretty impressive that (the two Ankeny schools) finished 10th and 12th and only finished eight points apart. I don't think any other city can claim to have two schools that finished that high. It speaks volumes for the Ankeny Wrestling Club and the kids and coaches at both schools."
Waverly-Shell Rock crowned three individual champions and captured the team title with 169 points. Defending champion Southeast Polk placed second with 153 points.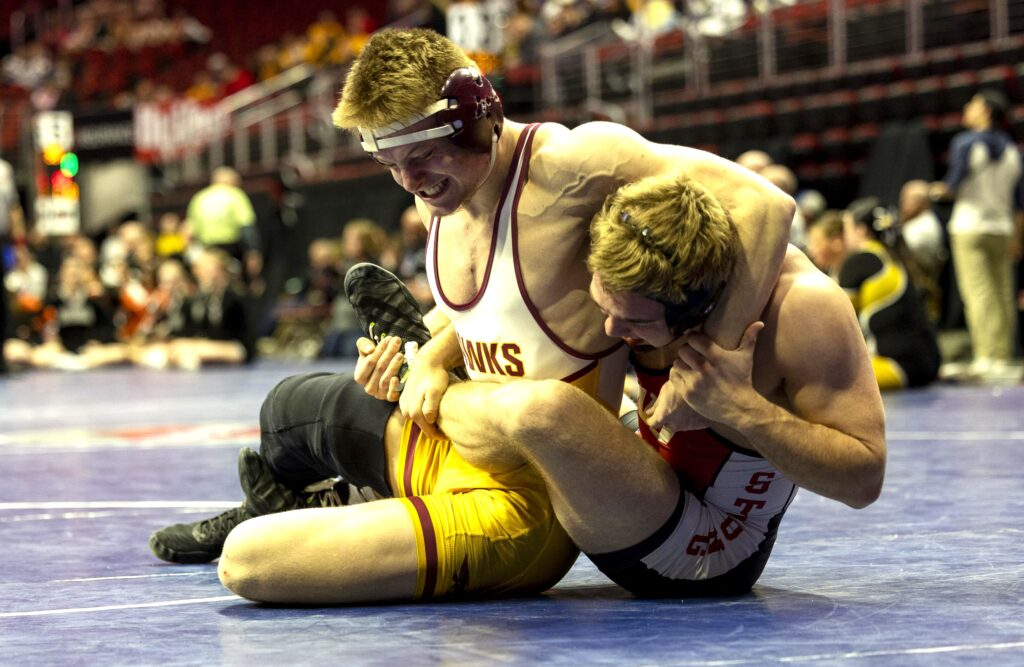 Ankeny got a fourth-place finish from Jace Anderson at 152 pounds, a fifth-place finish from JJ Maihan at 120, sixth-place finishes from Truman Folkers at 113 and Ben Hansen at 138, a seventh-place finish from Xander Kenworthy at 182 and an eighth-place finish from Will Hinrichs at 220.
Wignall said the emotional toll of the tournament wasn't as hard on him this year.
"I was just heartbroken the last two years when Caleb (Rathjen) and Trever (Anderson) both lost in the finals going for their third titles. It was devastating to say the least," he said. "I'm not going to say it was easier this year, but I think I handled the emotional ups and downs a little better this time."
The Jaguars got a third-place finish from Lucas Bruhl at 145, a fourth-place finish from Cale Vandermark at 106 and a seventh-place finish from Isaac Bruhl at 138. The Bruhls became the first set of brothers to place in the tournament in the same year in Centennial's history.
"That was pretty cool to see," Groth said. "And hopefully next year they'll do it again, and so can the Vandermarks with Cale and Cody."
The No. 2 Anderson rebounded from a semifinal loss on Friday with a 5-2 victory over No. 12 Logan Stotts of Waukee Northwest. He finished with a 34-5 record after losing to No. 4 Elijah Mendoza of Bettendorf, 5-2, in the third-place match.
Anderson was a three-time placewinner.
"I was hoping Jace could win state, but it's hard to win a title. It's hard to get through that tournament and beat kids over and over again," Wignall said. "That's the nature of this sport that sets it apart from others. There are just so many ups and downs. It really is physically and emotionally draining."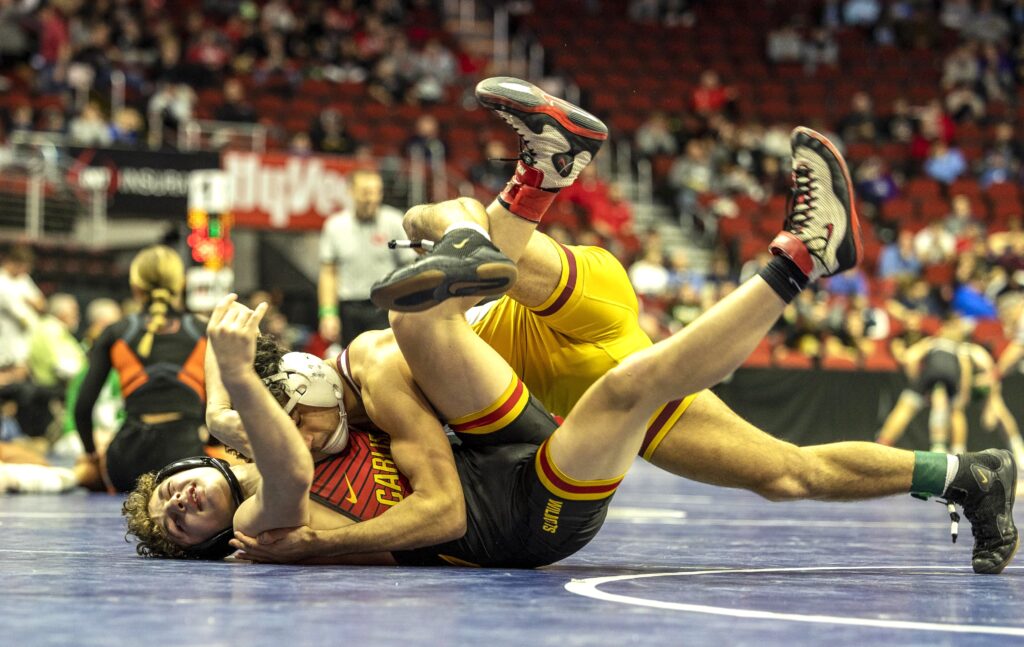 The No. 10 Maihan closed out his career with a 5-3 decision over No. 12 Ryan Rider of Carlisle in the fifth-place match. A two-time placewinner, he finished with a 29-13 record.
"JJ had a tough year," Wignall said. "He broke his teeth out in the very first dual of the year, and he wasn't the same kid the rest of the season. He missed a couple weeks because of that, and he just had a really difficult time getting back mentally from that. To be honest with you, I wasn't expecting that kind of tournament from JJ. I really thought that qualifying for state might be all that he could achieve, but then he really got on a roll. I was just ecstatic that he was able to beat Justis Jesuroga (of Southeast Polk) on Friday. He wrestled lights out the whole tournament. I was really happy for him."
The No. 10 Kenworthy (33-12) and the No. 9 Hinrichs (37-10) also closed out their Ankeny careers. Kenworthy got a takedown in overtime to beat No. 5 Logan Massey of Western Dubuque, 9-7, in the seventh-place match.
"Xander just doesn't quit," Wignall said. "To watch him finish his career with a win in overtime was really satisfying."
The No. 7 Folkers (36-14) and the No. 3 Hansen (38-10) both lost a pair of matches on Saturday. Like Anderson, Hansen had lost in the semifinals on Friday.
Still, he became a three-time placewinner.
"It just seemed like he was a little off," Wignall said. "It is tough to come back and wrestle after you've lost that semifinal match. I'm sure that loss was still in the back of his head."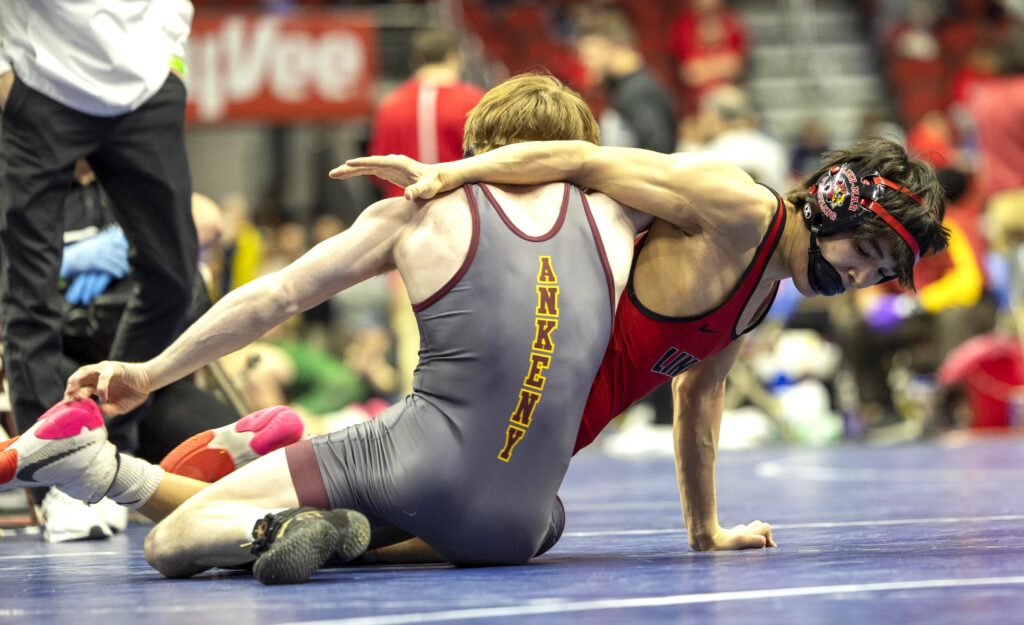 Lucas Bruhl suffered that same fate in last year's tournament, when he lost in the semifinals at 138 and went on to finish sixth. The junior did not let history repeat itself.
After losing an overtime match in the semifinals on Friday, the No. 5 Bruhl bounced back with a 5-0 decision over No. 2 Tycho Carmichael of Bettendorf in a consolation semifinal. He then won the third-place match against No. 7 Jaxon Miller of Carlisle by medical forfeit.
"It wasn't a good feeling for Lucas to know that he should have finished higher last year," Groth said. "His emotions got the best of him, but we shook that off and he wrestled really well this year. He avenged a loss he had earlier in the season (to Carmichael) in a dominant way. He was motivated and angry. Anybody that got in his way was going to be in trouble. He had a pretty good tournament."
Bruhl finished the season with a 44-3 record. He will try to become Centennial's first state champion in 2024.
"We'll do what we can to help him get there," Groth said. "He always competes, no matter what sport he's in. But I don't know that we need to do anything extra to motivate that kid. It's his goal to finish his career at the top."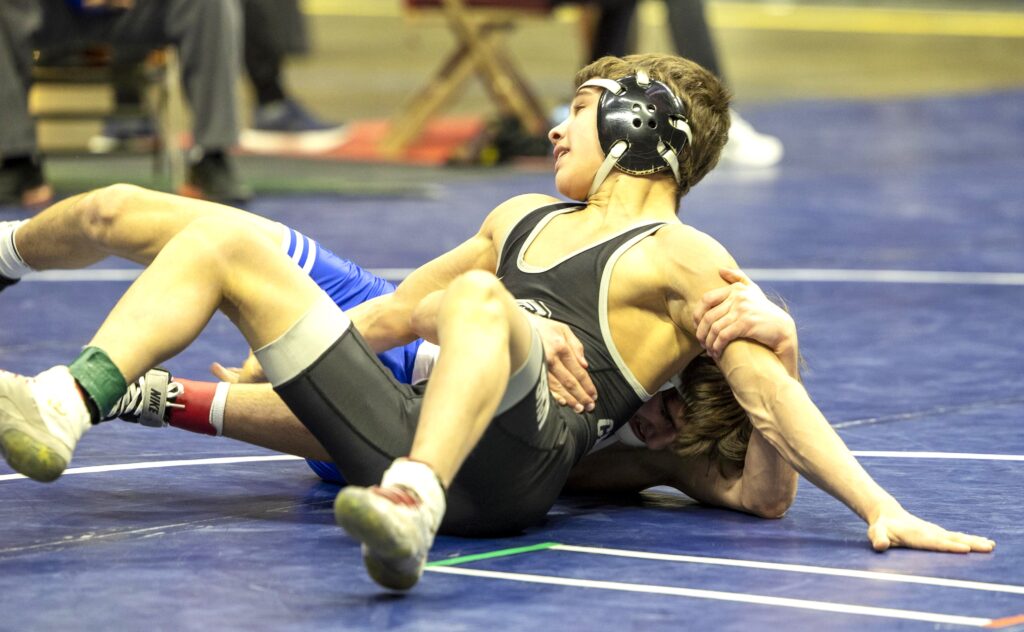 The No. 6 Vandermark, a freshman, finished with a 43-8 mark. He dropped a 17-7 major decision to No. 1 Carter Pearson of Southeast Polk in the third-place match.
"Cale came off the mat and told me that he thought he could beat Pearson," Groth said. "He said, 'I gave him too much credit. He wasn't as overpowering as I thought he would be.' It's not that Pearson isn't good, but I don't think Cale gives himself enough credit for being as good as he is. He can be a state champ and he needs to go out and wrestle every kid like he is a state champ. If you keep giving kids respect that they haven't earned from you, that's going to hold you back. But I'm confident that he learned some things from this tournament. He's not satisfied with a fourth-place finish. He's hungry for more."
The No. 9 Isaac Bruhl posted a 9-5 decision over No. 10 Ty Solverson of Boone in the seventh-place match. He finished at 25-8.
"For taking close to two years off from the sport, Isaac really did well," Groth said. "He's just going to continue to get better."
Despite their strong finish, the Jaguars were unable to overcome their crosstown rival in the team standings. The two schools waged a close battle for the first two days of the tournament before Ankeny pulled ahead on Friday.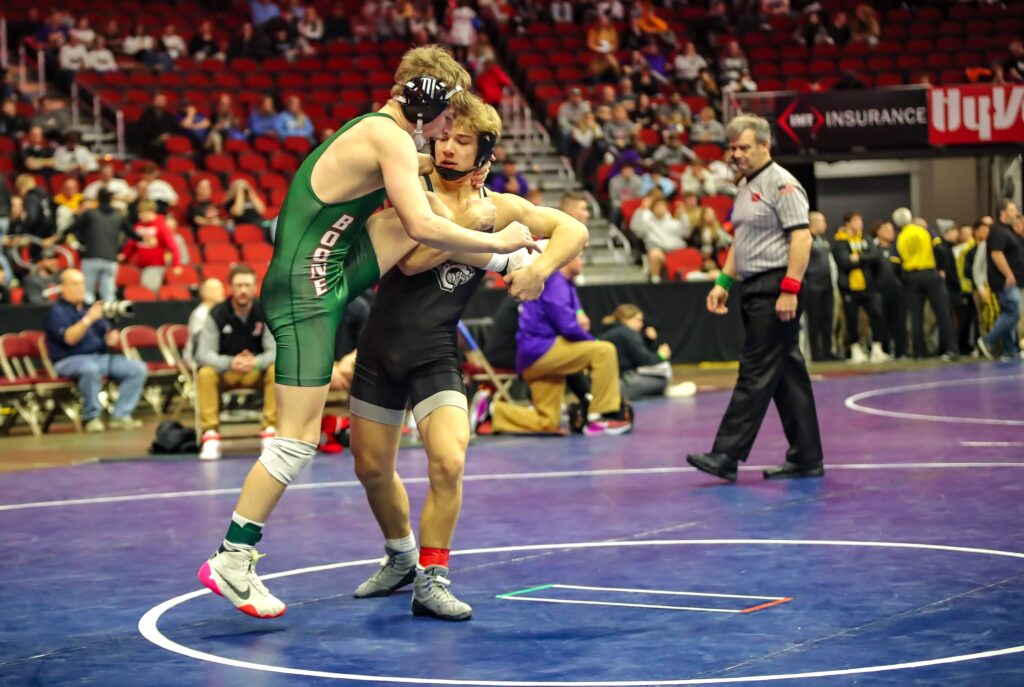 "They had a great (consolation) round on Friday," Groth said of the Hawks. "Folkers and Kenworthy beat us head-to-head, and that hurt us. But those guys wrestled well."
Here are the match-by-match results from Saturday:
106: Cale Vandermark (AC) beat Reid Foster (B-F), 6-5; lost to Carter Pearson (S.E. Polk), 17-7.
113: Truman Folkers (A) lost to Ryker Graff (W-SR), 3-0; lost to Malik DeBow (Linn-Mar), 8-3.
120: JJ Maihan (A) lost to Blake Gioimo (CRP), 4-0; beat Ryan Rider (Carlisle), 5-3.
138: Ben Hansen (A) lost to Koy Davidson (FD), 8-0, lost to Lincoln Jipp (Bett), 10-5; Isaac Bruhl (AC) beat Ty Solverson (Boone), 9-5.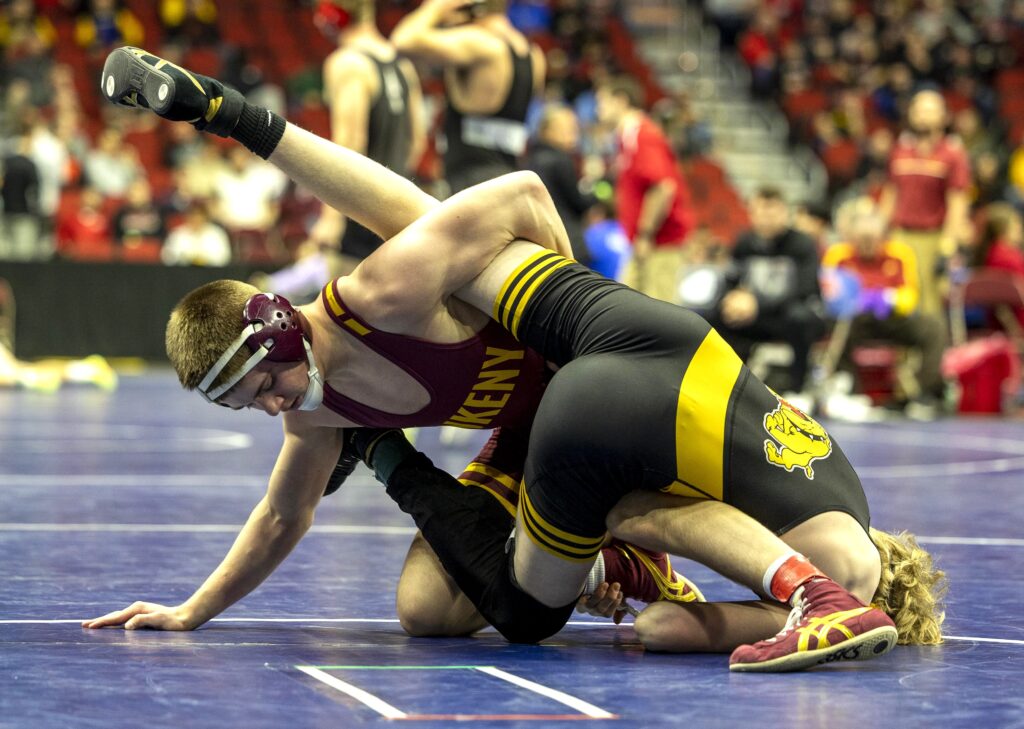 145: Lucas Bruhl (AC) beat Tycho Carmichael (Bett), 5-0; won by medical forfeit over Jaxon Miller (Carlisle).
152: Jace Anderson (A) beat Logan Stotts (Waukee NW), 5-2; lost to Elijah Mendoza (Bett), 5-2.
182: Xander Kenworthy (A) beat Logan Massey (W. Dub.), 9-7 (OT).
220: Will Hinrichs (A) lost to Cael Winter (Waukee NW), 5-4.