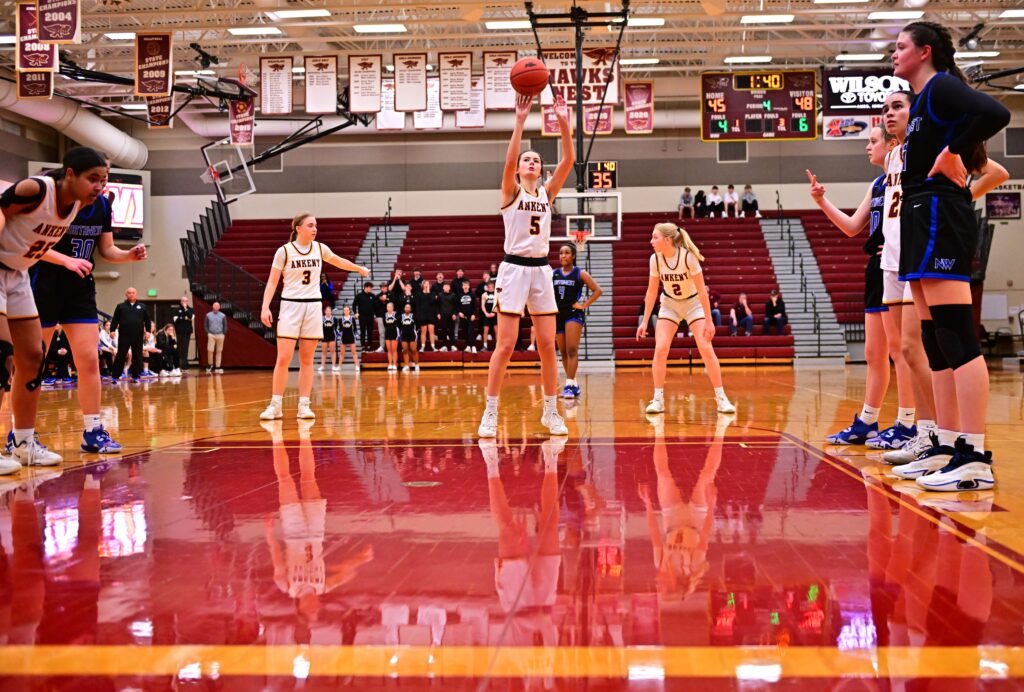 Saturday's game against visiting Waukee Northwest put a lot of stress on Ankeny girls' basketball coach Dru McAnelly.
"I think I lost a year of my life because of that game," McAnelly said.
In the end, though, the 12th-ranked Hawkettes held off Northwest for a 56-54 victory in a Class 5A regional semifinal. They defeated the Wolves for the third time this season.
Ankeny won the first two meetings by scores of 52-41 and 59-52.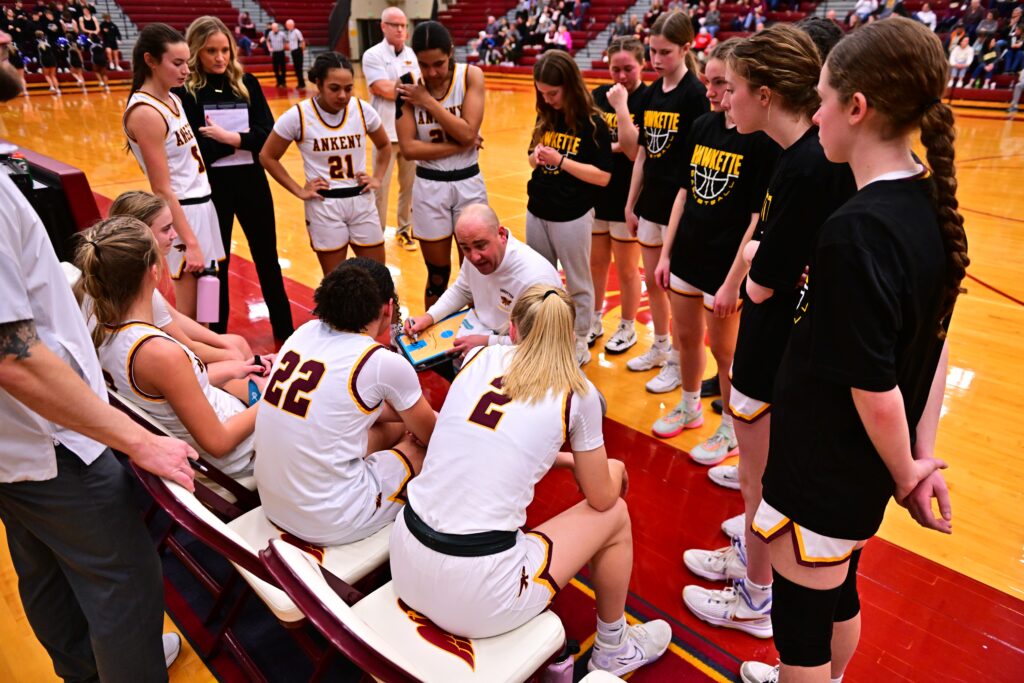 "It's really hard to beat a quality opponent three times, and that proved very true in this game," McAnelly said. "Northwest has been playing its best basketball the last couple of weeks. It was a tough game."
The Hawkettes improved to 12-10 and assured themselves of finishing with a winning record. Northwest closed out the season at 8-13.
Both teams made five 3-point goals and went 17-of-22 at the free-throw line. The Wolves won the rebounding battle, 34-28, but committed 11 turnovers–five more than Ankeny.
"Our goal all year has been to make it to Wells Fargo (Arena)," McAnelly said. "We found a way to win, and our goal is still there."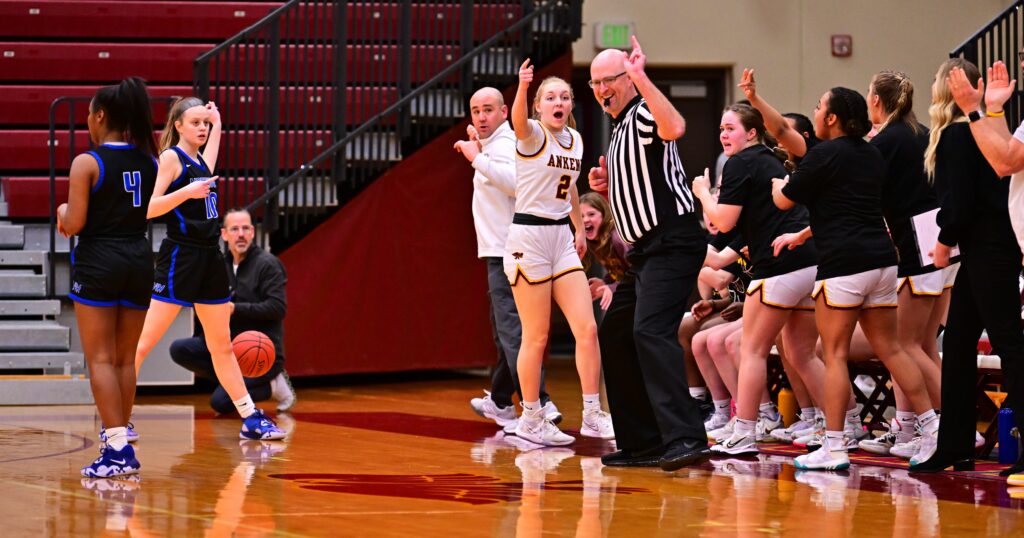 Savannah Gage led Ankeny with 22 points, 17 of them in the first half. The Hawkettes took a 31-26 halftime lead on a 3-pointer by Kendra Lewis at the buzzer.
Northwest rallied in the second half and moved ahead, 43-39, midway through the fourth quarter. The Wolves still led, 48-45, before Jenna Pitz made two free throws with 1 minute 40 seconds left to spark Ankeny's 11-6 run to close out the game.
After Karsen Jacks forced a turnover, Jayla Williams hit a 3-pointer on the ensuing possession to put the Hawkettes ahead for good.
"That was a huge 3," McAnelly said.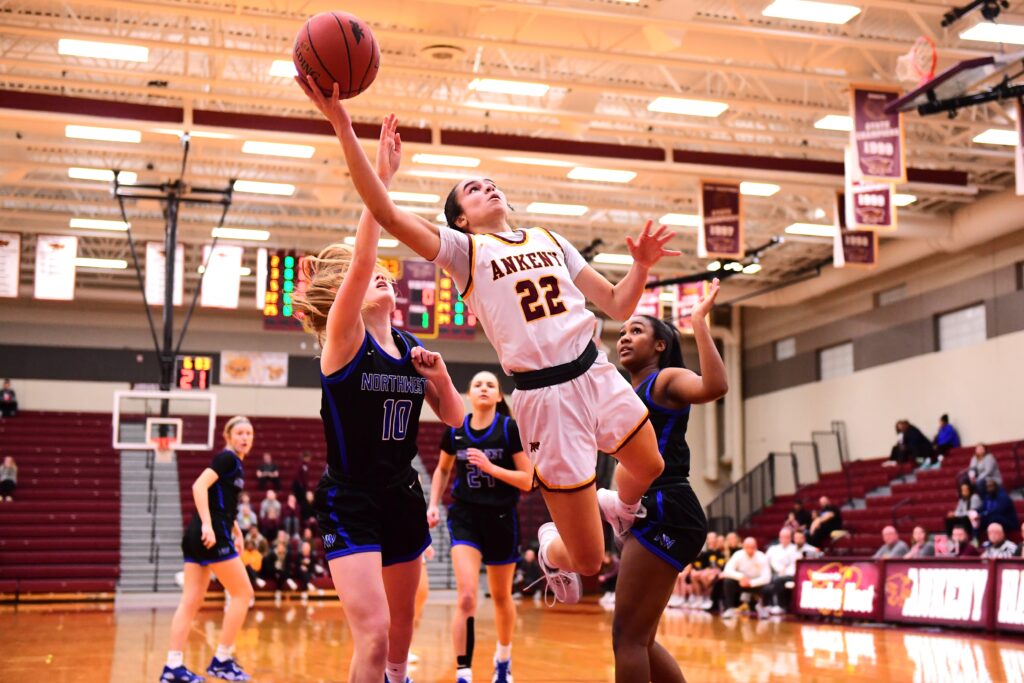 Pitz eventually sealed the win at the charity stripe, where she made 11-of-12 attempts. She finished with 17 points and four assists.
Jacks had seven points and six rebounds in the win. Zoe Shadravan blocked two shots, and Lewis had three steals.
Sadie Maas led the Wolves with 18 points, 10 rebounds and two blocks. Freshman Vana Bilic chipped in 14 points.
"We got in some foul trouble and let them shoot way too many free throws," McAnelly said. "We never could get the lead above five points, but right now it's all about surviving and advancing. At the end of the day, if we get a win on Tuesday, no one is going to remember the score of (Saturday's) game. That's what I told the girls."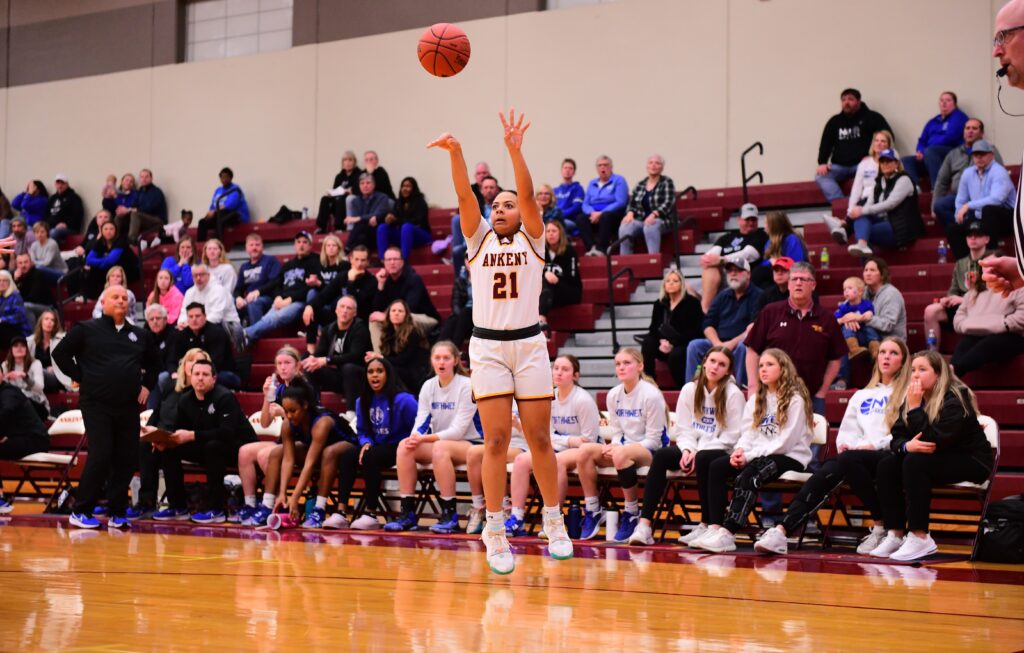 The Hawkettes will now play at No. 5 Davenport North (20-2) in the regional final on Tuesday at 7 p.m. The Wildcats advanced with a 61-44 win over Iowa City High.
Divine Bourrage had 21 points and 10 rebounds as North extended its winning streak to seven games. Fellow sophomore Journey Houston racked up 14 points, 17 rebounds and six assists.
"They're really good, long and athletic," McAnelly said. "The record speaks for itself."
Houston averages 18.7 points and 9.5 rebounds to lead the Wildcats, whose only two losses came to No. 1 Pleasant Valley by a combined 11 points.
"They rebound the heck out of the ball and play some different defenses that we haven't seen all year. They play a little bit of a funky zone," McAnelly said. "We have to rebound, defend the lane and take care of the ball. It's going to be a hostile environment, but I know we're going to be poised. I will be shocked if that atmosphere rattles us."