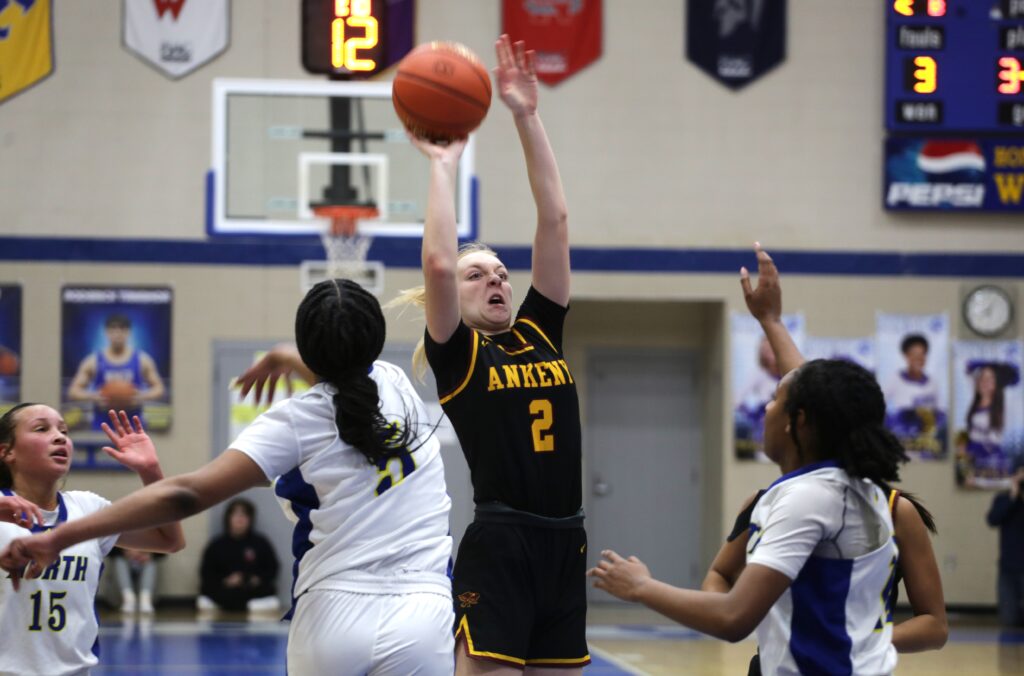 Ankeny's dream of qualifying for the girls' state basketball tournament will have to wait at least another year.
The 12th-ranked Hawkettes led for much of the game before falling at No. 5 Davenport North, 65-61, in a Class 5A regional final on Tuesday. The Wildcats (21-2) advanced to next week's state tournament at Wells Fargo Arena, while Ankeny finished the season at 12-11.
The Hawkettes last qualified for state in 2013–a few months before the split into two high schools.
"There still isn't a group in the state that I'd rather go to battle with than this team," said Ankeny coach Dru McAnelly. "I'm so proud of them and the way they fought speaks testaments to their character. Obviously, we've gone two years in a row now with what I would call straight devastation in sports. When you're invested in something so much, you have such a tight bond when things don't work out and there's no good explanation. It makes things really hard."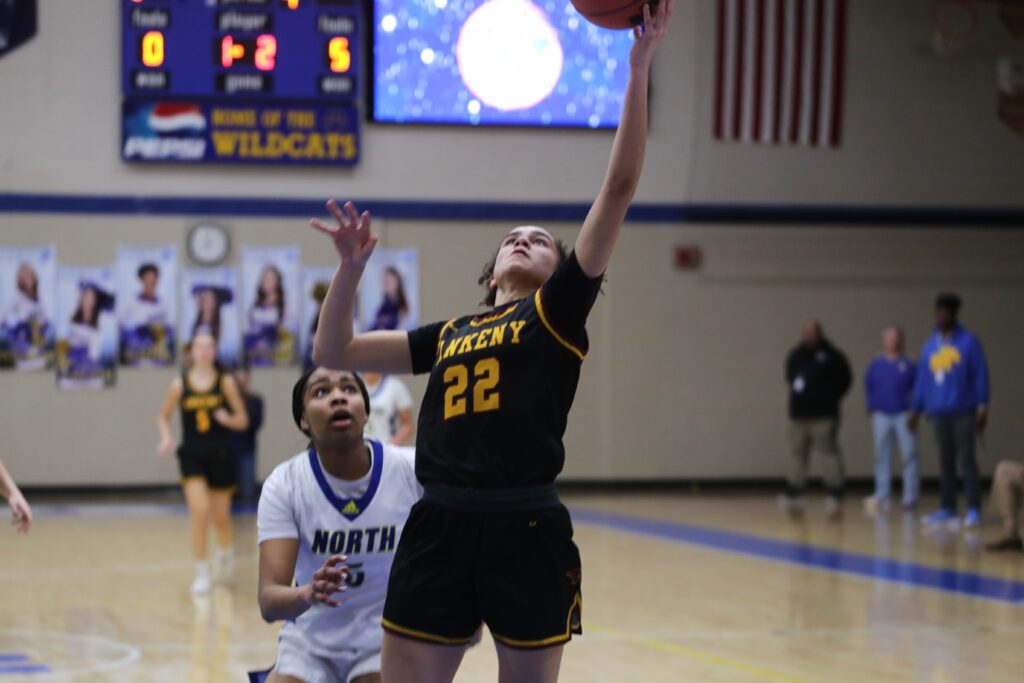 McAnelly and his assistant coaches hugged their players as they exited the locker room.
"I'm so sad," said freshman guard Jayla Williams, who had 18 points in the loss. "We literally were right there. We played hard through the whole game. We just couldn't quite (come all the way back) and we had to start fouling, but we played hard the whole way and battled a lot of adversity. I'm not mad at anyone. We did what we could."
There were nine lead changes and six ties in the game. Davenport North appeared to be in control after going on a 14-2 run to take its biggest lead, 54-45, early in the fourth quarter.
However, Ankeny then answered with a 10-0 run. Karsen Jacks made a 3-point goal to ignite the rally, then Savannah Gage followed with a jumper.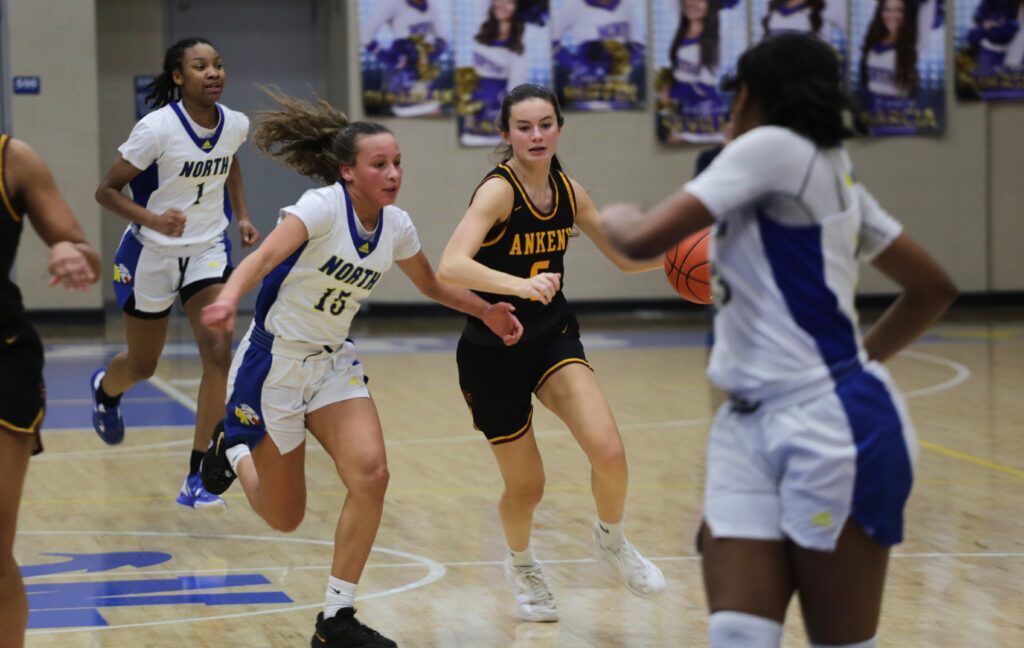 After Williams converted a steal into a layup, she then hit a 3-pointer to give the Hawkettes a 55-54 advantage with 4 minutes 42 seconds left.
"I knew we were going to come back, just make another run like they did," said Gage. "But they're a really good team and they're really athletic, so all hats off to them."
North regained the lead, 56-55, when Journey Houston hauled in an offensive rebound and scored with 4:06 remaining. Alyvia McCorkle connected on two free throws with 3:17 to go to give the Wildcats a 58-55 margin.
Jacks made a 3-pointer at the 2:50 mark to tie it up, but North took the lead for good when Mariah Thompson hit her third trey of the fourth quarter with 2:09 left. She scored all 12 of her points from 3-point range, going 4-of-11 from behind the arc.
The Wildcats made 10-of-28 3-point attempts (35.7 percent).
"We came out and executed, switching some defenses," McAnelly said. "They weren't shooting the ball great this year from 3-point, but that's what good teams do–they made some 3s. So we went back to (our man-to-man defense), and I thought we guarded them pretty well the second half outside of them hitting some 3s against our zone."
After Jacks missed a 3-pointer that could have tied it again with 20 seconds to go, Houston grabbed the rebound and was fouled. She made both free throws to give North a 63-58 lead.
Jacks made her fourth 3-pointer with 8 seconds remaining to keep Ankeny's hopes alive. She finished with 14 points.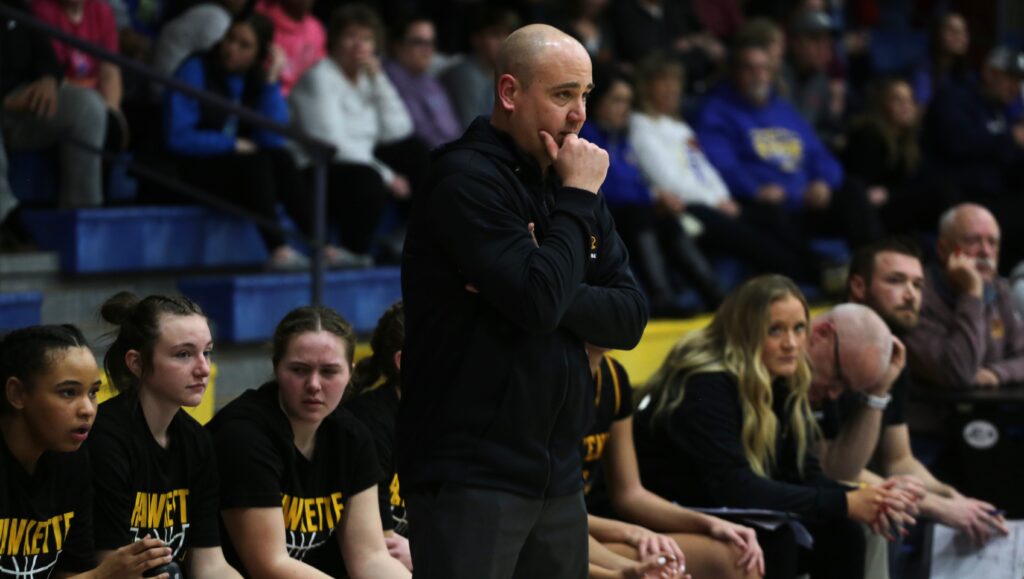 But Houston was fouled again with 6.7 seconds left, and she converted both attempts to seal the win. She scored 27 points on 8-of-10 shooting and also grabbed 12 rebounds, while fellow sophomore Divine Bourrage also had a double-double with 17 points and 11 boards.
"Savy and me played against Divine and Journey one time in the summer on their Attack team," Williams said. "They're so athletic."
Gage led Ankeny with 23 points on 9-of-16 shooting. She had 15 of her points in the first half, including four 3-pointers.
"Early on my teammates were doing a really good job of finding the open girl," Gage said. "We were moving (the ball) really well, so I was able to get a lot of shots off."
The Hawkettes built a 19-13 lead before North went on a 13-4 run and moved ahead, 26-23, on a rebound basket by Bourrage.
"Divine is a heck of a player–there are reasons why she's getting Power 5 (offers) already," McAnelly said.
Ankeny then closed out the half on a 10-2 run. Gage and Jacks hit back-to-back 3-pointers, then Williams followed with a pair of layups to give the Hawkettes a 33-28 lead at the break.
"We just came in thinking we came 2 1/2 hours to get here so we were like, 'Let's put it all out on the floor. If we lose, we're done,'" said Williams, who also had three steals and two blocks.
Houston and Bourrage combined for all 20 of North's points in the third quarter as the Wildcats rallied to take a 48-43 lead. They scored the last eight points of the period in a span of 80 seconds.
Ankeny eventually made one final push, but in the end it just wasn't enough.
"That just speaks to the togetherness of us, playing for one another and never giving up," McAnelly said of his team's late rally. "I'm just really proud of them. Obviously, it's not the outcome we wanted. We didn't get to our goal, but I'm very proud of this group."
Seniors Jenna Pitz, Jasmine Moser, Kendra Lewis and Zoe Shadravan played their final game for Ankeny. Pitz dished out six assists, while Moser grabbed a team-high nine rebounds to help the Hawkettes to a 36-30 advantage on the boards.