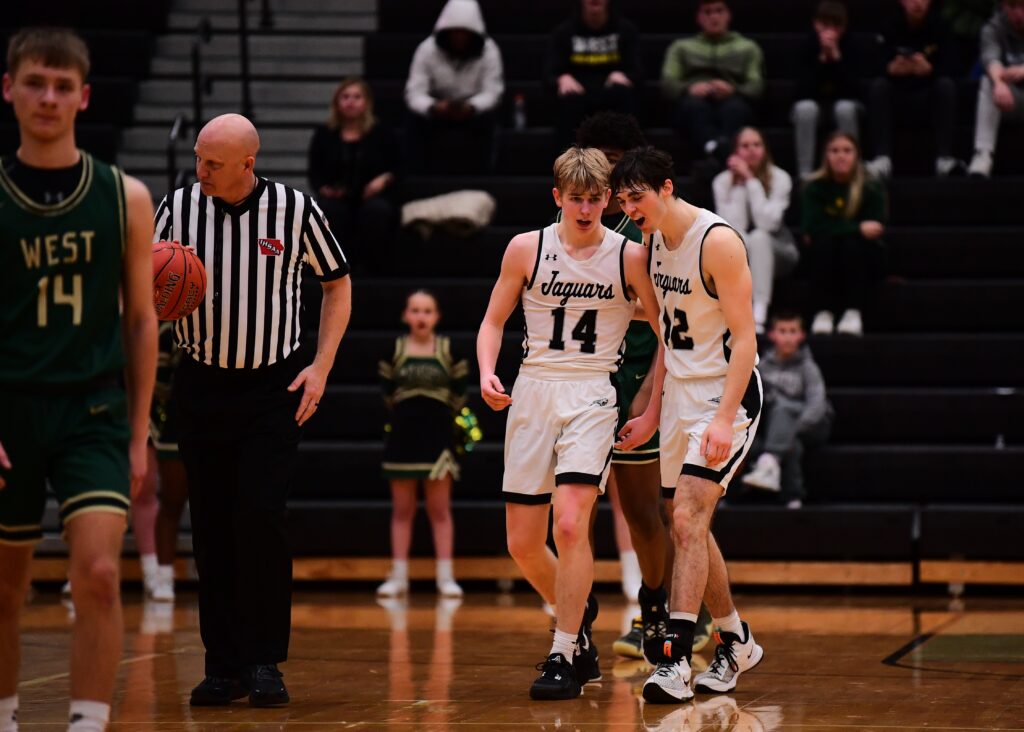 The Ankeny Centennial boys' basketball players were prepared for a battle on Friday night.
The 10th-ranked Jaguars survived their postseason opener, posting a 57-52 win over visiting Iowa City West in a Class 4A substate semifinal.
"I thought we adjusted really well after the first quarter to the physicality of the game," said Centennial coach Bob Fontana. "They stopped the game twice for blood. There was blood on the floor, (Jack) Kerby had blood, and (Luke) Winkel had blood. It was a physical game."
Winkel went 12-for-12 at the free-throw line and poured in 26 points, Evan Bryan scored 21, and Centennial moved one win away from a trip to the state tournament. The Jaguars (15-7) will play No. 8 Cedar Falls (16-5) in the substate final on Tuesday at Marshalltown at 8 p.m.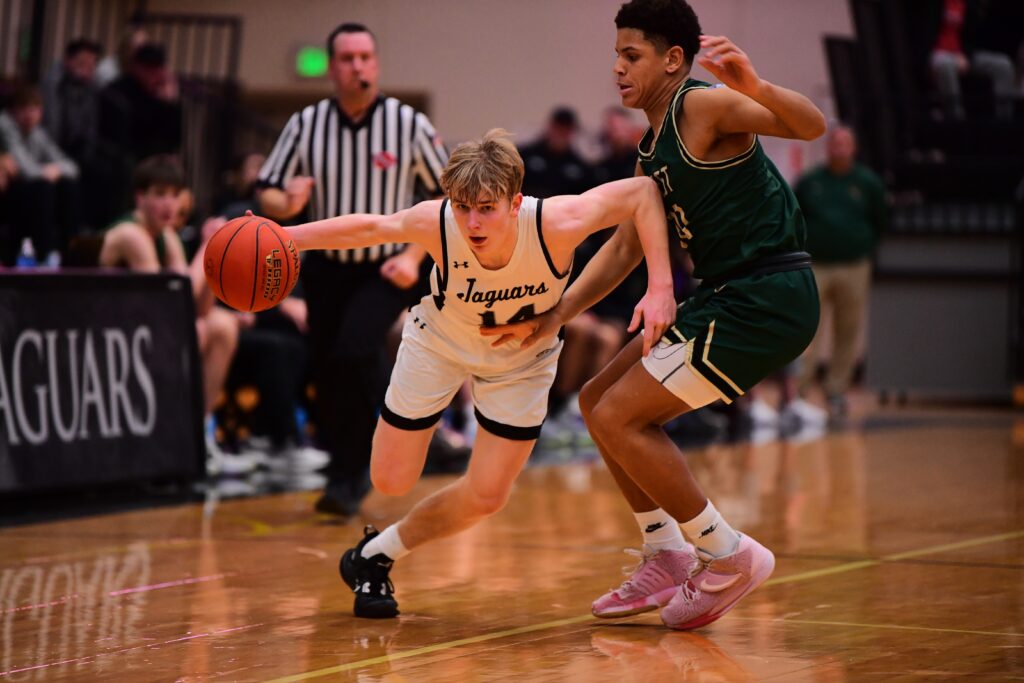 "I'm just glad we have the opportunity (to play again)," Fontana said.
Jacob Koch had 18 points to lead Iowa City West (12-10), 12 of them in the fourth quarter. But the Trojans' top two players–Jack McCaffery and Kareem Earl–were held to a combined 10 points.
"We were well prepared for them defensively," said Bryan. "We really executed the game plan well and made their two best players uncomfortable all game."
McCaffery, who was averaging 18 points, was limited to a season-low three points.
"We did an outstanding job on him," Fontana said. "I rotated three guys on him, and Nick Vaske had the assignment most of the night and did a great job. (Chase) Schutty and (Easton) Pratt also guarded him. I really thought we set the tone with our defense."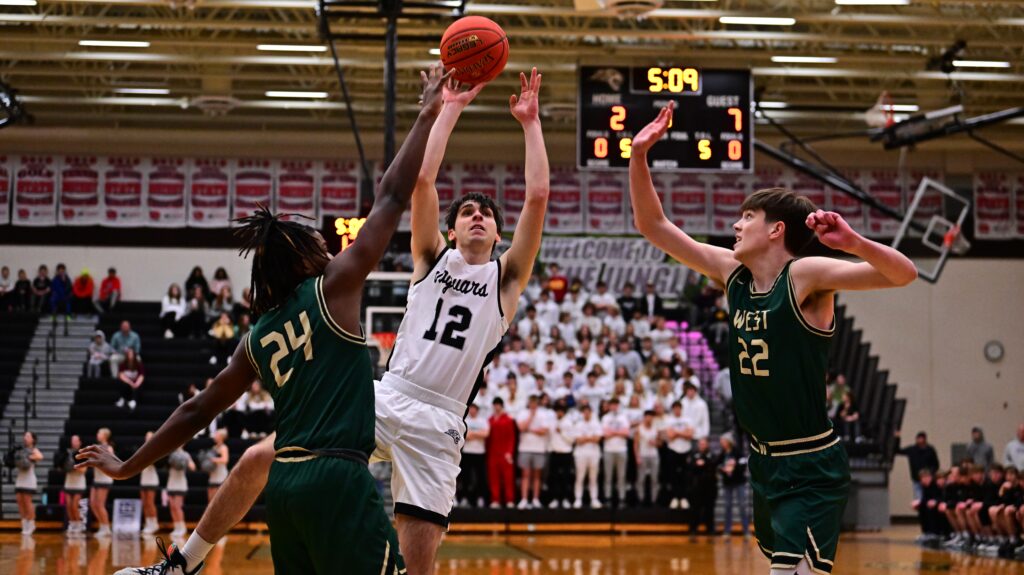 The Trojans jumped out to an early 7-2 lead before Centennial rallied and moved ahead, 12-11, on a 3-point goal by Winkel to end the first quarter. The Jaguars held a 28-20 advantage at halftime.
Bryan had 14 of his points in the first half.
"We had really good ball movement, and we made some big plays," Fontana said. "Evan hit some big shots early. I was proud of our guys for recognizing who had the hot hand and getting them the ball."
Centennial extended the margin to 42-28 after three periods. The Jaguars led 50-38 with 1:40 left and appeared to be in control, but Iowa City West then answered with an 11-3 run and closed the gap to 53-49 with 20 seconds to go.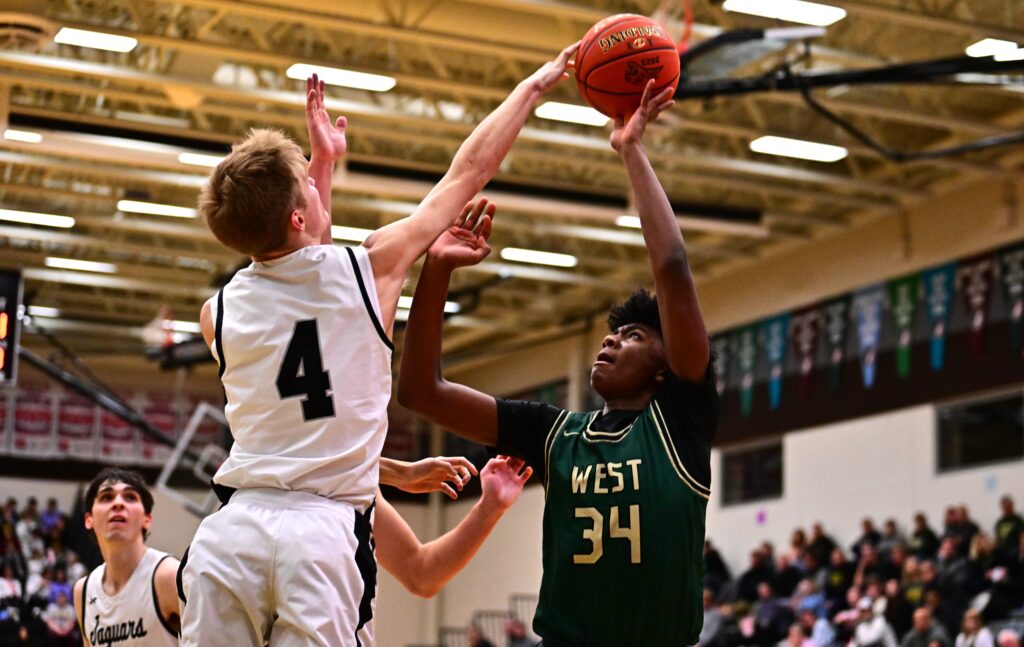 "We had a couple of turnovers and gave up a couple of offensive rebounds, and they hit three 3-pointers and another basket in those four possessions and cut it to a four-point game," Fontana said. "But we held on to win, so obviously we feel good about it."
Bryan, who went 10-of-13 from the field, said he was never worried.
"We knew all we had to do was get the ball in and knock down some free throws," he said. "The game maybe finished a little closer than we would've liked, but a win is a win."
Centennial made just 3-of-13 shots from behind the arc, but was able to get to the charity stripe, where the Jaguars connected on 16-of-18 attempts. Iowa City West went just 2-of-5 at the line.
"We were able to attack and get some good looks inside the 3-point line," Fontana said.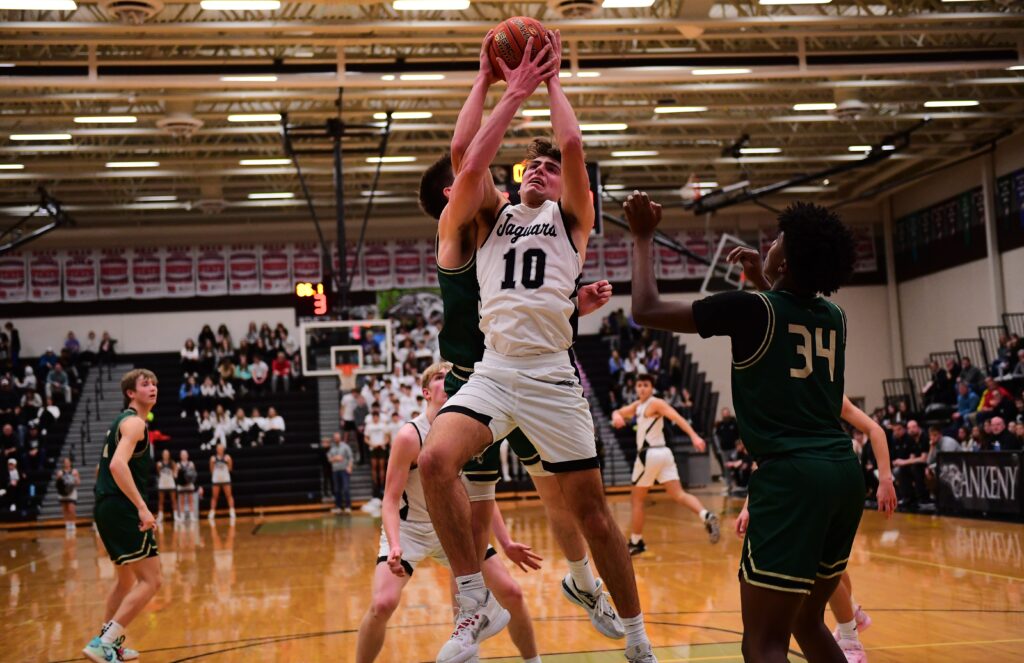 The Jaguars also won the rebounding battle, 33-29. Schutty and Winkel each grabbed 10 boards, and Schutty also had two assists, two steals and two blocks.
Centennial will need another strong effort on the boards against Cedar Falls, which advanced with a 64-56 victory over Dowling Catholic. The Tigers, who overcame a 35-29 deficit, feature a pair of 6-foot-8 players in Dallas Bear and Cade Courbat.
Bear, an Augustana (S.D.) recruit, averages 20 points and 10 rebounds a game. He combined with Courbat for 33 points in Friday's win.
"They have the two big kids and then they bring a 6-5 guy off the bench who's a football player," Fontana said. "It will definitely create some interesting matchups."
Cedar Falls coach Ryan Schultz is expecting another physical matchup.
"(The Jaguars) are another hard, CIML foe," Schultz told the Waterloo Courier. "We will have our hands full with a very physical, defensive-minded team."