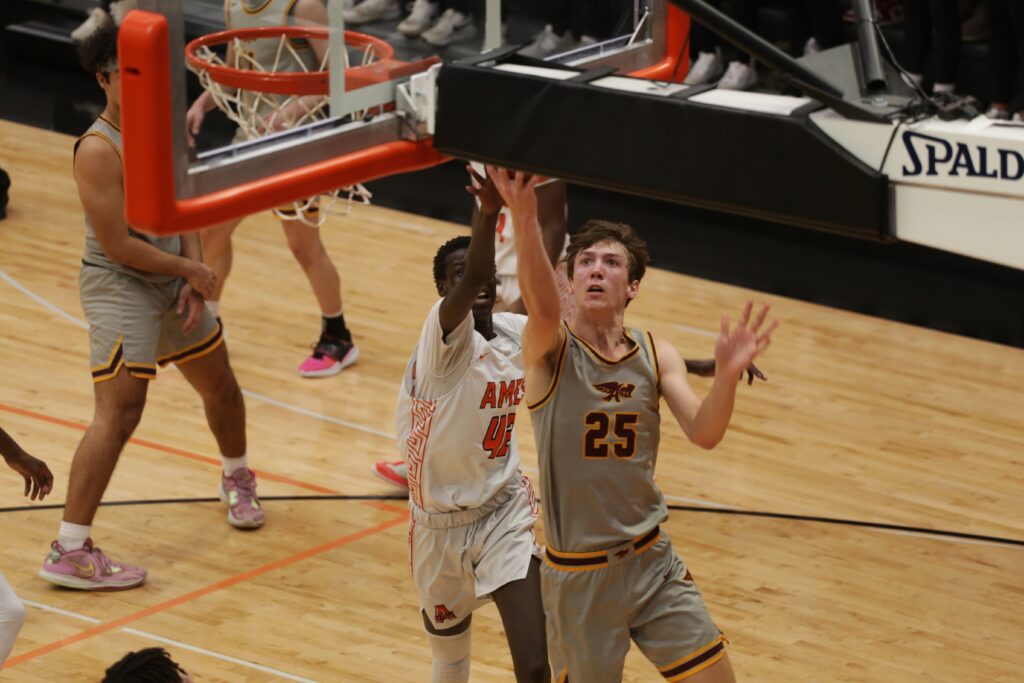 The first half of Friday's game at Ames could not have gone much better for the Ankeny boys' basketball team.
Unfortunately, the second half could not have gone any worse.
After building a 39-26 halftime lead, the Hawks were outscored in the final two periods, 46-12, and dropped a 72-51 decision in a Class 4A substate semifinal. They finished an up-and-down season with a 9-15 record.
"Our game plan was executed really well the first half," said Ankeny coach Brandt Carlson. "Obviously, we were spinning our wheels in the second half. I think we were 1-of-11 (from the field) in the third (quarter). We gave up the lead there late (in the period) and just didn't have an answer at all offensively."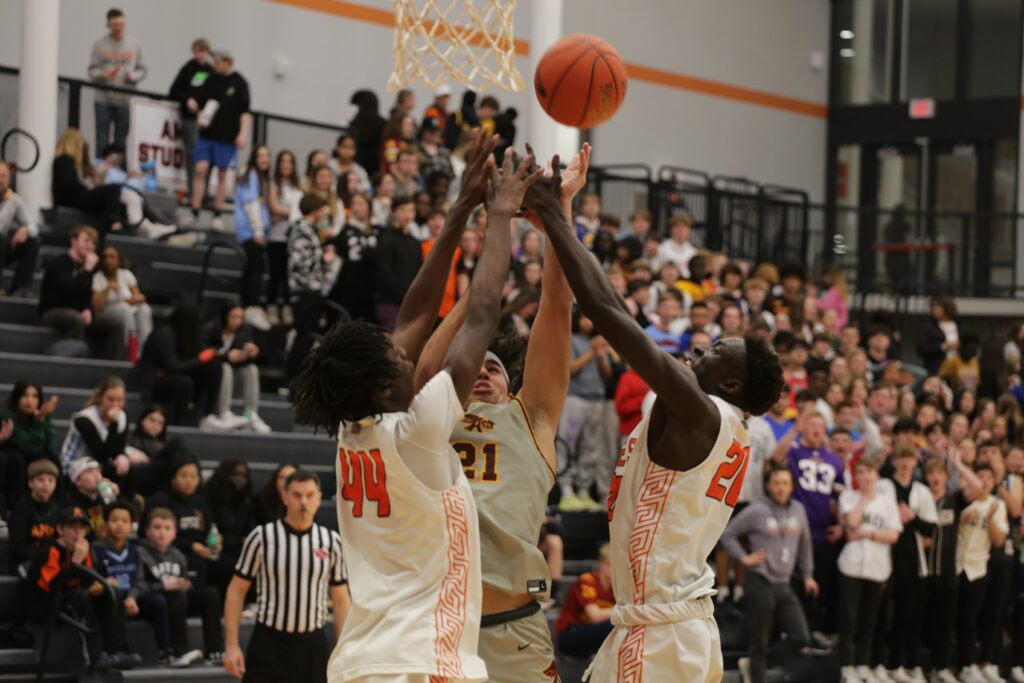 Ames (16-7) avenged a 64-50 loss to Ankeny on Dec. 9. The defending state champion Little Cyclones will play Linn-Mar (Marion) (10-13) in the substate final on Tuesday.
Jamison Poe poured in 31 points to lead Ames, including 16 in the first half when he kept his team in the game. He had a trio of 3-point goals in the first quarter, then later banked in another one at the buzzer to give the Little Cyclones a 50-44 lead after three quarters.
"He's a guy that hasn't shot the ball well all year, but he was hitting some 3s and he was also taking the ball to the basket and we weren't able to keep him in front of us," Carlson said.
Jack Wynter added 19 points for Ames, including four treys in the second half. His 3-pointer with 1 minute 30 seconds left in the third quarter put the Little Cyclones ahead for good, 45-44.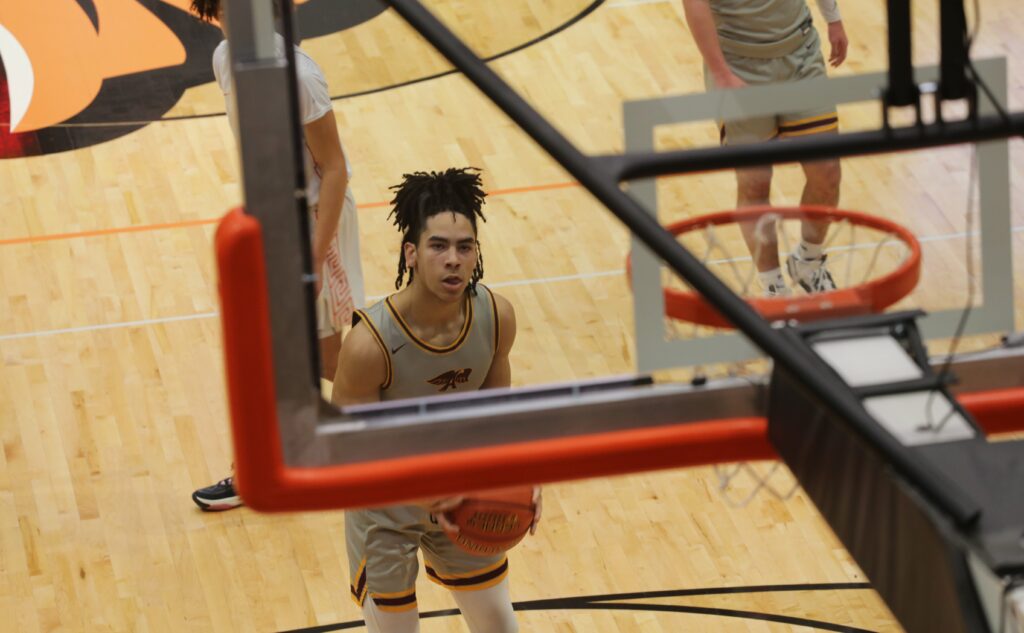 "My hat's off to Ames," Carlson said. "They played well and really made some plays when they needed to."
Carson Johnson led Ankeny with 16 points. Lio Aguirre chipped in 14.
The Little Cyclones had won three straight games before falling at Southeast Polk, 57-52, in their regular-season finale on Feb. 14. They had a nine-day layoff before Friday's game and got off to a slow start.
Jamison Patton and Maddox Ward each scored five points in a 10-0 run that gave Ankeny an early 10-3 lead. The Hawks capitalized on the absence of Ames guard Lucas Lueth, who picked up two quick fouls and was forced to the bench.
Lueth returned to the court shortly thereafter, but was then called for his third foul with 1:39 to go in the opening period. The 6-foot-7 senior sat out the rest of the half.
"He's a great high school defender, and he definitely makes a difference when he's out there," Carlson said of Lueth, who finished with four blocks.
Ankeny closed out the second quarter with a 15-3 run. Aguirre ignited the run with his third 3-pointer of the first half, then Johnson followed with seven consecutive points.
Johnson had 11 points at the break, but didn't score again until late in the game.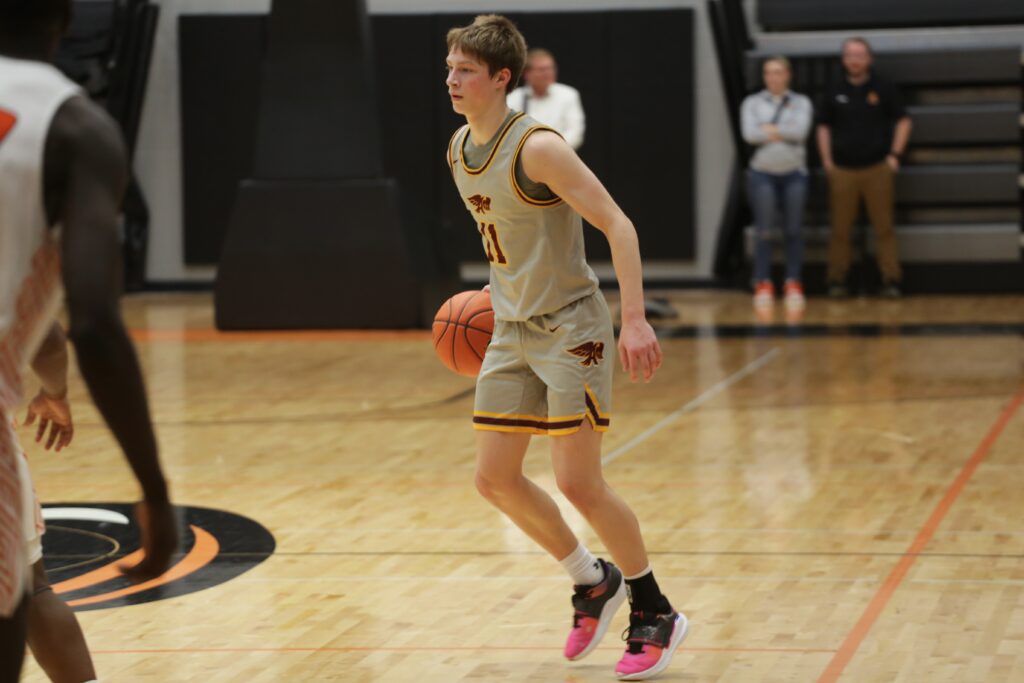 "I thought they were really grabbing and holding Carson, and he just couldn't get free," Carlson said. "We just didn't get enough foul calls to get to the line to earn some points there. It was just tough sledding. We scored 12 points the whole second half, and we've had some issues with that all year with a little bit of fatigue again. At the end of the day you've got to score, and then defensively we were out kind of scrambling and that Poe kid really took off offensively for them. It was just a tough second half."
The loss snapped a three-game winning streak for the Hawks.
"It's really hard to put into words how proud we are of the guys for how hard they worked this year," Carlson said. "They stayed the course and just really battled for the program. We're just really grateful to have the opportunity to work with them, but this was a tough one. It's pretty frustrating, but we're proud of how they fought through some adversity.
"We just have to try to regroup and continue to build the program," he added.