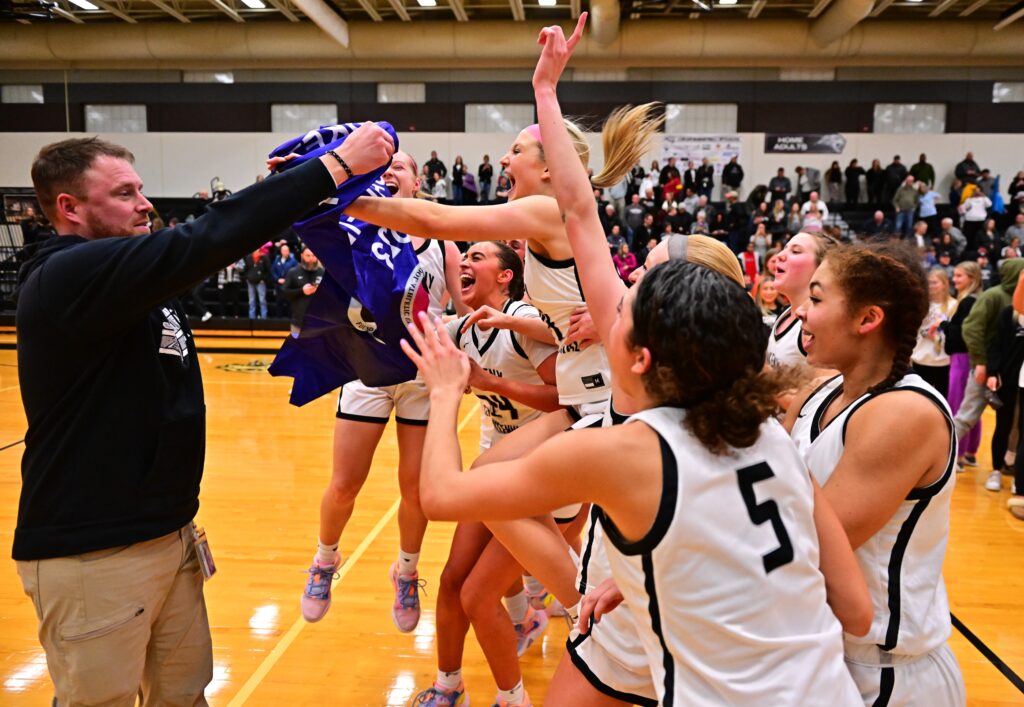 In recent years, the Central Iowa Metropolitan League has dominated the girls' Class 5A state basketball tournament.
Waukee cruised to the title in 2021, winning its three games at Wells Fargo Arena by an average of 24 points.
Then, last year, Johnston reached the championship game for the third straight year and won its second crown in that span in historic fashion, becoming the first team ever in Class 5A to go undefeated. The Dragons won their three state tournament games by an average of 16.3 points, capped off by a 51-31 win over Waterloo West.
The new CIML Conference has qualified five teams for this year's field, but don't expect any squad to storm through the Class 5A tournament like Waukee and Johnston did in the previous two seasons. This might be the deepest Class 5A field ever, where any of the eight teams can legitimately enter the week with championship aspirations.
How will this tournament unfold? I do expect the CIML teams to have a strong showing, and I wouldn't be surprised if a team like Johnston has to beat three of its conference rivals in order to win another crown. (See below for my entire bracket.) But these predictions could also be spectacularly wrong–I honestly don't have much confidence in any of them.
For now, though, let's break down Monday's slate of games. Here are Ankeny Fanatic's predictions for the quarterfinals:
No. 2 Johnston (22-1) vs. No. 7 Southeast Polk (15-7): The Dragons already own two wins over Southeast Polk–they posted a 62-49 victory on Jan. 3 (in a game played at Wells Fargo Arena), then won the rematch at Johnston, 82-77, on Feb. 10. Southeast Polk star Brooklin Dailey was held to just eight points on 4-of-17 shooting in the first game, but the Rams got 18 points from Stella Charleston–who went 4-of-4 from 3-point range. Aili Tanke led Johnston with 22 points and 13 rebounds, while Jenica Lewis went 4-of-7 from behind the arc and added 18 points. Dailey poured in 27 points in the rematch, but it wasn't enough to overcome a huge night by Johnston guard Aaliyah Riley, who racked up 29 points, 10 rebounds and six assists. Emma Hampton added 18 points for the Dragons, who have won 48 of their last 49 games. It's never easy to beat a quality opponent three times in the same season, but I think Johnston will find a way to prevail. The Dragons just have too many weapons. Prediction: Johnston 65, Southeast Polk 56.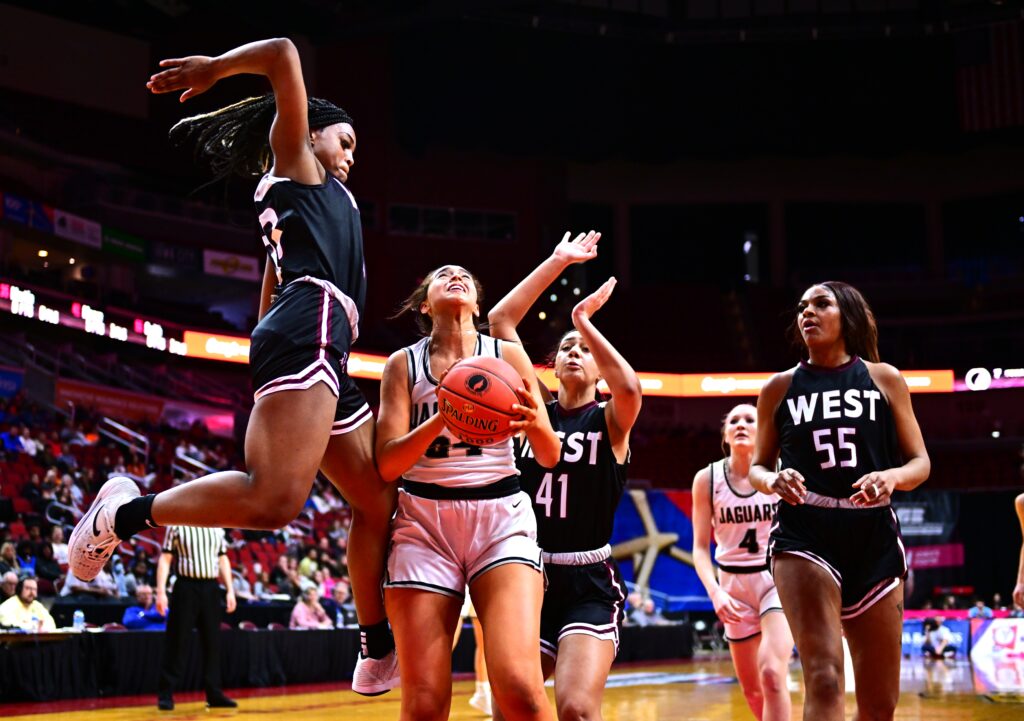 No. 3 Waterloo West (22-1) vs. No. 6 Ankeny Centennial (17-6): This is a rematch from last year's quarterfinals, which was won by the Wahawks, 67-59. Sahara Williams, Halli Poock and Sierra Moore combined for 62 points in that game, and all three of those players are back this season. Williams is a McDonald's all-American who had 33 points and 12 rebounds in the regional final against Waukee, when the Wahawks were lucky to escape with a 69-68 win. Poock has scored more than 2,000 points in her career, but the Bradley recruit was harassed into a 5-for-20 shooting night by the Waukee guards. Centennial is a team that wins with its defense, and the Jaguars will likely use some combination of Averi Porter, Jaeden Pratt and Mya Crawford to defend West's two stars. I believe Centennial will be able to hold West below its season scoring average of 64.7 points. The question will be, however, whether the Jaguars can score enough themselves to pull off the upset–because they average just 53.7 points per game. I think they will. Prediction: Ankeny Centennial 58, Waterloo West 55.
No. 1 Pleasant Valley (23-0) vs. No. 8 West Des Moines Valley (15-8): The Spartans enter the tournament with a chance to do what Johnston did a year ago–complete an undefeated season. But Pleasant Valley simply has not played the gauntlet of a schedule that all of the CIML teams did this season. The Spartans played just three games against teams in the Class 5A tournament, including one against Valley in the Winter Tip Off Classic on Dec. 17 at Johnston. Pleasant Valley won that game, 32-31, in a fierce defensive battle. The Tigers outrebounded Pleasant Valley, 35-22, but shot just 22.2 percent from the field (10-of-45). Brynne Katcher led Valley with 14 points, while Elise Jaeger had just five on 2-of-8 shooting. But Jaeger showed earlier this month that she's capable of having a big night–she made seven 3-pointers and scored 30 points in a 67-36 win at Ankeny on Feb. 10. Valley advanced to the state tournament with a 37-20 win at eighth-ranked Cedar Falls in a regional final, so the Tigers' defense is ready for the challenge of slowing down Marquette recruit Halle Vice, who averages 21 points on 58.4 percent shooting. It may not be March yet, but I think there will be some Madness at the Well. Prediction: West Des Moines Valley 45, Pleasant Valley 44.
No. 4 Dowling Catholic (19-4) vs. No. 5 Davenport North (21-2): The last quarterfinal matchup could be the best game of the day. The Maroons got off to a 3-4 start, but have since reeled off 16 consecutive victories. They are the hottest team in Class 5A west of Pleasant Valley. Dowling suffered some early losses to Valley, Johnston and Southeast Polk, but the Maroons later avenged those defeats by an average of 21 points. On Jan. 20, Dowling posted a 62-48 win over Johnston to snap the Dragons' 42-game winning streak. Sophomore guard Ava Zediker, who had 28 points in the win over Johnston and averages nearly 20 a night, has become one of the state's best players. She is more than capable of leading the Maroons to the title. North, meanwhile, boasts a dynamic duo in sophomores Journey Houston and Divine Bourrage. They combined for 44 points in the regional final against Ankeny, and will provide a stiff test for the Maroons. North's only two losses came to Pleasant Valley by scores of 31-29 and 55-46. The Wildcats are very talented, but I think they're a year or two away from contending for the title. Prediction: Dowling Catholic 62, Davenport North 57.