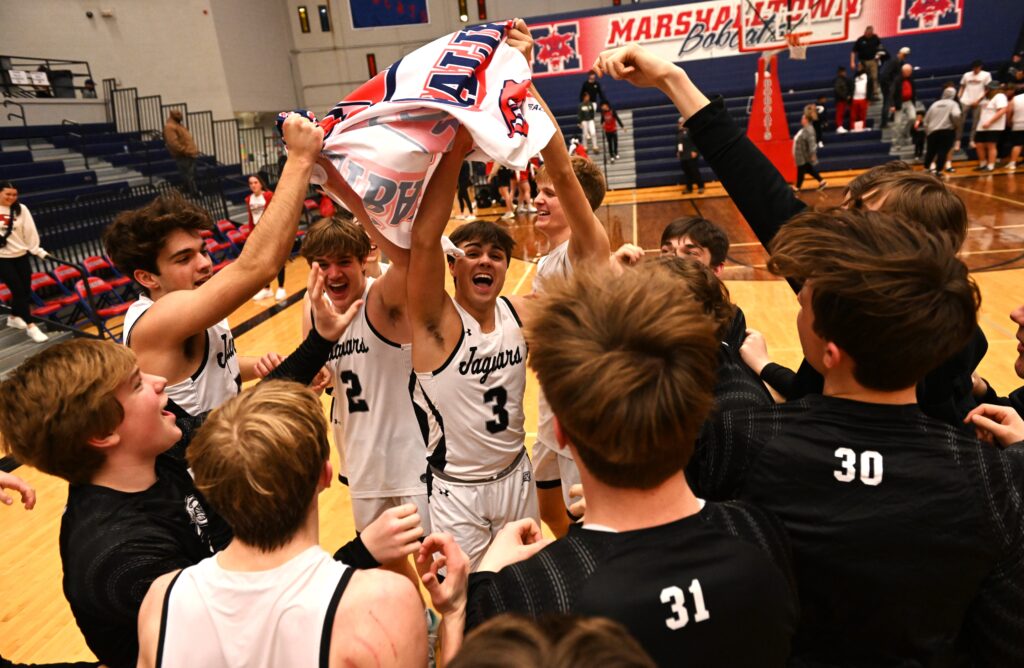 The Comeback Kids are headed to Wells Fargo Arena.
The 10th-ranked Ankeny Centennial boys' basketball team erased an early 10-point deficit and went on to defeat No. 8 Cedar Falls, 54-47, in a Class 4A substate final on Tuesday at Marshalltown. The Jaguars (16-7) advanced to the state tournament for the second time in school history.
"It feels amazing man," said Centennial junior Nick Vaske, who has become a defensive menace in the postseason. "It was a dream when I was a kid, and now it's a reality."
Centennial's only previous trip to the state tournament came in 2020, when the Jaguars earned a fourth-place finish. That team lost to Cedar Falls, 65-58, in the consolation final.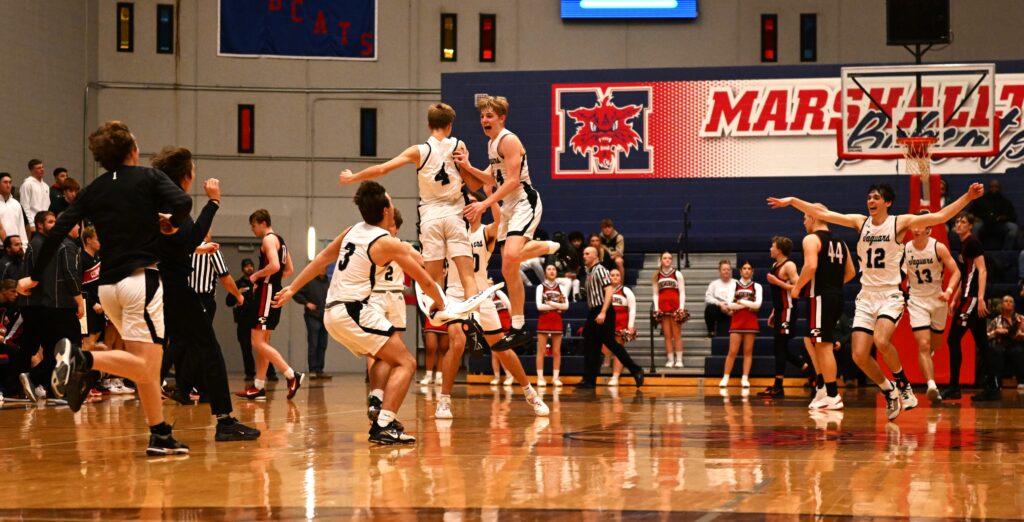 Evan Bryan and the other seniors on the Centennial squad were freshmen at the time.
"We're on top of the world right now," Bryan said.
Luke Winkel scored 19 points, 15 of them in the second half, to lead the Jaguars. He had eight consecutive points during a 72-second span in the third quarter that allowed his team to build a double-digit lead.
Cedar Falls (16-6) could get no closer than six points the rest of the way.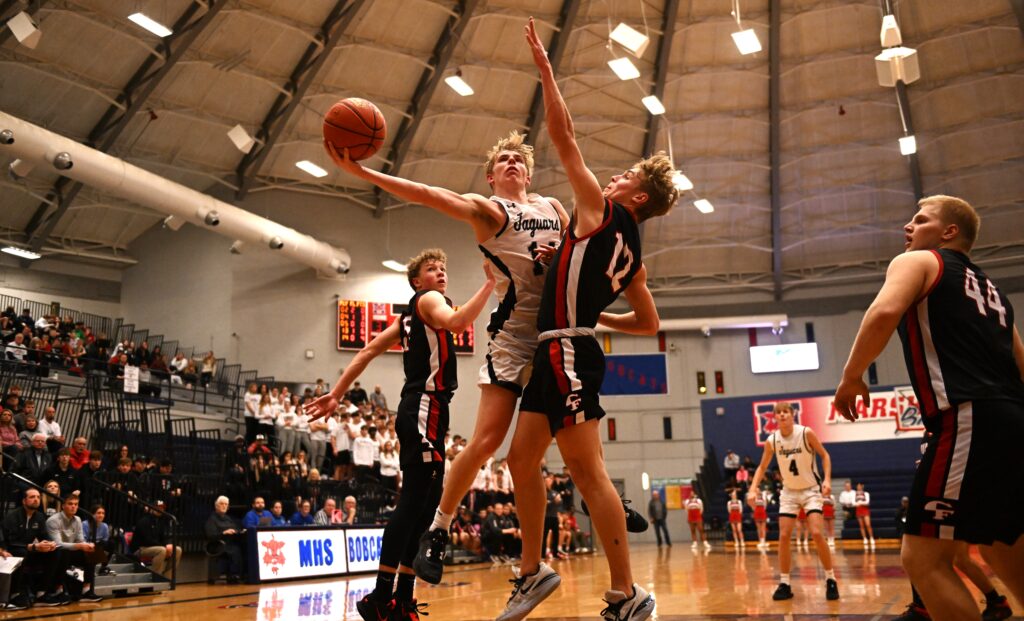 "All season in games we've been able to claw back," said Winkel, who also dished out three assists. "We were down a lot against Waukee and a lot against Ankeny and were able to come back. We knew that if we just grinded and trusted each other that we could make it happen."
Cedar Falls jumped out to a 22-12 lead behind sophomore guard Anthony Galvin, who matched his scoring average with 13 points in the first quarter. He had a trio of 3-point goals in a 13-2 run by the Tigers.
"We knew he could shoot it," Winkel said of Galvin, who finished with 22 points. "He had a really good game, so props to him."
Easton Pratt made a 3-pointer with 5 minutes 8 seconds left in the second quarter to ignite Centennial's rally. Winkel later scored on a nifty bank shot with 11 seconds left to close the gap to 24-23 before Galvin made his fourth 3-pointer at the buzzer to give the Tigers a 27-23 advantage at the break.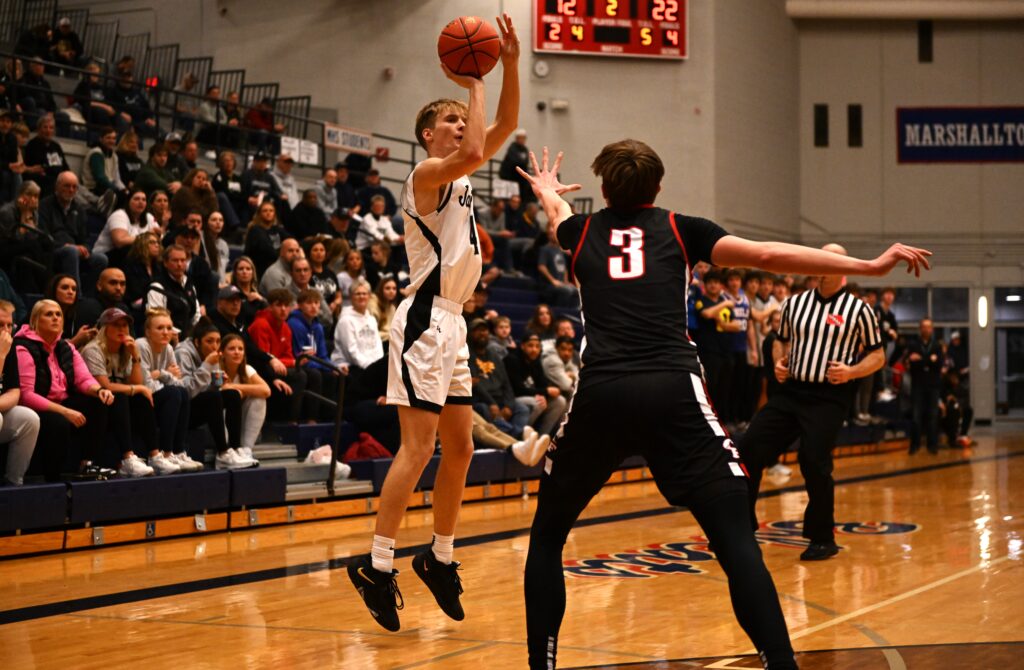 "We knew we could come back. We always have," Bryan said. "When we get down by those big deficits sometimes, we always found a way to get back in the game. We weren't worried for a second. We just had to clamp up on defense, and it worked out."
Centennial coach Bob Fontana said his team made two adjustments at halftime.
"I thought that (Connor) Welsch and (Drew) Schreurs' defense on Galvin the second half was outstanding, and I thought Vaske was outstanding on (Dallas) Bear–he's a college player," Fontana said. "I thought our kids did a phenomenal job of executing what we adjusted to."
While Galvin was held to six points in the second half, Vaske kept Bear in check all night. The Augustana (S.D.) recruit was limited to just seven points–13 below his average.
On Friday, Vaske shut down Iowa City West's Jack McCaffery–holding him to a season-low three points in a substate semifinal.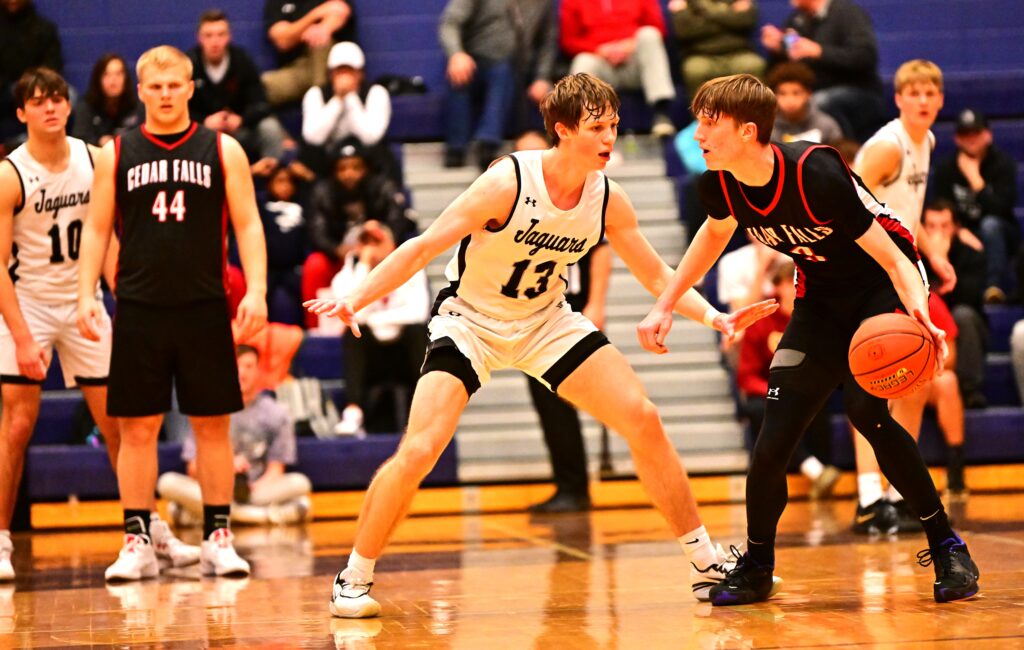 "I like to go out there and stop the best player. It makes me feel good," said Vaske, who also scored 11 points and grabbed a team-high 10 rebounds. "And if it helps our team win, you've got to do what it takes. It was just a lot of preparation by the team. But mainly, it was a mentality thing. We just went at him. Collectively, we were a team as a unit, and we defended super well."
Centennial also got its offense untracked in the second half. The Tigers often double-teamed Winkel in the first two quarters, and it took awhile for the junior guard to find some ways to score.
"I saw that they were doubling and trapping and playing a lot of gap defenses at the start, so just moving the ball was really important and getting other guys involved," said Winkel, who went 7-of-10 from the field. "It just happened later in the game that lanes opened up for me."
Bryan made a 3-pointer with 5:37 left in the third quarter to tie the game at 29-29. Vaske followed with two free throws at the 4:11 mark to put the Jaguars ahead for good.
Winkel scored on a scoop shot with 2:15 remaining, then drained a 3-pointer and converted a traditional 3-point play to give Centennial a 39-29 lead late in the period.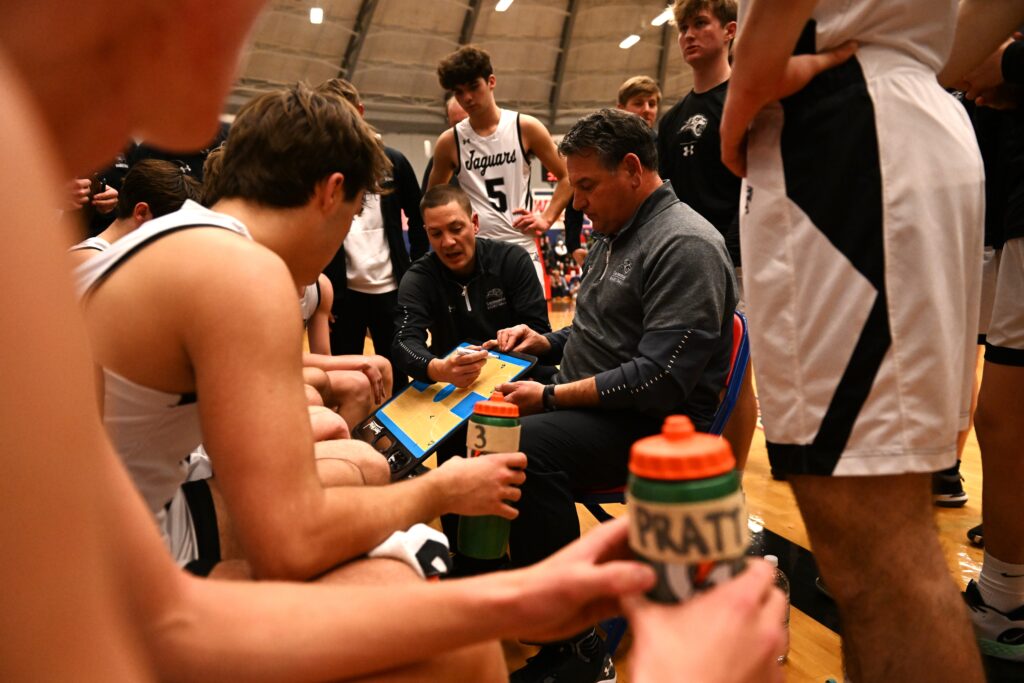 "We just had to do a better job of moving without the ball and attacking the rim–because in the first half we settled a little bit," Fontana said.
Schreurs made the first of two free throws to open the fourth quarter to extend the margin to 42-29. That capped a 16-0 run and a 30-7 run since early in the second period.
Cade Courbat had 14 points for the Tigers. His dunk off a baseline drive in the fourth quarter pulled his team within 44-35, but Bear then missed a 3-pointer shortly thereafter that could have made it a two-possession game.
Winkel then answered with a trey at the other end, essentially sealing the victory.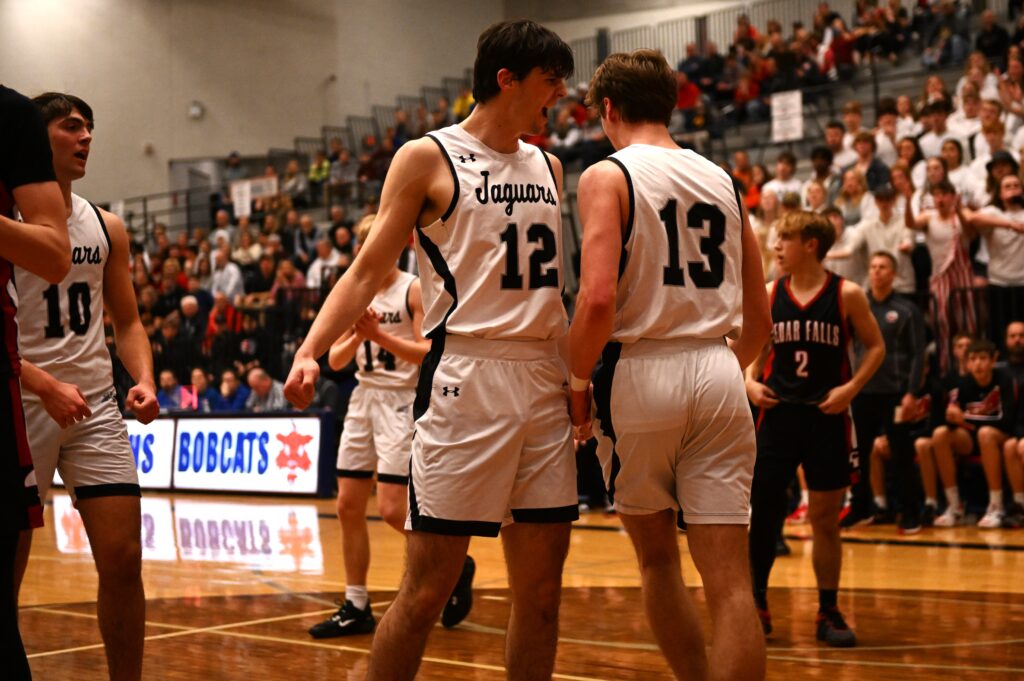 "It feels amazing," Winkel said. "I can't describe it."
Schreurs and Chase Schutty each had seven points for the Jaguars. Bryan added six.
Schutty also had six boards and a pair of blocks. Welsch contributed two steals.
"We rebounded well against a big team, and that was outstanding," Fontana said.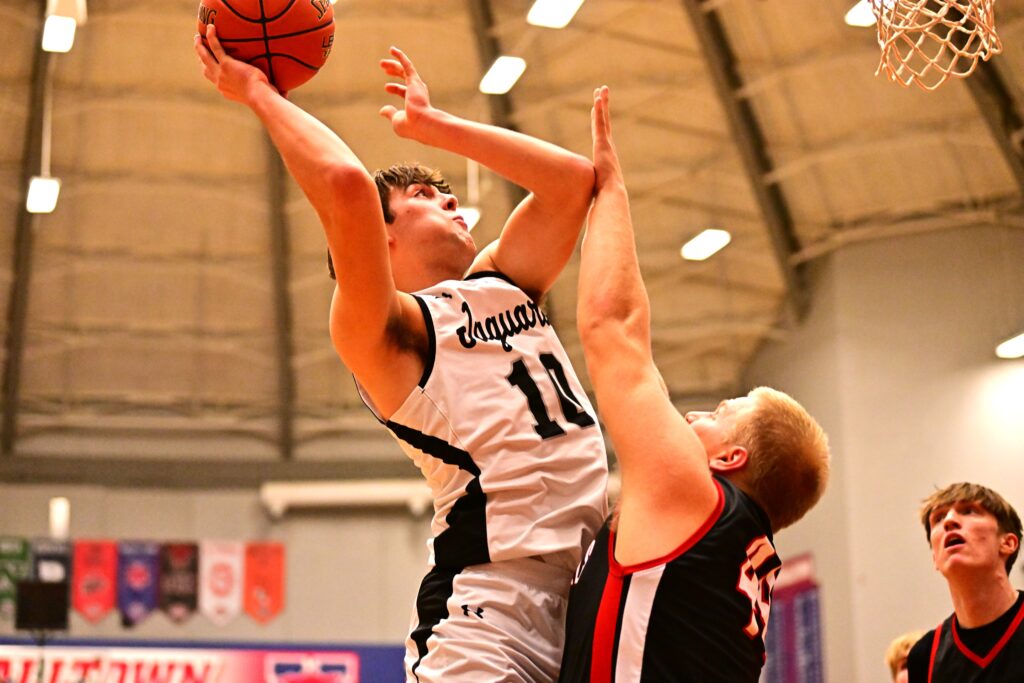 Centennial earned the No. 6 seed in the Class 4A field and will play No. 3 Waukee Northwest (21-2) in the quarterfinals on Wednesday, March 8 at 12:15 p.m. The Wolves advanced to state for the second straight year with a 73-62 win over Des Moines Roosevelt.
"Our eyes are to the moon right now," Vaske said. "We're soaring, and we're going to keep on going."
Northwest won both meetings against the Jaguars during the regular season, 56-42 and 74-48. Iowa recruit Pryce Sandfort scored 28 points in both games.
"We aren't intimidated by anyone," Bryan said. "We'll go out there and play our game, and we're going there to get a (win)."