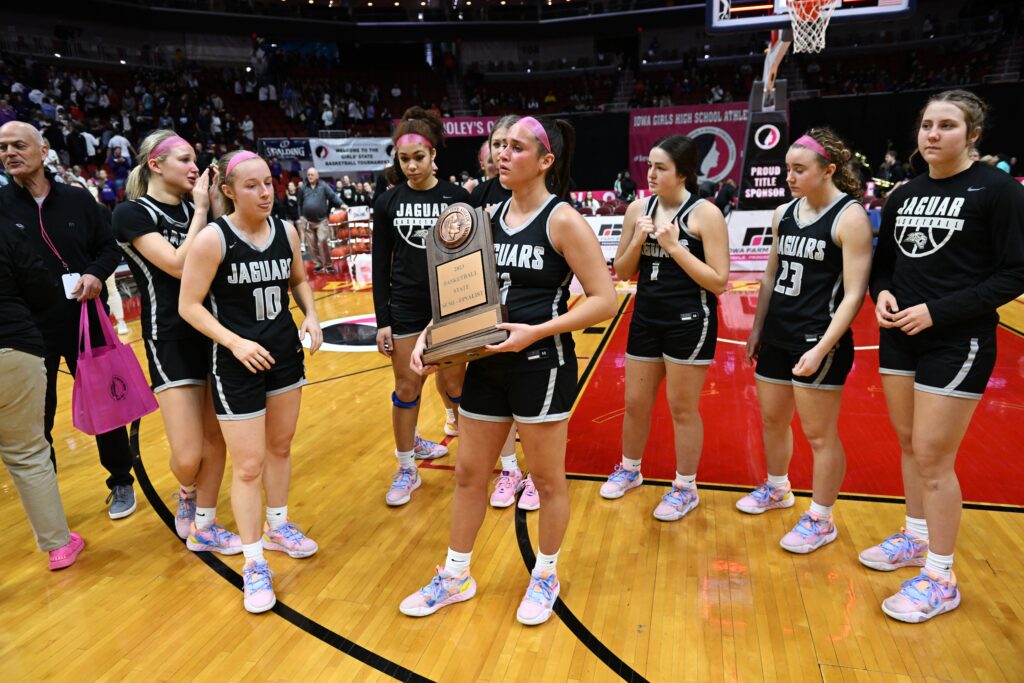 Thursday morning's Class 5A semifinal showdown between second-ranked Johnston and No. 6 Ankeny Centennial turned into a backyard brawl at the girls' state basketball tournament.
Playing for the third time this season, the CIML Conference rivals waged a fierce defensive battle before the Dragons scored the final six points of the game to emerge with a hard-fought 42-35 victory at Wells Fargo Arena.
Centennial forward Jaeden Pratt, who led the Jaguars with 10 points and seven rebounds, left the court with a bloody nose at one point.
"I got elbowed," said Pratt. "We kind of knew coming in that it was going to be a physical fight. It always has been every time we play Johnston. But you know, I like those games. They're fun."
In the end, Johnston (24-1) overcame its 27.9 percent shooting (12-of-43) with a stifling defensive effort down the stretch. The Dragons held Centennial scoreless over the final 4 minutes 45 seconds.
The Jaguars went 1-of-13 from the field and scored just two points in the fourth quarter.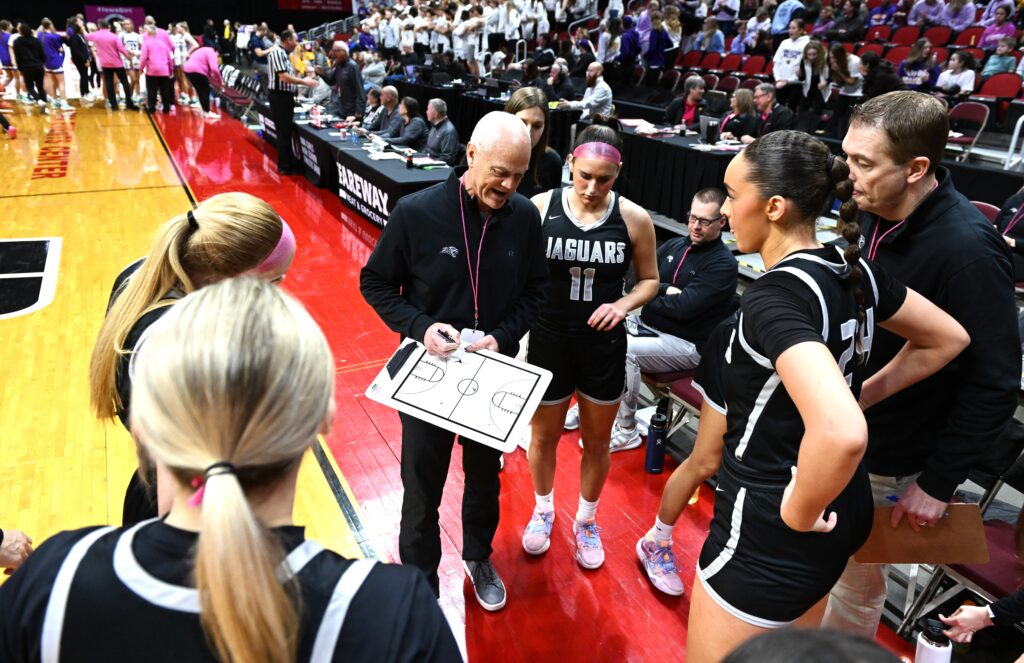 "That's how our league is, right?" asked Centennial coach Scott DeJong, whose team finished the season at 18-7. "It's been rough and tumble, and that's how it was. I thought we competed as hard as possible. We certainly had some opportunities, but we just came up short."
Johnston led most of the way, but Centennial closed the gap to 36-35 on a driving bank shot by Mya Crawford with 4:45 remaining. The Jaguars then had chances to take the lead on their next three possessions, but they couldn't capitalize.
"That would have been a big change (in momentum)," DeJong said. "You're playing from ahead instead of behind, and that makes a big difference."
The Dragons increased their lead to 38-35 on a pair of free throws by Aaliyah Riley with 2:19 left. They connected on 14-of-18 free throws, while Centennial went just 5-of-8 at the line.
The Jaguars had two more empty possessions before Riley scored on a drive to the basket with the shot clock winding down, giving her team a 40-35 advantage with 32 seconds to go.
"It's always a great feeling when you have the ball in your hands during the last few seconds, and you can make something happen for your team," said Riley, who scored 11 of her 13 points in the second half. "I'm just glad that my teammates had confidence in me and helped me to get to where I am right now. We all help each other."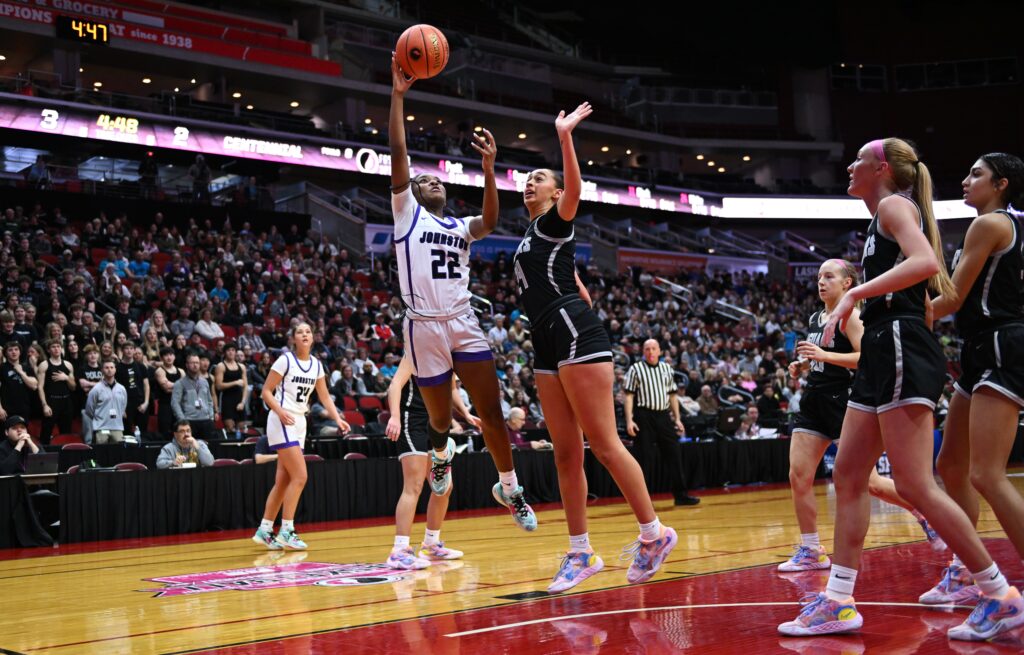 Jenica Lewis scored on a runout layup in the final seconds to produce the final margin. The freshman guard had 15 points in all three of her team's victories over Centennial this season.
The Dragons, who have won 50 of their last 51 games, advanced to the title contest for the fourth straight year. They will try to win a third championship during that stretch on Friday at 6 p.m., when they face No. 1 Pleasant Valley (25-0).
The Jaguars have lost to Johnston four times over the last two seasons by margins of 9, 6, 7 and 7 points.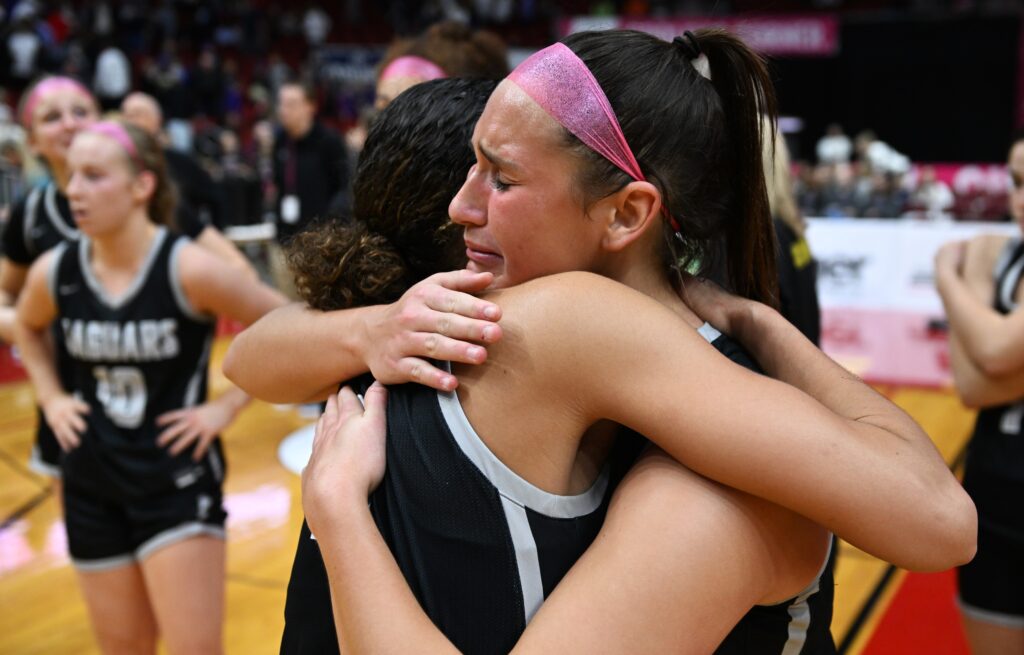 "I think at the end they were just getting to the basket, and we were unable to convert on offense," said Centennial post player Kennedy White. "It's a tough loss, but they're really talented players."
The Dragons outrebounded Centennial by a 40-24 margin. Iowa State recruit Aili Tanke grabbed 11 boards, seven of them on the offensive end, and also had two blocks.
There were six lead changes and six ties, but the Jaguars led for only 1 minute 46 seconds and never led by more than two points.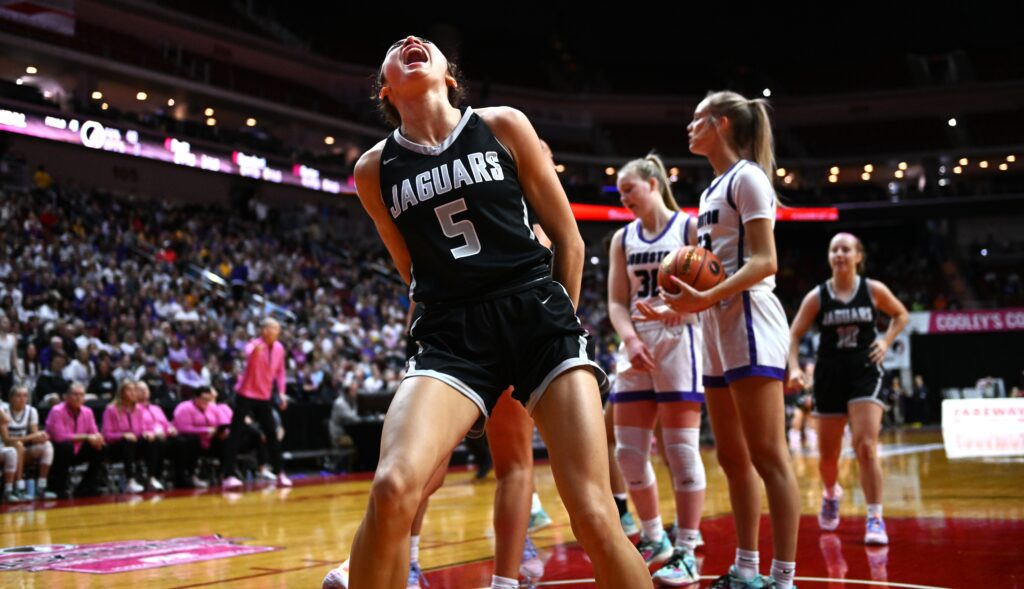 "We knew all along that it was going to be back and forth the whole game," said Crawford. "We just had confidence before the game that hopefully it was going to be us (coming out on top) in the end, but some things don't always go our way and that's what happened today I guess."
Crawford finished with six points, six rebounds and two blocks. White contributed seven points in her final game, while fellow senior Averi Porter added two assists and two steals.
"I'm really proud of this team," White said. "I wouldn't have done it with anyone else. I really like this team. I was extremely blessed with amazing coaches and an amazing team."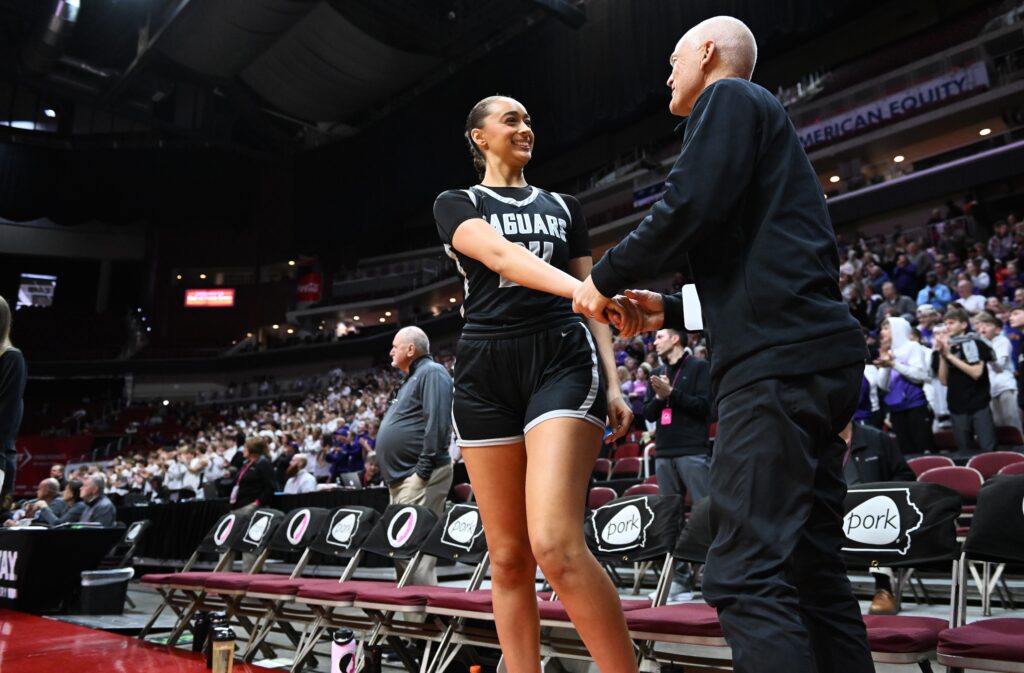 Johnston led by as many as five points in the first half before Crawford scored twice in the final minute of the second quarter to tie the game at 22-22 at the break. Pratt then scored six points in the third period, twice putting her team ahead by a bucket.
"I just knew I had to step it up for my team and kind of be the energy booster and get us going," Pratt said.
Johnston regained a 30-28 lead on a 3-pointer by Lewis with 3:01 left in the third quarter. It was the fourth trey of the game for the Dragons, who never trailed again.
After a jumper by Pratt, Riley answered with a pair of driving layups to put Johnston ahead for good. The junior guard said her team was prepared for Centennial's rugged defense.
"This team is pretty physical, so we had to be even more physical and give what they give to us," Riley said. "We just had to give them the same energy back but even harder, and I think that's what helped us to win the game."
The Jaguars, who knocked off No. 3 Waterloo West in Monday's quarterfinals, were unable to pull off another upset.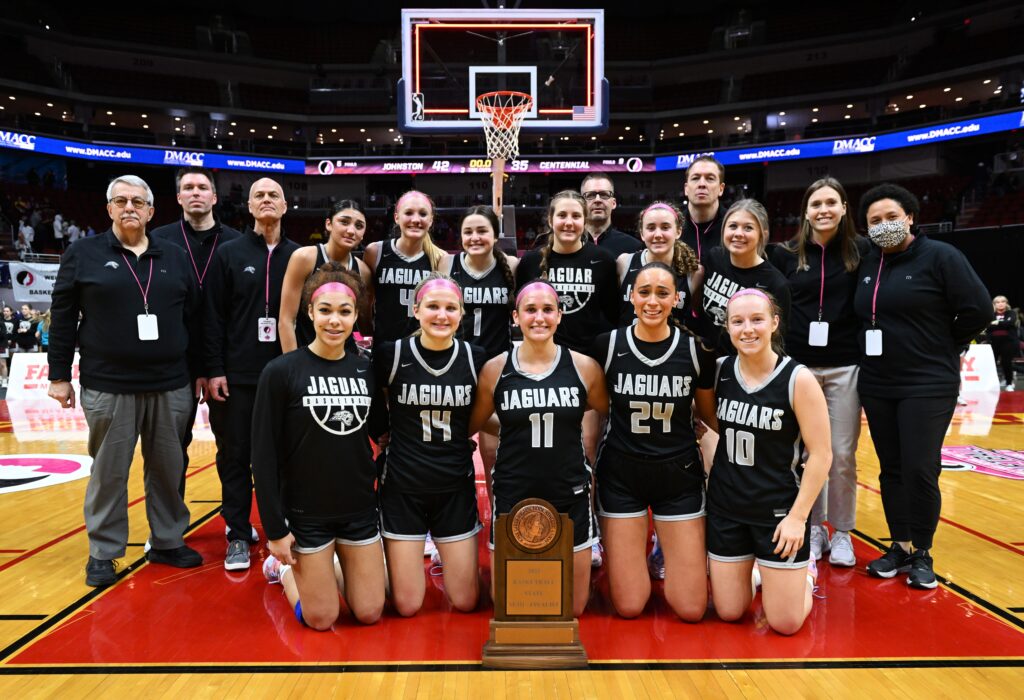 "They're a great team on both offense and defense," Crawford said of the Dragons. "We knew after Monday our confidence was real high. We were feeling real good after our defense beat West–we were feeling great. Today, I feel like our defense wasn't as good. We couldn't connect like how we were on Monday so that's the result that we got."
The offensive woes, though, proved to be the biggest factor. Centennial shot just 32.6 percent (14-of-43), including 2-of-12 from behind the arc.
The Jaguars equaled their season low of 35 points.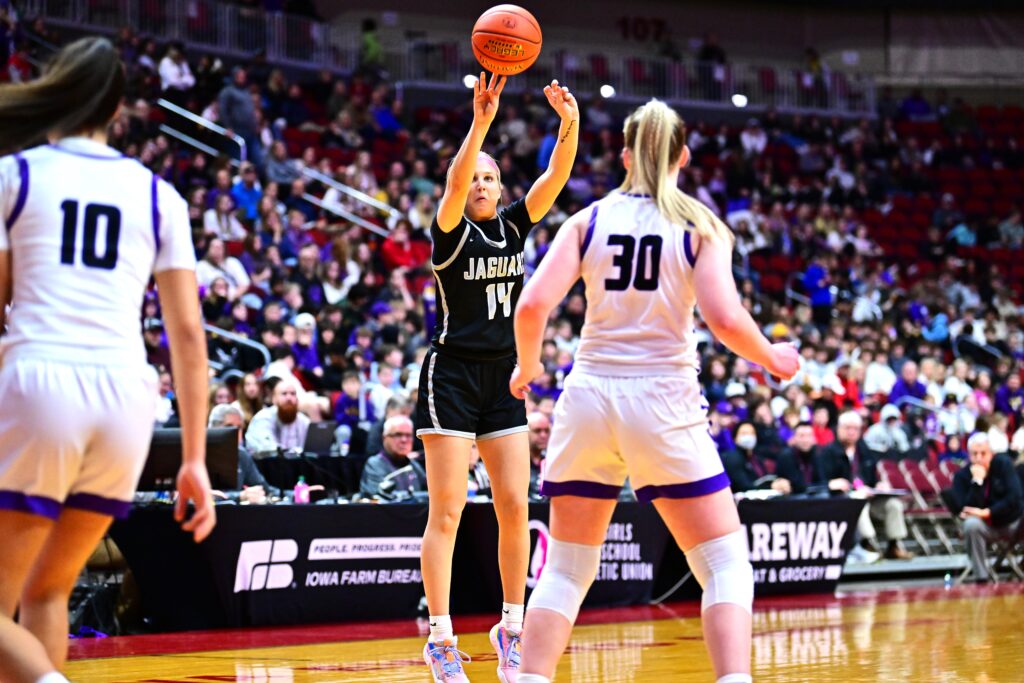 "They had a really good scout against us," Pratt said. "They sat and helped on (the weak side), and they doubled Kennedy when we like to get it into her and drive in. They just sat in the lane, and we didn't shoot very well from the outside."
Both Pratt and Crawford will be back next year along with reserve guards Finley Blackmore, Ava Martin and Tillie Smith. Blackmore and Smith each made their lone 3-point attempt in Thursday's loss.
"We have some really good seniors going out, and we'll have some new players coming in," Pratt said. "But we'll just keep fighting to get better and better each year."