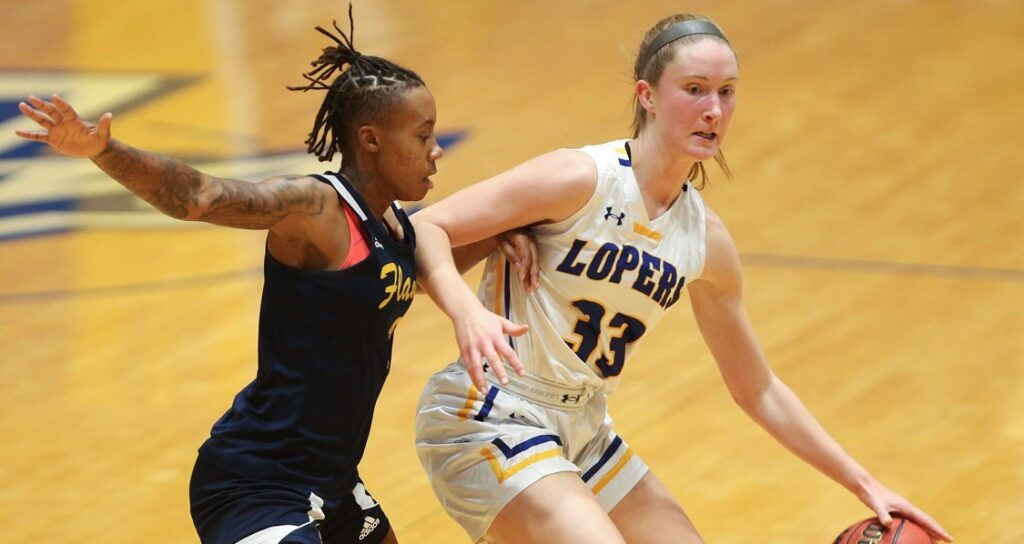 The season ended on Friday for former Ankeny Centennial star Meg Burns and the Nebraska Kearney women's basketball team.
The Lopers suffered a 74-54 loss to Pittsburg State in an NCAA Tournament first-round game in Duluth, Minn. The contest was part of the Central Regional.
Burns had two points, three rebounds, one assist and one steal for Nebraska Kearney, which ends the season at 28-5.
"Congratulations to Pitt State. They played really well today and deserve to advance. (They) had a couple of kids that really shoot it well, and Grace (Pyle) played as well as I've seen her play all year," said UNK head coach Carrie Eighmey. "Grace really opened the floor for them and was shooting from way deep. Anytime you have a player that can do that, the floor gets really big. With a team that runs dribble drive like they do, you don't want the floor to be big."
Pyle scored 30 points, including the first 16 for her team, as the Gorillas (23-7) avenged two losses to UNK during the regular season. She hit her first six shots from the field against the nationally-ranked Loper defense.
UNK came in allowing 51 points per game and had limited Pitt to 9-of-45 3-point shooting in the first two meetings. On Friday, the Gorillas scored the most points by a Loper opponent this year in shooting 47 percent from the field and connecting on 11-of-15 triples. They also outrebounded UNK by three.
"Unfortunately for us, we didn't play our best basketball. We struggled to get some stops early and offensively we couldn't get into a rhythm," said Eighmey. "And clearly we didn't shoot the ball well from the 3-point line. We had good open looks, but weren't able to knock them down."
Burns played in all 33 games for UNK, starting 10 times. The redshirt sophomore guard averaged 6.0 points and 2.1 rebounds while making 39-of-105 attempts from behind the arc.
UNK's super senior class helped restore the tradition of the program to the tune of 116 wins, three NCAA appearances, four 20-win seasons, one MIAA regular season title (2023), one MIAA tournament title (2021) and a slew of individual and team records. Forward Shiloh McCool, a former standout at Southeast Polk, is a part of that group but will be back in 2023-24 as she missed one year due to injury.
"They are leaving it much better than they found it," said Eighmey. "We have some many incredible women that will be successful in life."