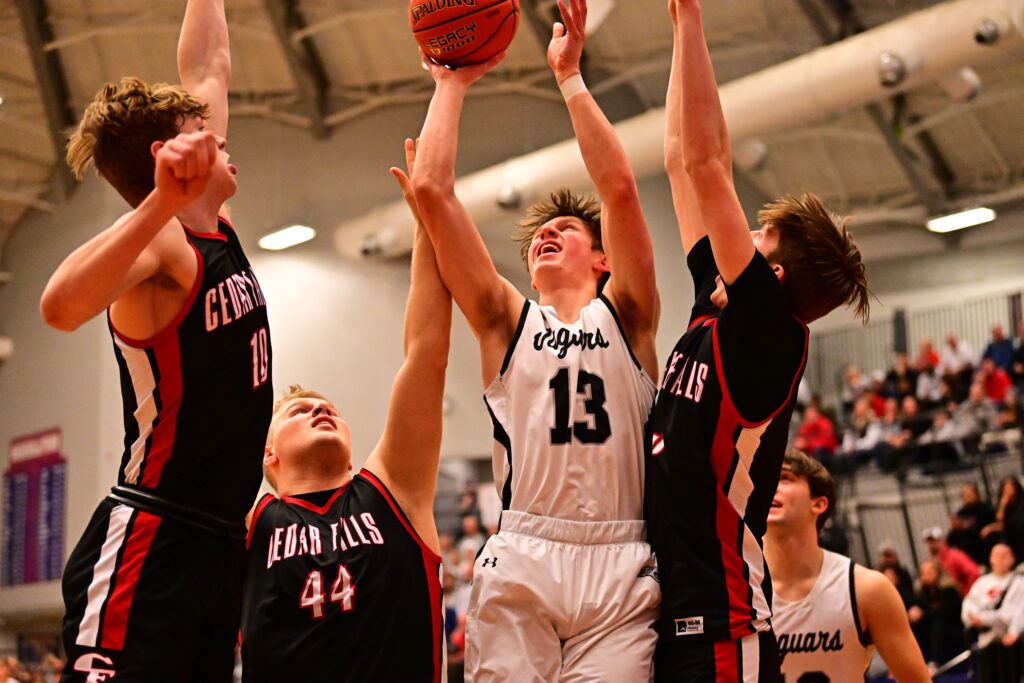 Junior guard Nick Vaske helped the Ankeny Centennial boys' basketball team to a 16-8 record this season. He made 3-of-4 attempts from 3-point range and scored 10 points in the Jaguars' 55-37 loss to Waukee Northwest in the Class 4A quarterfinals on Wednesday at Wells Fargo Arena.
Vaske started all 24 games, averaging 9.1 points and 4.5 rebounds. He shot 37.1 percent from behind the arc (26-of-70).
Vaske, who has been named to the CIML Conference third team, scored in double figures eight times. He had a career-high 18 points in the Jaguars' victory at Urbandale on Jan. 13, then matched that total in a win over visiting Omaha (Neb.) Burke a week later.
Here is some inside info on Vaske:
Congratulations on an outstanding season. Have you had a chance to reflect on the season, and do you feel good about everything that your team was able to accomplish?
When looking back on the season, my teammates and I can all agree that we achieved our most desired goal: playing at Wells Fargo Arena. Since the beginning, we made that goal a staple throughout our season and preseason, including within our team meetings, group chats, etc. So overall, being able to achieve that goal isn't something we hung our heads about.
What do you think was the biggest reason for your team's success?
I'd definitely credit our team's success to the willingness to create a team chemistry/feeling of togetherness that would remain unrivaled in regards to other programs. Our guys, especially early, made it a priority to bond and spend/enjoy quality time together; it ultimately created a sense of family among us that's still with us today.
Your team had so many big victories, including one on Dec. 9 at Valley–the eventual Class 4A state champion. Looking back at it now, do you think that was your biggest win?
I would definitely say our win against Valley was our biggest win, especially due to the fact it was kind of a wake-up call to everyone else in the league. I'd also say the win against Cedar Falls was a close second as it sent us to state.
Did you watch or go to any of the Class 4A games on Thursday and Friday? Were you surprised at all that Valley emerged as the champion?
I watched the state championship, Waukee vs. Waukee Northwest, and Valley vs. Pleasant Valley. But every team present, in my opinion, were some of the best and most deserving teams in the state, yet evidently, Valley played some really tough and gritty games that truly gave them the edge in those games. In a way, it wasn't really a shock.
I thought one of your most memorable baskets of the season was one that didn't even count–you dunked the ball just after the final buzzer sounded to punctuate your team's 64-61 win at Southeast Polk on Feb. 7 (see tweet above). Have you replayed those final seconds in your head a few times?
I've definitely replayed that moment in my head multiple times. The part that 100 percent stuck out to me was my teammates from the bench rushing out to the court with the thrill of excitement. It just makes you feel really good in the moment.
I didn't see all of your games this season. Did you have some other dunks?
I've actually had quite a few during the season.
You became a defensive stopper for the team, holding Jack McCaffery of Iowa City West and Dallas Bear of Cedar Falls to a combined 10 points in the two substate games. What was the key to shutting them down?
One of the biggest keys is definitely the preparation that goes into it before the game. The program tries our best to analyze film to the upmost degree and see if we can get an edge on them defensively that way, but a lot of it also comes from your mindset going into the game. A lot of the games where I've had to guard a big-named/skilled player, I've told myself going into it that I was going to lock him down and make him uncomfortable as it could ultimately lead our team to the best chance of success.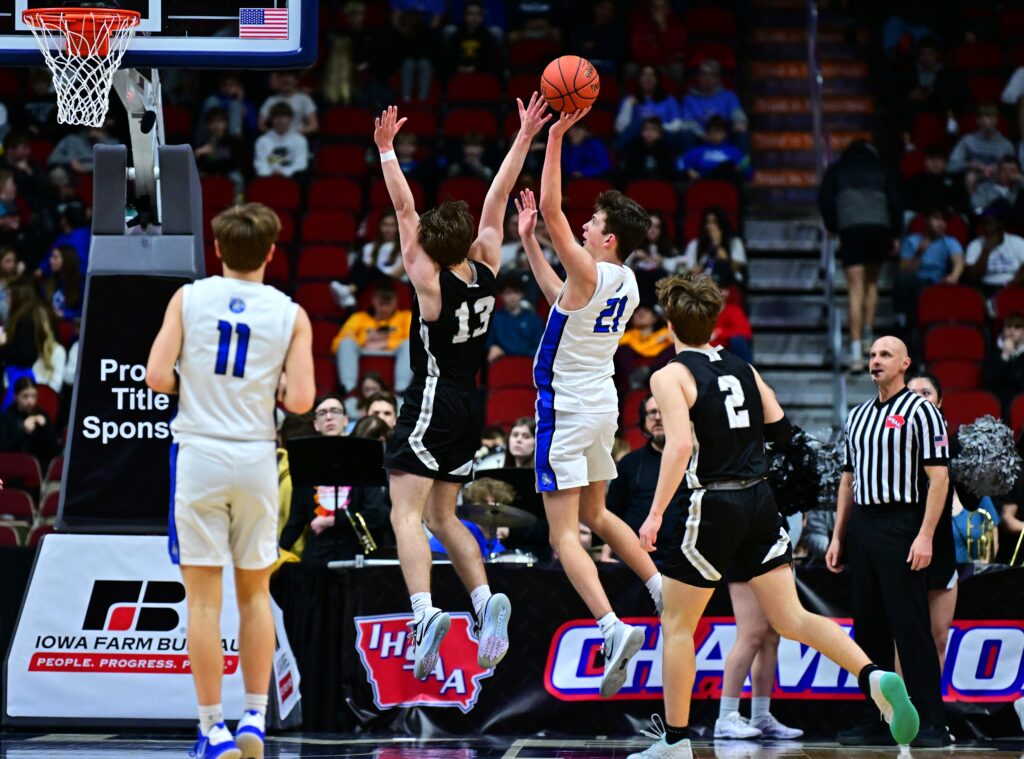 Your team will have to replace a pair of starters in Evan Bryan and Drew Schreurs. Are you confident that some other players can fill those roles next season?
Although we'll miss all of our leaving seniors, I'm confident that our team will be able to fill the gaps to the best of our ability and make another run throughout the season.
What areas of your game do you feel like you need to work on in the offseason?
One big area of my game I'm going to prioritize in the offseason is going to be my ability to play the point guard position and handle the basketball.
Are you planning to play in college? Have you looked at any schools?
I plan on and wish to play at the next level. I've gone to a lot of college camps already, such as Truman State, Wayne State, etc. However, I plan on participating in more in the near future!
The NCAA Tournament is coming back to Des Moines this week. Will you go to any of the games, and who is your pick to win the title?
Me and my dad will be going to some of the tournament games! My pick's Brandon Miller and Alabama!