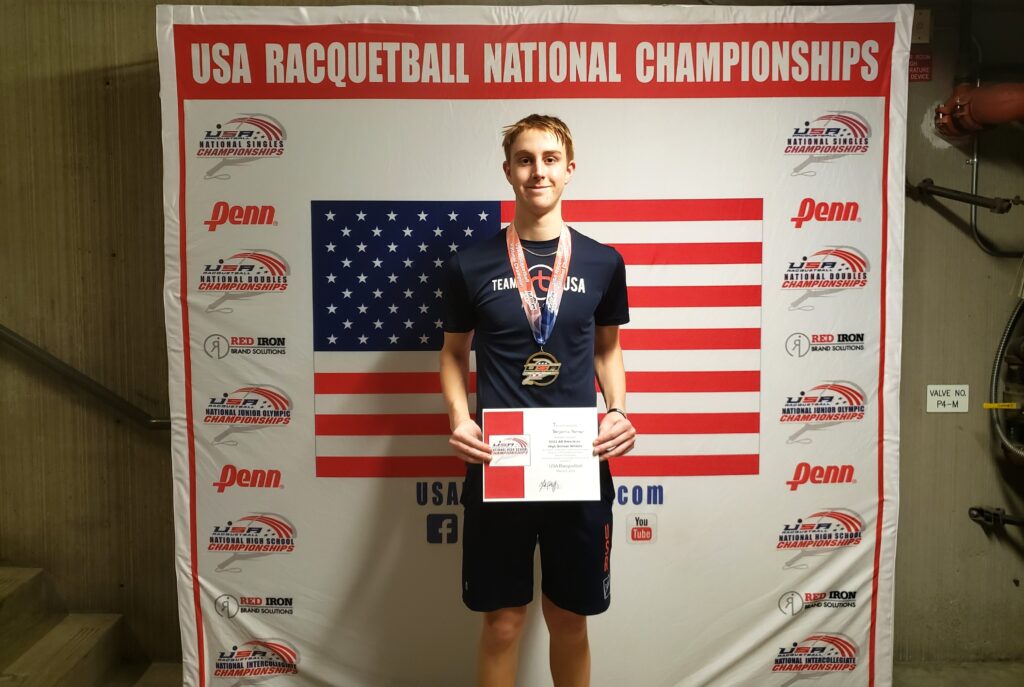 There's a national champion walking the hallways of Ankeny Centennial High School.
Earlier this month, Centennial senior Benjamin Horner captured the gold medal in the 2023 USA Racquetball Championships. The national tournament was held March 1-5 in Portland, Ore.
A total of 232 players representing a couple dozen high schools across the country competed in the event. Even though Horner was the only player representing his school, Centennial finished ninth overall in the boys' team standings because of his victory, beating out some teams that had 10-plus players all by himself.
The top-seeded Horner defeated No. 2 seed DJ Mendoza of Texas in the final. He won by scores of 15-11, 15-9.
Given a racquet at birth, Horner has played the sport his whole life. His love of racquetball began as a toddler following his father, Dan, to tournaments. Horner enjoyed the pace, sound and excitement of the sport and wanted to play, so he started playing competitively in tournaments at age 4.
By age 7, Horner was entering men's divisions and within a year was regularly defeating adults. He won his first national title in the 8 and under division at the 2014 Junior National Racquetball Championships in Colorado.
Horner is currently ranked 132nd among all men in the United States at the age of 17. This includes all professional players from other countries that compete in tournaments held in the U.S.
Because of his success, Horner is now getting ready to move on to the next level–the professional division. He competed last week in Chicago in the Men's Pro Division.
Horner has won multiple other national titles over the last nine years and in doing so qualified for Team USA. He wore the red, white and blue on his back in 2016, 2017, 2018, 2020 and 2022 traveling to the Junior World Championships in Mexico numerous times, Guatemala most recently, and Minneapolis once.
Horner's best finish in the world was third place in 2016. In December 2022, he finished fifth in the 16 and under division in Guatemala.