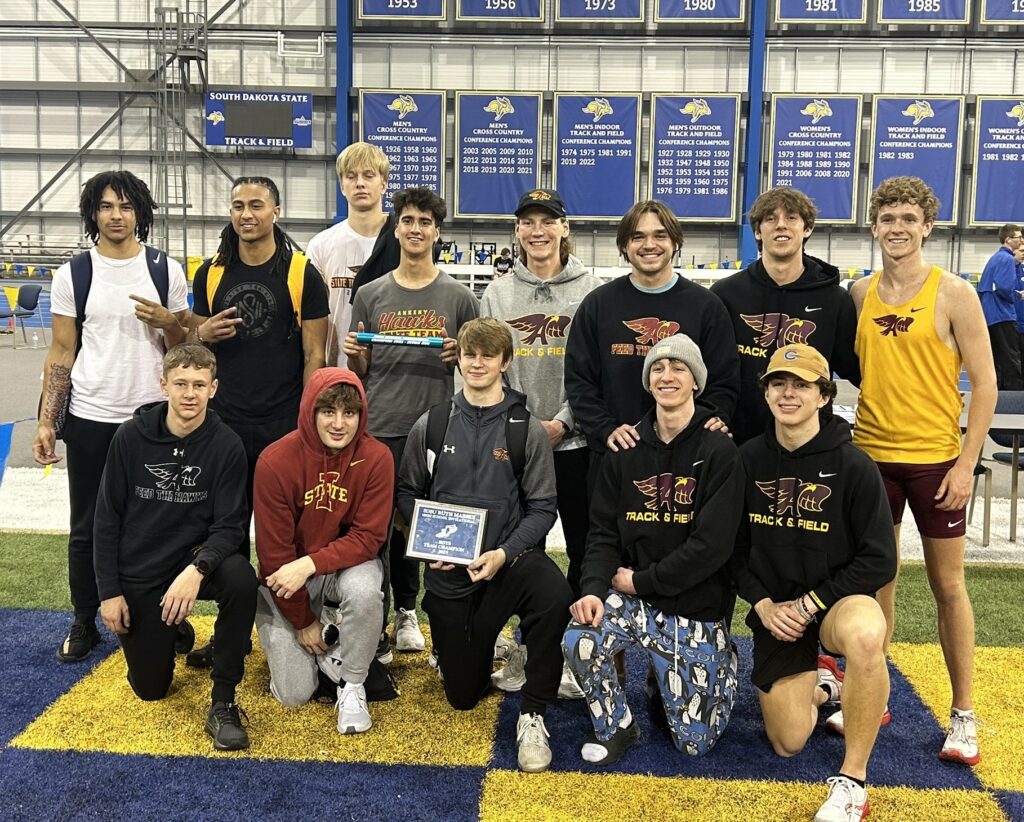 A long road trip proved to be productive Monday for the Ankeny boys' track team.
The Hawks traveled to Brookings, S.D., for the Ruth Marske Indoor Invitational on the campus of South Dakota State University. They racked up 106 points to win the team title, defeating 19 other schools.
Sioux Falls (S.D.) Lincoln was the runner-up with 78 points.
"It was another spark that we needed," said Ankeny coach Jordan Mullen. "It was a great way to start the true season. It's after spring break now, and we put some really nice times down. It was a real fun meet."
Ankeny sophomore Tyler Sickerson was named the Athlete of the Meet after sweeping the sprint events. He took the 100 in 10.90 seconds and the 200 in 22.40, setting a pair of personal records.
His time in the 200 also set the Iowa indoor sophomore state record.
Sickerson also teamed up with Aidan Adamson, Caden Henkes and Jazan Williams for a third-place finish in the 4×100 relay. The Hawks were clocked in 44.01 seconds.
"For being a sophomore, he's got really high goals," Mullen said of Sickerson. "I'm very excited with him and where he's going in his young career. He's going to continue to make a lot of noise for us."
Ankeny's Carter Accola captured the 110 hurdles in a time of 14.40 seconds. He met the Blue Standard for the Drake Relays while also breaking the school record.
"That was a huge PR for him," Mullen said. "We've been working a lot together. To see him open up at 14.4, that's impressive. He really started to hit a wall at about hurdle 8, so he's got a lot more in the tank as the season progresses. He's going to be fun to watch."
Ankeny posted a 1-2 finish in the 3,200. Ethan Zuber won the race in a time of 9:39.03, while teammate Levi Hill was second in 9:44.10.
The Hawks' other victory came in the high jump. Jamison Patton cleared the bar at 6 feet 4 inches to win the event.
Jack Belding placed second in the 400 in 50.02. He also took fourth in the 100 in 11.00.
Jake Bosch was the runner-up in the 800 in 2:00.01. Abel Squires placed fourth in 2:01.88.
Squires also took second in the 1,600. He posted a time of 4:31.34.
"It's a gorgeous facility up there," Mullen said. "They hold the NAIA Indoor Nationals there. It's an oversized indoor track, and it's super fast."
Fifteen Ankeny athletes competed at the meet.
"I wanted to be able to give everyone a chance to run this week, so I brought up a small group of track-first athletes and gave them a chance to compete," Mullen said. "And the rest of the team can compete (Tuesday in the Early Bird Relays at Waukee Northwest)."