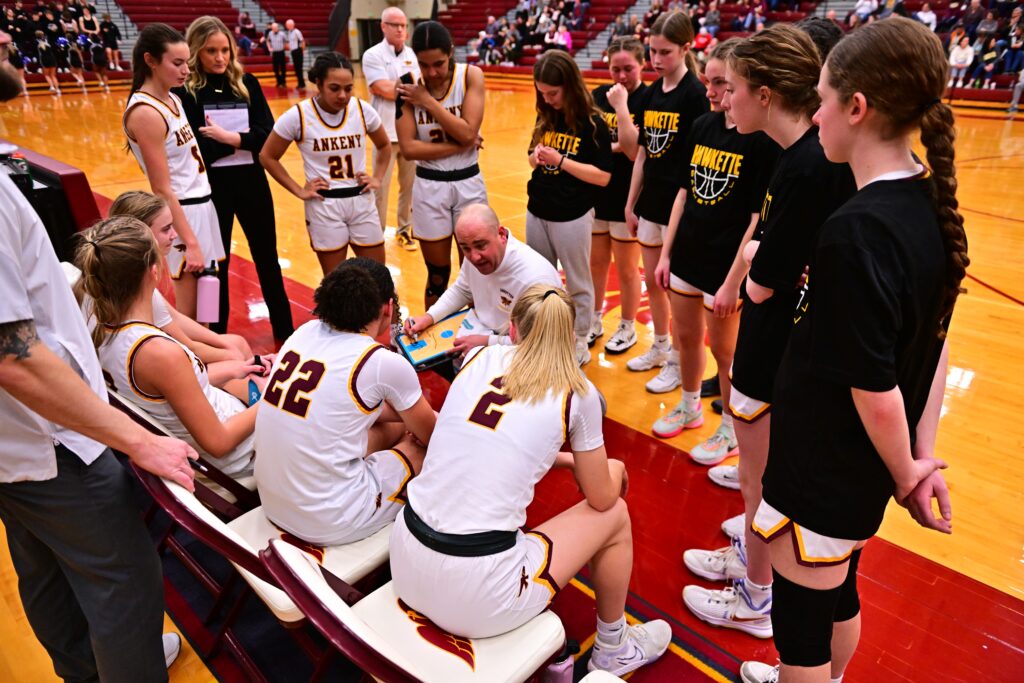 Ankeny girls' basketball coach Dru McAnelly has resigned from his position after seven seasons at the school.
McAnelly said it was simply time to put his family first.
"It was a hard decision, but it's one that three years ago my wife and I talked about it," McAnelly said. "Our kids were going to reach eighth grade and play school ball, and we knew that the time would come and I'd have to make that decision. At this time, I'm choosing family over my career right now. I did some simple math and in the next two years I'd miss 33 games of my son's school ball, and then in that third year my daughter will be in eighth grade and I'd miss both of their games with my schedule. It kind of puts life in perspective and makes it very simple."
McAnelly took over the Ankeny program in 2016 and compiled a 75-77 record. The Hawkettes won a total of just 15 games in the three seasons before his arrival.
"When I came in, things were pretty bleak and we literally started from ground zero and built it up," McAnelly said. "We achieved some milestones and did a lot of great things so I feel very proud where I've left the program."
McAnelly's best season came in 2021-22, when Ankeny went 16-7 and defeated Ankeny Centennial for the first time ever to earn a share of the CIML Iowa Conference title. The Hawkettes advanced to a Class 5A regional final before losing at second-ranked Des Moines Roosevelt, 49-47, on a last-second basket.
Ankeny went 12-11 this year and again defeated Centennial late in the regular season, helping the Hawkettes to a third consecutive winning campaign. McAnelly's final game came in a regional final at No. 5 Davenport North, where Ankeny dropped a 65-61 decision.
Sophomore guard Savannah Gage, who earned first-team all-state honors, said she understood the reasons for McAnelly's departure.
"We all know how much coach Mac's family means to him, and with his kids getting older and into their own school activities, we understand the change for him and his family," Gage said.
McAnelly met with his players and told them a story about Mike Street, whose son, Chris, was an Iowa basketball star who died in a car accident in 1993.
"Mike is my wife's uncle," McAnelly said. "My dad had some good teams back in the day at Clarke of Osceola and Mike looked my dad in the eye before my senior year and told him, 'You never know when you aren't going to have the opportunity to watch your child play.' And that's always stuck with me, because my dad gave the job up about three days later and got to watch me play all my games my senior year. That quote has always stuck with me."
McAnelly plans to continue coaching in a different capacity.
"I'll do some lower-level stuff around Ankeny, but I'll have a flexible schedule where I can still watch my kids play," he said. "I'm going to coach next year, I'm just not going to be the head varsity girls' basketball coach. I'll probably continue with golf and do some lower-level basketball. I don't know if I'll be a head coach again, but I definitely could be. I'm just hitting the pause button."
Gage will be back next year along with two other returning starters, junior Karsen Jacks and freshman Jayla Williams.
"Moving forward, I believe in my teammates and the trust and culture we have built together," Gage said. "We are very motivated to continue growing our program and meeting the goals we have for ourselves and for future teams, so I do think the new coach will come into a good situation."