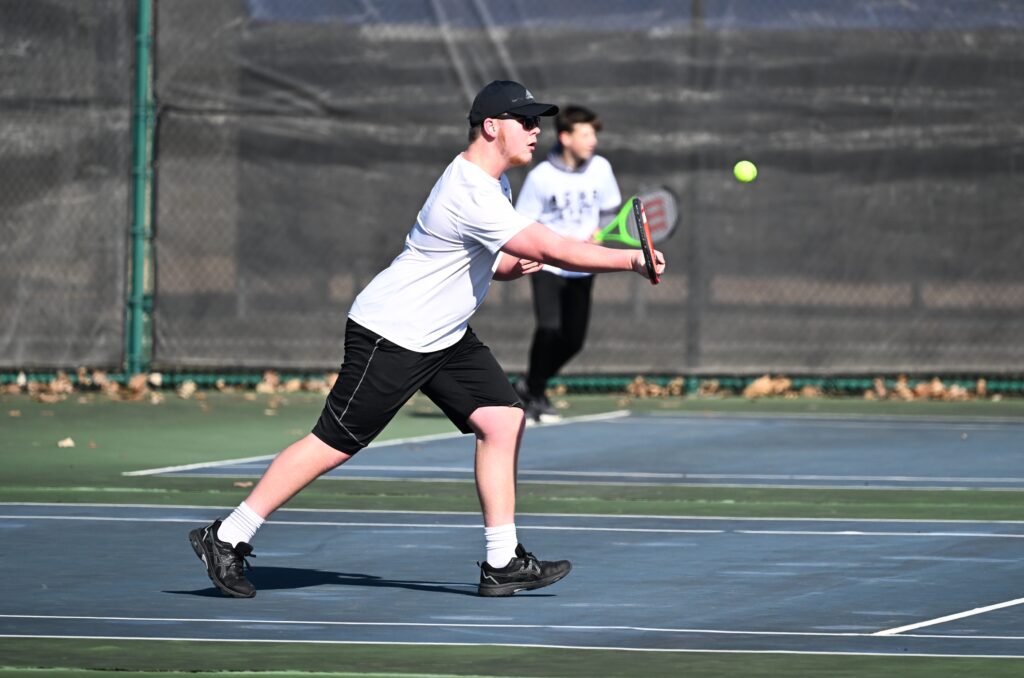 The windy conditions became a huge factor during Thursday's boys' tennis meet at the Waveland courts in Des Moines.
Des Moines Roosevelt opened its season with a 7-4 victory over visiting Ankeny Centennial in a non-conference meet. The Jaguars' overall record dropped to 1-1.
"It was super windy, which is a great equalizer unfortunately," said Centennial coach Tami Lewton. "We unfortunately lost some really close matches. It really could have gone either way. We need to work on tiebreakers."
The Roughriders won four of the six singles matches. Centennial got wins from Caleb Peterson at the No. 1 position and Brayden Wellendorf at No. 3.
Roosevelt's Will Bright rallied from a one-set deficit to beat Holden Smith, 5-7, 6-0, 10-3, at the No. 2 spot.
"I thought Caleb and Brayden played well," Lewton said. "Holden had a great match, but unfortunately couldn't pull out the tiebreaker."
Peterson and Smith then combined for a victory at No. 1 doubles. The Jaguars also got a win from the No. 4 duo of Ty Walker and Luke Valerie-Garsow, who prevailed by a 6-7, 7-6, 10-8 score.
Centennial will host Urbandale in its CIML Conference opener on Tuesday.
Here are the match-by-match results from Thursday's meet:
D.M. Roosevelt 7, Centennial 4
Singles–Peterson (AC) beat Kempkes, 6-0, 6-0; Bright beat Smith, 5-7, 6-0, 10-3; Wellendorf (AC) beat Van Ngoy, 6-3, 6-4; Kehoe beat Hiney, 6-3, 6-3; Arnold beat Law, 6-4, 6-3; Kenney beat Halverson, 6-1, 6-3.
Doubles–Peterson-Smith (AC) beat Kempkes-Bright, 6-1, 6-1; Van Ngoy-Arnold beat Wellendorf-Hiney, 7-5, 6-3; Kehoe-Israel beat Law-Halverson, 6-2, 7-6; Walker-Valerie-Garsow (AC) beat Kenney-Harbreck, 6-7, 7-6, 10-8; Lench-Sadig beat Sinclair-Earp, 6-4, 6-2.