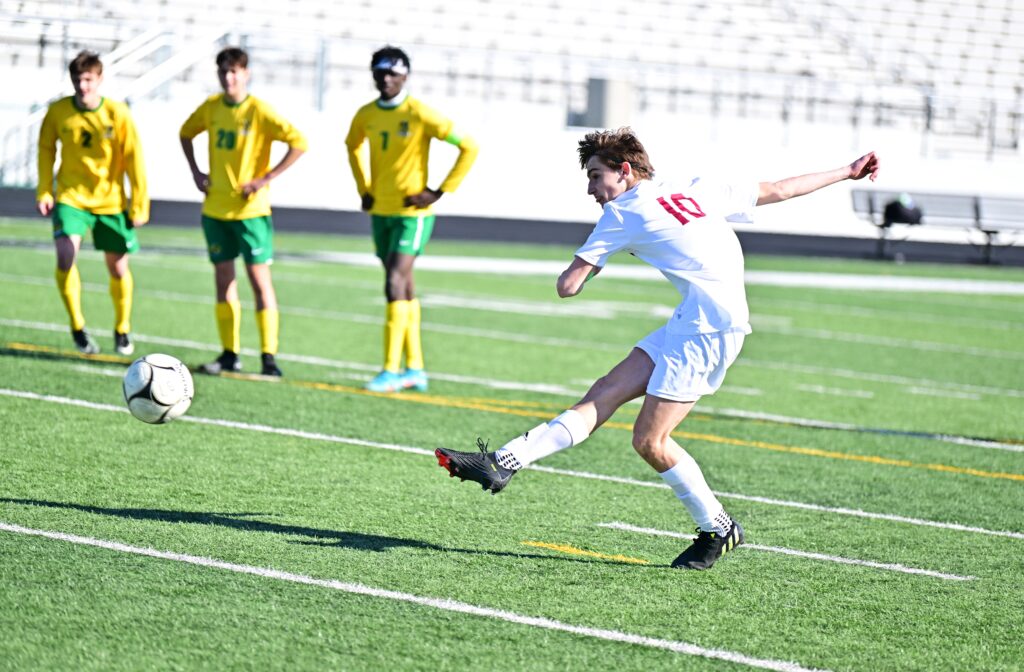 The Ankeny boys' soccer team had a chance to win Friday's game at Waukee in the final minute of regulation.
Instead, the Warriors countered and scored the winning goal with just 5 seconds left for a 3-2 victory in the CIML Conference opener for both teams.
"It was a tough way to lose," said Ankeny coach Marcus Varnum. "We were stretched. We were trying to make something happen. That's the risk that we kind of took, but you have to go for it sometimes."
The Hawks (0-3) had a set piece with about a minute left. They were unable to convert, and Waukee (2-1) eventually scored the game-winner.
"We actually got a ball close to in the box, and then it was a bit of a scramble, there was a header out in the air, a little back and forth, and then they got the ball at their feet and played a big ball over the top," Varnum said. "Our center back was in a footrace with their forward, our goalie (Jackson Dockendorff) came out of the box to try and clear it, and then in that mixup there was just a mishit and the ball went by his feet and their striker who was in that footrace ended up getting to it first and just put it away into an open net."
The two teams combined for five goals in the second half after a scoreless opening half. The Warriors twice took the lead, but each time Ankeny responded with an equalizer right away.
Landon Benge scored the Hawks' first goal off an assist by Tyler Woods. Gannon Ripley later converted a penalty kick to make it 2-2.
"It was an extremely even game–there were chances from both sides," Varnum said. "We responded both times with good energy and found the back of the net after we conceded. There were some positives to take away in terms of us finding our identity, battling and grinding and finding that passion and the ability to fight for each other. But to go out like that, it's just a heartbreaker no matter how well you played.
"You're never going to feel good when you get beat in the last 5 seconds of a game," he added.
Varnum praised the play of Benge, Ripley and Cal Wahlberg in the losing effort.
"Benge was an absolute animal the entire game, and Ripley held the fort down in the middle of the field," Varnum said. "I also thought Cal was an absolute dog. He was calm and composed for a freshman. Those three guys were outstanding."
The Hawks will host a conference game against Johnston (2-2) on Tuesday.