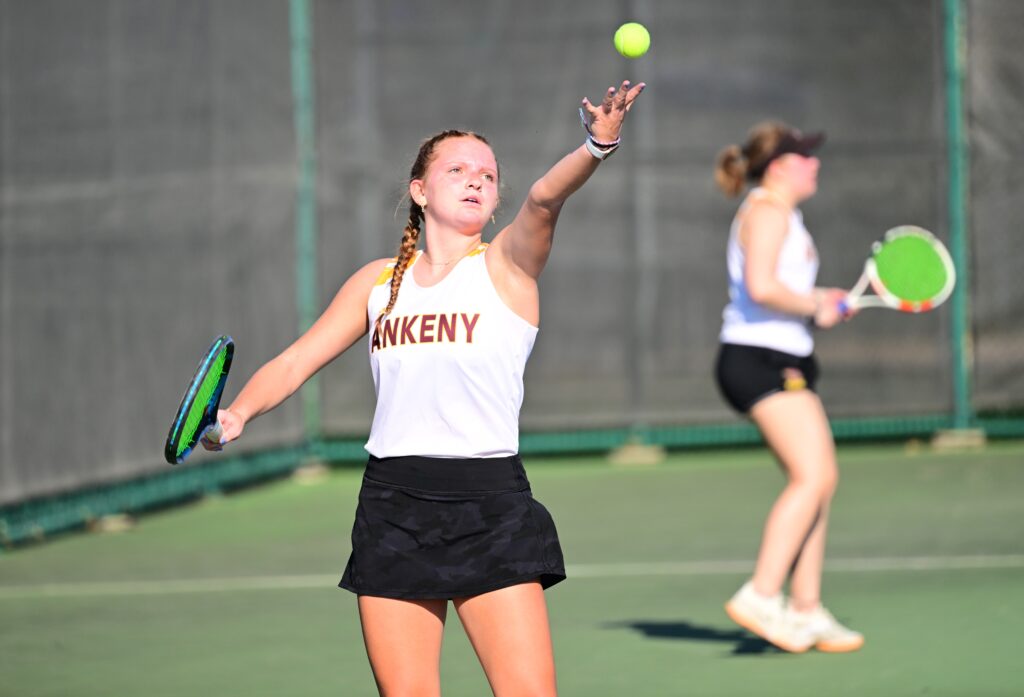 Even without two of its varsity regulars, the Ankeny girls' tennis team rolled to a 9-2 victory at Southeast Polk in a CIML Conference matchup on Tuesday.
The ninth-ranked Hawkettes played without Kira Smith and Payton Blume, who are both battling injuries.
"Everyone had to step up their game," said Ankeny coach Steve Smith.
Ankeny won four of the six singles matches. One of the Hawkettes' wins came at the No. 6 position, where Mallory De Haan posted a 6-1, 6-3 triumph.
De Haan then teamed up with Lilith Francel for another victory at No. 4 doubles, helping Ankeny to sweep the doubles matches.
"Mallory embraced her opportunity with convincing wins in singles and doubles," Smith said. "She played so well in the Boone Invitational (on Friday). My instincts just told me that she would play well if given the opportunity despite the notable jump up in competition. To play that well in your first varsity singles match speaks volumes as to her ability to compete."
Smith also praised the play of Sophie Schmitz, who lost only one game in her singles match and then combined with Madalyn Kolb for another win at No. 2 doubles.
"Sophie absolutely crushed it today," Smith said. "She has really picked up her game recently."
At No. 5 doubles, Satviki Gorrela and Samara Feldhacker teamed up for a 6-2, 6-2 win.
"Satviki played well to pick up the first varsity win of her career," Smith said.
Both teams are now 1-2 in the conference.
Ankeny will play another league opponent on Thursday when it travels to Dowling Catholic to face the No. 2 Maroons (6-1). It will be Dowling's Senior Night.
Here are the match-by-match results from Tuesday's meet:
Ankeny 9, S.E. Polk 2
Singles–Otto lost, 6-4, 4-6, 10-7; Osburn won, 6-0, 6-4; Kolb won, 6-3, 6-4; Schmitz won, 6-0, 6-1; Rohlfing lost, 6-3, 4-6, 10-3; De Haan won, 6-1, 6-3.
Doubles–Otto-Osburn won, 7-5, 6-4; Kolb-Schmitz won, 7-5, 6-4; Rohlfing-Risk won, 3-6, 6-1, 10-6; De Haan-Francel won, 6-0, 6-0; Feldhacker-Gorrela won, 6-2, 6-2.