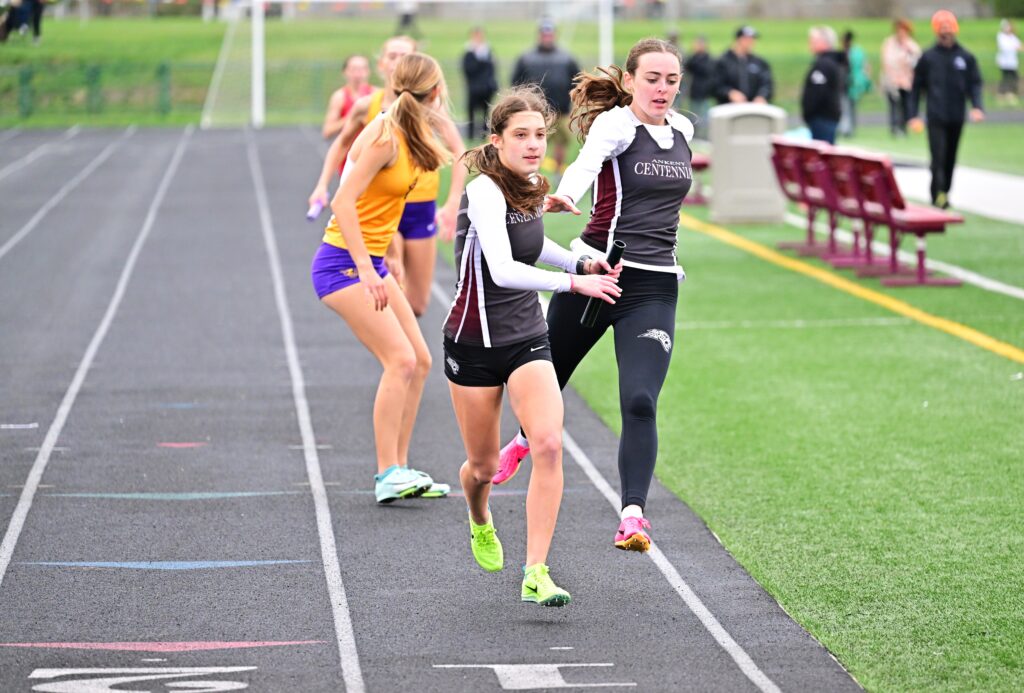 Thursday's Jaguar Invitational was also Senior Night for the Ankeny Centennial girls' track team.
"We have a large senior class with many great team leaders, and it was great to be able to honor and support them in their last home meet," said Centennial coach Tyler Asbe.
Nine teams competed in the meet, which was held under cold and windy conditions. Dowling Catholic won the team title, followed by Johnston, Centennial and Ankeny.
"We were able to get everyone that is healthy in the meet and have some great fun," said Ankeny coach T.J. Jumper. "We rested quite a few of our varsity (athletes) in order to be ready for the championship part of our season starting with the Drake Relays."
Centennial's Kylin Smith won the 400 hurdles in a time of 1:05.35. She broke her own school record while also hitting the Blue Oval Standard for the Relays.
"We are excited for her, and this should be a great confidence boost for her heading into the Drake Relays and the last month of the season," Asbe said.
The Jaguars won three other events, including the distance medley relay. The foursome of Elizabeth Mahama, Kambria Leazer, Layla Hughes and Anika Mohrhauser won that race in a time of 4:35.93.
Rondi Quass took the 1,500 in 4:51.52. Haley Hveem captured the 3,000 in 10:57.15.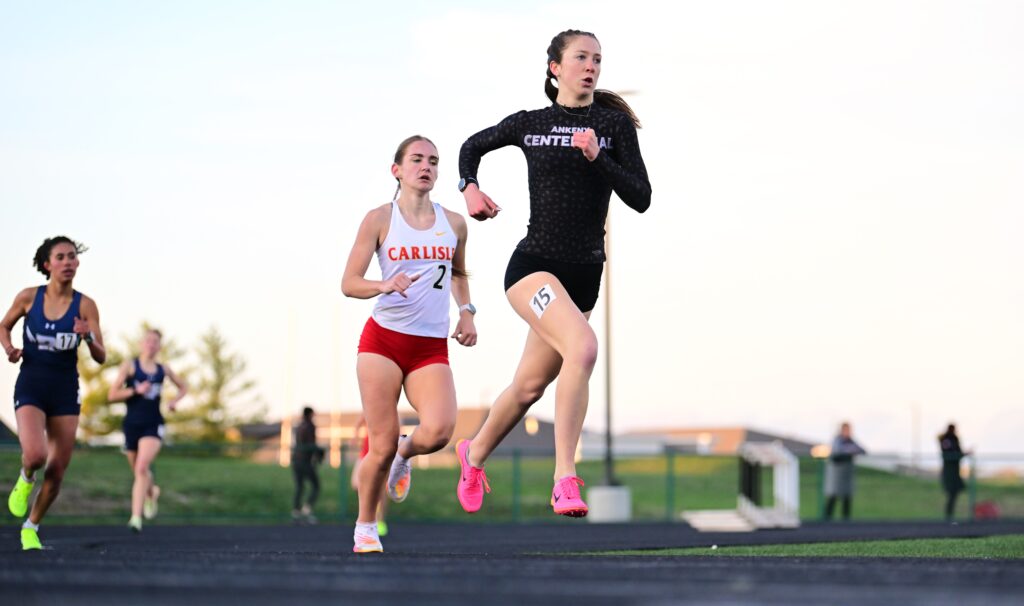 Julia Flick placed second in the 400. She was clocked in 1:01.19.
Malin Vallejo was third in the 200 in 28.27. Leazer added a third-place finish in the long jump with a leap of 16 feet 4.5 inches.
"The weather conditions were not ideal, but we had a lot of gutsy performances and a bunch of PRs," Asbe said. "The girls showed a lot of fight tonight, and our distance crew ran especially well."
Ankeny won the 4×200 relay in a time of 1:47.98. That team consisted of Karsen Jacks, Lillian Smith, Morgan Conklin and Zoe Shadravan.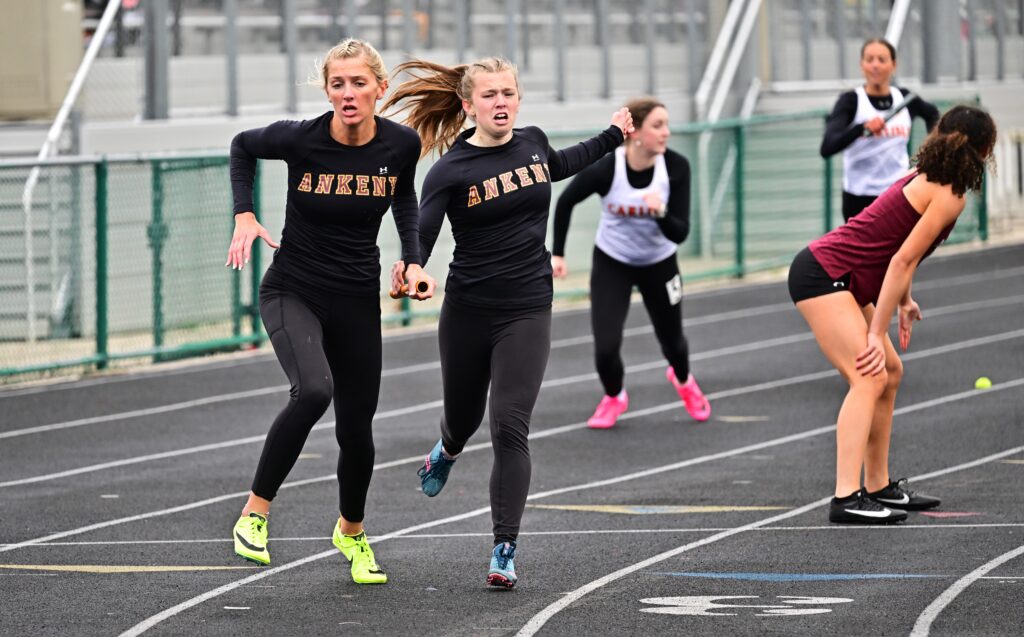 Reagan Prendergast took third for the Hawkettes in the 800. She turned in a time of 2:26.57.
In the field events, Hannah Baier placed second in the discus with a toss of 125-11. Reagan Hanfelt and Jayla Williams both cleared the bar at 5-0 in the high jump, placing second and third, respectively.
In the long jump, Ava Leinen and Maya Durbin-Wilson both surpassed 15 feet to earn top-eight finishes.
"We really like the improvement of our long jumpers," Jumper said. "Ava and Maya are starting to be consistent with their approaches and jumps. I'm excited for their continued progress."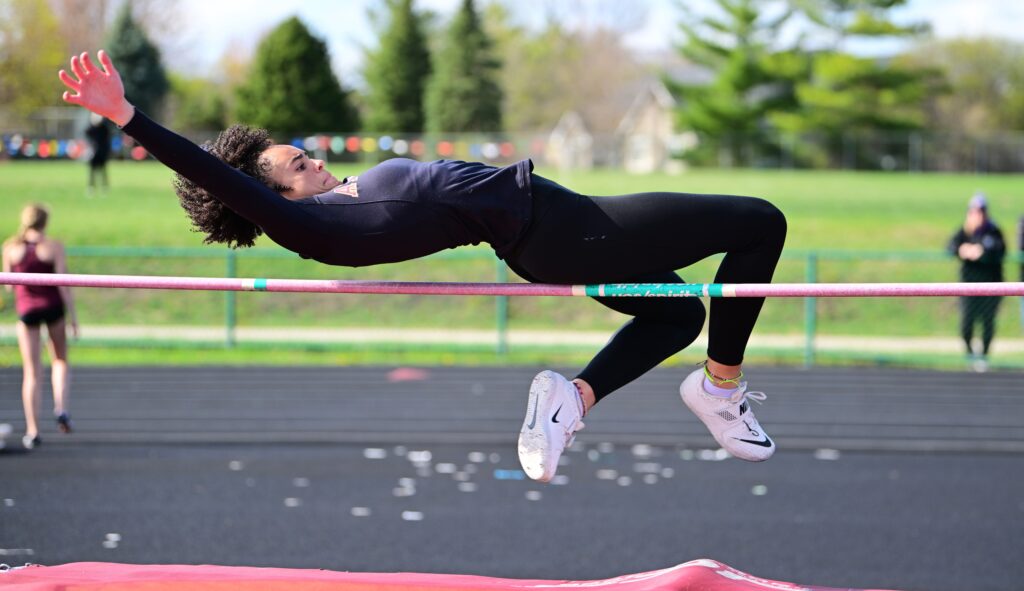 Morgan Johnson and Olivia Graber placed seventh in the 100 and 1,500, respectively.
"Morgan ran a good time, and that helps with our short sprint depth," Jumper said. "And that was another PR for Olivia."
Both Ankeny and Centennial will compete in the Dowling Relays on Monday.